The Workshop's True North is an inspiring documentary about Sean Swarner, who in 2002 became the first cancer survivor to reach the top of Mount Everest. He's kept climbing ever since spreading his encouraging message of hope. In a span of five years, the two-time cancer survivor with only one functioning lung scaled the Seven Summits, the highest mountains in each of the seven continents.

Swarner's journey started at the age of 13 when he was diagnosed with Stage 4 Hodgkin's lymphoma and given two months to live. He beat the odds and went into remission 10 months later, only to be diagnosed with Askin's Sarcoma two years later and told he had two weeks to live. Once again, Swarner overcame adversity and resisted expectations to continue sharing his infectious spirit.

But defying the odds and topping the Seven Summits wasn't enough to satisfy Swarner. Two years ago, he set out to accomplish another goal by conquering the North and South Poles to complete The Explorer's Grand Slam. In 2015, Swarner checked the South Pole off his list and in April 2017, after summiting the North Pole bearing a flag with the names of over 2,000 people affected by cancer, he became an official member of this exclusive club.

True North's Tom Caamano, Director and Producer, and Igor Kropotov, Director of Photography, chose Sony's FS5 as their primary camera to document this unimaginable achievement. During the nine-day journey, which saw temperatures of -40 degrees Celsius, the two asserted "the Sony FS5 was definitely the right camera for this shoot." In addition, the team summiting the North Pole, which included Kropotov and second camera operator Corbin Johnson, used two Sony α7S IIs for stills and support. They paired all the cameras with Sony's complementary 18-105mm zoom lens for longer telephoto shots and brought an 11-18mm lens for an extremely wide angle.

Kropotov, who had previously used Sony's cameras including the FS5, is no stranger to shooting in remote and cold climates including Nepal and Siberia. It is no wonder he "jumped at the once in a lifetime opportunity to go to the North Pole and be a part of an amazing documentary centered on Sean, an inspirational and strong-willed person."

The crew kept their equipment list limited, bringing only Sony's FS5, two α7S IIs, 10 additional batteries, two lenses and more than a dozen 128GB Sony SD cards for this journey. "We had to be very conscious of our camera's size and weight, since it had to easily fit in our sled and we had weight restrictions when flying in the helicopter," Kropotov said. "Alternately, I'd strap it around my neck and it wouldn't weight me down. We appreciated that the camera doesn't require a lot of accessories to make it operational. The FS5's small and compact size, coupled with the quality of the image made it the best tool for the job."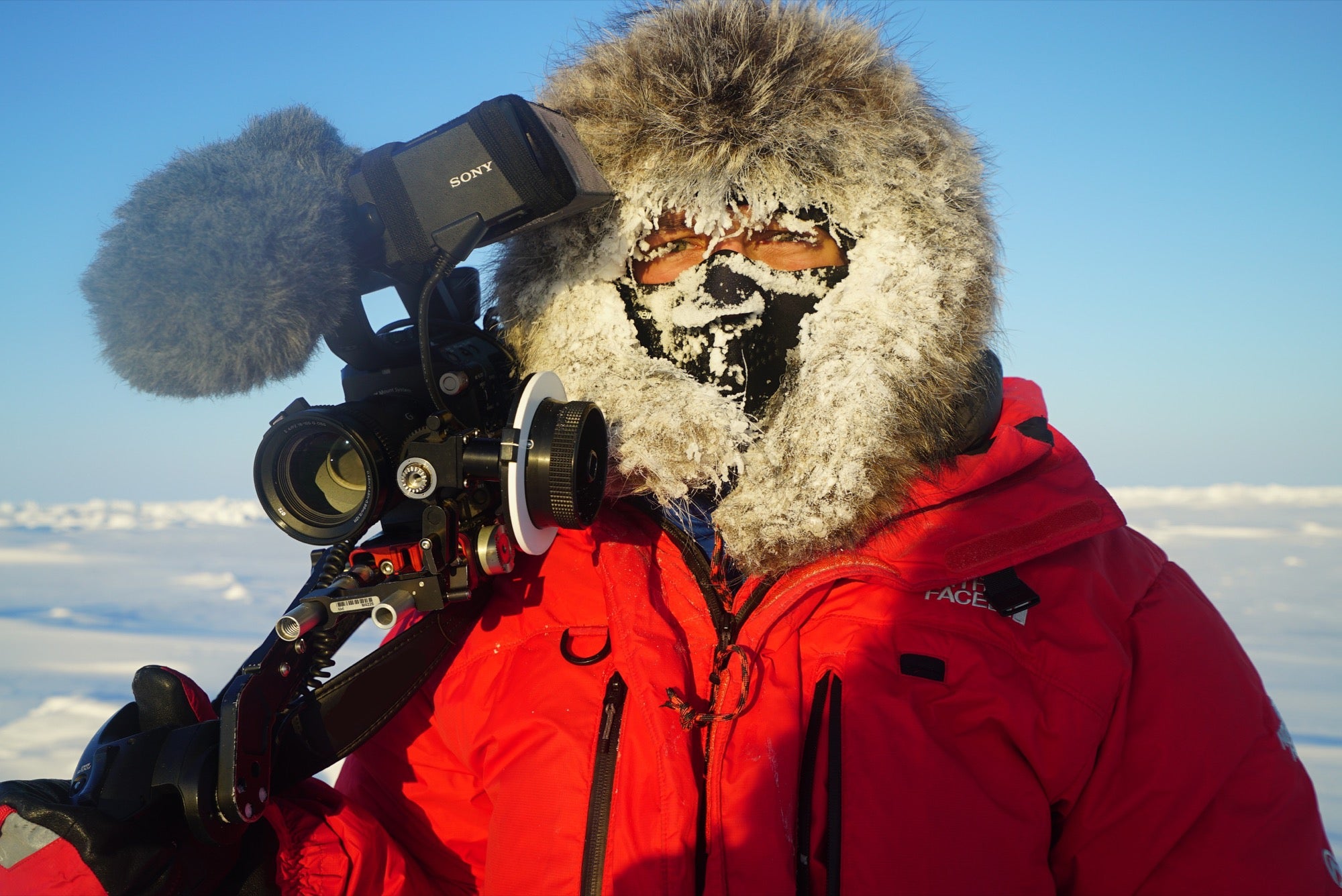 The team opted to shoot HD (1080x720) to ensure they had enough media and batteries to stay up and running for nine days, and to stay "self-sufficient without the need to carry hard drives or laptops, which allowed us to rely solely on SD cards."

Kropotov praised the FS5's slow motion capabilities, saying it added a "meditative element" to the documentary. He described how he used the camera to capture a classic shot of a mug of hot water being tossed into the air and immediately turning into ice droplets. He felt slow motion helped to illustrate the "emotional weight of traveling to the North Pole."

Kropotov also appreciated the camera's distinctive neutral density filters. "Because there's 24 hour sunlight on the North Pole and the reflective white snow is so bright," he said, "the ISO was generally pretty low and we used the ND filters to give us that depth of field and it worked extremely well."

As with any shoot in punishing environments, the crew was up against a lot of unknowns. A challenge which the FS5 was up for was producing a natural and realistic image despite the flat terrain and persistent landscape of blinding white snow, in addition to the 24-hour sunlight.

Kropotov did experience some issues due to the intense temperatures and likened carrying around a camera in the extreme cold to storing it in a freezer and immediately shooting with it upon removal – only way colder. Other concerns included a lag in the image and the ability for the LCD monitor's liquid crystals to freeze in the bitter cold.

He also quickly learned how to keep the extra batteries warm and fully functional by storing them in his sleeping bag overnight and chest pocket during the day, using his body heat to keep them operational; "otherwise they'd wind up being ice cubes by the end of the day," he said. The crew also had to contend with condensation, which froze immediately to their faces, eyelashes and even the camera, causing the buttons and lenses to fog if not handled properly.

Kropotov also learned the importance of preparing the camera to his desired settings in advance of leaving the tent, since "there's no tinkering or changing settings possible, and if something falls off the camera, you have to wait until the end of the day when you're inside the frigid tent to fix it. Everything has to be on point in terms of where it's located and stationed and how the settings and switches work with ISO and light balance. Because of the constant sunlight and temperature, we didn't want or need to significantly manipulate these settings over the course of the day."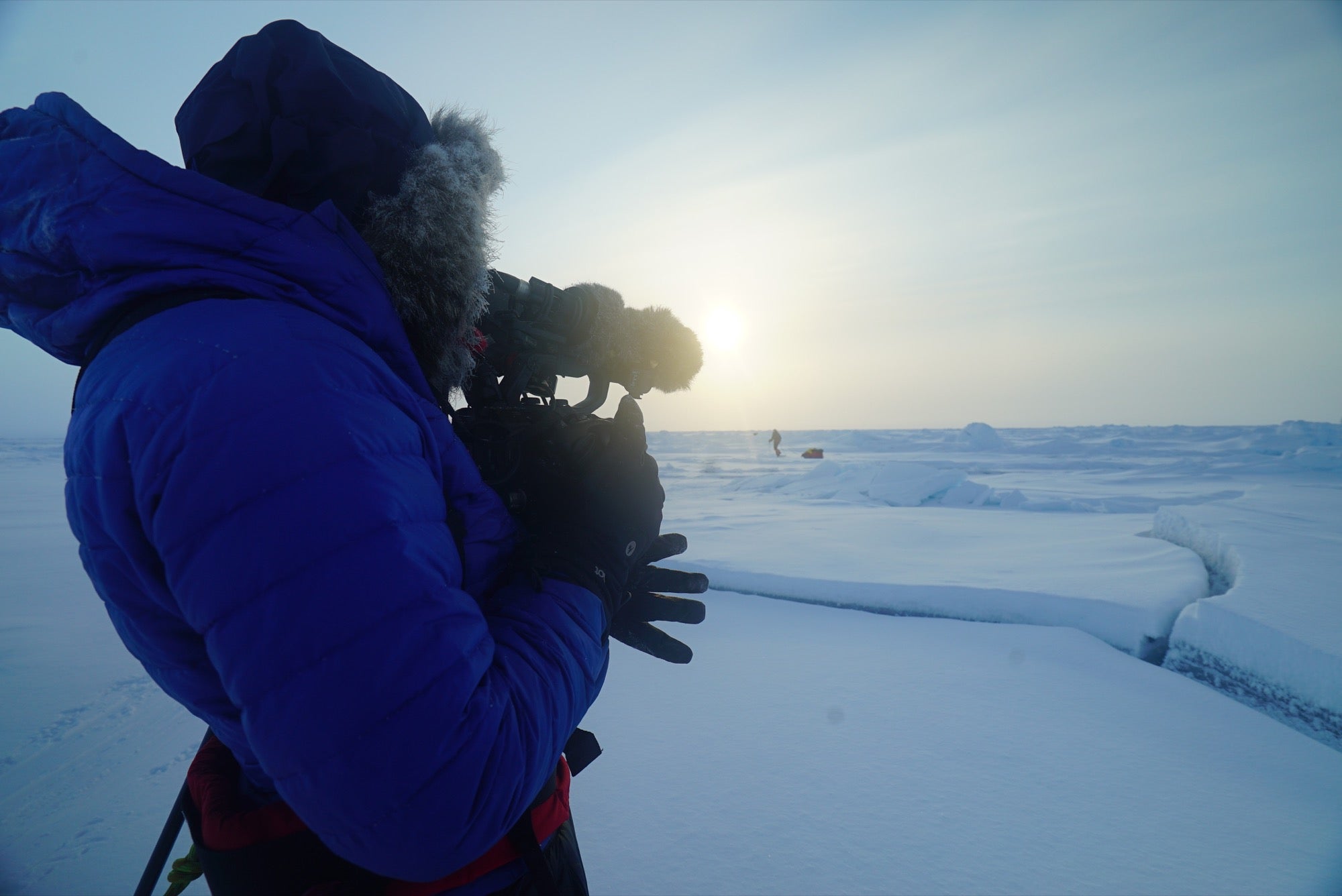 Despite some minor cracking and freezing, Kropotov asserted, "The FS5 held up really well and if I were to do it all over again, I would most certainly take the FS5 with me again – it was great."

Between Sony's 18-105mm lens and the 11-18mm lens the team brought, they were able to capture a variety of scenarios and vantage points using just two lenses. Kropotov explained, "Sometimes it's not ideal to switch lenses in the field, so our choices had to be varied and flexible. There's a lot of talk about the condensation settling on the glass and the sensor, but that never seemed to be an issue, which contributed to our decision not to switch out lenses very frequently in the field."

He continued, "The idea was to use the 11-18 inside the tent to get wider shots and also to fully capture the landscape without veering too far off our path. We were also able to get wide shots, to show a sense of scale of the Arctic Ocean, and shooting in the helicopter gave us a wide field of view. One of the film's concepts is to bring these survivors and people affected by cancer who are named on the flag on this journey with us. The wide angle shots conceptually capture the constant feeling of movement and allow viewers to follow Sean and have a visual sense of what carries him through this journey."

Caamano described the team's intentional form of storytelling. The distance between Sean and the sled he pulls is about four to six feet," he said. "We wanted the viewers to experience that distance throughout the entire documentary and feel like they're in the sled with the team's supplies and Sean's symbolic flag. When Sean's going to get his check-up or visiting people at hospitals before his trip, we opted to have the camera the same distance behind him and use those same prime lenses to keep the vantage point consistent. Then, when we made the transition to the North Pole it was a seamless extension of his day-to-day journey. We like to say that six months beforehand, when Sean got the first signature on his flag, that's when the trip to the North Pole really began, so we wanted to keep that uniformity in our point of view."

Kropotov spoke about the benefits of using all Sony cameras saying, "We wanted to keep everything in the Sony family because it allowed us to use the same system. Lenses and other accessories were interchangeable and our videos and stills looked great. If I was shooting with the FS5, I would have an α7S II underneath my layers and ready to swiftly capture a lead. The Alpha cameras were a key element of our shoot and the ability to quickly draw it out and produce a quality image was great. Another reason we chose it to be our secondary camera is because it is an integrated system with no cables and less buttons, which means less opportunity for failure."

Caamano described other elements of the documentary, many of which were shot using Sony's F5 camera and matched perfectly with the FS5 footage. "Prior to his excursions, Sean met with cancer patients and people who are at the darkest points in their lives," he said. "When he meets with them he tells his story of overcoming hardship, and when he leaves, these people are at a different point. They're feeling more positive. They're feeling more inspired. And we're sitting back as a fly on the wall and documenting this amazing story to encourage and motivate others. It's a privilege for us as filmmakers to witness something so genuine and inspiring and see how many people Sean is affecting. And we get to put faces to those names on the flag and follow up and see how they're doing."

In the end, the journey was an overwhelming success and Swarner is now one of few on the elite list of people who have accomplished the Explorer's Grand Slam, and he has the video diaries to prove it. Caamano jokes, "I think Sean has run out of places to go, so the next journey may have to be into space!"

True North is now in post-production and will air nationally on American Public Television in the fall. Watch a clip from True North detailing Sean Swarner's story that recently aired on ESPN's SportsCenter.