Jamie and Camille (@all.about.adventure) have been traveling around Australia for the past four years. Their interest in photography has grown since the time they started traveling, and now it has become an income for them. "We absolutely love photography and our goal is to create unique images that inspire people to travel and experience all of the natural beauty that is out there," says Jamie. "We work mainly with outdoor brands or tourism boards but our passion is shooting landscape or wildlife photography." We connected with Jamie from the travel duo to learn more about this beautiful moon silhouette image they captured using the Sony Alpha 7R III and Sony 200-600mm f/5.6-6.3 G. Read the story behind the shot below.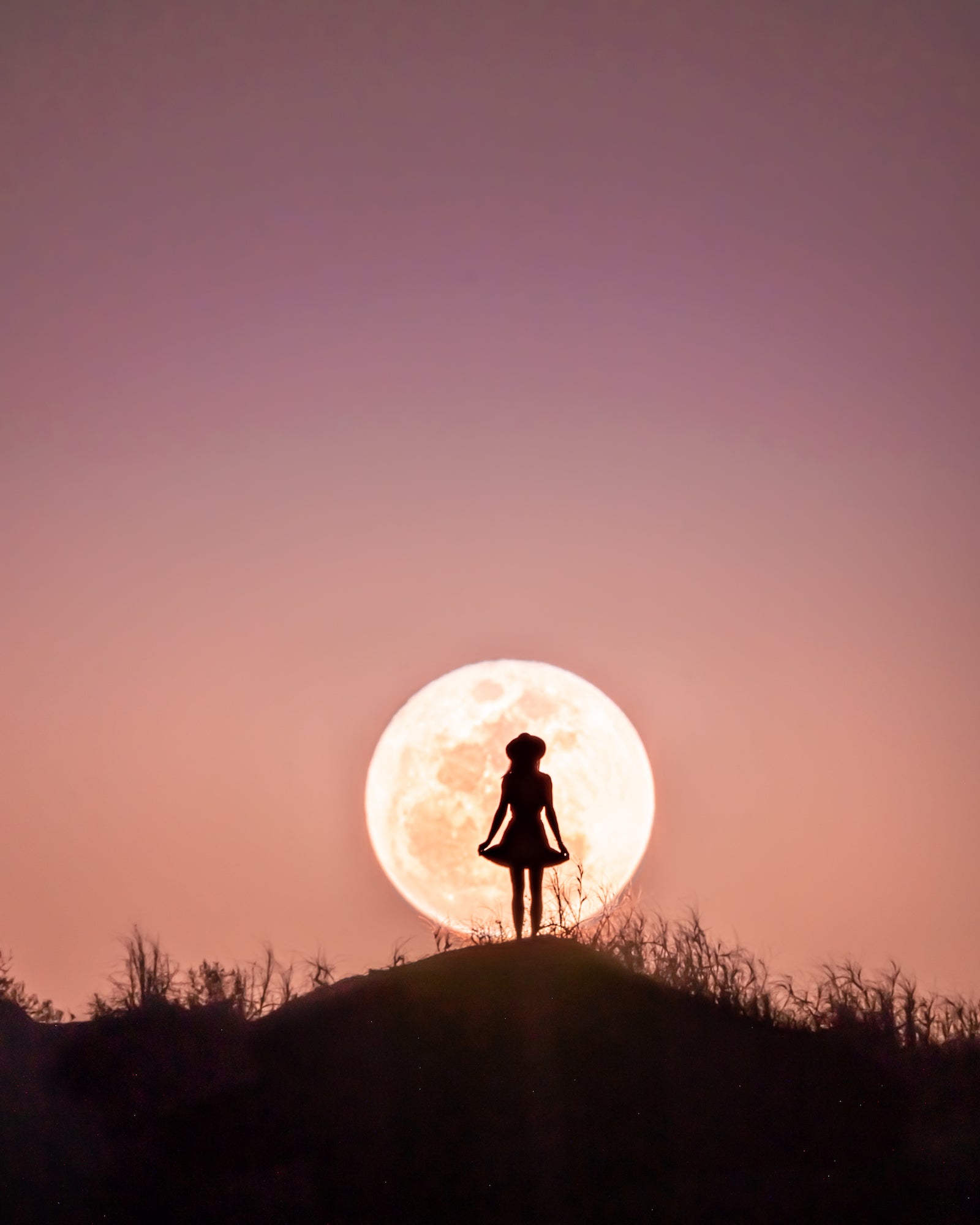 Photo by Jamie of @all.about.adventure. Sony Alpha 7R III. Sony 200-600mm f/5.6-6.3 G. 1-sec., f/18, ISO 250
Travel duo Jamie & Camille share how they used telephoto compression, careful exposure, planning and a little luck for a dramatic photo taken with the Sony A7R III & 200-600mm G lens.
The Scene
This photo idea started on a recent night at Cable Beach in Broome, Australia. This drive-on beach is an Aussie icon and offers beautiful hazy Australian sunsets. There's even a local camel ride tour that runs along the beach, so it really is a photographer's dream location. There we were, ready to leave after a beautiful sunset, when the moon started to peek up over the sand dunes. I grabbed the camera and took a couple of handheld shots in a rush, but I really wanted to capture a photo of Camille standing in front of the giant moon. Lucky for us the following night was the full moon, so we came back more prepared and ready to capture it.
Capturing The Image With A Telephoto Zoom
I used the Sony Alpha 7R III coupled with the Sony 200-600mm f/5.6-6.3 to capture this image. My goal for this shot was to capture the full moon with Camille standing directly in front and I really wanted the moon to be BIG but also have visible craters. I also wanted Camille to be in focus. By using the Sony 200-600mm lens (at 600mm) and having a distance between myself and Camille of 300 meters, I was able to use lens compression to make the moon appear much closer.
The next step was to manually focus on Camille, except I also wanted to keep as much detail in the moon as possible. So to achieve this I set the aperture quite high at f/18, bringing more detail into the moon. The only issue with having a high aperture is it brings in the need for a tripod. With the tripod setup I was able to shoot a slower shutter speed of 1-second and keep the ISO low at 250 to keep out any noise from the image.
Post-Production
The only post-processing that was needed was a slight exposure increase to lighten the photo and an increase in the warmth of the image to bring out the colors. I love the dynamic range of the Sony Alpha 7R III, so I knew I would be able to shoot a bit darker and keep the ISO low and still be able to recover the shadows.
See more of Jamie and Camille's work on Instagram @all.about.adventure and follow their adventures on their travel blog at allaboutadventure.org.