Ben Moon (@ben_moon) is a Sony Artisan and self-taught photographer and filmmaker who enjoys working with a diverse range of adventurers, athletes, and musicians. He's always going on an adventure, and usually with his adorable pup @noribythesea! The pair live in Oregon and spend their days on the coast. We came across this image on Moon's Instagram account and wanted to learn more!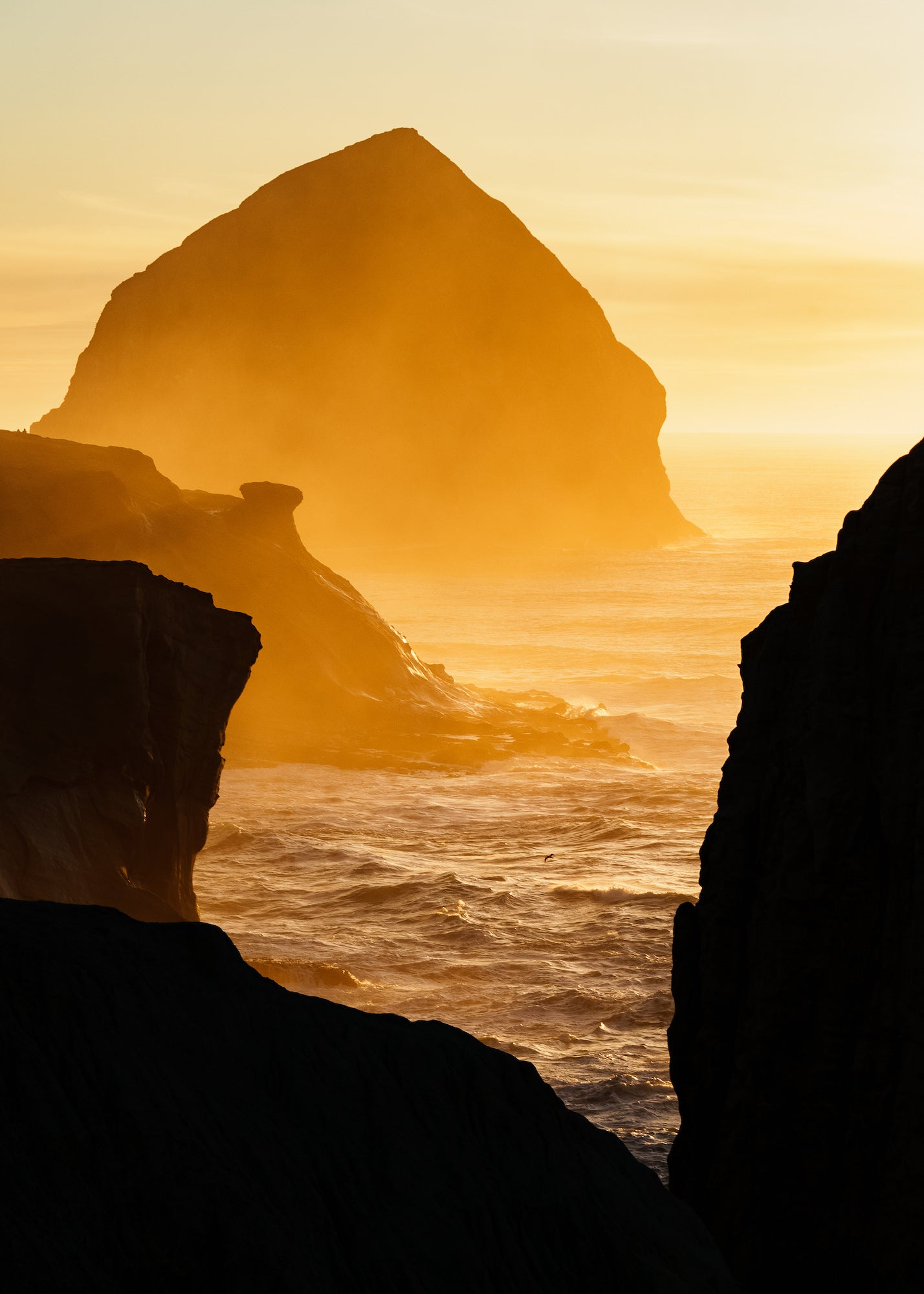 Photo by Ben Moon. Sony Alpha 7S III. Sony 70-200mm f/2.8 G Master. 1/200-sec., f/11 and ISO 320
Photographer and filmmaker Ben Moon shares how he created this beautiful, layered sunset image with Sony 70-200mm f/2.8 GM and a 2X tele-converter.
My career as a professional photographer began over 20 years ago, and back then my work focused on outdoor adventure and lifestyle, shooting rock climbing and surfing for companies like Patagonia. Since then, my craft has shifted a lot but I still love working outside in epic locations and especially capturing human emotion when people are outdoors doing what they love.
For the past decade I've put a lot of effort into the filmmaking side of things, using motion as a tool to tell immersive stories. I'm probably best known for my short film Denali, about the friendship with my late dog Denali and surviving colorectal cancer. The short went wildly viral and more recently I wrote a memoir called Denali: A Man, a Dog, and the Friendship of a Lifetime that explored the story further and was published on Penguin Books right before the pandemic hit.
When I shot this image, the Sony Alpha 7S III had just been released and I was excited to see what it could do. I have shot in this location on the Oregon Coast many times in the summer, but I prefer the drama of the Pacific Northwest light in wintertime. On this particular evening I took a walk with a friend and before sunset, hoping the light might pop and indeed it did!
Even though the A7S series have always been known for their low light sensitivity and video capabilities, I have always loved their image quality for stills as well. I paired the camera with the Sony 70-200mm f/2.8 G Master and a 2x teleconverter, and shot the image handheld at 1/200-sec., f/11 and ISO 320. I added a circular polarizing filter to cut down glare off the ocean and deepen the color in the sky. The telephoto stack effect made the rock formations and sunset light even more dramatic. I lightly edited the raw file in Lightroom, to bring out the colors of the surreal winter light.
See more of Ben Moon's work on his Alpha Universe Profile and on Instagram @ben_moon.