We asked our Sony Artisans Of Imagery and Alpha Imaging Collective to submit their most meaningful images of 2022 and let's just say...they understood the assignment! This week we'll be counting down to the end of the year with a selection of the submitted photos along with the story behind each one. See Part 5 below featuring inspiring nature and wildlife imagery from Peter McBride, Colby Brown, Matt Kloskowski, Cristina Mittermeier, Nancy Borowick, Paul Nicklen, Andy Mann, Jude Allen, Dave Burnett and Karl Zoltan Dyer, and stay tuned to Alpha Universe this week for more.
We're counting down to the end of the year with a selection of the most meaningful images taken by our Sony Artisans Of Imagery and Alpha Imaging Collective in 2022.
Peter McBride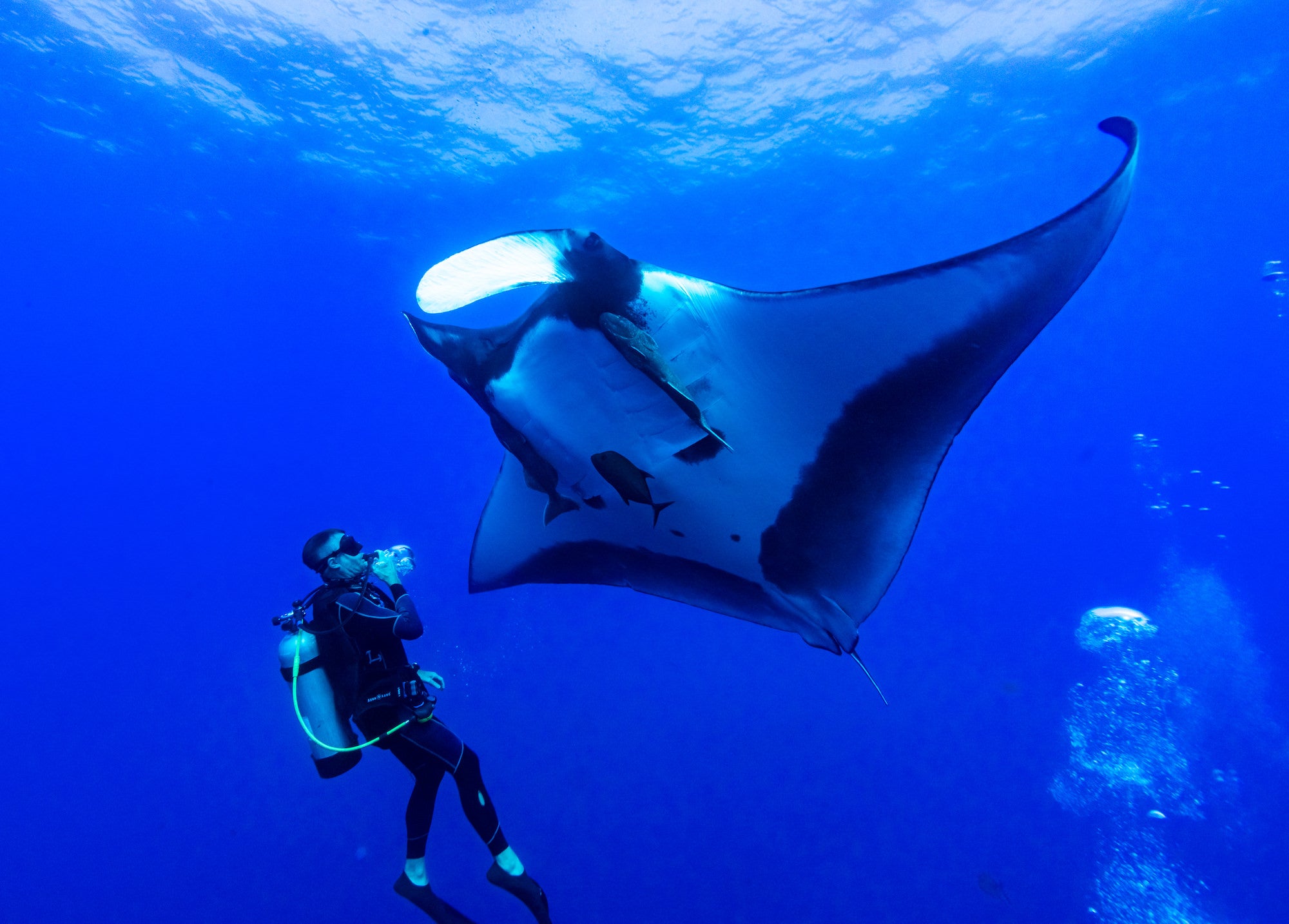 Photo by Peter McBride. Sony Alpha 7R IV. Sony 16-35mm f/2.8 G Master. 1/125-sec., f/18, ISO 2000
"I was diving in the Revillagigedo Archipelago, a group of volcanic islands in the Pacific southwest of Baja, Mexico which is known for its unique ecosystem and as a result is a UNESCO World Heritage Site and marine reserve. The marine life is extraordinary, with a wide range of cetaceans, sharks and manta rays. On this particular dive, this giant manta kept circling to glide over our bubbles. To be amidst such enormous, graceful species in their watery realm is deeply humbling, magical, and a profound reminder how remarkable our world is and why we need to protect it – not just for us, but for our fellow species (large and small)."
"I am not sure if I will ever be in the presence of such a wondrous giant again. In 25 years of working as a conservation photographer around wildlife, I am very aware how unique and precious such close encounter moments are with our wild neighbors."
Colby Brown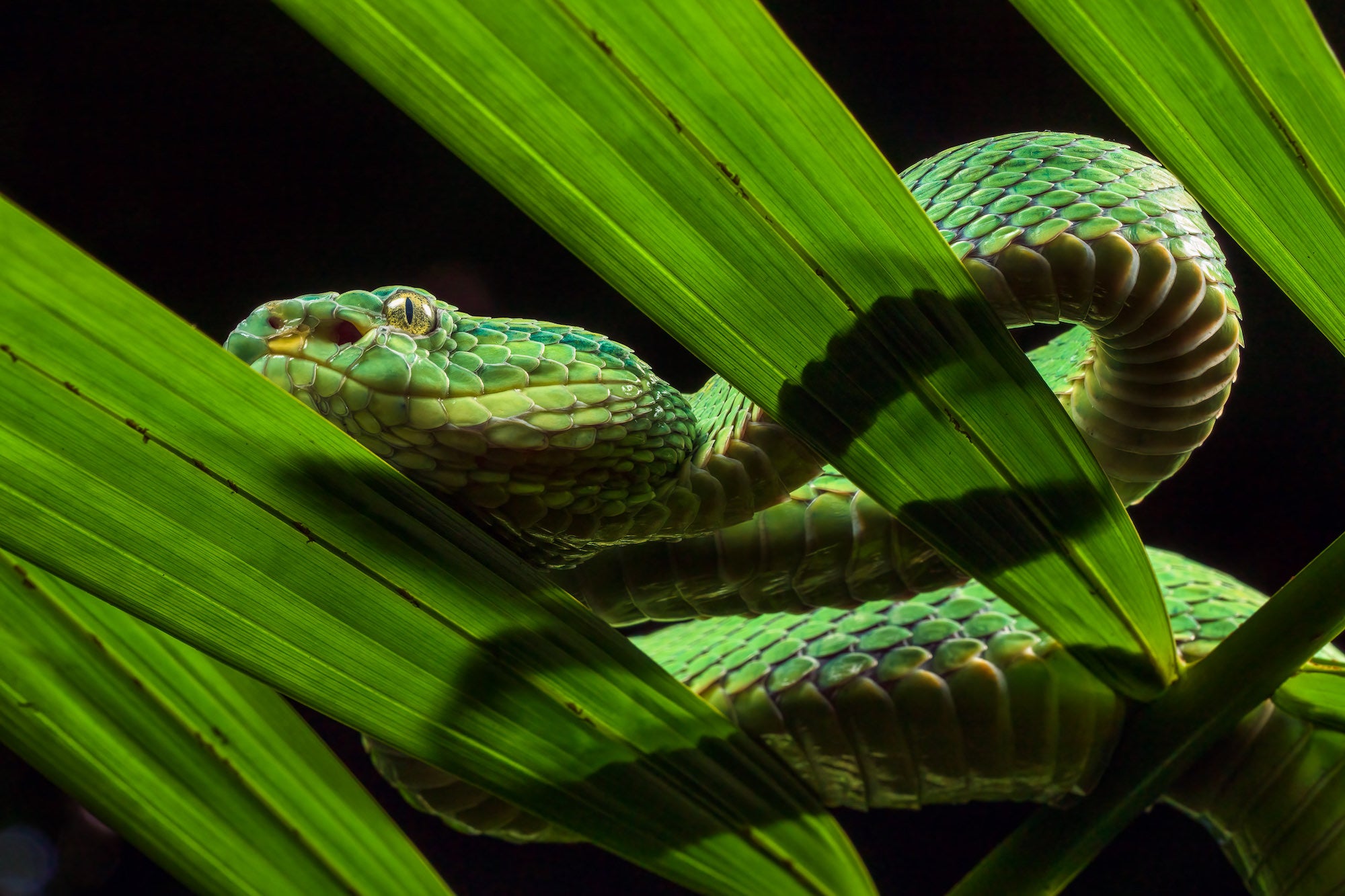 Photo by Colby Brown. Sony Alpha 1. Sony 90mm f/2.8 Macro G. 1/200-sec., f/16, ISO 200
"Costa Rica is easily one of the most accessible and biologically diverse countries on the planet. For the last few years I have been heading to Costa Rica to find new and innovative ways to photograph the huge variety of different species that call the jungles of Costa Rica home. For this image, I was in a place called Sarapique, located just two hours North of the capital of San Jose,looking for snakes and frogs when I came across this Palm Leaf Pit Viper. Using my Sony Alpha 1 with my Sony 90mm f/2.8 Macro lens and an off camera Godox V860 III flash I was able to capture the shot."
"For me, macro wildlife photography has truly opened up a number of creative doors for me over the last few years that I didn't know even existed. And when I came across this beautiful green Palm Leaf Pit Viper, I knew I wanted to find a unique way to photograph it that was still accurate to the species itself. This particular kind of snake is known to be found on palm leafs (hence its name), so it was fitting that I found a way to incorporate its natural environment into the shot. There is something about the angle, the light and the contrast of this particular image that I simply love with this image!"
Matt Kloskowski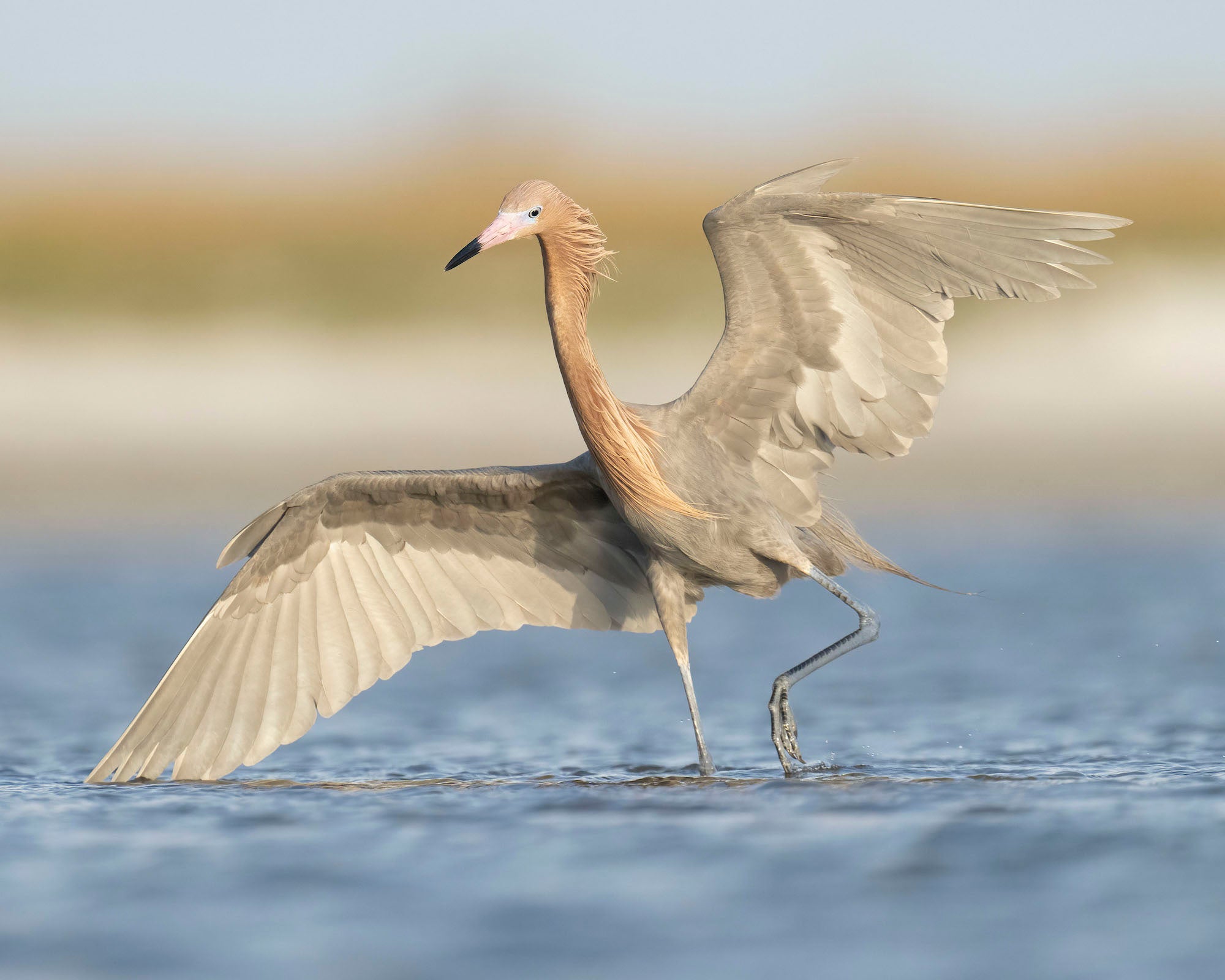 Photo by Matt Kloskowski. Sony Alpha 1. Sony 600mm f/4 G Master+ 1.4X TC. 1/3200-sec., f/5.6, ISO 1600
"This photo of a Reddish Egret was taken on a local beach in the Tampa area. These birds always draw a crowd because of the way they dance around when they hunt for fish. They jump, twirl, dive and spin. I set up with the camera essentially on the ground to get this perspective, while sitting on a little camping chair looking down at the flip out screen. At that point, it's just a matter of following the egret around and trying to capture some fun action moments."
"I picked this as my favorite, even though I have hundreds of photos of Reddish Egrets, because all of the stars aligned for this shot. First, you have to find the egret which isn't always easy. From there, the light has to be good. Early morning light within an hour or so of sunrise is best. Next, you have to have the right light angle. You want the sun behind you so it illuminates the egret - not off to the wide where you'll get a lot of shadows. Finally, you need a good background. There are plenty of places these birds hunt and they don't always choose to do it in an area with a pleasing background. 90% of my photos of them don't get shared because I simply don't like the background. Put all of that together and this moment worked to be one of my favorites of the year."
Cristina Mittermeier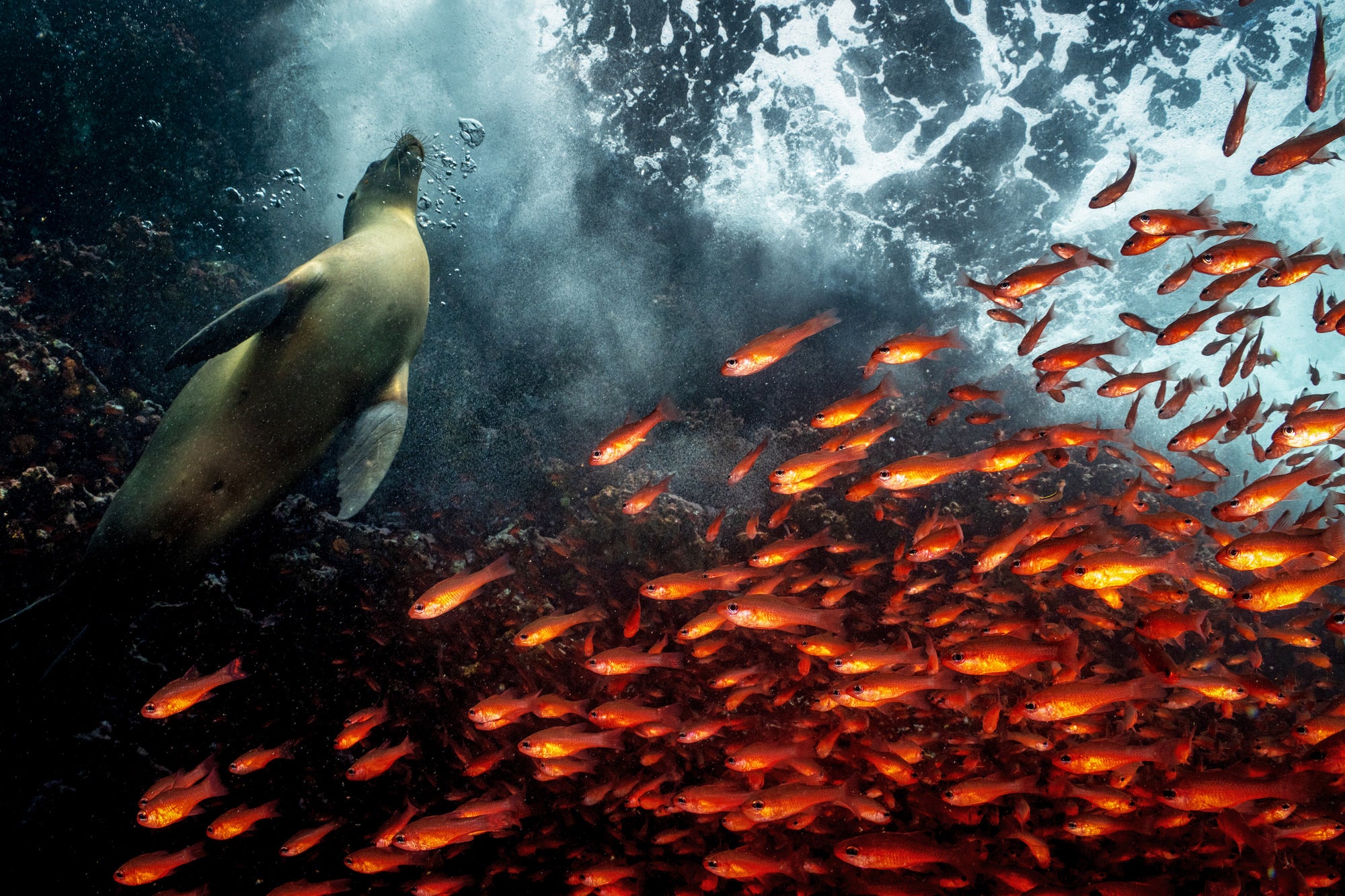 Photo by Cristina Mittermeier. Sony Alpha 1. Sony 28-60mm f/4-5.6. 1/200-sec., f/16, ISO 640
"This is a Galapagos sea lion diving among a curtain of red cardinal fish off the island of Cousin in the Galapagos Archipelago. This image was part of a campaign we created through SeaLegacy to expand the protections of the Galapagos Marine Reserve so that migratory animals, like sea turtles, sharks and marine mammals, can have safe migratory routes. The campaign was a huge success and this image is part of a collection of images donated to the government of Ecuador to showcase this protection."
"It was really hard and dangerous to dive on such a remote island, where sea lions are actively pursued by Galapagos sharks. The rough seas and swift currents make it even more perilous. I worked hard to capture this image as I struggled to avoid getting pushed onto the rocks while keeping an eye out for sharks and I absolutely love it. This is now part of my fine art collection."
Nancy Borowick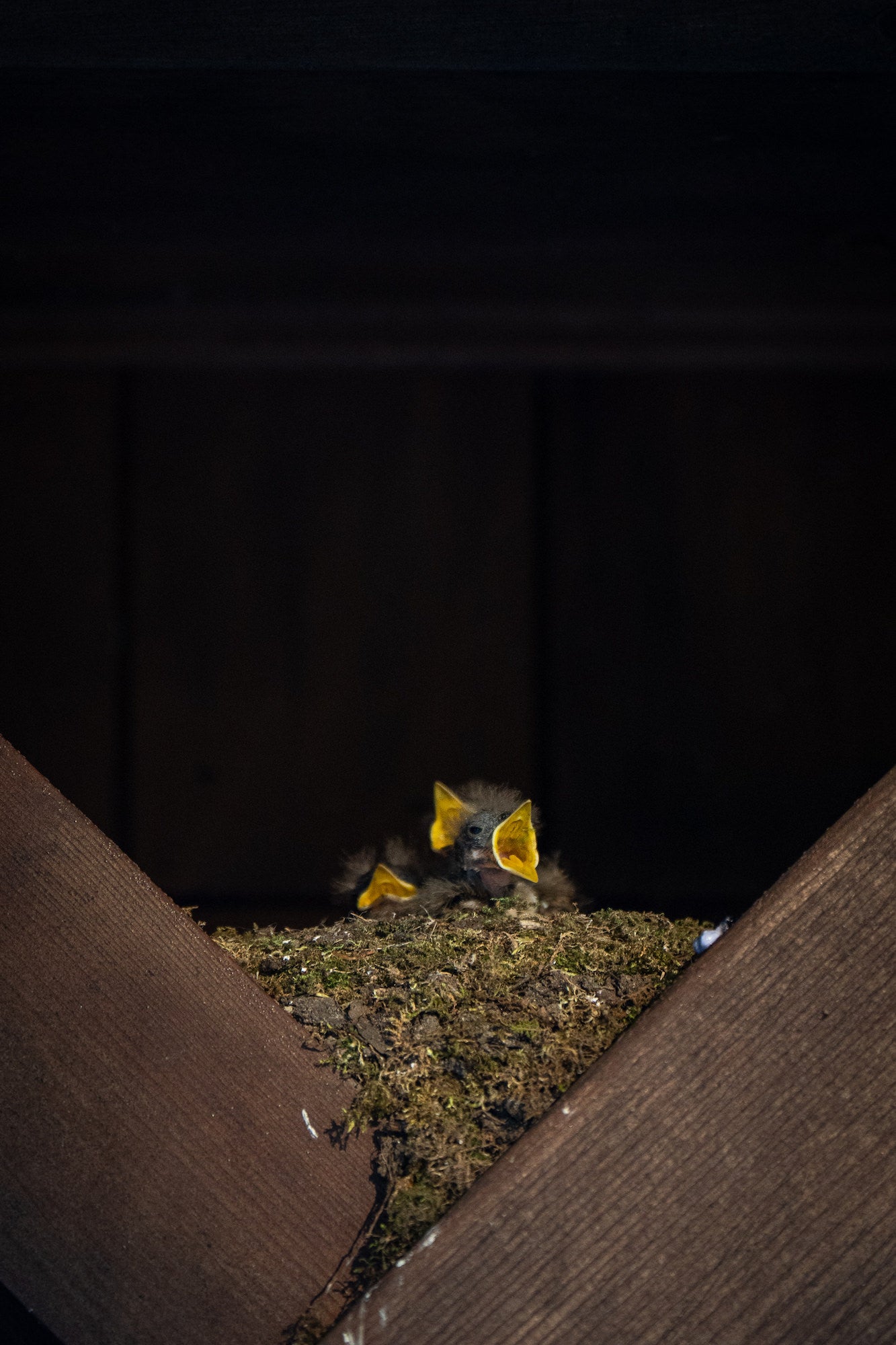 Photo by Nancy Borowick. Sony Alpha 1. Sony 70-200mm f/2.8 G Master II. 1/160-sec., f/2.8, ISO 800
"As a mom of a toddler, I spend a lot of my time thinking about meals. It seems like my son is perpetually hungry yet he is always eating. One afternoon, I was in the kitchen when I heard these young birds crying out for something to eat and the mother in me had to see who was making the ruckus. Pretty soon after that moment, the mama bird returned with their meal and I felt a hilarious yet relatable kinship with her and had to remember this moment. It helped that the sun was setting, spotlighting these hungry babies, so I grabbed my camera and waited for the perfect moment."
Paul Nicklen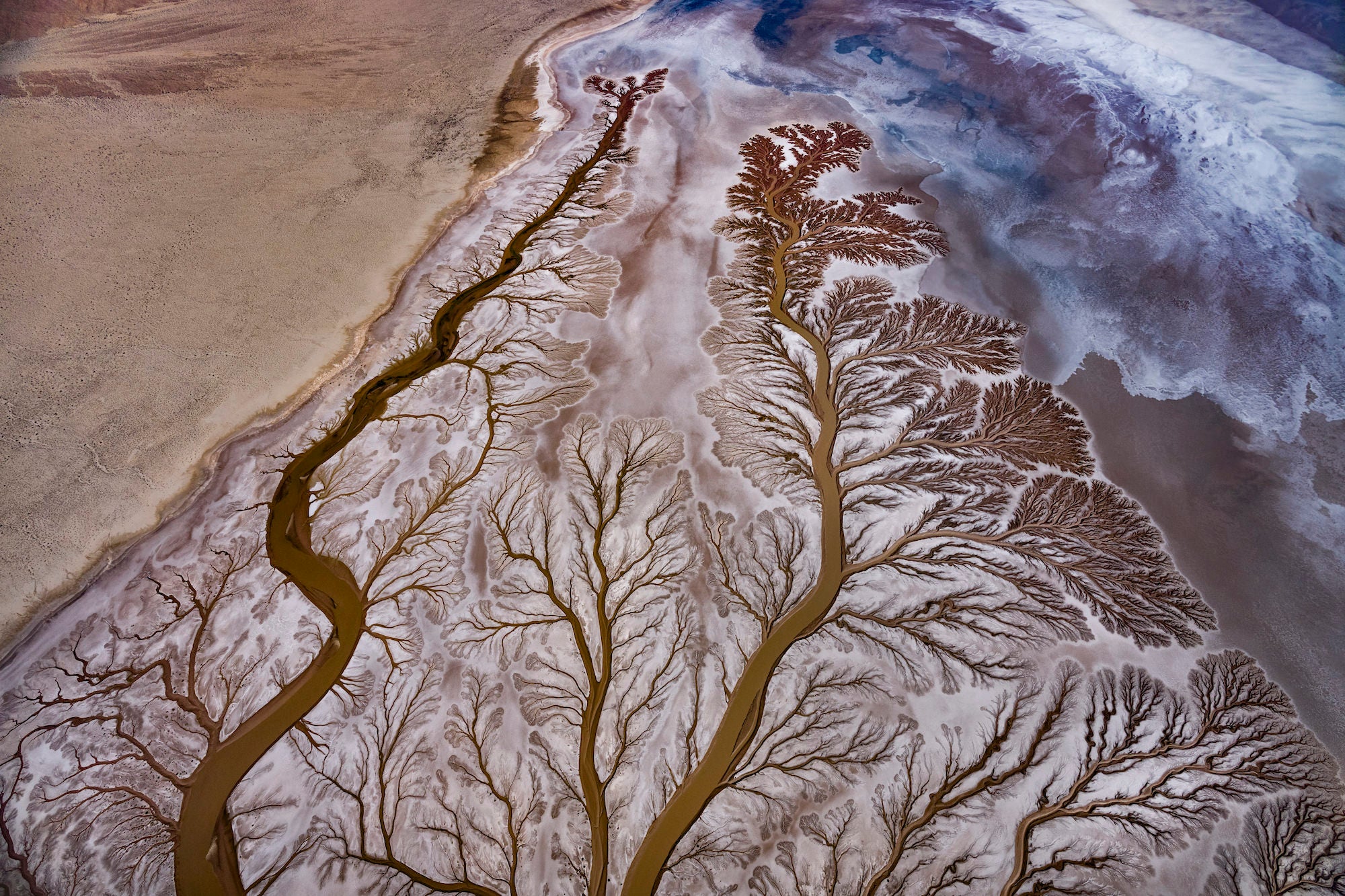 Photo by Paul Nicklen. Sony Alpha 1. Sony 16-35mm f/2.8 G Master. 1/2500-sec., f/5, ISO 400
"This is the Colorado River Delta in Mexico. The Colorado River no longer reaches the sea due to over usage in the US. These channels are caused by the ebb and flow of the time, where salt and water slowly work their way through clay-like lagoon where millions of birds used to frolic through the dense foliage."
"This image is meaningful to me because it is at the intersection of art, science and conservation."
Andy Mann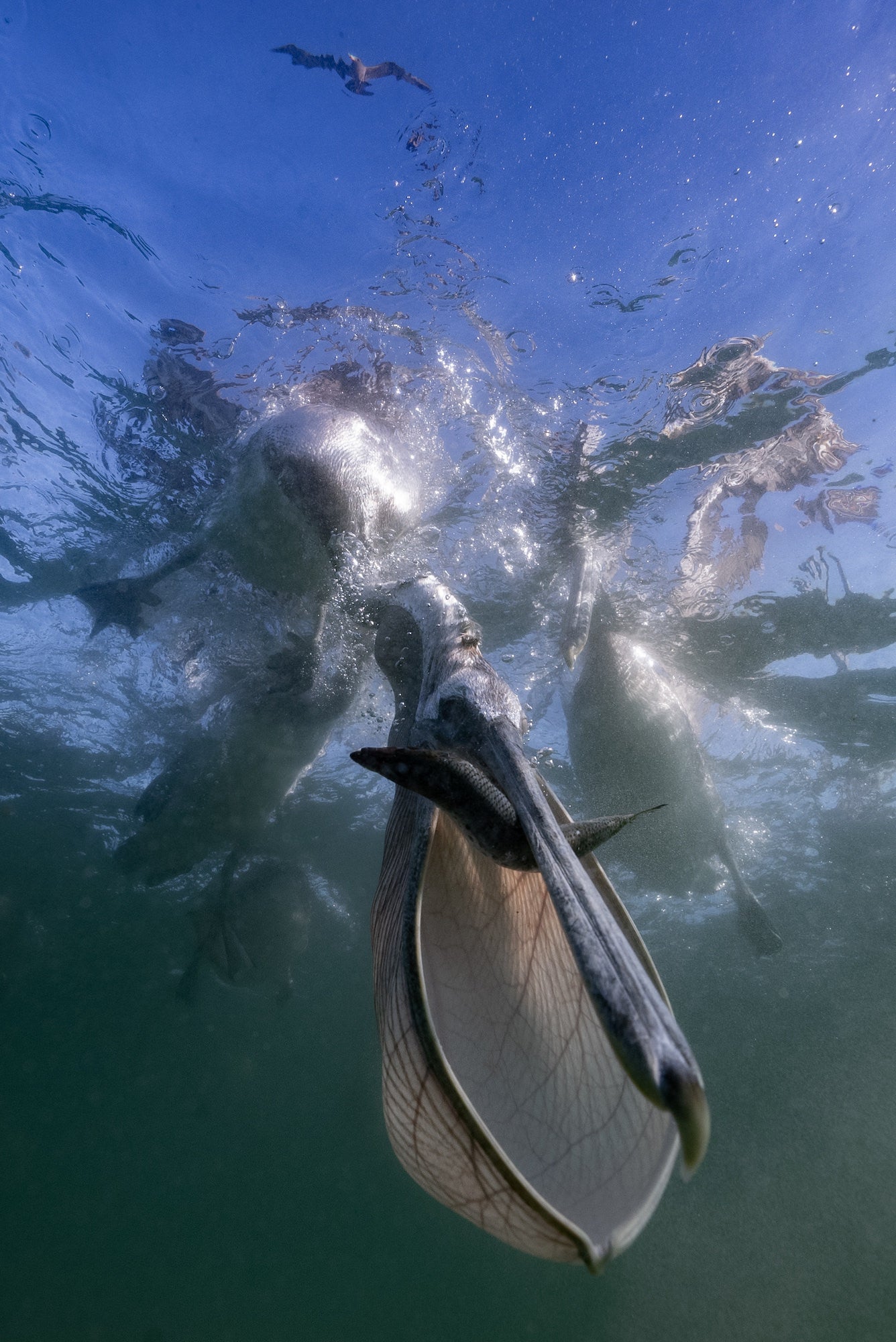 Photo by Andy Mann. Sony Alpha 7S III. Sony 16-35mm f/2.8 G Master. 1/640-sec., f/8, ISO 800
"I spent the afternoon diving with a flock of pelicans in Magdalena Bay, Baja Sur, MX around fishing boats who come into the bay to offload their sardine catches and clean their boats and nets - for which the pelicans get treats and line of by the hundreds to get in on the action. In the thousands of images I shot - I feel like this is the one! It's a connection between man, bird and fish."
"I've always wanted to capture a pelican diving for fish. It's meaningful to me because it shows the wild side of our planet and the words that exist below the thin blue line of the ocean that very few people get to experience. A wild ocean is a healthy ocean!"
Jude Allen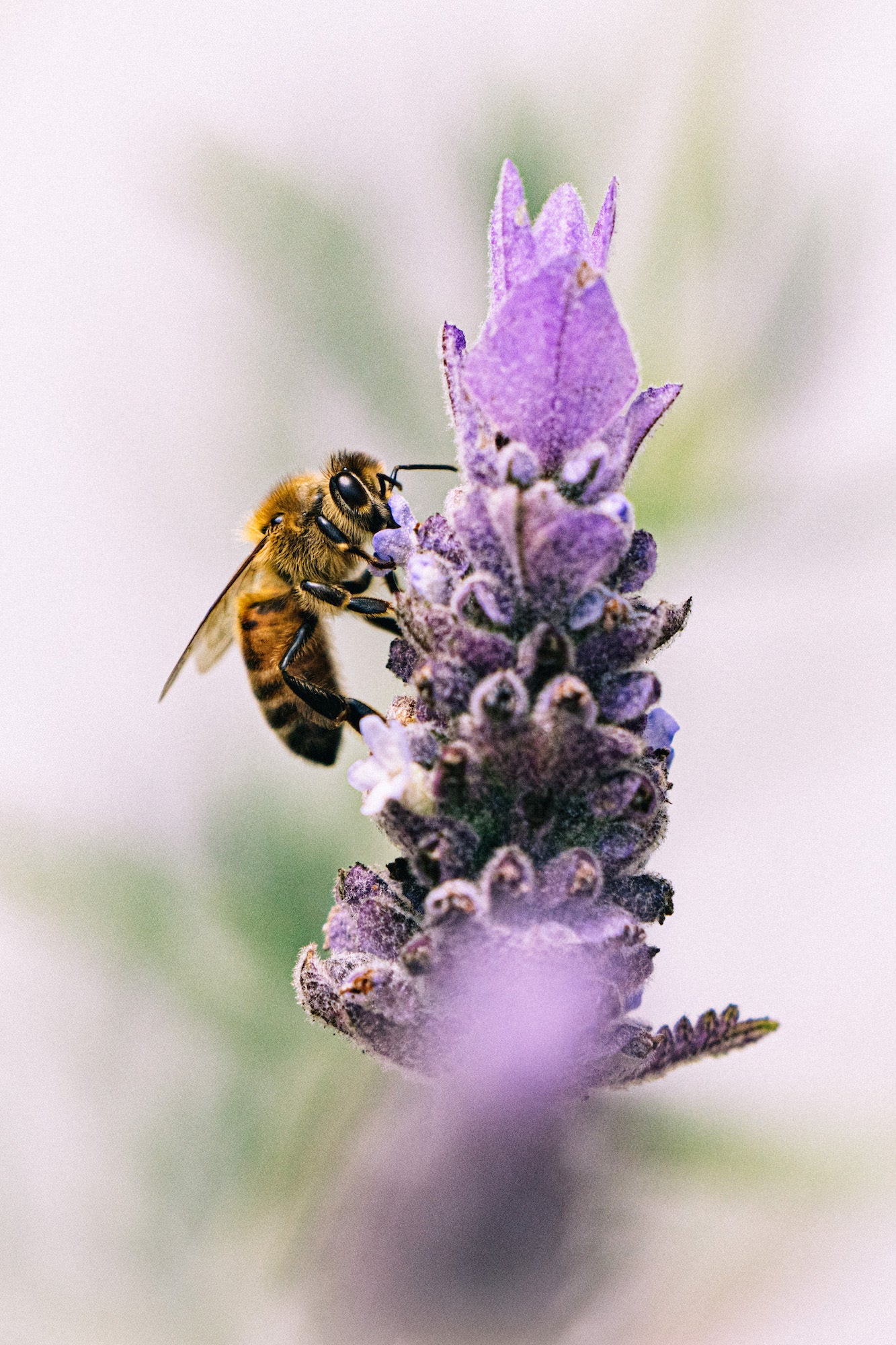 Photo by Jude Allen. Sony Alpha 1. Sony 100-400mm f/4.5-5.6 G Master. 1/2000-sec., f/5.6, ISO 400
"While visiting family I noticed a few honey bees flying around a rosemary bush on the side of the house. I decided to try and capture some of the bees and the flowers together and also wanted to see if I could get macro quality shots with the 100-400mm."
"This is a different type of image from what I normally would shoot. I love the colors, details and composition of this shot. When I first started photography around ten years ago I took an image of a bee with a phone and add-on lens. It's also a representation to me of how much better my skills have gotten over the years."
Dave Burnett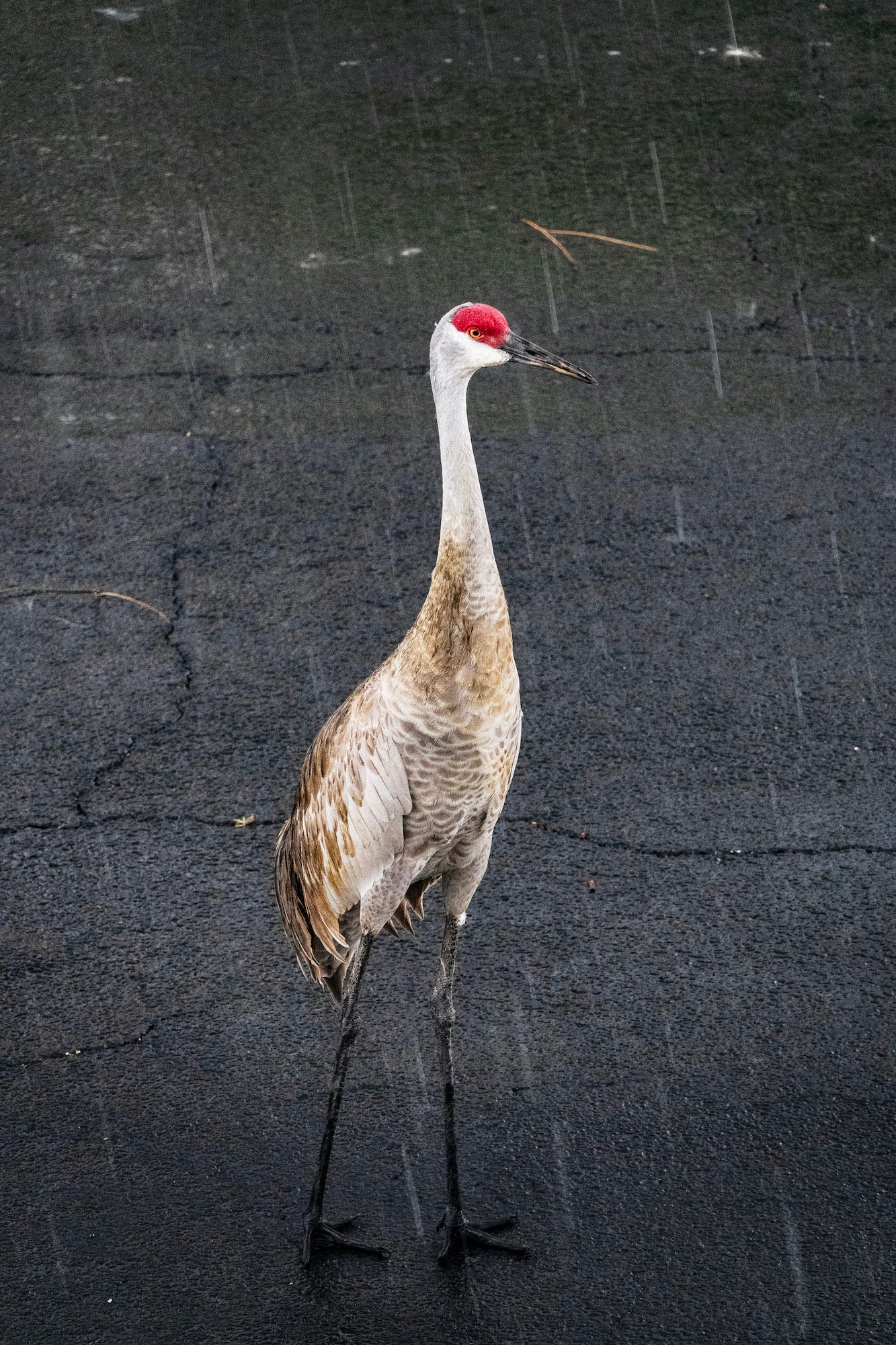 Photo by Dave Burnett. Sony RX10 IV. 1/80-sec., f/4.5, ISO 1250
"As a recent part-time arrival in Florida, it's been a joy to become acquainted with the amazing bird life. They are inspiring in their wisdom, and incredibly beautiful. In the rain, this Sandhill Crane seemed to be at one with nature, totally unperturbed. The strength and pride of the bird impressed me greatly."
Karl Zoltan Dyer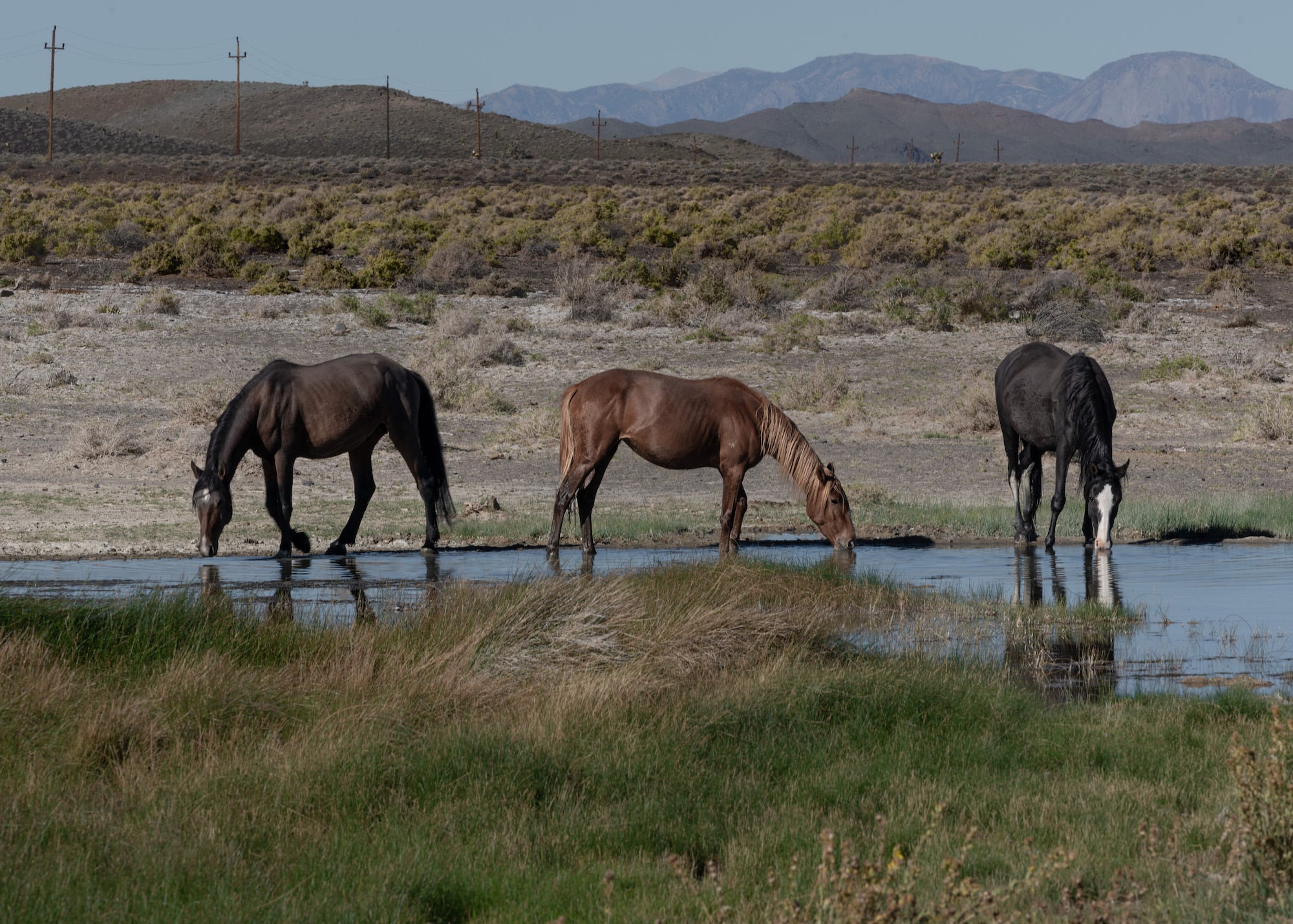 Photo by Karl Zoltan Dyer. Sony Alpha 7R III. Sony 70-200mm f/4 G. 1/80-sec., f/16, ISO 50
"I was shooting in the Nevada desert and taking a break in a hot spring when I saw these wild horses walk up to the water nearby for a drink."
"This shot was a dream come true! I always wanted to capture wild horses and I couldn't have asked for a better opportunity! This is as free as you can get, nothing around us for miles and miles!"