We know many of you might be spending extra time at home with your pets right now, and while they certainly don't mind the extra attention, it's possible you could be struggling to find your creative outlet during social isolation. It's time to take inspiration from Stephanie Zimmer (@stephaniezimmer_), who after an injury had to pivot career paths from cinematography to something new. She's an active member of the Alpha Female community and Alpha Female Facebook group, and she found her way to freelancing as a commercial and private animal photographer – dogs being her specialty. We connected with her to learn more about how she got into the world of animal portraiture and advice she would give to other creators trying to find their way.
See how Stephanie Zimmer got her start in animal portraiture and hear her advice for other creators trying to find their way. #SonyAlphaFemale

Sony α7 III. Sony 24-70mm f/2.8 G Master. 1/160-sec., f/10, ISO 100
Why Dog Portraits?
"When I started out, I wanted to be a cinematographer and I was climbing the ladder in the camera department as a camera assistant on commercials and movies. But then I had a back injury that kind of derailed my career path. During my recovery, I started spending a lot of time photographing and walking my dog. That turned into a business walking other dogs in order to spend time with them and then I started photographing them. After years of that, I actually got further away from the photography side and decided to go back to school to get my master's in photography. Then I did my thesis on purebred dogs, and basically haven't looked back since."
For her thesis she started finding dog models to photograph that she hoped to turn into a book, and that's led her to other opportunities. She graduated just last year and decided to start her own business photographing animal portraits. Dogs are her usual clients, and she loves getting to know each one to bring out their personality in every portrait.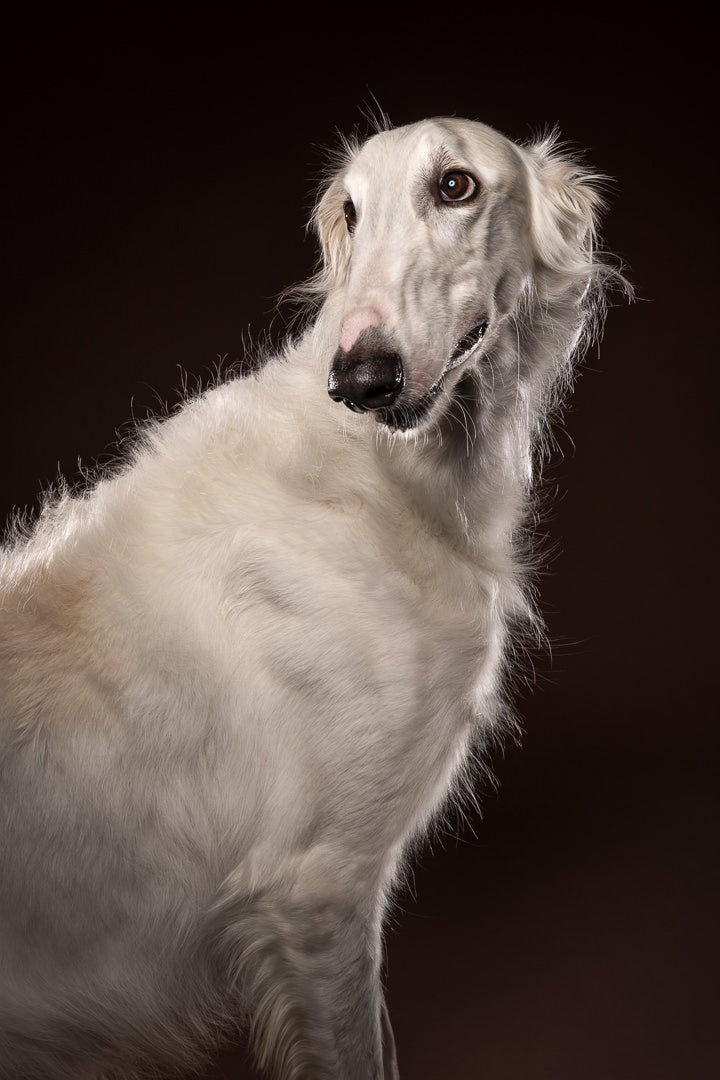 Sony α7 III. Sony 24-70mm f/2.8 G Master. 1/160-sec., f/13, ISO 100
"I try to get a feel for each dog when they come into the studio and spend some time with them. Then I can start to see what their personality is and try to feature that. So I watch what they naturally do and sometimes I ask the owner to help me repeat that action. I'll also make noises to try to get their attention and I have all sorts of sounds that I use. I usually have a squeaker in my hand and the owner is holding treats."
The Gear
"I shoot with the Sony α7 III. I was looking for a camera that was small and a bit lighter weight without compromising quality, so that's how I landed on the α7 III. I really like how well it performs in low light. It's also nice to be able to go back and forth between a single focus point and then with the Animal Eye-AF feature turned on so if I'm close enough it just locks onto the dog's eyes."
As for lenses, Zimmer typically sticks with a mid-range zoom, but she also has a telephoto zoom and a prime in her bag for other circumstances.
"I typically use the Sony 24-70mm f/2.8 G Master. It's just the perfect range for me, for what I do. I find myself often shooting in the 40-60mm range, but it just gives me a little bit of flexibility since the dogs are moving around all the time."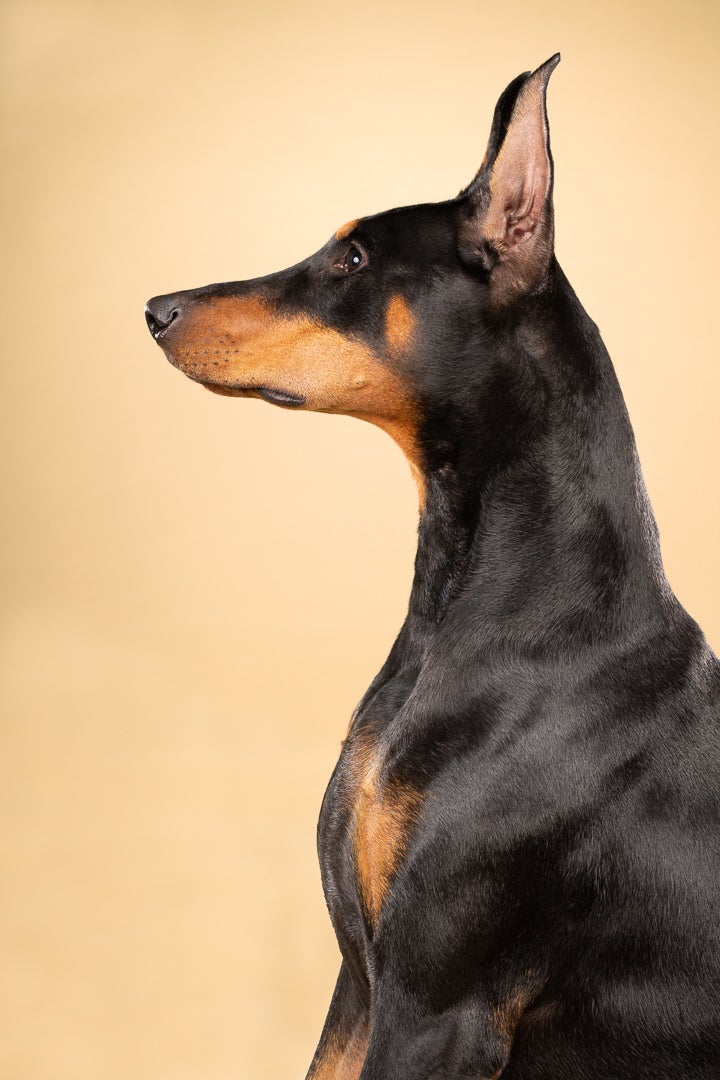 Sony α7 III. Sony 24-70mm f/2.8 G Master. 1/160-sec., f/11, ISO 100
"I also use the Sony 70-200mm f/4 G lens. If I'm going to be a little bit further away from the dogs for instance, sometimes I photograph dogs that are up for adoption, or cats for that matter, and sometimes they might be shy or they come with some baggage from their history. And so, I might need a little more distance, so then I would use that lens. Then I also have the 35mm f/2.8 for if I'm out roaming the streets. Sometimes the 24-70mm can be a little bit intimidating, so the 35mm helps me walk around be a little more inconspicuous."
Advice For Other Creators
Zimmer says that it's important for the creators to take part in building the community up by collaborating, exchanging ideas, and helping each other succeed. She has some advice for other creators trying to find their way.
"I think it's best to find a niche these days in a particular genre, rather than trying to dabble in everything. With the popularity of social media, people are looking for dependable content to watch and support and everyone has discerning taste these days. There is just so much content out there that it has created critics out of everyone, so people know what good photography and originality looks like, and social media tends to reward consistency. It's an amazing tool that can open a lot of doors, so to not utilize it would be a missed opportunity. That's not to say that you can never explore new styles but galleries, books and other outlets often look for a series at the least, so thinking in terms of projects rather than one perfect photograph can be helpful."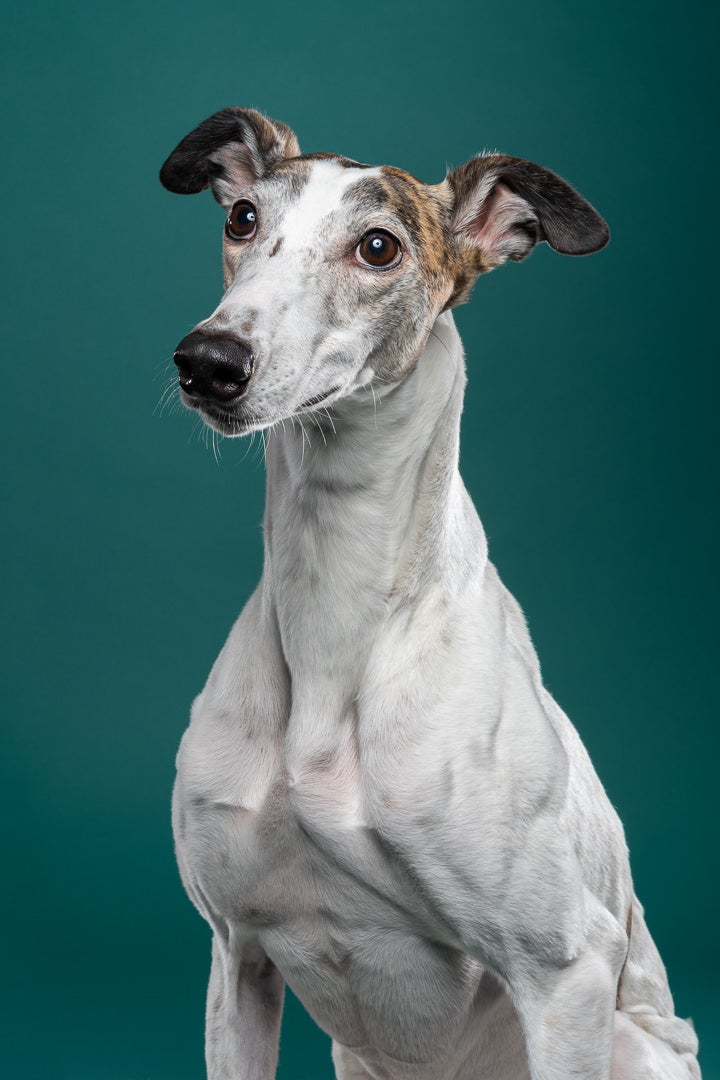 Sony α7 III. Sony 24-70mm f/2.8 G Master. 1/160-sec., f/18, ISO 100
"You should keep in mind too, that starting work as a freelance photographer is also starting a business. It takes your passion for creativity and overcoming technical challenges and introduces accounting, pricing, contracts, networking, sales, promotion, overhead, and the list goes on and on. All of a sudden you're wearing multiple hats and it can be incredibly rewarding if you stick with it. Don't be afraid to fail! In order to succeed, you have to learn some hard lessons along the way but every job is an opportunity to grow from what you've learned. If you can find a mentor to help you in the beginning, that advice is priceless! As a matter of fact, it was my mentor who told me that advice about my first job."
See more of Stephanie's work at stephaniezimmer.com and on Instagram @stephaniezimmer_.