Cutting through the noise in the crowded social media marketplace is daunting. For many professional photographers, Instagram has become a natural fit for showcasing work and interacting with an interested audience. But how do you build the right kind of following that works best for your particular business?
World-class wedding photographer and Sony Artisan Sara France is deliberate about how she uses the social media platform for her wedding business @france_photographers and for herself as a photographer @sarafrance.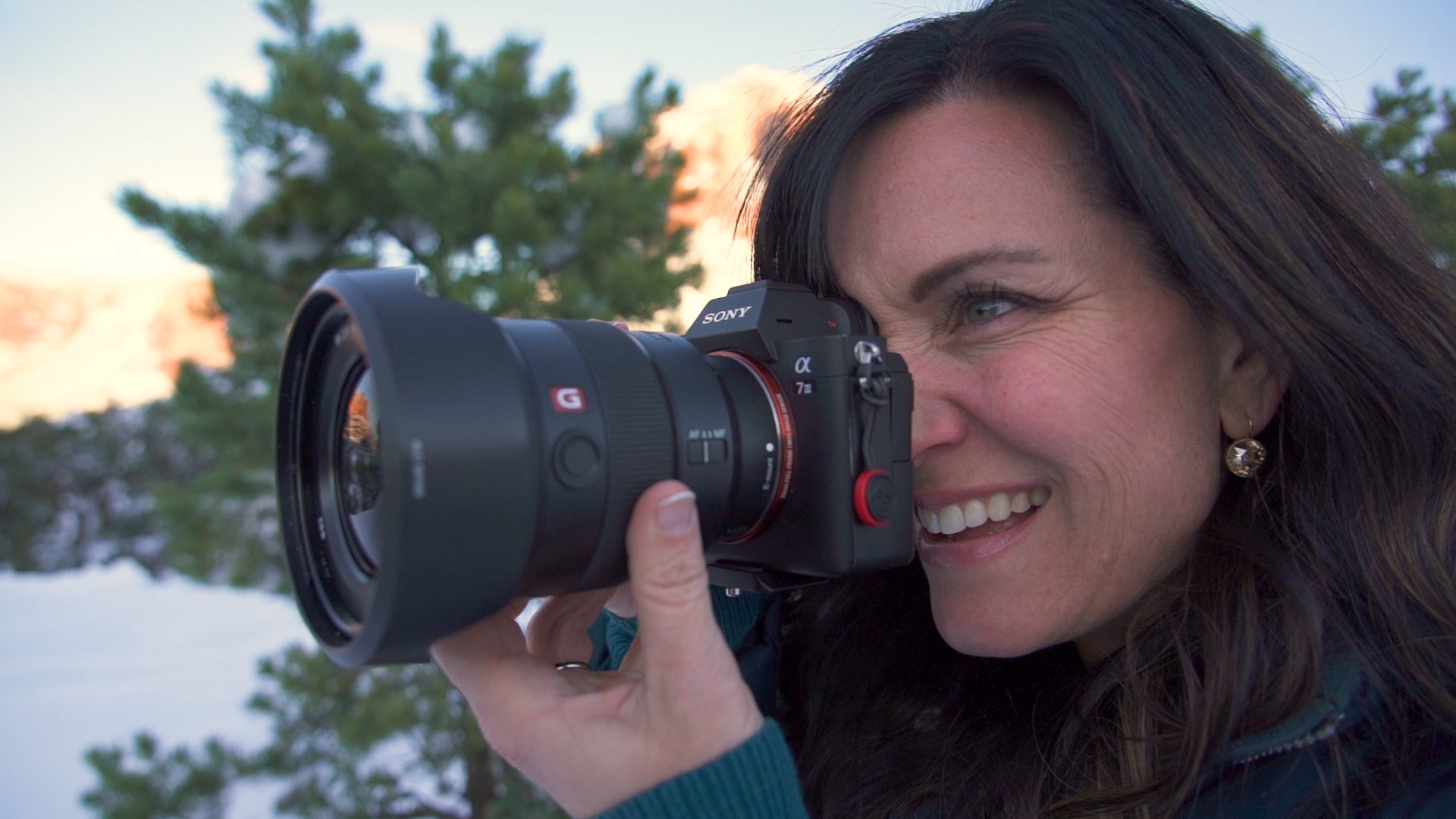 Sony Artisan Of Imagery Sara France at work with her Sony α7 III.
Ultimately, France says, the most important thing for an Instagram feed is not how broad the reach but rather that a photographer is reaching the right kind of audience. It goes back to step one: determining what it is you want your Instagram to accomplish.
Laying The Groundwork
Are you hoping to build a broad worldwide audience, or would a focused group of local customers do more for your business? Are you looking to become an influencer, interacting with an audience of photographers and peers, or are you solely hoping to sell your services to an eager clientele? The answers to these fundamental questions lay the groundwork for the next steps, and it's crucial if you hope to put your Instagram presence to work for your business.
"Instagram is definitely something that I adopted pretty early," France says. "But nowadays it's a different job. We're working on how to be seen and how to provide relevant information that people want to see and share. We're always thinking about how we can reach not just the most people, but the right people. That's something that we're continually working on."
"It's about the impact," France continues. "If I put something out, I might get the same amount of response as somebody with 10 times as many followers as I have because I'm reaching the right people. You can't just buy followers and expect to have a lasting impact to your bottom line. I want my content to be impactful, so I focus on reaching the right audience."
While many photographers use Instagram simply as a tool to remind clients that they're ready to work, France's approach is different. She has a much more calculated plan for her Instagram. Her posts aren't billboards; they're strategically aimed at meeting her goals like connecting to prospective bridal customers, or at times shifting to reach fellow photographers who are interested in what France can teach them. In each case her posts are not random, but rather designed from the start with a particular impact in mind. And they start with the quality of the content.
"I think being specific," France explains, "and being able to target specific types of people within Instagram is critical and to do that, you need to have the right content. If it's too broad, then no one wants to pay attention. But if it's too narrow, then you don't really have enough traction to get a following to be relevant. We're looking for more and more ways to reach brides. Brides are looking for photographers for maybe a month or two months and then they're gone so we're looking to see how we can make an impact with them." In that regard, France's primary goal isn't to have a huge number of followers as much as it is to be followed by the right perspective clients for the time that they are looking to hire their wedding photographer.
The Push To 10,000
Instagram incentivizes users to reach certain milestones, but for France those milestones only matter if they have a concrete benefit. "Everybody talks about the elusive 10k number with Instagram." she says. "That number is only good for one reason: Instagram has decided you can't use 'swipe up' in your story unless you have 10,000 followers. The only reason that I care about 10,000 followers is I want the capability to share information, and that's 'swipe up.'"
Perhaps surprisingly, France says the drive to 10,000 starts with some offline connections in the real world. At the recent Wedding and Portrait Photographers International conference, she seized her opportunities as a presenter to get in front of pertinent potential followers as often as possible.
"When I was at WPPI," she says, "there's obviously a large group of people that are a possible audience, so I did a giveaway during my presentation. I spoke on the Sony stage two to three times a day. I decided to do a giveaway where if they follow me on Instagram, I'm picking one person to give a 30-minute mentoring session. Giveaways can be good, but they're only really powerful if you can get other people to share them."
Forming Strategic Partnerships
France also suggests strategically partnering with friends and colleagues who have thriving Instagram followings and with whom a social partnership might be mutually beneficial. "Get other friends of yours involved," she says. "I'm one of the mentors for the Sony Alpha Female program, and I worked with one of the Creators-in-Residence, Colette Robinson on a stop motion shoot. Colette is a stop-motion photographer, and when we were out shooting I asked her if she'd do a stop motion of me. We paired up and posted on the same day. She did two of them and we said if you want to see the other stop motion, go to the other person's feed. So my followers could connect with her, and her followers could connect with me. The key to that, was actually being there at WPPI with Colette. That's really the interesting part. I had to be there to create the opportunity to make it happen."
Generosity is also helpful. It's not only a good way to go through your life, it has the potential side effect of bringing positivity back to you. That's the idea behind karma, after all. It's something France says she's intentionally working on. For instance, she recently photographed fellow Artisan Cristina Mittermeier. When those finished portraits are delivered to the National Geographic photographer, she may like them and share them with her Instagram audience of more than one million. "If she shares that image," France says, "that is a gift enough back to me that I took this image of her and she likes it. I'm intentionally doing more things like that as well."
Staying Focused
After hitting 10,000 followers on Instagram, France's strategy shifts back to targeting potential customers in particular. She makes it a point to be deliberate about sharing images with clients, colleagues and vendors in a way that harnesses the connectedness of Instagram.
"I'm really going back to the basics of it when it comes to wedding photography and what I do day-to-day," she explains. "We have things set up in our process to help that as well. Every time we shoot a wedding, we have a form that the client fills out online that tells us who all the vendors are. Then right after the wedding, when we send the images to the bride and groom we also send them to the vendors. That way the vendors have full access to download. Then they post on their feeds and tag us as one of the vendors. That's just step one. Getting your images out there, getting people to share them. These are creative ways to reach more people."
With the "swipe up" functionality that comes at 10,000 followers, France can add more information to her posts and be more creative with her content. She can also incorporate some affiliate marketing—which is another way to be smart about the business advantages of social media. She says it's important, though, to stay focused on your own particular goals as that will influence the audience at whom you aim.
"I think it will shift my target a little bit," she says, "but it's also going to shift my content. I think I'll be providing more information on my Instagram. I'll be providing more captivating stories where people can kind of continue the conversation and transition from Instagram to whatever it is that I'm trying to share. I'll still be focused on reaching the right audience, just being able to interact more and differently with them."
Doing The Work Offline
As much as these techniques are helpful for building an audience, France says if a photographer's ultimate goal is to create a refined online brand in order to market more effectively, sell more products, teach better workshops or garner bigger assignments, it all begins offline, exactly where you might expect it would.
"So many photographers ask me about how to be more of an influencer, and get more involved with companies, and be sponsored or be ambassadors and get recognized. That's so hard to answer that because it really is about just doing the work—being a good photographer and having clients recognize you. I wish I had an answer that was easy for them, like 'well I did this one thing.' I've been shooting for 20 years and I've put my head down and just continued to do the work and it got noticed."