It's usually late February or early March when I load up my vehicle with tools of photographic wonder to embark on a journey from Asheville, NC into the unknown and across the U.S. Destination: Las Vegas. WPPI to be exact, where I have been an educator there since 2002.
I hit the road in search of anything that interests me with no real direction other than west. I have seen wondrous things and met curious characters through these journeys over the years. I typically direct my camera to beautiful landscapes and interesting folks I meet along the way. I always wanted a co-pilot/model along for one of these trips. Someone to have with me as a subject in a scene. A muse in the wild. I have had several co-pilots over the years, but they are usually fellow photographers and friends in search of new adventures.
This year I convinced 2 professional models to explore the open road with me! One for the trip west and one for the trip east (back home). I brought along some wardrobe that I felt would fit our surroundings and bring home the story we would want to tell and off we went.
Usually I am loaded up with every camera format and film type from 8x10 to 35mm. Both film and digital at my fingertips. I do shoot a lot of film and alternative process and it will always be my center of photographic balance, but not on this trip. This year I decided to just bring just one system; my Sony α7R II with a bevy of lenses. This set up continually blows my mind with its versatility and image quality. No-matter how I push it around it just works. Digitally speaking it's what I reach for.
Below are a few of the images made on this year's trip with the thoughts that were bumping around in my head while I made them. All of the images were made with my Sony α7R II with various Sony lenses and one special-purpose prime. Everything was created with ambient light.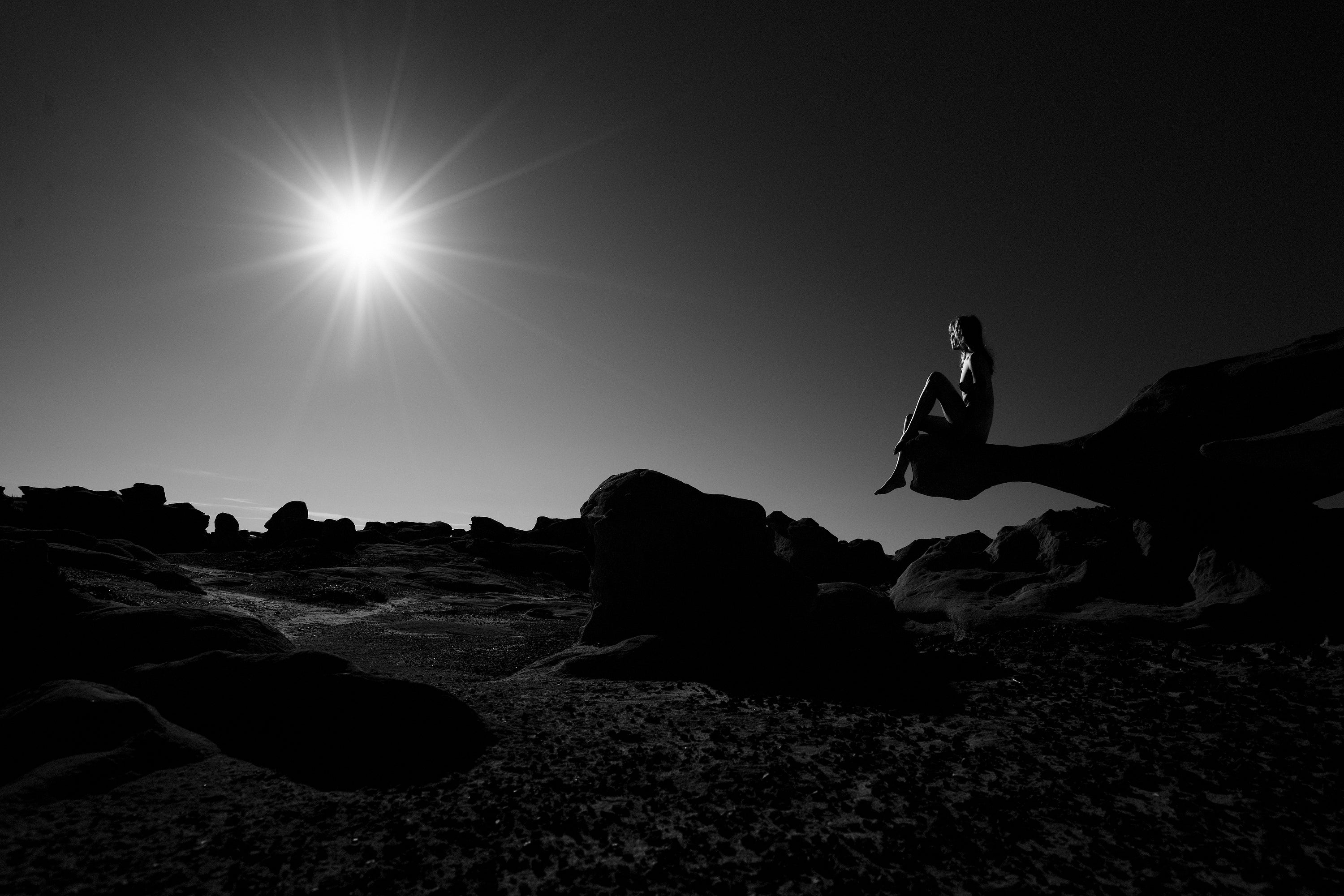 Born into a brand new world.
The way the α7R II sensor hangs onto the highlights and the shadows always amazes me. It doesn't get more high-contrast than this and you can still make out subtle texture in the foreground. The 16-35mm lens also did a nice job with the starburst at f/8. This is just a straight B&W conversion with no post-processing shadow or highlight work.
Sony α7R II Sony Vario-Tessar T* FE 16-35mm f/4 ZA OSS at 22mm. f/8 1/2000-sec., ISO 100.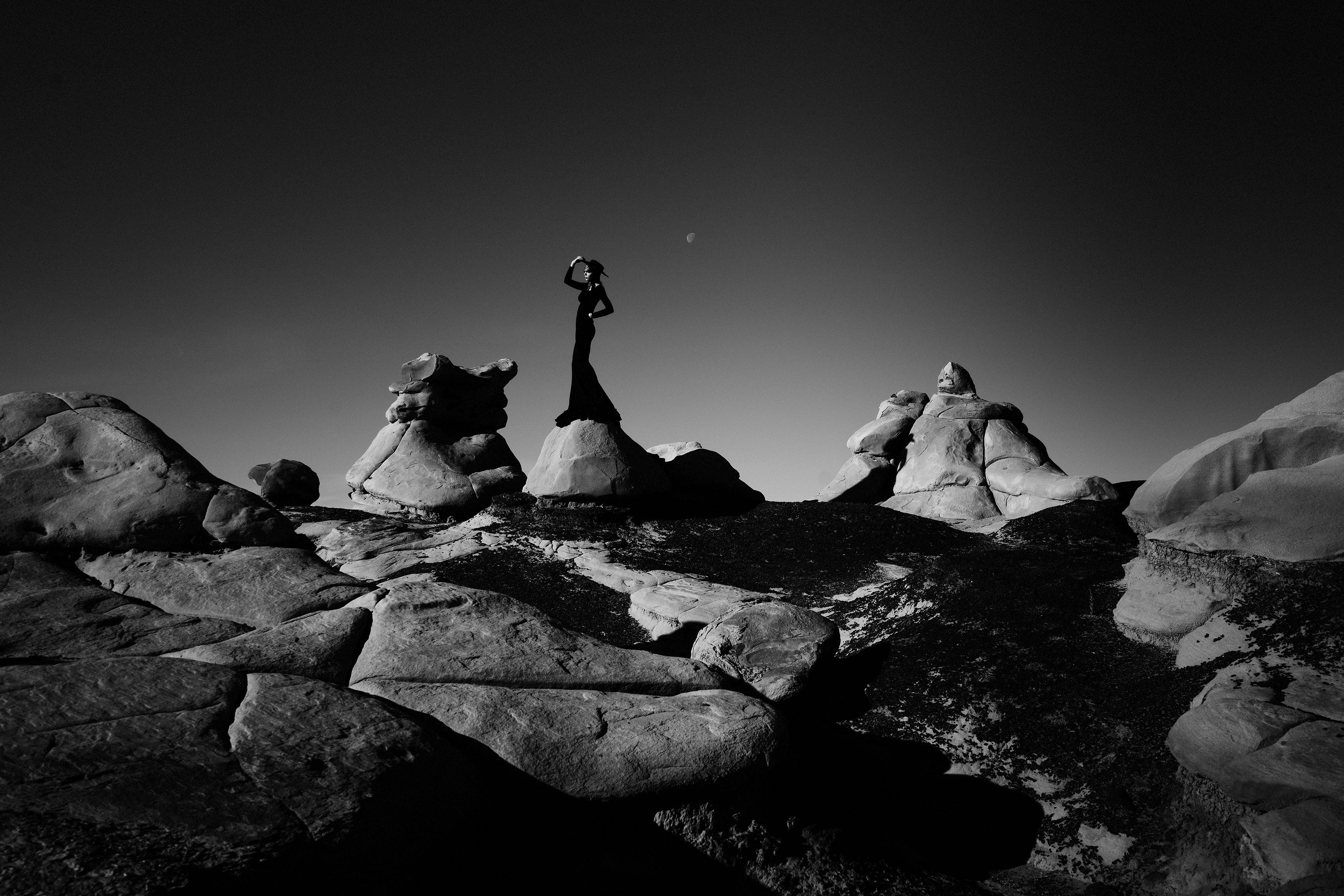 Trendsetting on this foreign landscape.
The lumpy rockscape stands in contrast to the smooth, slender lines of the model in this flowing gown. I brought a fairly broad collection of wardrobe garments, but this dress was far and away the garment we used the most. It just worked with the model and how I was seeing on this journey. Sony α7R II, Sony Vario-Tessar T* FE 16-35mm f/4 ZA OSS at 32mm. f8, 1/640-sec., ISO 100.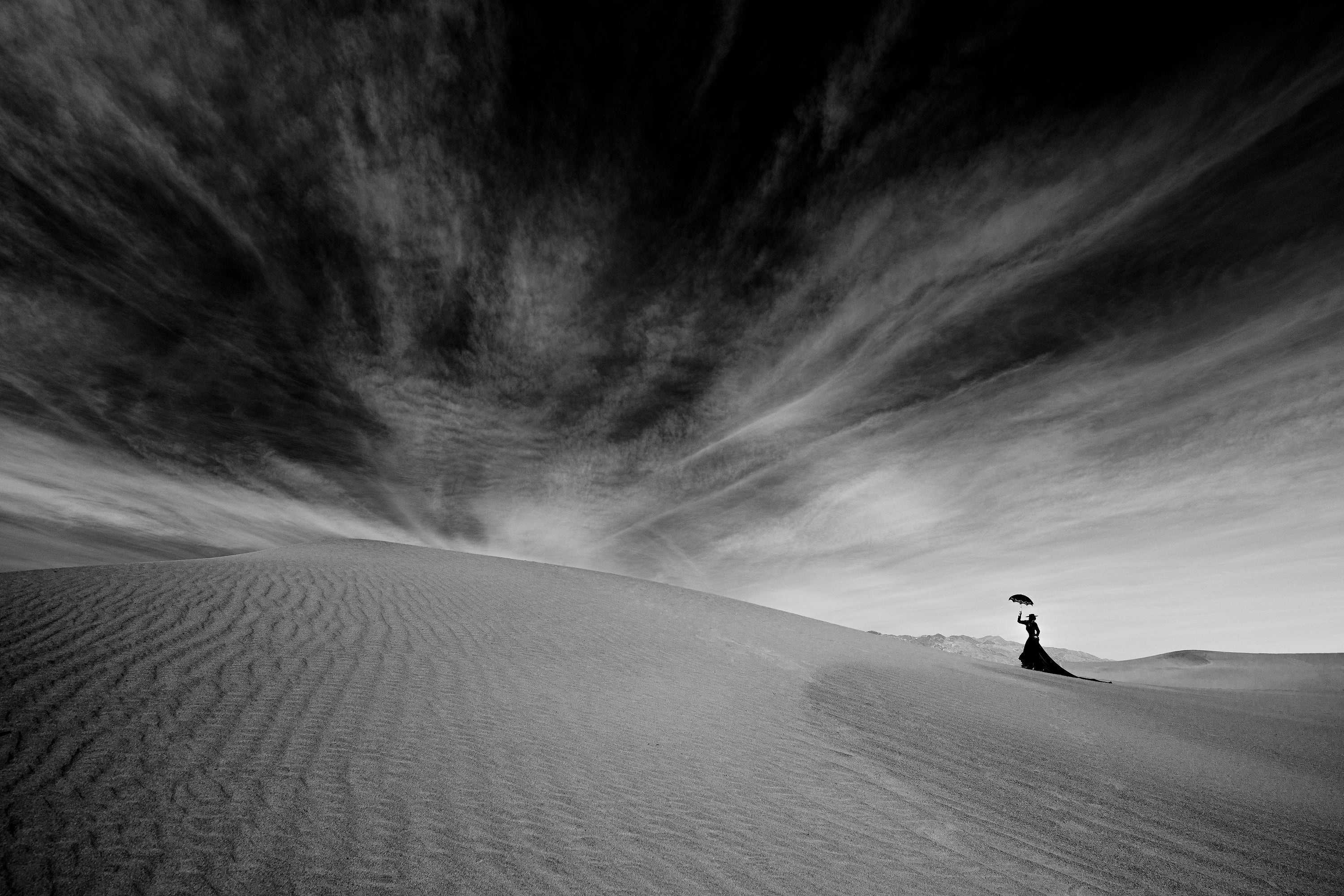 Is there more out there than I know?
If you've never had the chance to drive through the desert southwest, you should put it on your list. The feeling of open space is extraordinary. Using the 16-35mm zoom at 16mm enhanced the leading lines of the clouds In the sky and the sand waves in the foreground. Sony α7R II, Sony Vario-Tessar T* FE 16-35mm f/4 ZA OSS at 16mm. f/8, 1/160-sec., ISO 100.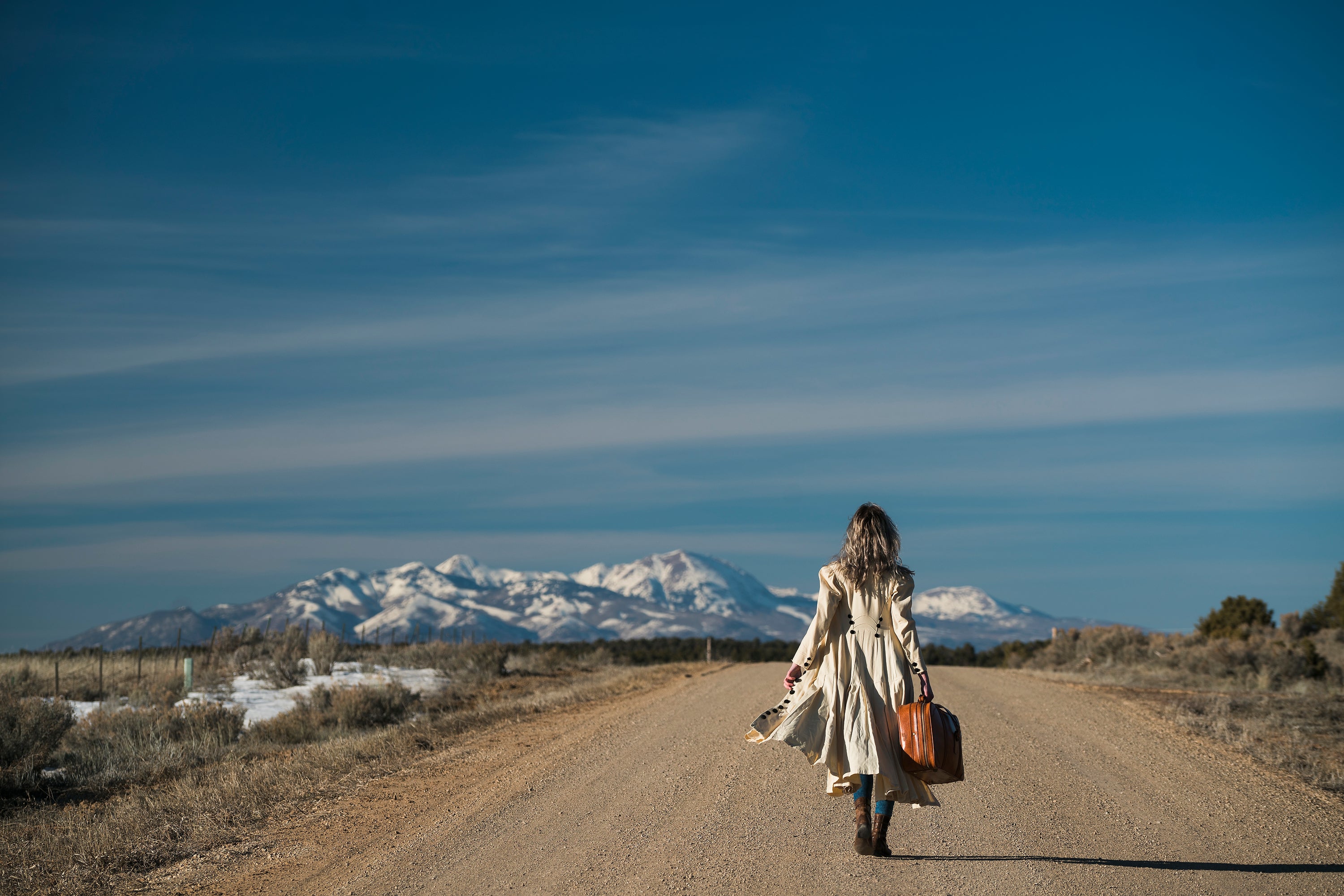 Off to find…
Shooting with the 70-200 at 144mm gave some compression to the scene while preserving the dimensionality of the road. It still feels like a long, empty road. I was shooting at 1/200-sec. (theoretically a "safe handholding speed for 144mm of focal length) the built OSS stabilization kept this image tack sharp. Sony α7R II, Sony FE 70-200mm f/4.0 G OSS at 144mm. f/5.6, 1/200-sec., ISO 100.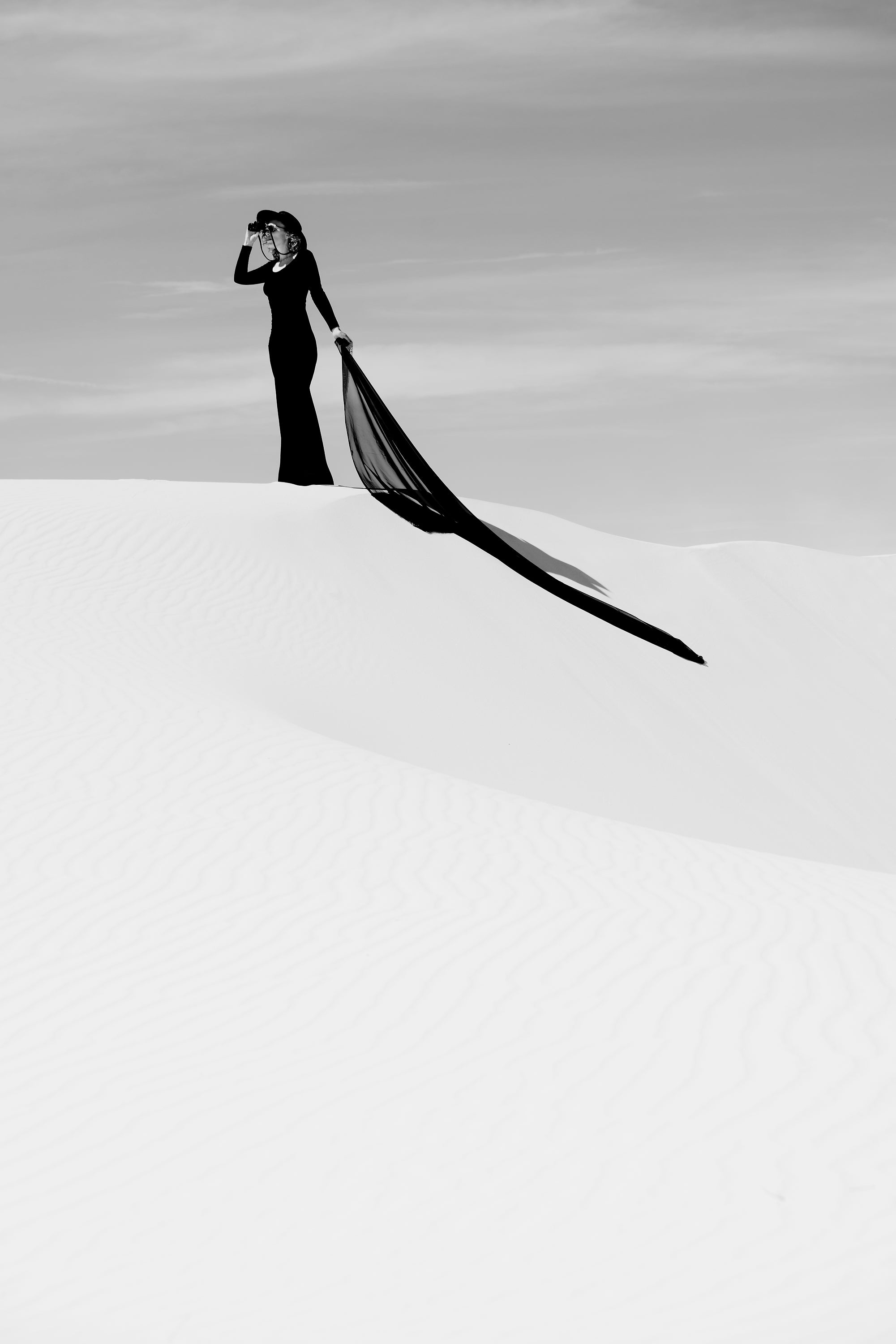 Searching the void.
There's a tendency by a lot of photographers to stop way down when faced with a bright scene. It's better to select the widest aperture you can that will maintain sufficient depth of field. The more you stop down the more you can introduce sharpness-robbing diffraction. I shot this at f/7.1. There's also a tendency to avoid shooting under bight midday sun because the contrast is so high and there are no long shadows to create dimension and texture. However, you can make that work for you, especially if you bring a garment that makes it's own long "shadow" as we did here. Sony α7R II, Sony FE 70-200mm f/4.0 G OSS at 70mm. f/7.1, 1/200-sec., ISO 100.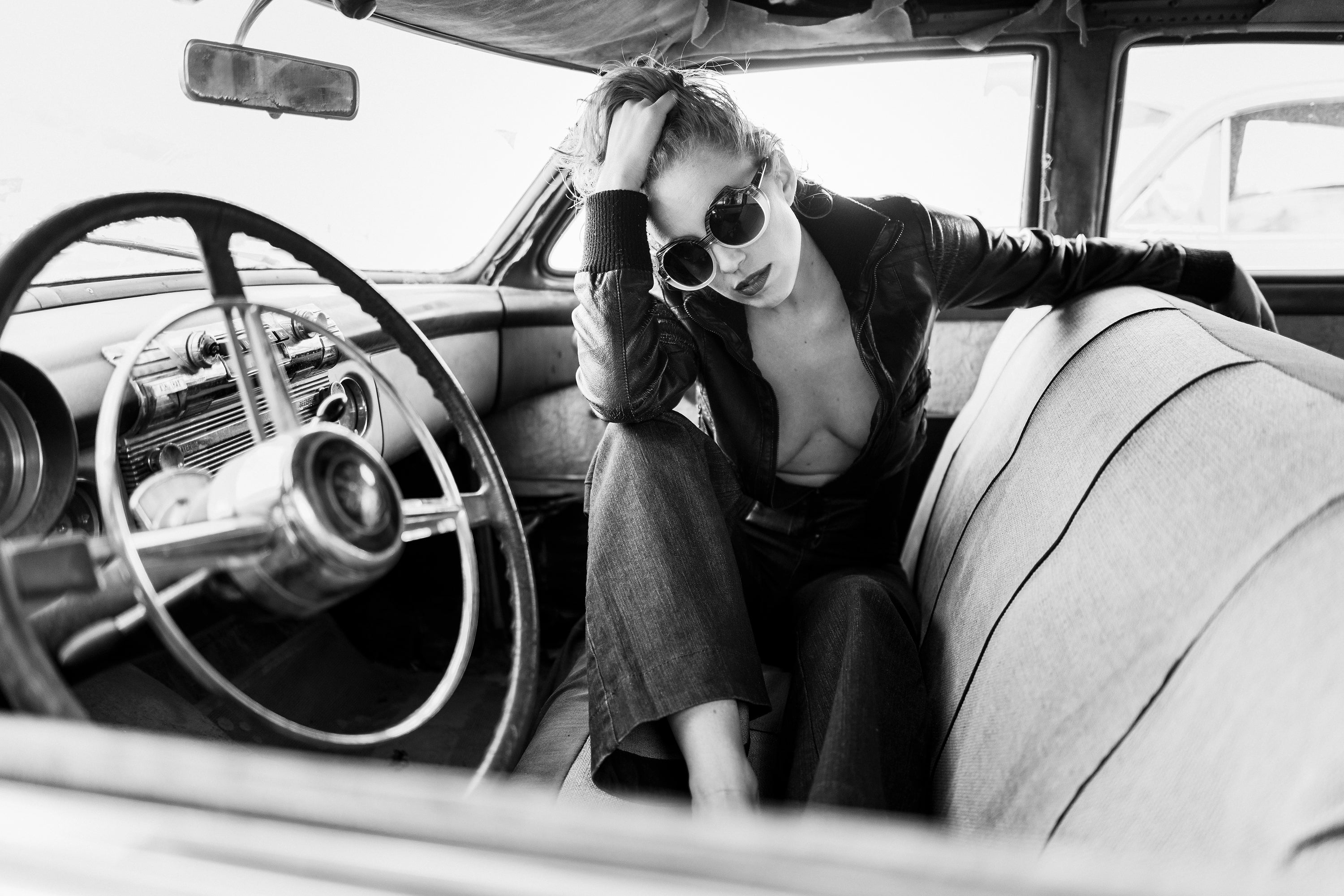 Breakdown
This Sony 28mm f/2 lens really killed it on this trip. It's small, sharp and it has wonderful overall rendering. It earned a permanent home in my collection. Sony α7R II, Sony FE 28mm f/2. f/2, 1/125-sec., ISO 640.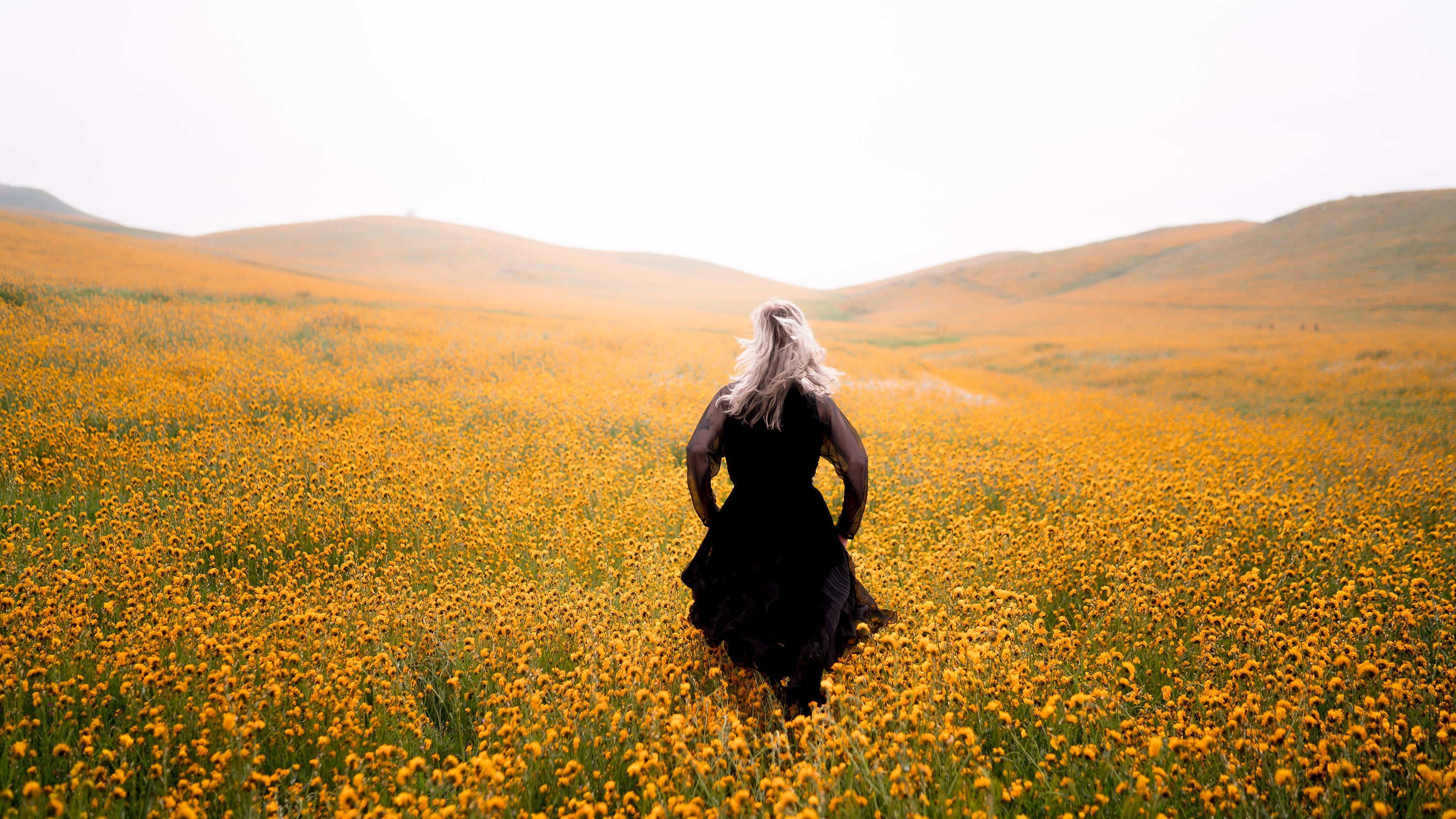 Hurry and run (mainly because we were ever-so-slightly trespassing).
Shooting with the 35mm f/1.4 at f/1.7 on my α7R II limited the depth of field and let the background become a swath of color. Sony α7R II, Sony Distagon T* FE 35mm f/1.4 ZA @1.7 1/250-sec., ISO100.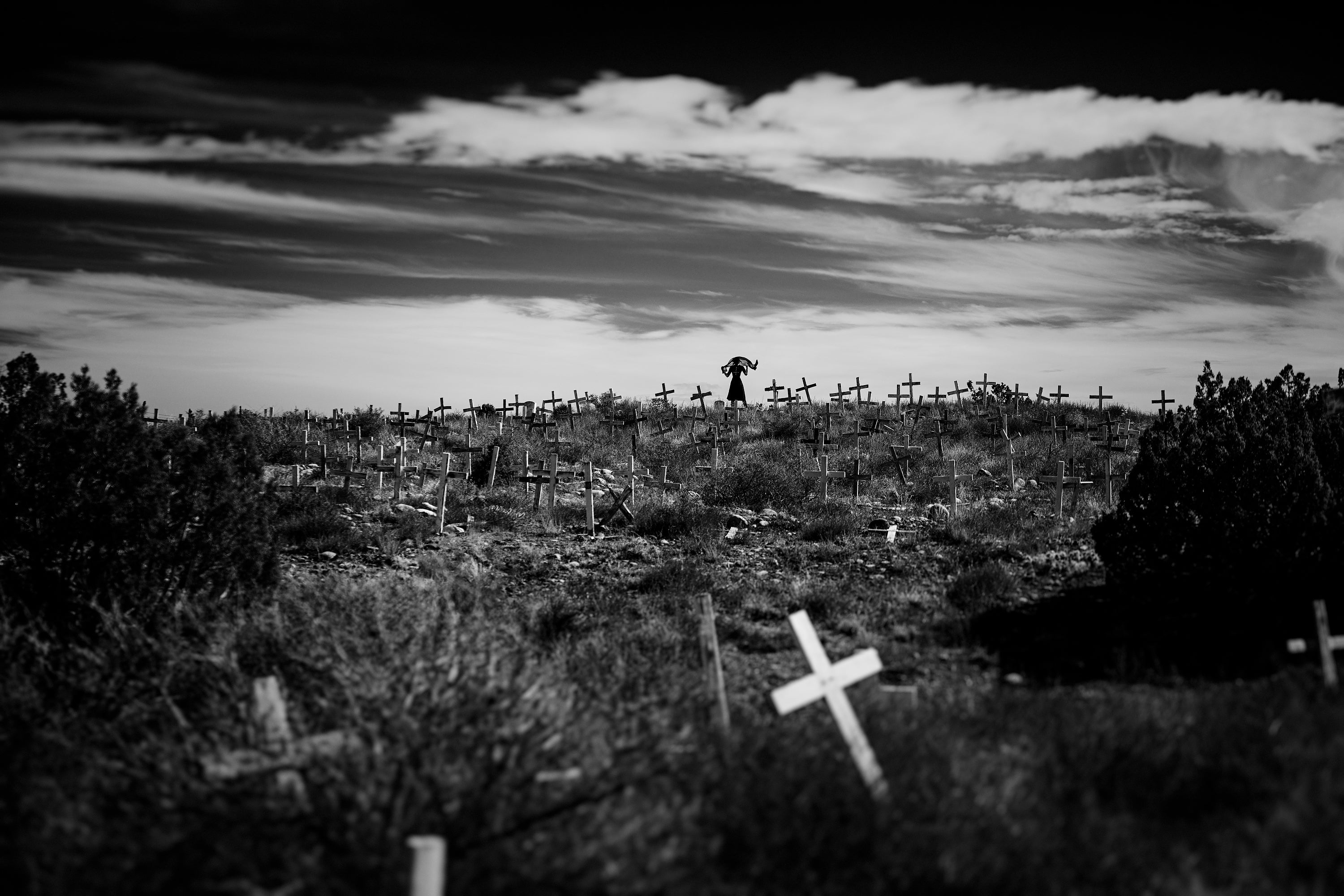 Clouds & Crosses
Reminiscent of Ansel Adams' famous Moonrise, Hernandez, New Mexico, the light and clouds all came together. During the trip, my model/collaborator became ill and when I made this photo she was feeling pretty lousy, but she pushed through to make it happen. Sony α7R II, Sony FE 70-200mm f/4.0 G OSS at 83mm. f/4, 1/200-sec., ISO 50, Polarizing filter.

This is a relatively small selection of images from the 3-week journey. You can see the full set of this in this 4K slideshow:
Also, to find out about Parker Pfister's workshops, go to his website, thephotoverse.com