Andrew Eggers (@andreweggers) is a California-based photographer and a member of the Alpha Imaging Collective. Eggers specializes in night shooting and astrophotography, often using light in his images to bring out a unique perspective. We talked to Eggers to learn more about the Sony cameras and lenses he uses to capture these incredible night shots, as well as the other gear he doesn't leave home without.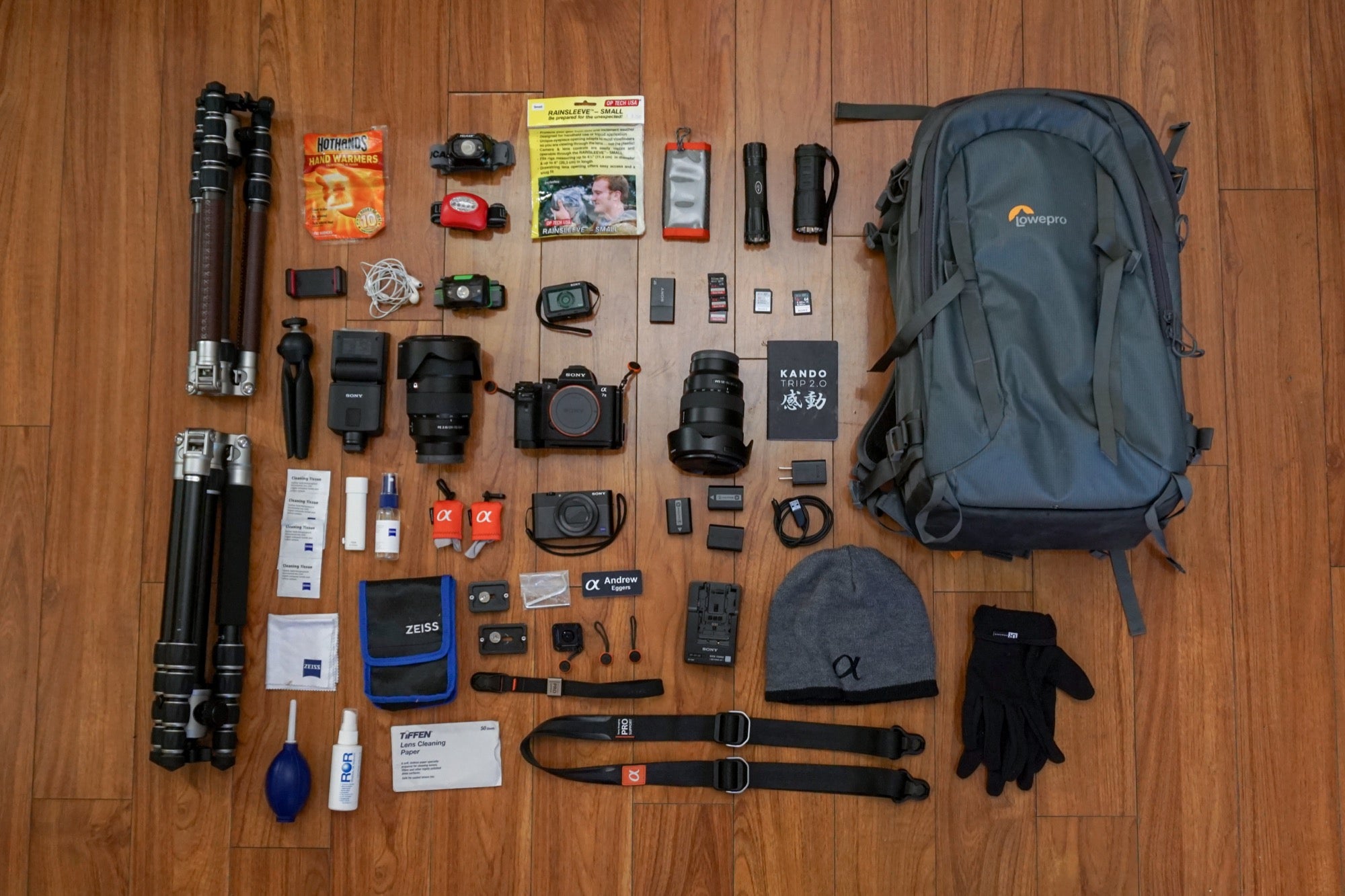 As mostly a night photographer who shoots the occasional sunset/sunrise, my kit stays pretty consistent with the items you see in this photo. I do change things out depending on the type of shooting I'm doing, whether it be capturing the Milky Way above the California Coast or chasing light trails and epic views of San Francisco. Here's a list of the cameras, lenses and other gear that I use for shooting after nightfall, and why it's important to me and my shooting style.
Cameras:
Sony α7 II: I've had this camera for almost three years now and it has served me extremely well in that time. The α7 II camera really helped push my night photography to the next level with its low-light capability – especially when shooting astro.
Sony RX100 V: This camera goes everywhere with me. From when I'm working at my daytime job in San Francisco to the weekends when I'm taking family photos. You never know what you'll see walking around the city, so I keep it handy since it easily fits in my backpack or jacket pocket. On the weekends, this is my go-to camera for taking photos of my two young sons as it fits very nicely in a diaper bag too.
Sony RX0: I use this camera mostly for video when I'm out exploring, documenting family keepsakes or other moments I want to remember and look back on someday. My 8-year-old son gets a kick out of using it whenever we are exploring together too!
Lenses:
Sony FE 16-35mm f/2.8 G Master: My go-to lens is the 16-35mm f/2.8 GM because it allows me to capture the whole scene when I'm out shooting astro or nightscapes in the city. It's super sharp from corner to corner, even at f/2.8 when I'm capturing the stars. I also love how it produces crisp, 11-blade flares when shooting something like street lights as well. I could use this lens for the rest of my life.
Sony FE 24-70mm f/2.8 G Master: This lens comes out fairly often because it gives me a chance to zoom in and add some compression to my shots when needed. I had this lens before the 16-35mm, so it used to be my main lens for astro and any other night shooting. It doesn't happen too often, but I do shoot events and family portraits sometimes and this lens is super sharp with beautiful bokeh.
Accessories:
MeFoto GlobeTrotter Aluminum: This is my main tripod when I'm shooting locally because of how sturdy it is without being too heavy. I have nothing but good things to say about it.
MeFoto Road Trip Classic Carbon Fiber: When I'm traveling, this is my go-to tripod because it's a little smaller than the GlobeTrotter and it's significantly lighter being carbon fiber. The brown leather makes it look really cool as well!
Manfrotto Mini Tripod with Smartphone Clip: I never know when I will need to get super low for a shot, so having this on hand is a must.
Lowepro Whistler 350: I've had several bags in the past few years, but this is by far my favorite of the bunch. I can fit all my gear with room to spare for an additional jacket for those cold, windy nights on the coast. It's very comfortable as well, extremely well-made and looks very stylish in my opinion.
Sony HVL-F32M Flash: Although I don't shoot many events, this flash pairs well with the α7 II and is powerful enough for my needs.
Batteries and charger: It's a must to have extra batteries and a charger on hand.
SD Cards: I'm still getting used to how fast my Sony M/G Series cards are – way faster than my SanDisk cards. These are now my first choice when setting up my camera for any shoot.
Think Tank SD Card Case: You got to have a place to hold all the cards!
Flashlights: This is one of the most important items in my kit because you can't just rely on a cell phone to light your way at night. I usually keep two in my bag at all times. One that I got from Big 5 in a two-pack, and the other is the Vulta Vulcano Multi-Spectrum LED Flashlight, which has an output of 880 lumens. You will see astro shots on my Instagram feed where either my friend or I will hold a flashlight aimed toward the sky, making for a cool perspective of scale and light.
Headlamps: Another essential item is a headlamp, and maybe I'm crazy but I usually keep three in my bag for a couple of reasons. I need an extra in case my primary one (Pelican 2760 Gen 3 LED) stops working for some reason and then another backup in case a buddy needs it, since I usually shoot astro with a friend or two.
Headphones: Even though I'm not much of a music person and would rather listen to the sounds of nature or the city (believe it or not), I keep headphones to occasionally listen to some tunes in peace.
Gloves: This is a must for my kit because shooting late at night and in uncomfortable conditions can be the norm, especially in the fall and winter. I bought mine at the Grand Canyon and they are touch-screen friendly.
Beanie: Along those same lines, you can always find a beanie stuffed in my bag as well.
Hand Warmers: These are super helpful in rough and cold conditions for your hands mostly, but they can also help warm your camera battery (while in the camera) during super cold conditions. I've had friends tell me that their camera stopped working in the coldest of conditions, so this helps avoid that.
Rainsleeve: I certainly don't make it a point to shoot in the rain, but sometimes you really need to get that reflection shot and chasing puddles is the best way. My motto is to try to prepare for all kinds of weather conditions because the Bay Area can have unpredictable weather at times.
Zeiss Cleaning Kit: Filled with an air blaster, microfiber lens cloth, cleaning fluid and lens wipes, this kit really comes in clutch when out shooting and/or traveling. This will always be in my camera bag.
Tiffen Lens Cleaning Paper/ROR Optical Lens Cleaner: This would be a more thorough type of cleaning than what could be done with the above cleaning kit, so having both makes sense to me. Others may not feel the same and that's OK.
Peak Design Neck Strap: This is one of my favorite and must-have items in my bag! This being the Sony Pro Support version makes it even better as the strap is incredibly versatile as a neck strap or shoulder strap. It is also very comfortable and easily adjustable. I would recommend it to every photographer.
Peak Design Wrist Strap: When I'm not feeling like wearing the camera around my neck, I'm rockin' this wrist strap from Peak Design. Maybe it's paranoia, but I always have my camera strapped to me one way or another because the thought of it falling makes me cringe.
Charger Cord and Plug: The Sony system is super rad because you can charge the batteries in the camera while another is on the charger deck. It's a no-brainer to keep this in the bag for that reason alone.
MeFoto Tripod Baseplates/Allen Wrench - I keep an L Bracket (inexpensive one from Amazon) on my α7 II at all times because of how often it is attached to a tripod. I still keep one extra baseplate as a backup and one for the RX100 as well.