Miami-based Alpha Imaging Collective member Mike Marcheco (@spacebypixel) believes in not limiting oneself as an artist. He can be found photographing city streets, nightscapes, people, sports cars, ocean waves and anything in between. "I'm the type of person who prefers to travel light, and I'm very selective. That's one reason I shoot with Sony cameras," he says. "I take everything I think I'll need and nothing more. On occasion, I like to challenge myself when I travel and I only take one lens to really put myself in a different mindset."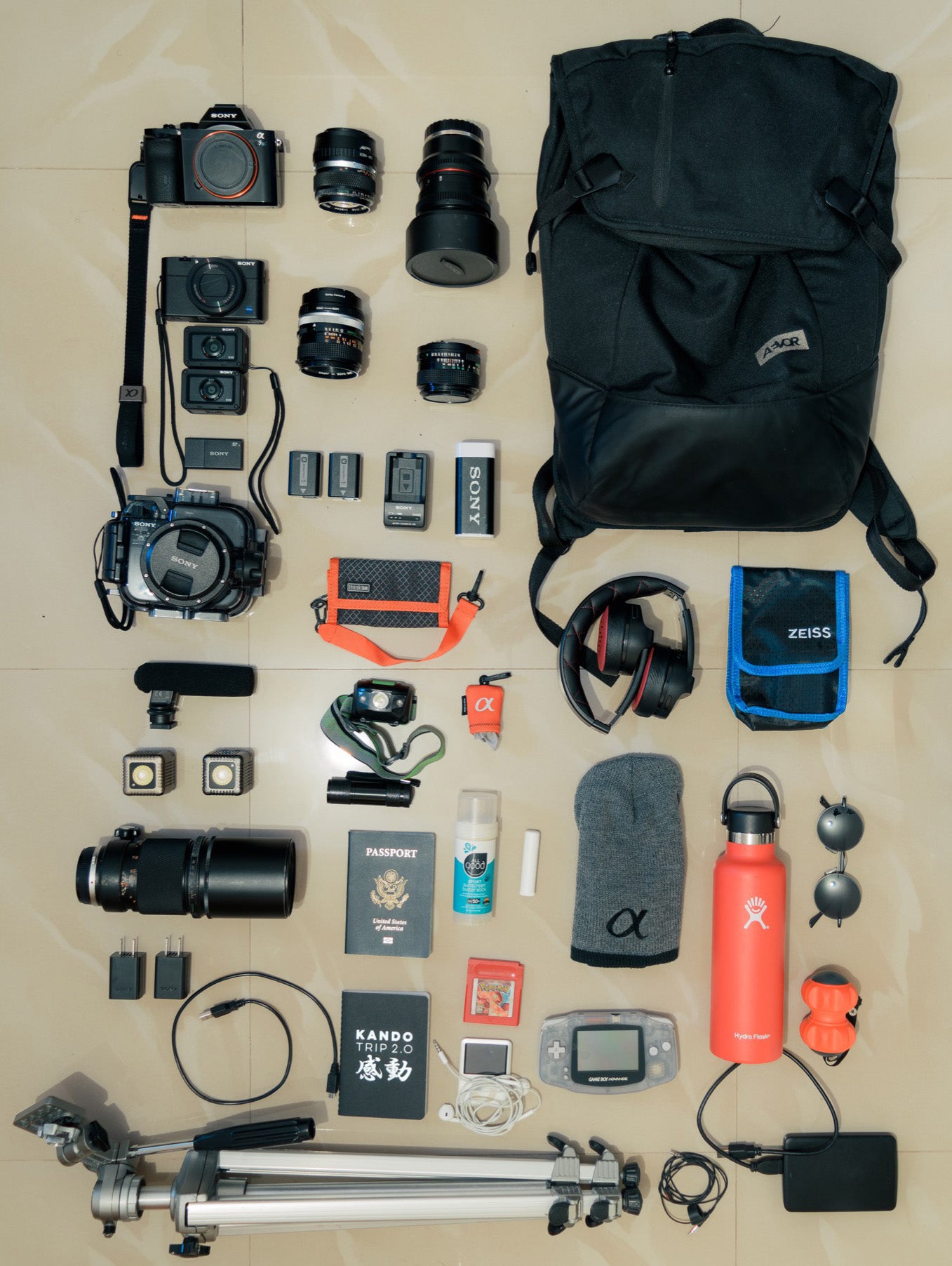 Cameras
Sony α7S: This is my workhorse that's up for anything. I use the α7S for any low light situation. Many of my clients love the nightlife, so it's been the perfect camera for my needs. The video from it is stellar as well. SLog 2 really helps bring the dynamic range back that would otherwise be lost.

Sony RX100 V: This little beast never leaves my pocket. I love it. Sony outdid themselves with this camera. A 20.1mp sensor in a camera that fits in my pocket? Yes, please! Even when I bring my α7S I still have this camera on me for candid behind the scenes or stills.

Sony RX0: Because two is better than one! I use these cameras when bringing a bigger camera isn't an option, or when I need to be discreet. When I go diving, this is usually mounted on top of my RX100 V in the Sony underwater housing for behind the scenes video or maybe even some primary video footage for my client.
Lenses
I shoot with a lot of vintage lenses. Being able to use all of these lenses is a key reason why I shoot with Sony cameras. I can adapt just about anything to my Sony α7S body.
Vintage Canon FD 50mm f/1.4: This is my go-to portrait lens. 50mm is my favorite focal length next to 35mm, and this lens is vintage so you can usually find one for cheap. If you know me at all, you know I love vintage gear.
Vintage Canon 35mm f/2.5: 35mm is my standard video lens. The focal length just seems right and it's very flattering for faces, while being somewhat wide.
Vintage Olympus 50mm f/1.4: I use this lens for video as well. It weighs less than a pound, so I use it as a run and gun video shooter. Also the focus ring is very quick, so it's easy to pull focus, especially with Sony's focus peaking system.
Vintage Olympus 300mm f/3.5: I got this lens from a friend whose father passed away, so this is a very sentimental piece of gear for me. When capturing the moon, or when I just want a lot of compression, I use this vintage beast.
Rokinon 14mm f/2.8: This is my night sky, architecture and wide-angle video lens. It's ultra-wide, which makes you feel immersed within the image. For video, I have the cine version which has declicked focus and aperture rings for smooth adjustment while I'm shooting.
Accessories
RX100 Sony Underwater housing: If you've seen my underwater images or wave images, they've all been taken with this amazing housing. I use it with my RX100 V and it produces great results! I've shot countless images for clients with this housing. When I work with a local free-diving company I'm always using this housing because it can go down to 130 feet.

Sony Batteries: Never travel without spare batteries. No power, no images.

Sony Portable Charger: This little beast has saved me so many times.

Sony ECM-GZ1M Zoom Microphone: Great quality mic and a great value.

ThinkTank SD Pixel Pocket Rocket: I love this thing! It carries all my Sony SD cards and has saved me when I forget to put my card back into my camera.

LUMECUBE: I carry two of these beauties. They can light up a scene beautifully underwater.

Vintage Aluminum Velbon VG-3 Tripod: My handy vintage tripod. It might be heavy, but it's the sturdiest tripod I've used. And I love vintage.

Zeiss Cleaning Kit & Lens Cloth: You must keep your gear clean! I don't baby my gear, but cleaning is therapeutic and critical.
Toshiba External HDD: I backup all my photos daily.
Notepad: I write down whatever creative ideas I'm looking to capture.

Beanie: Keeps me warm, or just stylish (since mine has the Sony Alpha logo!)
Flashlight and Headlamp: When capturing the Milky Way, it's dark. The headlamp in particular ensures I can see and I don't have to hold it in my hand.

All Good Sunstick: Sunscreen is a must. It's important to me that this one is reef safe.

Hydro Flask: Staying hydrated is key on trips, especially when hiking.
iPod Nano: I've had this since high school and I still upload music to it today.

Zagg IMPULSE Headphones: Noise-cancelling goodness when sitting on a noisy plane.

Chapstick: It's important, but overlooked for keeping my lips hydrated.
Massage ball: A long photography session can put wear and tear on your muscles. This helps me stay limber.
Gameboy Advance: Pokemon RED - This keeps me sane on the plane.
US Passport
Sunglasses
Aevor Daypack: My favorite travel bag. It's small, but carries tons of equipment.