I always shoot in 4K for a few reasons. The first reason is because every TV that's being made in the next five years is going to end up being a 4K TV. That's where the industry is going, and I want my footage to be usable in the future. If I'm shooting footage that I think can be used for stock, or if I'm shooting footage for a news agency, or if I'm shooting footage for a commercial client, I want that footage that will work with future technology.

Also, I shoot in 4K because at this point, I'm often exporting to HD. When I have 4K footage, I can do a lot in post with it that I couldn't do if I just shot HD for HD delivery, because I've got so much image data. I can cut into frames, I can do "Ken Burns" moves, I can fake a camera movement that isn't really there. I can pan or tilt or do whatever I really want, and it still looks pretty good. It's not a real camera movement, but it still looks pretty good when I export it out to HD. So I always want to capture the most data, the most image, that I can. Why wouldn't I?

I also almost always shoot in S-Log. Though somewhat difficult to learn, it's a great way to shoot. I shoot in S-Log because it gives me the most latitude, as far as exposures go. I get a whole lot of shadow detail, and I get a whole lot of highlight information. You need to expose it properly to get the most out of it of course, but that's easy to do.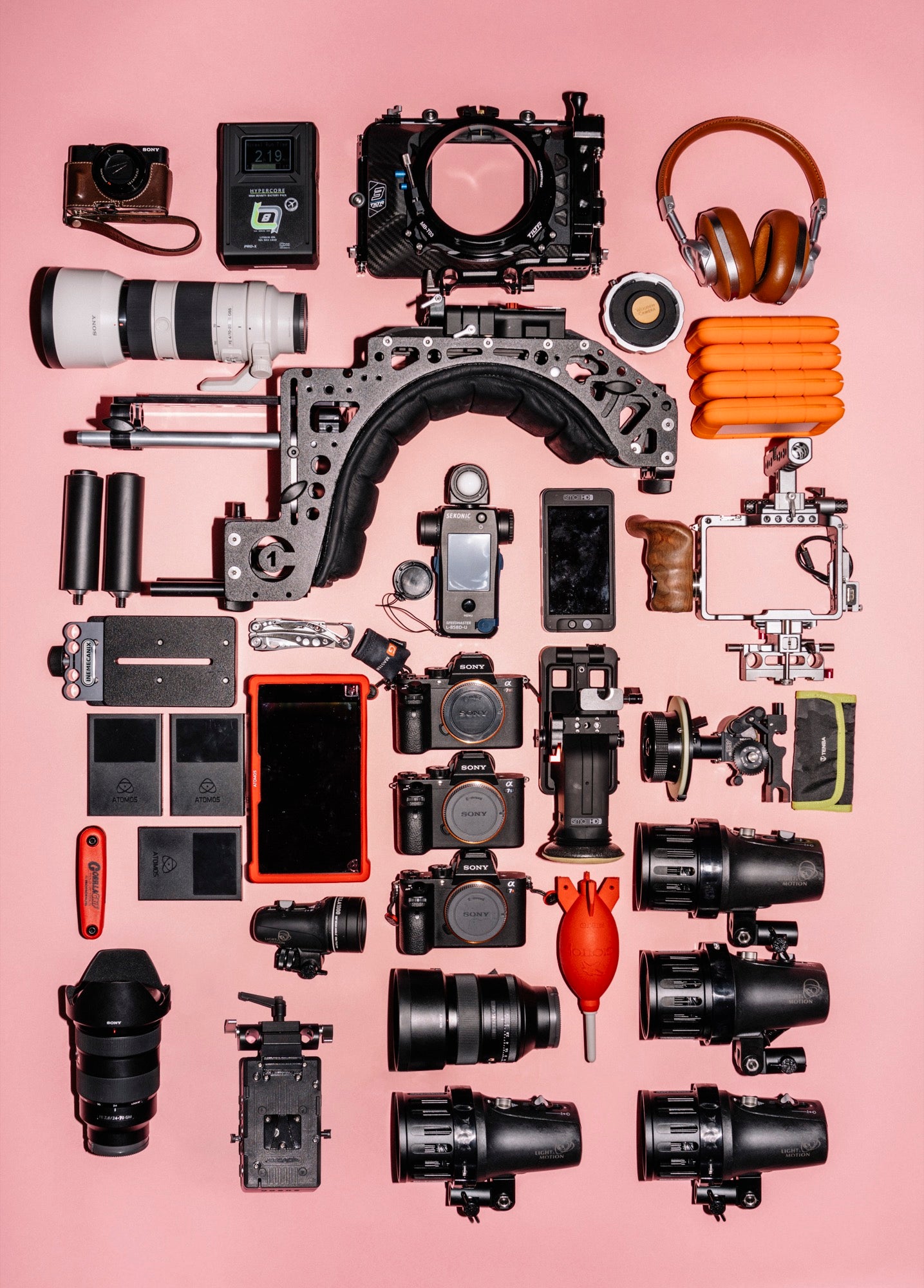 Bodies:
I own Sony α7S II and α7R II cameras. I also rent FS7's and if we need it, an F55, depending on the shoot and the job. Everything depends on the shot and what we need it for.
Lenses:
I use a lot of Sony A-mount lenses because their internal systems are mechanical and whenever I can I manually focus. I use E-mount lenses whenever I shoot autofocus.

I usually use the 28mm f/2.0 lens when I'm shooting on a small gimbal. If I'm running three cameras and I need to use face lock for auto focus, I use the Sony FE 24-70mm f/2.8 G Master and Sony FE 85mm f/1.4 G Master lenses. I frequently have the FE Sony 70-200mm f/2.8 G Master lens with me for times when I need the long focal length.
Other Gear:
Tilta Cage: The Sony α7S II and the Sony α7R II are fantastic cameras and record really nice video. To maximize the quality of my video and to be able to add additional equipment to the camera like microphones, recorders and monitors, I add a cage to the camera. I prefer the Tilta cage because it has a great wooden handle with a record stop/start button, It's extremely sturdy and the camera doesn't move once it's inserted which is critical when I'm using a follow focus, and it has tons of pre-threaded holes to add arms or connectors for my equipment. It also has a quick release holder for two 15mm rods where I can mount a matte box or follow focus. It greatly increases the capability of the camera. They also make a cage for the α6500.
Tilta Matte Box: Shooting video is very different from shooting stills. The way I shoot, the shutter speed is always at 1/50-sec. which means I can only control light with ISO and aperture. Very high ISO can introduce noise while smaller apertures can force a look that I don't necessarily want. In order to be able to use very large apertures for very shallow depth of field in bright conditions I use ND and Graduated ND filters and to use these plate filters I need a matte box. I use the 4" carbon fiber matte box from Tilta. It's fairly light, holds two filters, can rotate, is adjustable and relatively inexpensive. It can accept lenses up to 100mm in front diameter which is fine for my Sony G Master and other E-mount lenses.
Cinemechanix Shoulder Rig: This shoulder rig is no joke. It's made by an actual camera man in Montreal and it really takes an operator's needs into consideration. It's extremely well balanced, comfortable and it's incredibly well constructed. It can hold anything up to a Sony F65 and down to an α6500. It can even hold an F55 and an α7S II at the same time in case I need two different lenses shooting at the same time.
Why do I use a shoulder rig with a small camera like an α7S II? Well, adding support and weight to the camera with a shoulder rig will dramatically cut down on camera shake. It gives me the ability to add lots of external equipment to like a monitor, recorder, V mount battery, matte box and sound recorder without becoming too heavy to use. A shoulder rig also helps to reduce operator fatigue by creating a balanced weight on the pivot of your shoulder allowing your arms to guide the camera rather than hold all of its weight. This allows for longer working hours and allows me to shoot longer takes without needing a break. It's especially helpful when shooting live events where multiple takes aren't possible.
Light and Motion Stella 7000 LED Lights: Who doesn't need extra lights when they're shooting? The sun and weather rarely cooperate with a filming schedule. Being able to control the light can elevate your productions to another level. These 7000 lumen LED lights are battery powered but can also be connected to AC power and are very small. Compared to cine lights of 10 years ago they are minuscule. They can also be attached to ProFoto modifiers like soft boxes and beauty dishes. These things are no joke and have saved me more than once.
LaCie Rugged Hard Drives: I use these to back up footage on set. They're available to 5TB with Thunderbolt connections and according to LaCie, they can be dropped and keep working (though I wouldn't try it). I always back up my footage to two separate drives as well. The 1TB SSD models are fast enough to use for editing.
Sekonic Meter: Internal meters are great, but when I'm shooting SLog 3 and the sun is out and washing out my view of my monitor, I want to know exactly what the light is doing. This meter lets me switch between still and video and between shutter speed and shutter angle for cinema cameras. I wouldn't go to set without one.
Leatherman Skeletool: The only multi tool I ever buy. They aren't too expensive (sometimes I find them on Groupon for 35 bucks and I buy 5 of them) and they have everything I need on set: A flat head, Phillips head, pliers, wire cutters, a knife and a bottle opener.
Sony RX100 V: You never know when something is going to happen and you're going to want to get a photo or shoot some video. The RX100 V is so small and it's miles ahead of a smartphone as far as image quality and photographic capabilities. I always have it with me. It's a perfect backup camera and it does everything well.
See more about Sony Artisan Of Imagery Michael Rubenstein here. You can follow him on Instagram @mrubee
See some of his videos here:
Sony Technology Thailand: Where Design Becomes Reality
Lens Stories: Tony Gale's Cover with the 85mm f/1.8
Lens Stories: Cuban Baseball By Ira Block & The Sony 90mm