Cinemagraphs blend still photography and motion. To make one, a creator shoots motion of a scene then takes a still image from the scene and makes some part of it "move" from the motion footage. The effect, when done well, causes a viewer to stop in their visual tracks while their brain unpacks the discordant image. Because they are part still and part motion, cinemagraph makers use gear, especially cameras, that excel at both. Sony Alpha mirrorless cameras are frequently chosen for their combination of resolution, high image quality and high-resolution video capabilities.
This effect, when done well, causes a viewer to stop in their visual tracks while their brain unpacks the discordant image.
Virgo Haan is a cinemagraph/living photos creator from Estonia. He's known for his high-end commercial work for social media marketing campaigns and, so he can always offer his clients imagery that will stand out from the increasingly crowded field, he closely follows the latest photography and technology trends. He started creating cinemagraphs in 2011 after he saw the effect in a Harry Potter movie. Haan shoots with Sony Alpha mirrorless cameras and lenses. "It's very important that my gear always performs at its best and provides me with the highest possible quality photos and videos," he says, "which is why I stick with Sony mirrorless cameras and lenses. I also appreciate that they are on the lighter side because I use a lot of artificial lights on my shots so my travel bag is already quite heavy."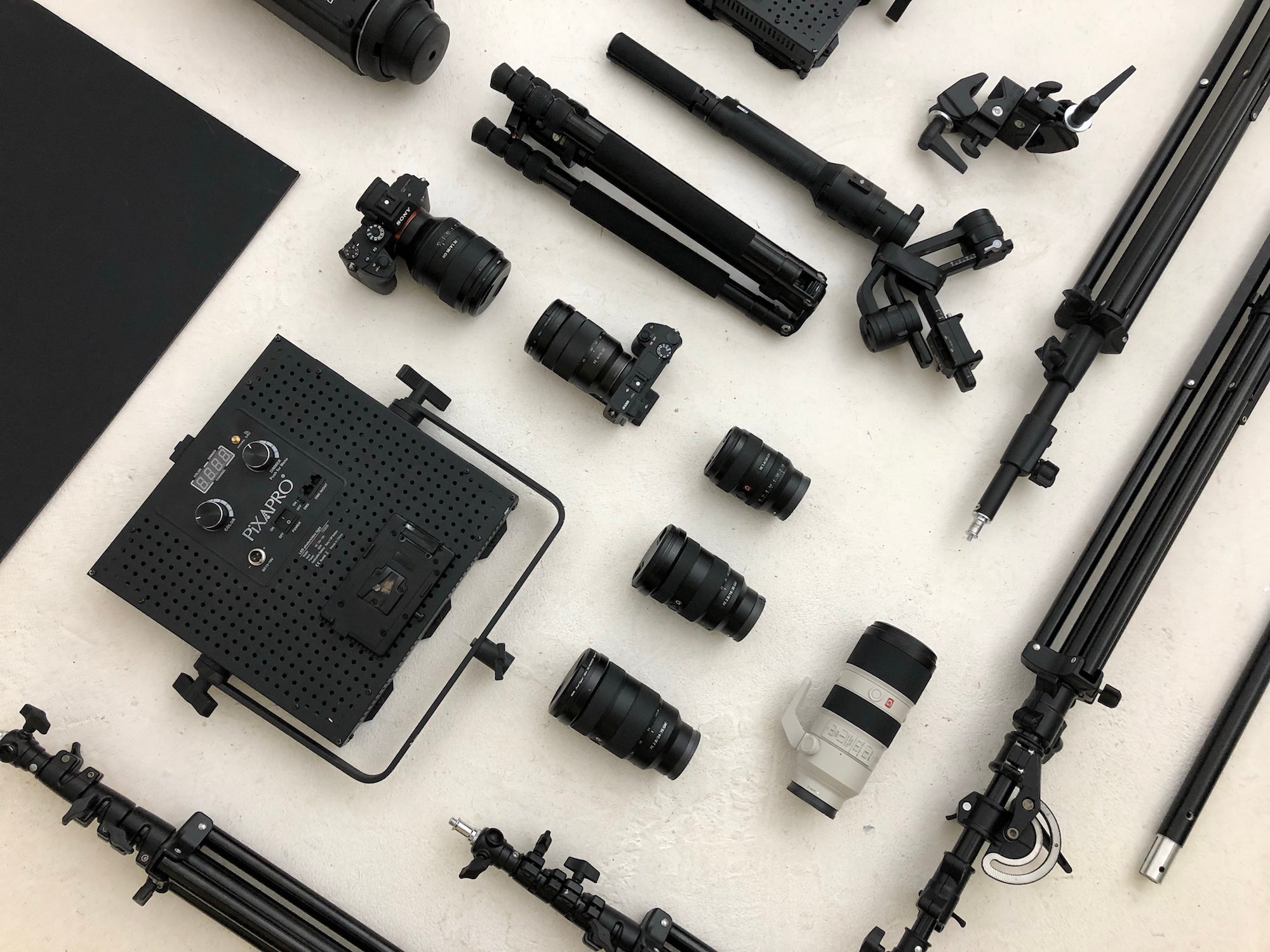 Cameras
Sony α7R III: This is my main camera that I use for the majority of my professional work. Photo and video quality is the most important to me and the α7R III delivers. Creating cinemagraphs means that I mix together parts of photo and video. They need to be very high quality and without noise because they must fuse together seamlessly. I love that I can use picture profiles for video, so I can get very high dynamic range footage, otherwise I would be in a lot of trouble in high contrast situations. What I also love about this camera is the variety of programmable buttons, in-camera stabilization and of course Eye AF, which I use a lot since my favorite lenses have an f/1.4 aperture. And one more thing – my α7R III has never let me down.
Sony α6300: This camera is small and compact but I can still change lenses and it produces very good quality photos and videos. This camera finds its way into my bag when I need to travel extra light and when there is a risk that I could damage my gear as it is a bit less expensive than my main camera. What I love about it is that it's like a younger brother to my main camera. It's very easy to switch between both of them and all of my favorite features are in some form also presented in the α6300: 4K video, picture profiles, Eye AF, programmable buttons, etc.
Lenses
Sony 85mm f/1.4 G Master: This is the lens that I use the most in my work as the f/1.4 aperture gives the images a beautiful, dreamy look. I use it for portrait photography but also for some advertisement work when I am looking for some very narrow depth of field and beautiful blurry background. I love that it has a programmable button on the side so I can use it for Eye AF, which is a super good feature to have with open aperture, otherwise I would probably miss my model eyes half of the time.
Sony 24-70mm f/2.8 G Master: It's a lens that I always have in my bag because in every shoot there is a situation where I need it. 24-70mm is a range where a lot of my shooting will happen and the f/2.8 aperture makes it perfect for low light situations. Autofocus on this lens is very fast and accurate, and the photos always come out nice and clear. It's also one of my favorite lenses for a gimbal as it has a perfect 24mm wide angle zoom that eliminates painful lens changes and gimbal recalibrations and fast-focusing.
Sony 24mm f/1.4 G Master: This is my second very bright f/1.4 aperture lens and that's the main reason why I love it so much. Together with the α7R III's impressive low light performance, my camera can see better in the dark than I do. When I am shooting cinemagraphs I cannot have any noise in my footage because noise will give away where the video ends and the photos begins. So to keep the ISO down, I often need very fast lenses. It's also nice to have some depth of field when shooting with a wide angle lens. Last but not least, it is quite a lightweight lens so perfect for traveling.
Sony 70-200mm f/2.8 G Master: It's a really fast lens, especially considering it's a tele-zoom. I mostly use it on events and some rare times when I go out in nature. It is very comfortable to handle and using Eye AF I never miss a shot.
Sony 16-35mm f/2.8 G Master: This is the newest member of my lens family, replacing my 16-35mm f/4. The reason I wanted it is to have a brighter aperture. It's fast and very comfortable and gives me a very unique wide look for my image. For my commercial work I very often do point-of-view shots where the camera is in the place of an actor's head. For those scenarios, 16mm is the best option. Also for all the gimbal shots, wide angle lenses work the best.
Accessories
Tripod Sirui T-2004XL: One most of the important things about creating cinemagraphs is to fix all the camera movement. My Sirui tripod has been an excellent work horse on that front. It has very good build quality and if it's fixed then it is rock steady. As I travel a lot, it is important for me that it's compact and quite light. After three years of using it, it still looks and acts like new.
Black Foam Board: When creating cinemagraphs, I often need some wind to create some movement in hair, clothes, etc. Sometimes I have natural wind but very often I don't. That's when it's good to have a piece of black board that me that I can wave to create some wind. Sometimes cinemagraph creators use fans but they are heavy to carry around and a bit hard to control. It will take some practice to learn how to use the board for wind but after some practice anyone can learn it. Bear in mind that your board should not reflect light as then it would create some light flickering on your footage.
Pixapro Led Lights: As a cinemagraph creator I cannot use flashes. Most of my lighting consists of LED heads and panels. LED heads are good because you can use all the light modifiers that we know from photography (soft boxes, beauty dishes, etc.) LED panels are good because they are a bit less expensive, can fit into small places and have adjustable white balance.
DJI Ronin S Gimbal: Since I'm interested in all kinds of micro video formats, I sometimes need to move around with my camera and for that purpose a gimbal is the best choice.
Smart Phone: I use apps to know where the sun sets and where it will rain and when it stops. Also I use it a lot as a remote screen and trigger (Imaging Edge Mobile).
Flixel Software: It's the easiest cinemagraph creation software and gallery platform.
You can see more of Virgo's work at virgohaan.com and on Instagram @virgohaan.