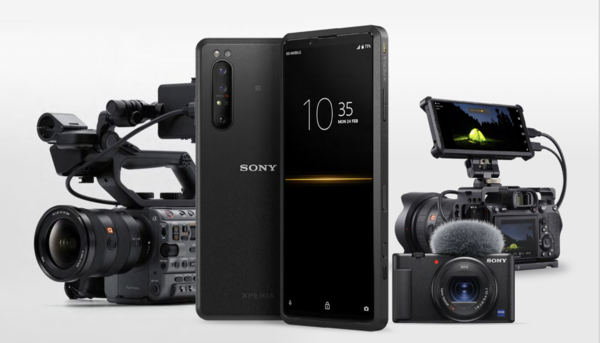 Sony imaging device owners exclusive
Receive a $500 VISA prepaid card with purchase of XPERIA™ PRO 5G Transmission Device & Smartphone*
Add
Xperia PRO™
to your creative tool kit for rapid upload of photos, 4K external monitoring, or to bring high quality live streaming to your audiences thanks to the build-in HDMI input.
Step 1:
Purchase an Xperia PRO™ from an Authorized Sony Retailer in the US only.
CLICK HERE
to learn why it's important to buy from Sony Authorized Dealers.
Step 2:
Go to http://bit.ly/aoi21pro to begin claim.
Complete the form to validate your ownership of a valid Sony imaging product (see below for eligible models).
Step 3:
You'll receive an email with further instructions to complete your claim at premierrebates.com and validate your phone purchase.
Eligible Products
PREMIUM COMPACT CAMERAS
ALPHA CAMERAS
A68 DSLR
A77 II DSLR
A99 II DSLR
ALPHA 6000
ALPHA 6100
ALPHA 6300
ALPHA 6400
ALPHA 6500
ALPHA 6600
ALPHA 7
ALPHA 7C
ALPHA 7 II
ALPHA 7 III
ALPHA 7R
ALPHA 7R II
ALPHA 7R III
ALPHA 7R IV
ALPHA 7S
ALPHA 7S II
ALPHA 7S III
ALPHA 9
ALPHA 9 II
ALPHA 1
ALPHA LENSES
100MM F2.8 MACRO
DT 11-18MM F4.5-5.6
SONNAR T(STAR) 135MM F1.8 ZA
135MM F2.8 (T4.5) STF
DT 16-105MM F3.5-5.6
CARL ZEISS 16-35MM F2.8
DT 16-50MM F2.8 SSM
VARIO-SONNAR T(STAR) DT 16-80MM ZA
16MM F2.8
DT 18-135MM F3.5-5.6 SAM
DT 18-250MM F3.5-6.3
DT 18-55MM F3.5-5.6 SAM II
20MM F2.8
VARIO-SONNAR T(STAR) 24-70MM F2.8 ZA SSM
VARIO-SONNAR T(STAR) 24-70MM F2.8 ZA SSM II
DISTAGON T(STAR) 24MM F2 ZA SSM
28-75MM F2.8 SAM
300MM F2.8 G SSM II
DT 30MM F2.8 SAM MACRO
35MM F1.4 G
DT 35MM F1.8 SAM
500MM F4 G SSM
50MM F1.4
PLANAR T(STAR) 50MM F1.4 ZA SSM
DT 50MM F1.8 SAM
50MM F2.8 MACRO
DT 55-200MM F4-5.6 SAM
DT 55-300MM F4.5-5.6 SAM
70-200MM F2.8 G SSM II
70-300 MM F4.5-5.6 G SSM II
70-400MM F4-5.6 G SSM II
PLANAR T(STAR) 85MM F1.4 ZA
85MM F2.8 SAM
FE 100-400MM F4.5-5.6 GM OSS
FE 100MM F2.8 STF GM
E 10-18MM F4 OSS
FE 12-24MM F4 G
FE 12-24 F.28 GM
FE 135MM F1.8 GM
FE 14MM F 1.8 GM
FE 16-35MM F2.8 GM
VARIO-TESSAR T(STAR) FE 16-35MM F4 ZA
E 16-55MM F2.8 G
VARIO-TESSAR T(STAR) E 16-70MM F4 ZA
E 16MM F2.8
E 18-135MM F3.5-5.6 OSS
E 18-200MM F3.5-6.3 OSS
E 18-200MM F3.5-6.3 OSS LE
FE 200-600MM F5.6-6.3 G OSS
FE 20MM F1.8 G
E 20MM F2.8
FE 24-105MM F4 G OSS
FE 24-240MM F3.5-6.3 OSS
FE 24-70MM F2.8 GM
VARIOTESSAR T(STAR) FE 24-70MM F4 ZA LE
FE 24MM F1.4 GM
SONNAR T(STAR) E 24MM F1.8 ZA
SONY FE 24MM F2.8 G
FE 28-60MM F4-5.6
FE 28-70MM F3.5-5.6 OSS
FE 28MM F2
E 30MM F3.5 MACRO
FE 35MM F1.4 GM
DISTAGON T(STAR) FE 35MM F1.4 ZA
E 35MM F1.8 OSS
FE 35MM F1.8
SONNAR T(STAR) FE 35MM F2.8 ZA
FE 400MM F2.8 GM OSS
SONY FE 40MM F2.5 G
FE 50MM F1.2 GM
PLANAR T(STAR) 50MM F1.4 ZA
E 50MM F1.8 OSS
E 50MM F1.8 OSS
FE 50MM F1.8
SONY FE 50MM F2.5 G
FE 50MM F2.8 MACRO
E 55-210MM F4.5-6.3 OSS
SONNAR T(STAR) FE 55MM F1.8 ZA
FE 600MM F4.0 GM OSS
FE 70-200MM F4 G OSS
FE 70-200MM F2.8 GM OSS
FE 70-300MM F4.5-5.6 G OSS
E 70-350MM F4.5-6.3 G OSS
FE 85MM F1.4 GM
FE 85MM F1.8
FE 90MM F2.8 MACRO G OSS
FE C 16-35MM T3.1 G
E PZ 16-50MM F3.5-5.6 OSS
E PZ 18-105MM F4 G OSS
E PZ 18-110MM F4 G OSS
E PZ 18-200MM F3.5-6.3 OSS
FE PZ 28-135MM F4 G OSS
CAMCORDERS
FDR-AX53
FDR-AX43
FDR-AX100
FDR-AX700
PXW-Z90V
HXR-NX80
PXW-Z150
HXR-NX100/3
HXR-MC88
PXW-Z190
HXR-NX5R
DIGITAL CINEMA CAMERAS
ILME-FX3
ILME-FX6 PXW-FS7M2 PXW-FX9
PXW-FX9K
PMW-F5
VENICE (MPC3610/1)
Learn More About Xperia
*Offer valid on Xperia PRO purchases in U.S. between 5/10/2021 - 6/27/2021. Cannot be combined with other offers. Must submit claim by 7/31/2021. Go to
http://bit.ly/aoi21pro
to submit claim, you will receive email to finalize process at premierrebates.com. Valid on U.S. or Canadian purchased Sony imaging products as specified herein, no specific purchase period required. Limit 1 claim per customer. Prices and offers non-redeemable for cash, non-transferable. Reseller prices may vary. Prices and offers stated do not include tax or shipping.
© 2021 Sony Electronics Inc. All rights reserved. Reproduction in whole or in part without written permission is prohibited. Sony is not responsible for typographical and photographic errors. Features and specifications are subject to change without notice. Sony and the Sony logo are trademark of Sony Corporation. Xperia is a trademark or registered trademark of Sony Mobile Communications Inc. All other trademarks are trademarks of their respective owners.
Specifications, availability, prices and terms of offer are subject to cancellation or change without notice.