Sony Artisan and co-founder of SeaLegacy Cristina Mittermeier is a zealous conservation photographer and storyteller. She has dedicated her career to protecting environments, particularly the ocean through her imagery. She has a long history with National Geographic, even being honored as an "Adventurer of the Year" in 2018 for work on climate change.
Recently, National Geographic published a special issue of their magazine featuring the "100 Best Photos: Iconic Images from this Century." And Mittermeier had an image honored in this list. The honored image is of a 365-step pyramid called the Temple of Kukulcan, also known as El Castillo to the locals. We sat down with Mittermeier to learn the story behind the shot.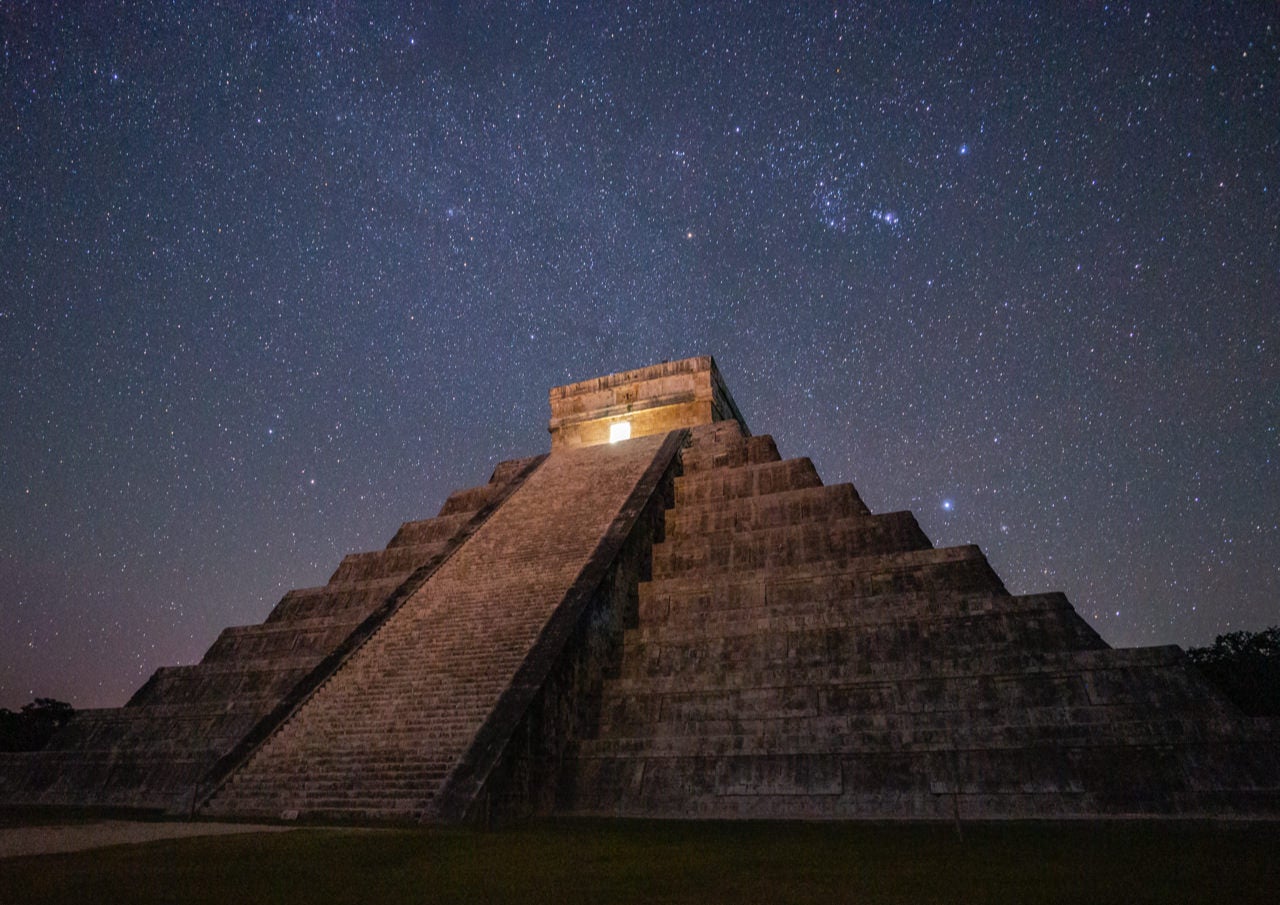 Photo by Cristina Mittermeier. Sony Alpha 99 II. Sony 16-35mm f/2.8. 25-secs., f/2.8, ISO 6400
Sony Artisan Cristina Mittermeier explains how she had to work through some logistics to make this highly honored image happen.
The photo was taken in conjunction with an assignment to tell the story of the Sacred Cenote. This is a water-filled sinkhole in limestone at the pre-Columbian Maya archaeological site of Chichén Itzá, in the northern Yucatán Peninsula. Chichén Itzá is a complex of Mayan ruins on Mexico's Yucatán Peninsula that served as the urban center. Mittermeier had started her career as a biologist, working in the Yucatan Peninsula. "I had spent a year and a half running around the jungles, diving every day. And I knew a lot of people and I had a lot of contacts and I had already done a lot of snorkeling in that area, so I knew exactly where to go." To get a proper image of Chichén Itzá to visually tell this story, a photo of the pyramid at night was called for.
After some creative problem solving and discussion with the onsite workers, a light was placed at the top of the iconic pyramid and Mittermeier was able to make some images that captured the essence of the site. Mittermeier also noted that this image was in the National Geographic image collection. So when the magazine editors began searching for images to feature in this special issue, they found this one in the collection. Mittermeier explains that this is a great example of why you should submit your work to agencies. "If nobody can see your work, you'll never get picked to have one of the most iconic images."
See more of Cristina Mittermeier's work on her Alpha Universe Profile and on Instagram @mitty.