1.
Do I have to reside in the USA or Canada to be eligible?
Yes. The program is currently open ONLY to legal residents of the 50 United States, D.C., and Canada (excluding the Province of Quebec). At this time we do not have any additional information on future availability outside of the USA and Canada.
2.
Do I have to be 18 years or older to be eligible?
Yes. If you are not at least 18 years old at the time of the application, you are NOT eligible to win.
3.
When is the deadline for submitting an application?
You will have 12 opportunities to win, with the final opportunity ending on April 3, 2022. The complete list of dates for when applications are due, grant winners are announced and grant winner projects are due is listed below.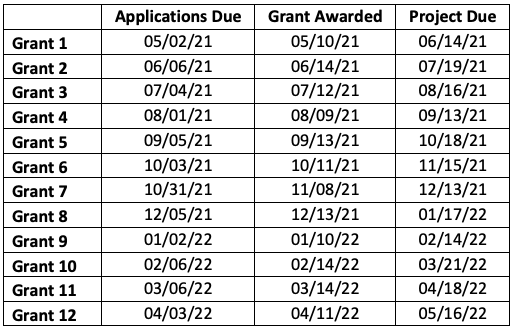 4.
When are grant winners announced?
Grant winners will be announced every month on AlphaUniverse.com starting on May 10, 2021. All submitted applications, regardless of submission time, will be in the consideration pool until the twelfth and last grant is awarded. The complete list of dates for when applications are due, grant winners are announced and grant winner projects are due is listed below.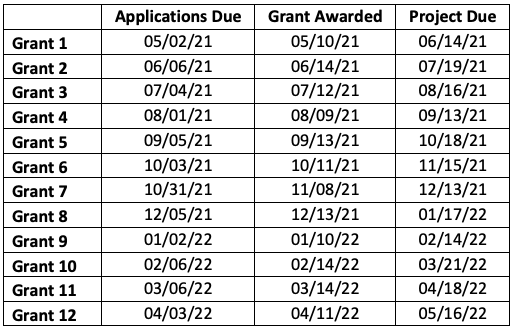 5.
How would you describe the ideal candidate?
The ideal candidate meets the following foundational criteria:
Passionate photographer or videographer, looking to amplify their creative voice.
They have a specific project in mind that represents the perspective of women and/or minorities, and a plan for completing it within the grant parameters.
They are willing and able to complete all the steps in the application process.
They are excited to document their process and having their completed project featured on AlphaUniverse.com.
6.
Do I need to use a Sony camera already to apply?
No. Applicants can be users of any camera brand. Winners will be provided with a new state-of-the-art Sony Alpha camera and lens as well as, on a case-by-case basis, additional access to Sony rental gear to complete their project.
7.
Are you interested in specific types of photographers or videographers?
We are not. We welcome any and all specialties. The goal is to select the 12 best candidates from the applicant pool who can most benefit from the program and can complete their project within the designated parameters.
8.
Am I required to shoot my application video in a specific way?
No. You can shoot your application video in any way you prefer, including with your computer's camera, or with your phone. The video is meant to give us a great sense of who you are and to have a visual introduction to your persona. It is up to you if you'd like to submit your video exactly as you shot it, or if you'd like to edit it using other footage as well. The only requirement is that you are on camera introducing yourself, and not just a voice-over.
9.
I feel like 3,000 characters won't be enough for me to give you a great sense of who I am and what my project is about.
Our hope for the application essay is to get an overview of your vision for your project, why you want to pursue it, and how you aim to bring that vision to life. We will also have an opportunity to get a more in-depth sense of who you are from your application video.
10.
The application asks for photos or videos that represent my best work. What does that mean?
We're asking to see photos or videos that demonstrate your skill and that show where you'd like to take your art going forward. There's no specific topic or subject we're looking for, we just want to see who you are at your core as a creator.
11.
I'm related or friends with a Sony Artisan of Imagery, a member of the Alpha Imaging Collective, or a member of the Sony team, can I still apply?
Absolutely. Our community is made up of extraordinary individuals, and we believe that birds of a feather flock together. This is an exciting opportunity, and we fully expect our Alpha Family to introduce this program to their friends, family, and followers. We also expect that our Alpha Family's community is replete with talented individuals well suited for this program. So please apply, but please don't expect to receive a leg up as a result of your affiliation with a member of our community.
12.
Are the winnings taxable?
Yes. As the law currently requires, the winnings you receive will be taxable according to your current tax bracket. We will release a 1099 form or other necessary documentation for you to use for tax purposes.
13.
What are the grant winners' responsibilities?
The winners will be expected to use their Sony camera systems to create their photo or video project within five weeks of being notified that they have won the grant. During their five-week journey, winners will be asked to document their process with some behind the scenes photos and/or video. At the end of the five-week grant period, winners will submit their completed project along with a written summary about the project to the Alpha Female+ team. We intend to share your story and project with our community via AlphaUniverse.com and our Sony Alpha social channels.
14.
Will Sony own or have use rights to the photos or videos I submit in my application?
No. Sony does not use photos or videos without explicit consent from the author. For this application, the photos you submit remain your property, and the only way we will use them is to help us make a decision about the application.
15.
Will Sony own or have use rights to the photos or videos that result from my project?
No. We will request editorial use for the photos or videos resulting from your project for the purpose of promoting you and your work as part of the program, but we will not retain rights or use those assets commercially.
16.
I have an unanswered question, who can I ask?
Please send your questions to sonyalphafemale@alphauniverse.com. Please note that you will only receive a reply if your question is deemed critical to your understanding of the process. We will not be able to provide advice, pointers, or any information that would allow you an unfair advantage over the rest of the applicants. Please do not email us just to introduce yourself or let us know you applied, as those emails will not be taken into account during the decision process.