This past January, I took a last minute trip up to Banff with my buddy Mike Mezeul. And when I say "last minute," I mean that he called me up saying he needed to get away and a couple days later we were on a plane to Calgary. After a couple days photographing the absolutely insane beauty of Banff, and a couple days photographing the ice bubbles at Abraham Lake, we decided to venture further north to the ice cave at the Athabasca Glacier in Jasper National Park.
To get to Abraham Lake and Jasper NP, you have to (or get to I should say) take the famous Icefields Parkway which is one of the most beautiful drives you'll ever take (especially in the winter). The entire drive will leave you breathless. Icefields Parkway cuts straight through the Canadian Rockies, and venturing deep into this wilderness is a bit unnerving to say the least. The weather in Alberta is hard to predict, and winter storms can happen at any time. The problem with that is that if the roads get covered in a deep layer of snow, it could be 2-3 days before a snow plow gets that far north to clear the way. Jasper National Park is about 2.5 hours north of Banff but it's more like 3.5 hours in the winter. Having this knowledge during that drive up to Jasper had us both on edge. We'd go 15-20 minutes without seeing a single car and when we did see one, we'd both let out a big sigh of relief.
After what seemed like an eternity of driving deeper and deeper into the rockies, with mountains towering above us on both sides, we finally made it to the trailhead to Athabasca Glacier. The Athabasca Glacier is one of six glaciers flowing down from the Columbia Icefield. The glacier is currently 3.7 miles long and covers an area of 2.3 square miles (however it is receding at a rate of around 16 ft per year). The hike to the glacier is only 0.6 miles, but when you add knee to waist deep snow and sustained 30-40mph winds coming down from the glacier and blowing snow right into your face, it seemed quite a bit longer.
When we finally made it to the ice cave, I was completely blown away by its beauty. The color of blue in the ice was incredible, and the silence inside the cave was deafening; until the glacier would shift and we'd hear the deep pops and cracks ring through the ice. I spent around an hour taking pictures with my Sony α7R II and it performed flawlessly both at the glacier and on the entire trip. Inside the glacier, the Sony 16-35mm f/4 ZA OSS was my lens of choice, as per usual. It let me capture both super wide views to show the impressive size of the cave as well as close up shots to show the details of the ice. While I had a few other lenses in my bag, I never felt the need to change lenses at this location.
If you haven't been to Banff and the surrounding areas, I highly suggest making a trip up there in the very near future. I know I'll be back soon enough!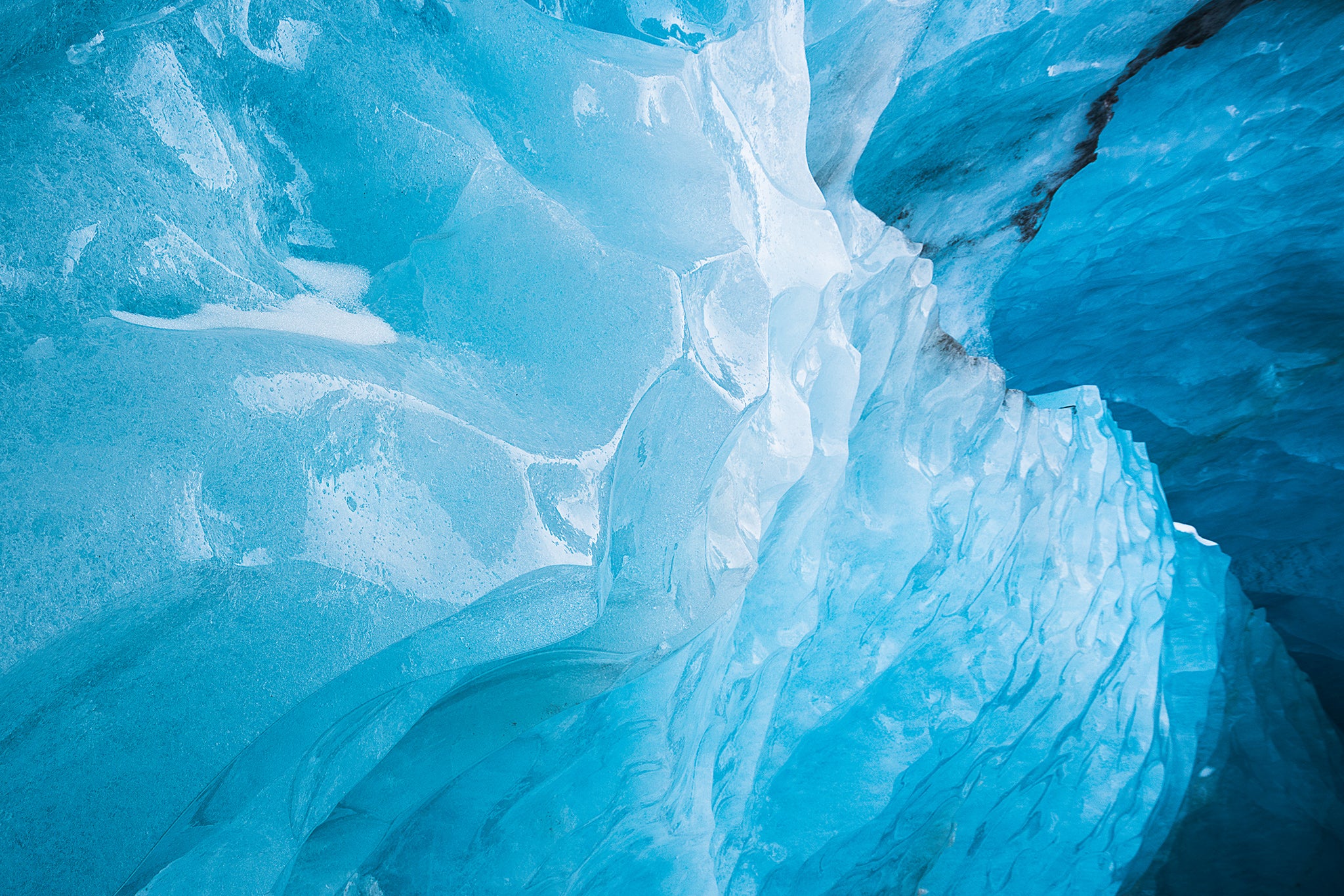 Closeup of the glacial ice near the entrance of the cave. Sony α7R II. Sony FE 16-35mm f/4 ZA OSS lens. 1/80-sec., f/9, ISO 100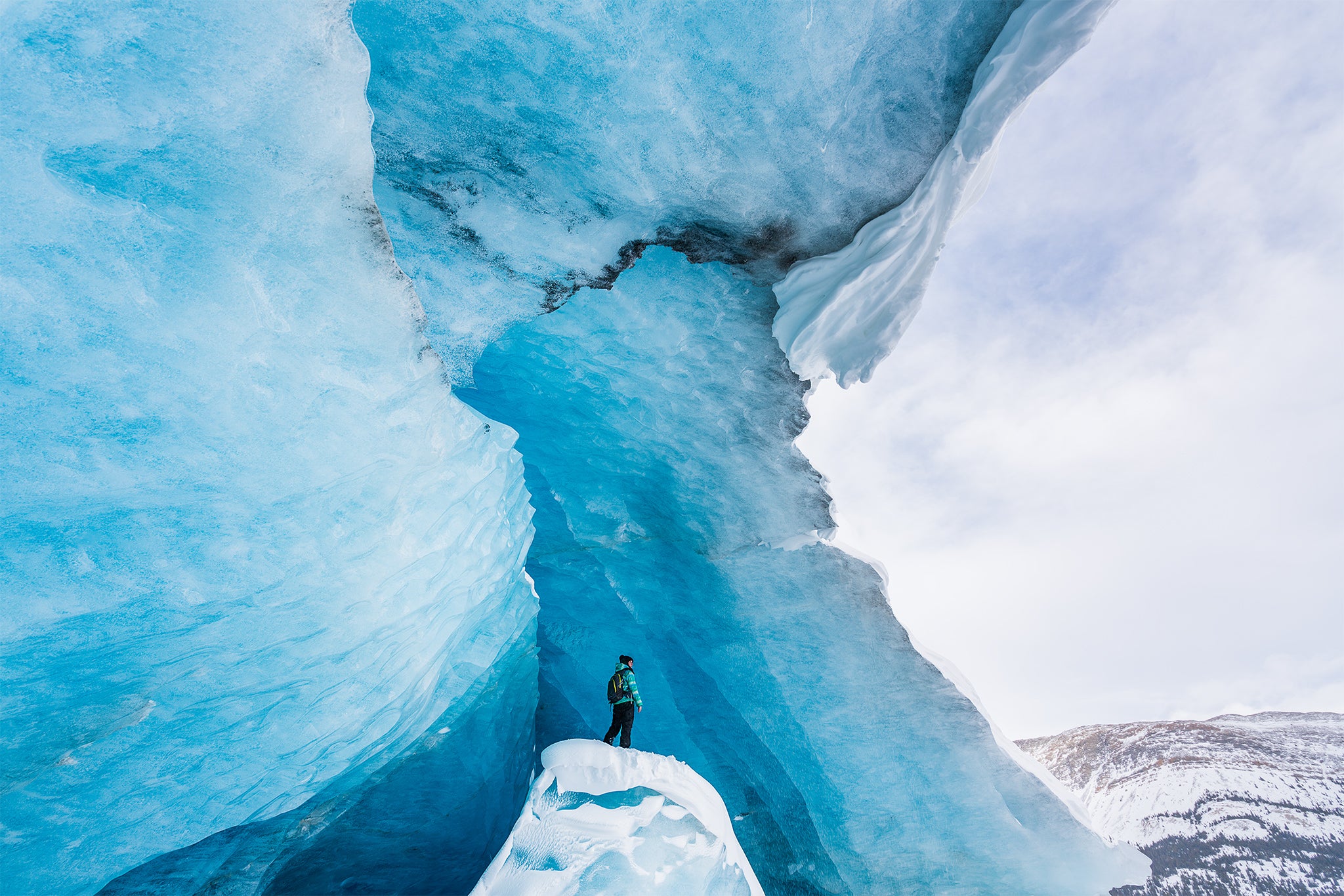 A fellow traveler taking it all in. Sony α7R II, Sony FE 16-35mm f/4 ZA OSS lens. 1/60-sec., f/9, ISO 100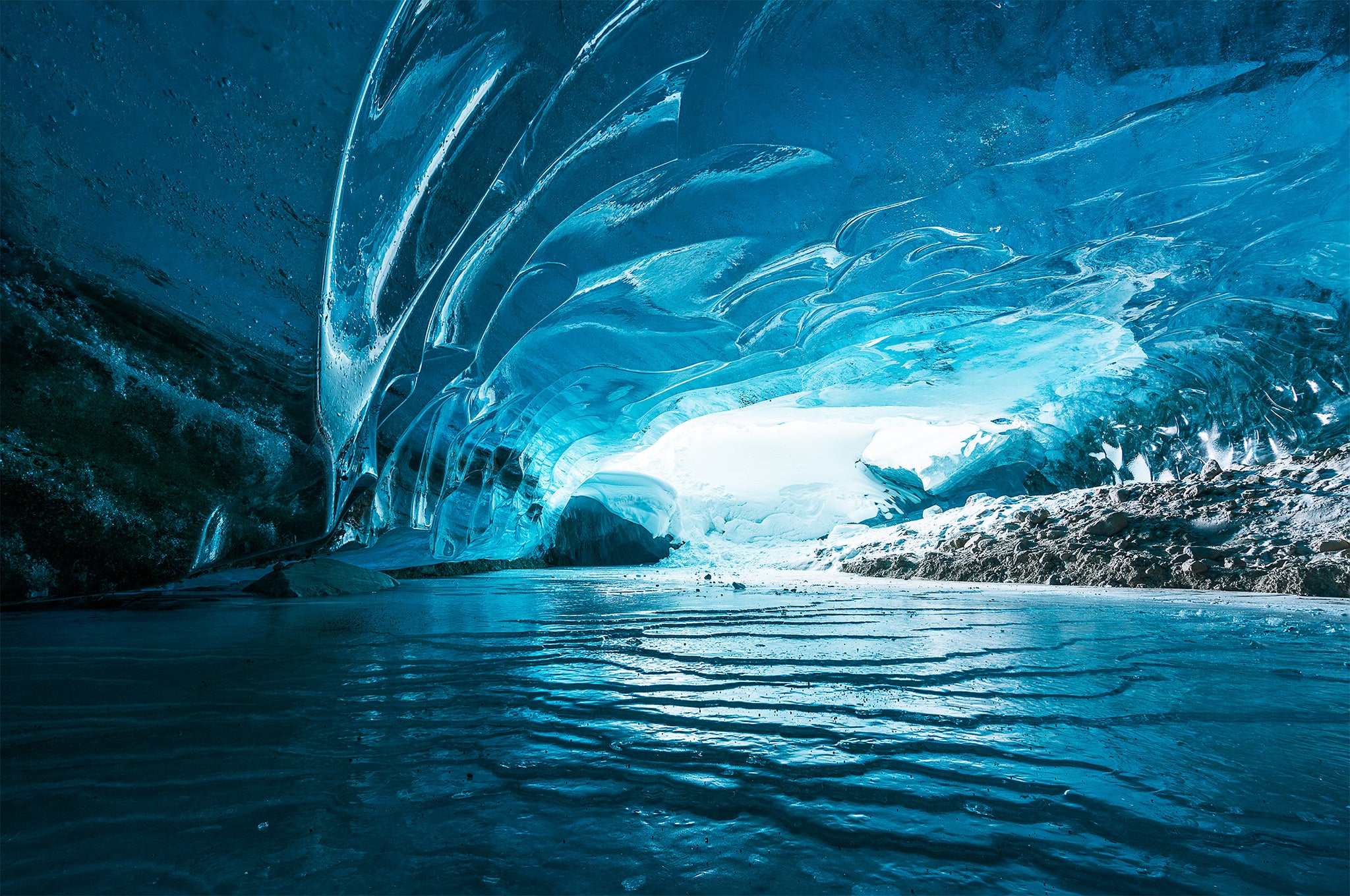 Deep inside the Athabasca ice cave, looking back toward the entrance. Sony α7R II, Sony FE 16-35mm f/4 ZA OSS lens. 1/60-sec., f/9, ISO 100
See more of James Brandon's photography, sign up for his workshops and check out his ebooks at jamesb.com