In November, the stars and a group of Pacific storms came into alignment and sent a massive swell across the ocean. Two days before the waves struck Mexico's Baja Peninsula, a small team from Rip Curl including surfer Dillon Perillo, Team Manager Matt Myers and Sony Artisan Justin Jung was hastily assembled in the hopes that the computer models predicting an epic swell were right. Packing up surfboards, wetsuits and camera gear, Jung, Perillo and Myers headed across the border. What did they find?
"Sure enough, it was insane. It was incredible."
We caught up with Justin when he got back to find out more about how he shot the short film.
Alpha Universe: When you were looking at the forecast, did you know if was going to be as good as it was?
Justin Jung: "The Rip Curl team was looking at the forecast, and they said, all the elements were lining up. The winds were off shore. Obviously the swell was there. Literally, everything just aligned up.
Alpha Universe: What did you shoot with?
Justin Jung: I was shooting with, my α7R II and my α7s II as well as the Sony FS7 camera.
Alpha Universe: When you're shooting surf action, how do you typically have your camera set up?
Justin Jung: I want to be shooting 4K and I also want to be able to capture some emotion. I do a lot of that kind of slow-motion action with the FS7. For this swell, it was such an insane drop-in for Dillon, so to slow it down in 4K the footage was just 'Wow!'. You really see how hard it was to paddle into some of these waves.
I used to shoot 1080 at 180 frames per second and 1/300-sec or 1/320-sec. shutter speed. When I switched to shooting 4K I started shooting 60 frames per second and on the FS7 I'll crank up the ND filter for a 1/125-sec. shutter and an f/8 aperture.
I do a lot of frame grabs as well and for those I make sure I have a fast enough shutter speed so they'll be sharp.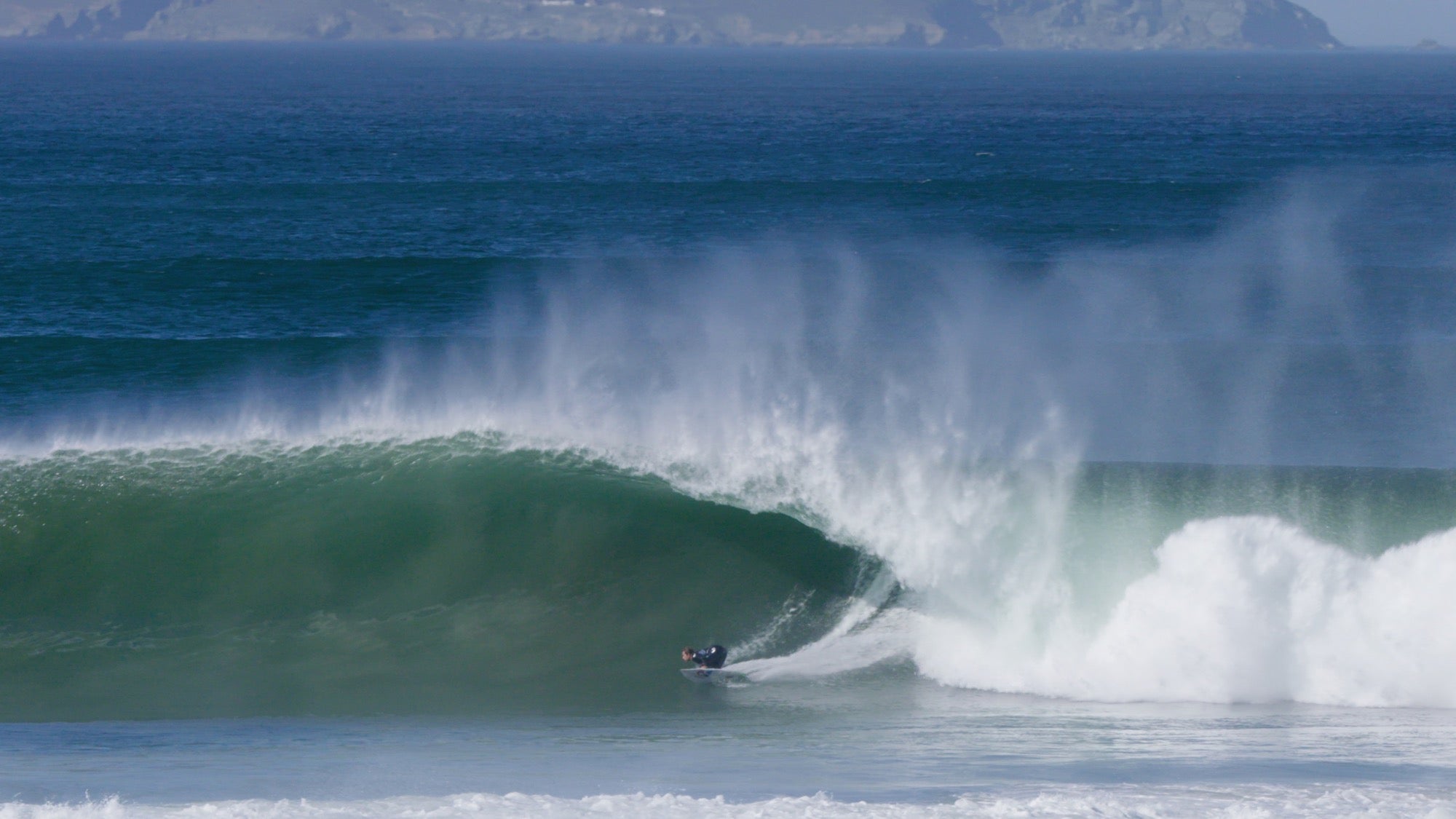 Alpha Universe: What about your other gear?
Justin Jung: On this shoot I had the Sony 16-35mm f/4 on my α7R II pretty much the entire day. I did a lot of lifestyle shooting with that setup. I switched it out once or twice for portraits. I had the α7R II on a handheld gimbal so all my shots would be steady. It works really well with the α7R II because it's such a lightweight camera.
Alpha Universe: Watching the video, you see these big swells coming up and all the sand from the turbulent water and the crashing waves…It's pretty dramatic. You are catching something really cool here.
Justin Jung: Thanks. When we set up to the beach, even, we stood there for a good 20 minutes or so just watching it. We were all just stunned saying 'how is it this good?' It was really just huge out there. The team manager, Matt Myers and the athlete Dillon Perillo looked at each other and there was a question about whether we were going to go out and we decided we couldn't walk away from this. Dillon ended up taking about about an hour to catch his first wave just because the current was so strong and he was reading the line up. That was really smart. We managed to shoot every single wave he caught and he just nailed it on every one.