Congratulations to Sony Artisan Caroline Jensen for winning Best In Category for Beautiful Light in the 2016 VOICE collection contest. The photo was chosen from more than 35,000 entries!
Jensen describes how she created the winning photograph.
"This photograph was taken last April after my husband took me on a romantic weekend to Chicago. We went to the Art Institute of Chicago to fill my love for the visual arts, and I was immediately taken with the 2000-year-old Greek statues they had on display. I was fascinated at how heavy marble could seem so delicate and marveled at the intricate way the carver crafted each fabric fold in the stone. The light play on the surface mesmerized me, and so I sought to replicate that feeling in an image.
"My daughter agreed to model for me, and we chose a dress that had sweeping folds of neutral colored material. The statues all were either faceless or headless, so I chose to hide her face so that the light play on the material and hair took center stage. The image was shot at my studio in Heron Lake, MN, which is a 1911 bungalow with rich wood and beautiful windows. I placed my model near a window that was covered with soft sheers and angled her so that the light illuminated the outline of her hair and left deep shadows within the folds of the material.
"My lens choice was the 85mm G Master shot wide open at f/1.4 and my camera was the α7R II. I absolutely adore the EVF, which lets me get my creative vision straight out of the camera. The sharpest point of focus was on a few wisps of hair escaping her soft bun. This gave the rest of the image a bit of an ethereal feel, which I love. I barely had to edit this image. I warmed the white balance slightly, and it was good to go!"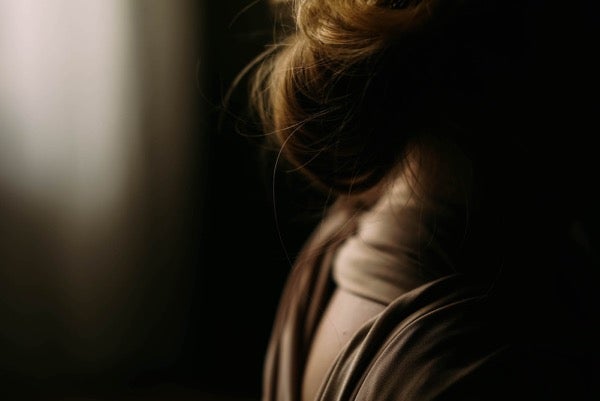 Sony α7R II, Sony FE 85mm f/1.4 GM lens, 1/320-sec., f/1.4, ISO 400