Beth Mancuso (@intothewild.wego) is a Sony photographer who has run her own portrait photography business for over 10 years. While she loves taking portraits, her true passion is exploring and photographing our beautiful planet. She typically uses the Sony 50mm f/1.8 lens for her portrait business work, but she has found ways to weave the same gear into her passion for capturing landscapes like the one below. We talked with her to learn more about how she snagged this simple but beautiful landscape shot with her nifty fifty.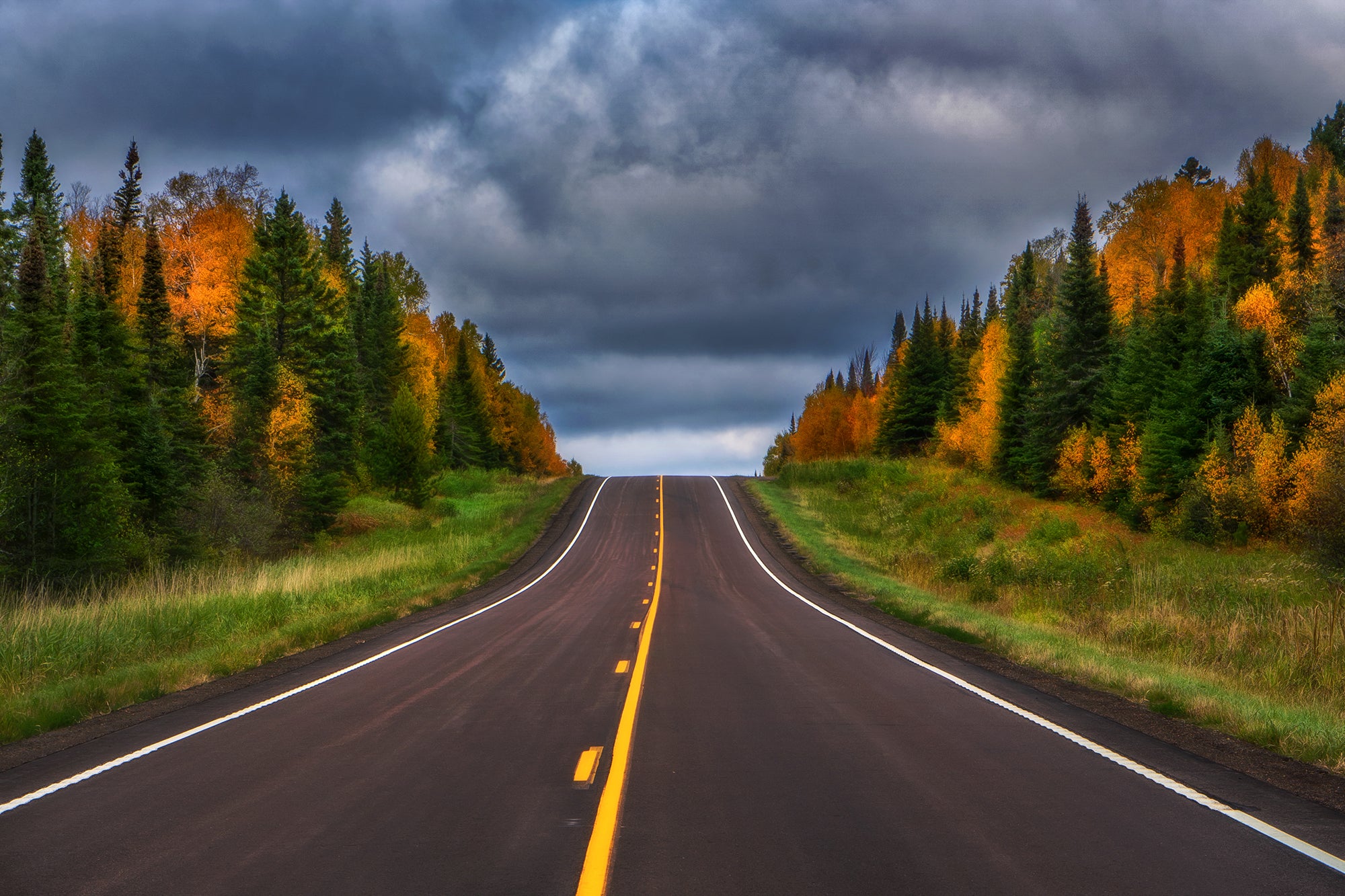 Sony α7 III. Sony 50mm f/1.8. 1/80-sec., f/10, ISO 50.
This fall my husband and I were camping on the North Shore of Minnesota. The weather was cold and rainy on this particular day so we decided to go for a drive on the backroads. I had my Sony Alpha gear with me, and as we drove the picturesque fall foliage and windy roads were making for some really great photo opportunities. I loved how the road rose up in this particular spot, so we pulled off to the side of the road and parked. My husband watched for cars while I framed my photo, ultimately landing on this symmetrical composition.
I chose to use my Sony 50mm f/1.8 here because I wanted the road to be an integral part of the image. My wide lenses made the road too small and the trees too far away. 50mm was the perfect focal length to get what I wanted. I paired it with my Sony α7 III and set my exposure time to 1/80-sec, f-stop to 10 and ISO to 50.
I mostly use my nifty fifty for portraits, but I also use it for landscapes when I find my other lenses to be too wide. The Sony 50mm f/1.8 lens is quick to focus and tack sharp. I love that it has a large aperture of f/1.8 which makes for some beautiful bokeh in my photos. This lens is also pretty lightweight which is great for when I am doing a long portrait session and wearing my camera around my neck for hours. It happened to be the perfect choice in this case to get the shot I wanted.
See more of Beth's work at intothewildwego.photography and on Instagram @intothewild.wego.