David Stenitzer (@davidstenitzer) is a wildlife photographer, biochemistry PhD-student and conservationist. He began photographing wildlife in 2017 and he's quickly honed his skills. "With my pictures, I try to show the beauty of nature and that it is worth protecting. Without my camera, I would never have become aware of the problems with biodiversity and the loss of species on our planet. My camera has given me a different perspective on many things that didn't bother me before. Through my Instagram account, I try to educate others about how to behave in nature and respect wildlife. For me, the most important thing is to work in ethical accordance, which means that the image is never as important as the welfare of the animals. I also try to convey this to people in my workshops. Never stressing or hurting a wild animal is a top priority." Stenitzer mostly photographers in urban environments, where people are usually very surprised how much wildlife exists. We saw this stunning image of his on Instagram and sat down with David to learn more. Keep reading as he shares his story behind the shot.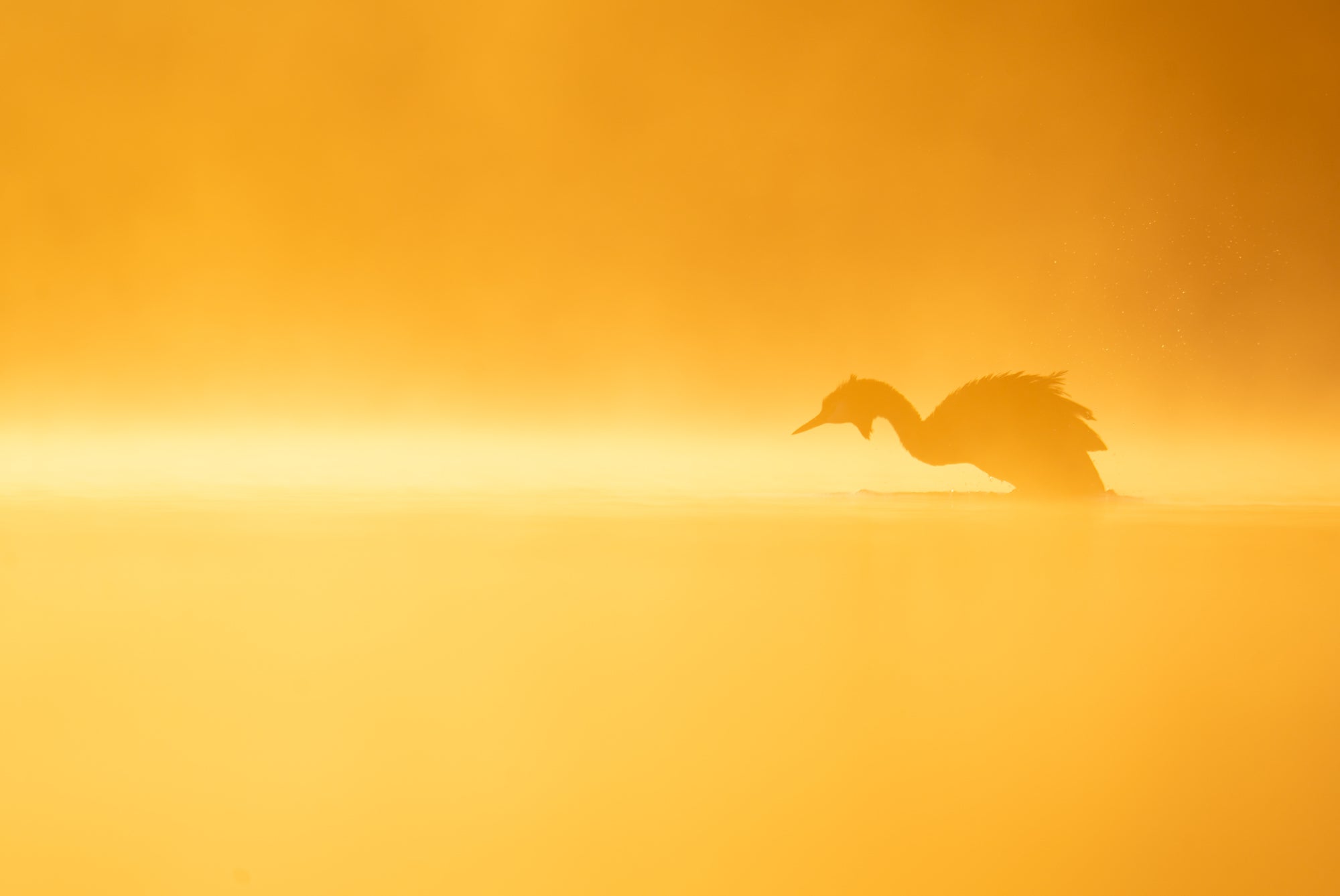 Photo by David Stenitzer. Sony Alpha 7 IV. Sony 200-600mm f/5.6-6.3 G. 1/1000-sec., f/6.3, ISO 100
Wildlife photographer David Stenitzer explains how he captured this image of a great-crested grebe with his Sony Alpha 7 IV & Sony 200-600mm f/5.6-6.3 G.

Patience For Perfect Conditions

Like many other photos of mine, this one is taken in the "urban jungle" of Vienna. When I found out some time ago that great-crested grebes live in a green area including a pond, I knew I had to photograph them. And the best part: with perfect weather conditions I would have the chance to photograph the great-crested grebes in front of a beautiful misty sunrise. As a wildlife photographer, you usually don't have the luxury of just putting your model in the right light. I knew that I needed a lot of luck that not only the bird would be in the right place to be photographed, but also that the lighting conditions would be suitable. I visited this place many times – well, I enjoyed all the hours spend there – to get this picture. I think it is an important lesson for beginners in wildlife photography, that you need a lot of patience and endurance for just one good picture. Most of the time you need several photo sessions at the same location, not only to get to know the place and the wildlife existing there, but also to have amazing conditions for good photos.

Strong Backlight & Bird Eye AF

This particular shot was taken with the Sony Alpha 7 IV combined with the Sony 200-600mm f/5.6-6.3 G. For me, this is the perfect combination for any wildlife photographer. To take a shot like this, I put my camera and lens directly on the ground to get the lowest angle possible. I had to use the display as the viewfinder was not possible in this case. The display and the fast autofocus of the Sony Alpha 7 IV helped me a lot to get the shot. Even in strong backlight, the Bird Eye AF found the eye and with the display I could compose the picture perfectly. As there was no distraction around, I could use the wide AF. I chose the widest aperture of 6.3 and a shutter speed of 1/1000 of a second. The ISO was set to 100 - pretty perfect.
Usually, I never spend more than five minutes to edit an image. With this picture the editing was even faster because there was not much to do. The picture looked already incredibly out of the camera. But since I shoot RAW, I had to develop the image in Lightroom. Mainly, I enhanced the contrast and aligned the image with the horizon.

See more of David Stenitzer's work on Instagram @davidstenitzer.