Are America's iconic photo locations drawing too many photographers and tourists? Well, if a picture is worth a thousand words, then take a look at what my group encountered last week at Mesa Arch in Canyonlands National Park: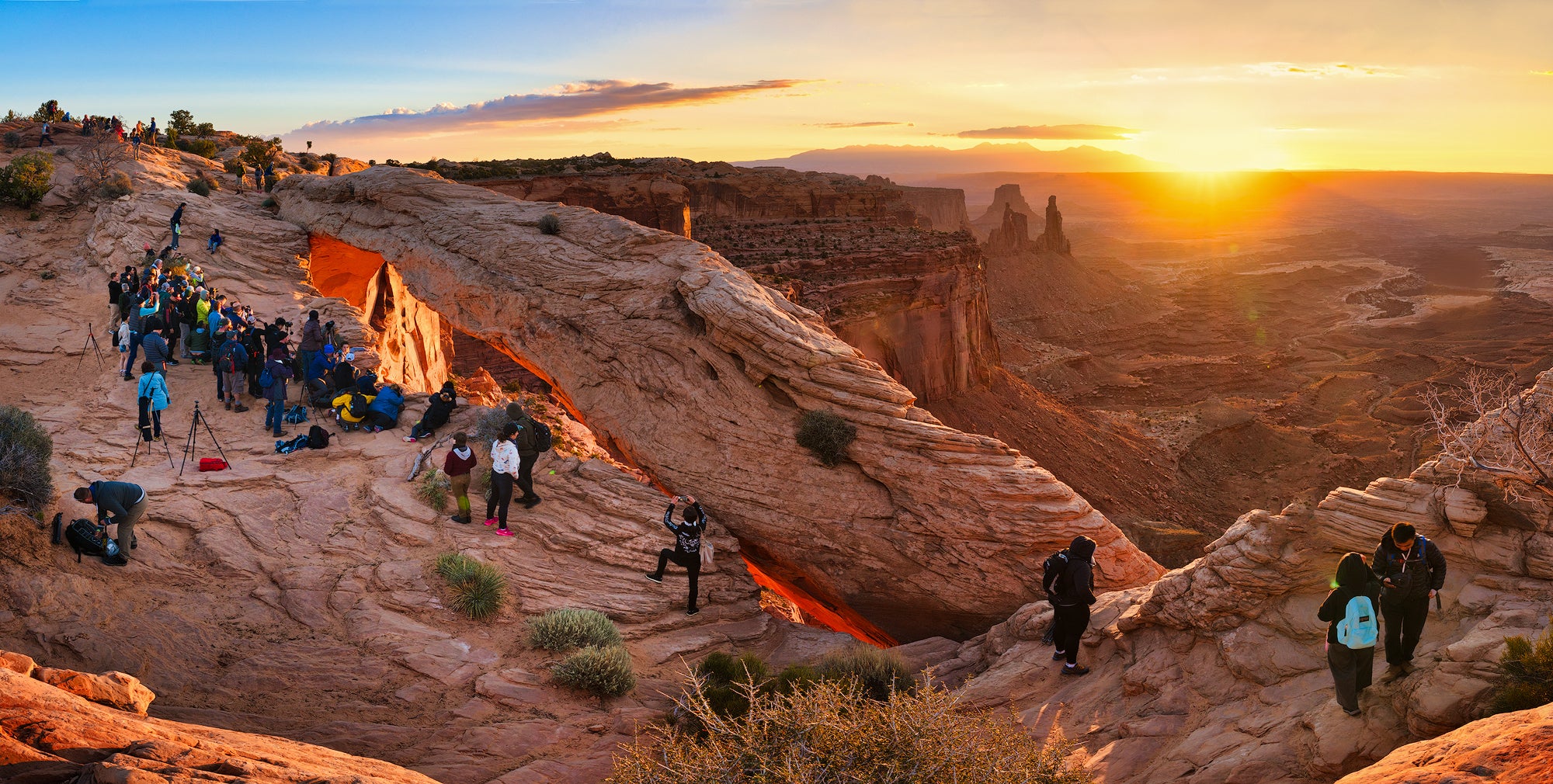 Photo by Don Smith. Sony α7R II.
This fall's workshop marked my seventh year in beautiful eastern Utah. As part of the workshop, we shoot locations in Canyonlands National Park, Arches National Park, Monument Valley, Castle Valley and Dead Horse Point State Park. Both the Delicate Arch in Arches and Mesa Arch in Canyonlands are the star icons and most popular amongst the groups.
Unfortunately, road work forced us to the backside of the Delicate Arch this year, but the standard view, which requires a mile-hike uphill to the Arch for sunset, would not work as the Park closed 10 minutes prior to sunset.
The Mesa Arch is a wonderful sunrise location. As you can see in the image above, the underside of the Arch glows orange as the sun crests the horizon, hitting the over 1000-foot wall of sandstone below the opening of the Arch and reflecting the glowing color to its underside. It is an amazing sight, but one that draws both photographers and tourists alike (think smartphone heaven).
Serious photographers arrived a couple of hours prior to sunrise, making a small crowd early on. To add to the chaos of the growing crowd, two tour buses of foreign visitors descended upon the Arch only 10 minutes prior to sunrise. As the sun began to crest, one man grabbed one of my workshop participants by the arm and said "MOVE," as he edged in with his iPhone for a shot. I immediately intervened and said "Don't touch him, he's been here for two hours waiting for this moment." I'm not sure if he understood my words but he certainly could see I was mad.
This all begs the question: Is there a call for some sort of crowd control at these popular photo destinations? If so, by whom? Park officials are already stretched so thin. Is going to a permit system the answer?
At this year's Gary Hart Big Island Workshop, permits were required for sunrise atop Haleakala. It was a minimal $1.50 per car and it was a much more manageable crowd. Park rangers were on hand to check permits before allowing cars to move up the road to the parking areas.

There are similar crowd horror stories for Colorado's famed Maroon Bells for fall color and Yosemite's Horsetail Fall natural firefall phenomenon at sunset in February.
For my part of my workshop, I split my groups for the Mesa Arch shoot. I allow no more than six per group and we show up two hours ahead of time. I took the A Group the first morning and the following morning my co-instructor, Pierre Steenberg, took the B Group. They departed an extra 15 minutes earlier than my group and encountered 18 photographers already on-site when they arrived. The group leader started prodding Pierre for information regarding lens choice, polarizer or no polarizer, etc. Workshop group sizes for Canyonlands and Arches is 12. Clearly this group had not even gone the Commercial Use Authorization route through the U.S. National Park Service.
Things like this seem to be happening more and more, making it difficult to capture America's natural icons. So what do you think? Is it time for crowd control?
Learn more about Sony Artisan of Imagery Don Smith here. Follow Don Smith on Instagram @don_smith_photography.