Sony Artisan of Imagery Caroline Jensen is a botanical photographer living on the prairie of SW Minnesota. "My passion for photography started years ago, when my children were small, but nature, flowers, and prairie conservation have been important photography subjects for me since the beginning too," she says. "Nature and flower photography has been my go-to stress-relieving practice for as long as I can remember! The power of sitting in nature and observing small details has the most incredible impact on my stress level. It is truly a vital part of who I am as a person." Jensen also hosts a community (The Creative Photography Network) full of passionate nature and flower photographers who also turn to their cameras for stress relief and fun.

We sat down with her to learn more about how she captures images of flowers and botanicals that look and feel like a painting! From choosing the right camera and lighting to detailed editing, continue reading to learn what goes into getting a shot like this one.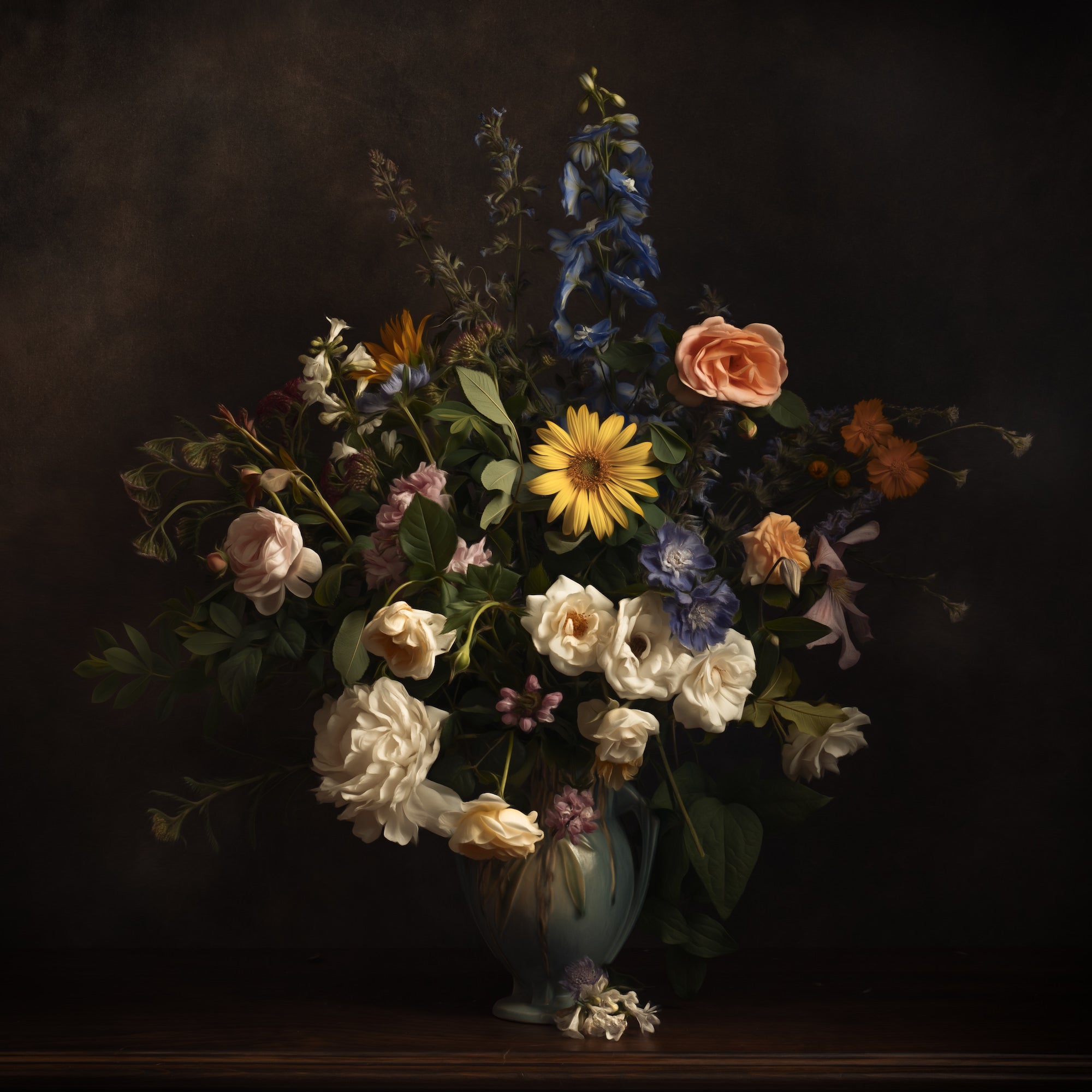 Photo by Caroline Jensen. Sony Alpha 7 IV. Sony 50mm f/1.2 G Master. 1/250-sec., f/14, ISO 200
Art Inspiring Art
Each summer I grow a vast array of flowers and native pollinator plants. On the morning of this photo, I went out and gathered what was blooming that day. It was a mix of native sunflowers, David Austin roses, delphinium, mountain mint, scabiosa, yarrow, coreopsis, heal's all, etc. My husband collects pottery and so I used this Roseville vase. The Arts and Crafts period of architecture and design produced some incredibly beautiful vessels for arrangements. I loosely arranged the flowers, starting with the tallest ones and working down to the shortest.
A Sharp Prime To Get Detail & Depth
I shot this particular photo on the Sony Alpha 7 IV and Sony 50mm f/1.2 G Master. I am 100% IN LOVE with the Sony 50mm f/1.2 G Master! This lens has hardly left my camera since I got it last year. The lens is so incredibly sharp and it also has a fairly close minimum focus distance, which lets me get details as well as pull back shots. The Alpha 7 IV has been my go-to camera of late as well. It has all the features I need to create the images I love.
Using Light & Editing to Create Mood
I took this photo in a corner of my dining room. The vase was placed on an old up-cycled cedar chest I use to store linens. I had a backdrop that was a pop-up muslin 5x7 from Savage Backdrops. I lit the vase and flowers with one FJ 400 strobe from Westcott at 8.2 power and modified by a 43-inch umbrella with diffusion cloth (bounced light).

I created this image by placing the modifier to the right of the arrangement, opening the light out toward me. The light is only slightly grazing the front of the arrangement, which is the key to getting the moody lighting I love. You can see the corner of the modifier in the SOOC shot. My settings were at 1/250-sec., f/14 and ISO 200.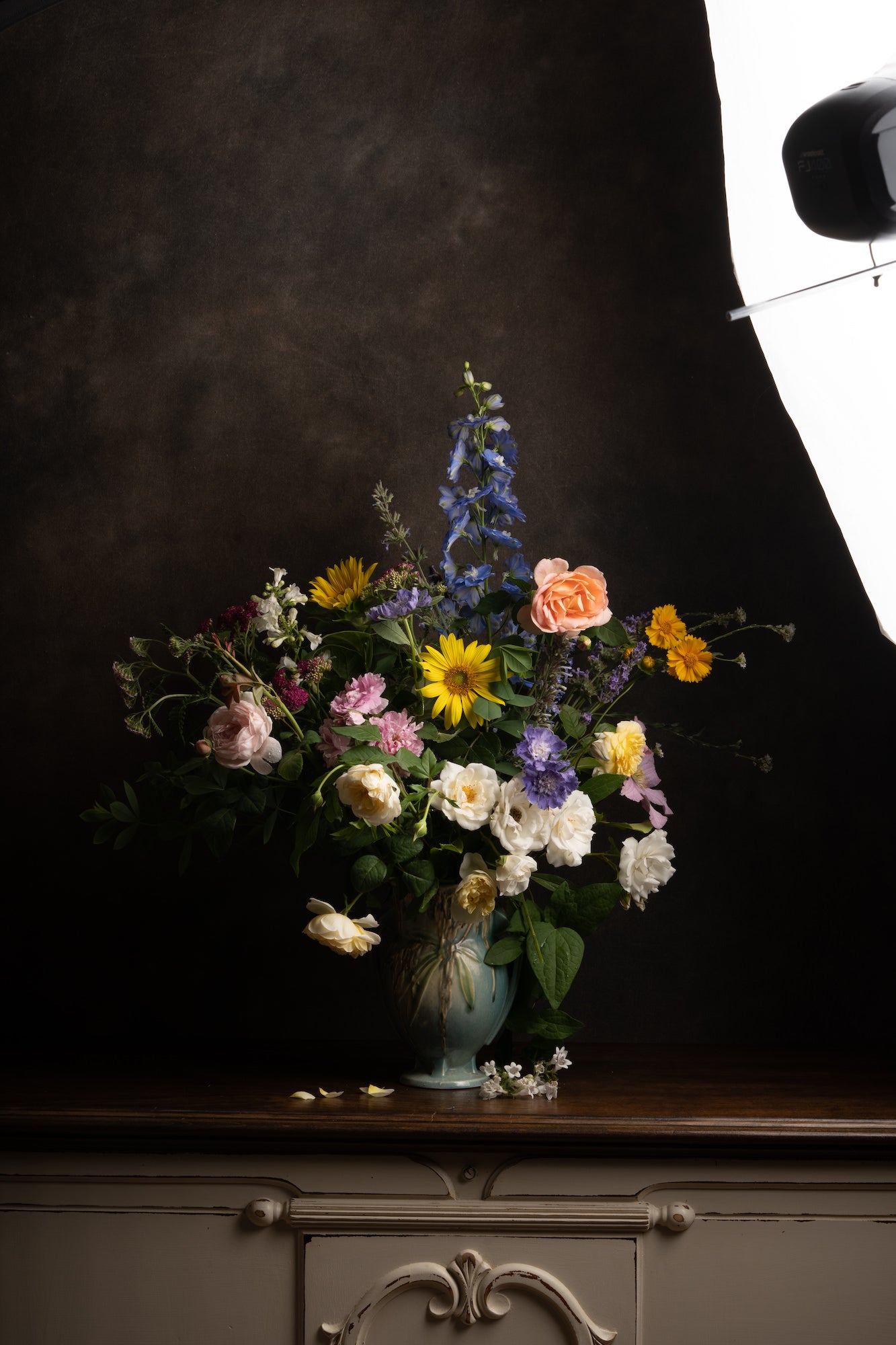 SOOC Photo by Caroline Jensen. Sony Alpha 7 IV. Sony 50mm f/1.2 G Master. 1/250-sec., f/14, ISO 200
I use both Lightroom and Photoshop to create my images. My editing steps include modifying the light through dodging and burning, managing shadows, highlights, whites, and blacks, while also color toning with custom Lightroom profiles I make based on historic paintings. I finish in Photoshop with various painterly effects, sharpening workflows, and editing basics like cloning out stray petals and dust.

See more of Caroline Jensen's work on her Alpha Universe Profile and on Instagram @carolinej.