The announcement of Sony's new 12-24mm f/2.8 G Master lens has photographers excited at the ability to shoot ultra wide from day into night. Jess Santos (@missjessbess) of the Alpha Imaging Collective had the opportunity to take the new lens to the Eastern Sierra where she captured this awe-inspiring astro shot of an ancient bristlecone tree. See below as she breaks down the story behind creating this astro shot, and how the new Sony 12-24mm f/2.8 GM helped her make this captivating image.
See how Jess Santos of the Alpha Collective created a stunning astro shot using the new Sony 12-24mm f/2.8 G Master.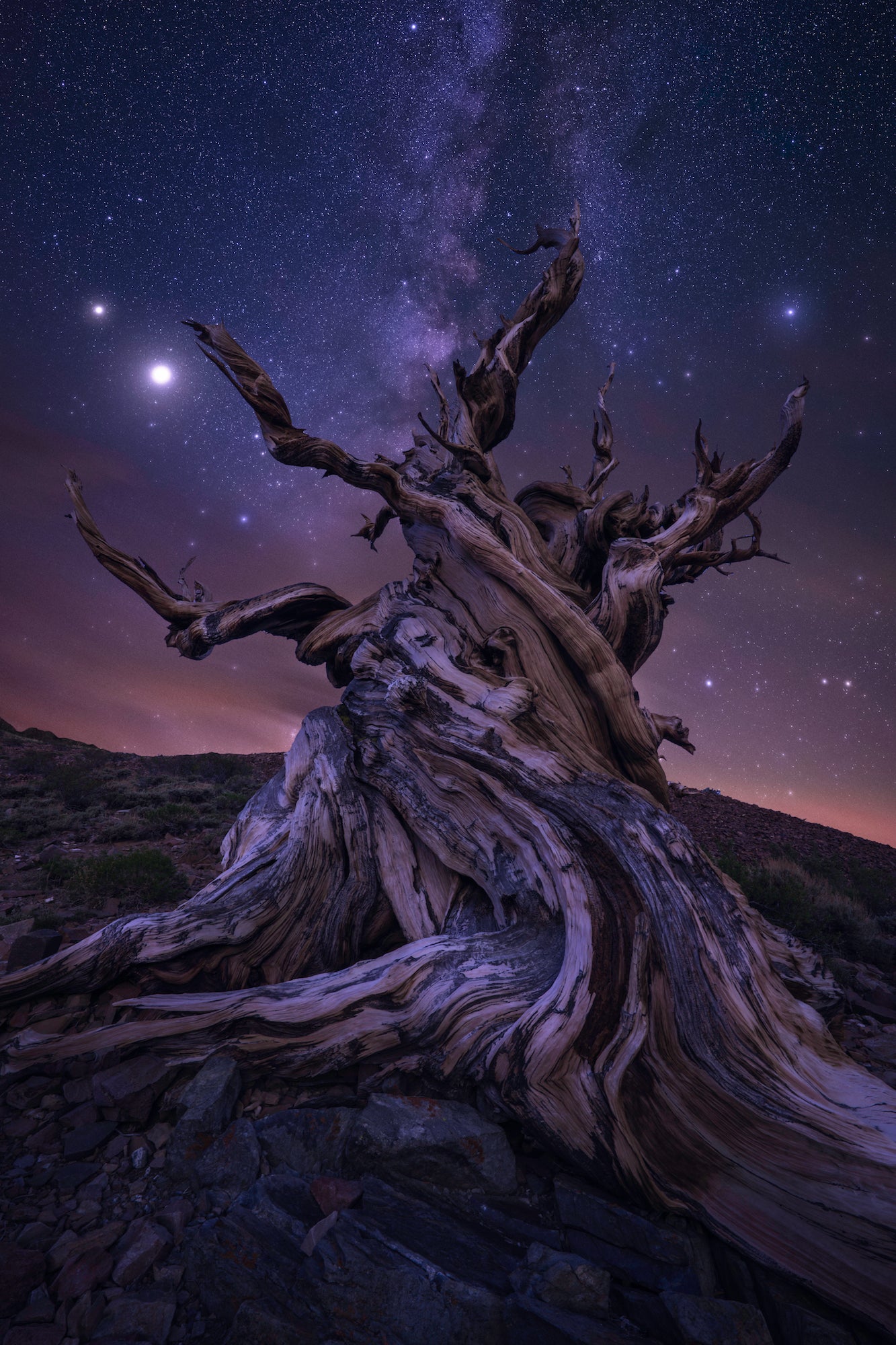 Photo by Jess Santos. Sony α7R IV. Sony 12-24mm f/2.8 G Master. Foreground: ⅛-sec., f/11, ISO 100. Sky: 12mm, f/2.8, ISO 12800, 6-seconds (20 images stacked)
Location & Inspiration
I went to the Eastern Sierra to try out the new lens at the Ancient Bristlecone Pine Forest. I've been there three times now, and it's a pretty difficult place to get to if you don't plan it right. I've been on the mountain when it's been totally sunny and then suddenly it changed to snow that completely chased us off it. The conditions are so unpredictable so you just have to really plan it out and be prepared for anything.
There are two groves up there. I ended up shooting at the Schulman Grove, but I did also check out Patriarch Grove which is even harder to get to. It's really cool to think about the trees and how old they are and all that's happened in their lifetimes. I came across this one tree that's like 4000 years old. It was twisted and gnarled, and just had this really cool shape.
Shooting With The New Sony 12-24mm f/2.8 G Master
The first bonus of this lens is that it's f/2.8. I've used the 12-24mm f/4 G lens in the past, but with f/4 I didn't really use it to shoot much astro. Instead, I was using the 12-24mm f/4 G to shoot blue hour, and then the 16-35mm f/2.8 GM to shoot my astro shots. The 12-24mm f/2.8 G Master gives me what I need all in one lens now! I don't have to change lenses, I can just shoot with this from blue hour through to the Milky Way.
I was specifically looking at the coma, since wide angle lenses all have coma and too much of it will ruin astro shots. I increibly impressed that this 12-24mm G Master has much less than I ever hoped for...almost none at all. It's just super sharp. I pulled my images up on the computer to edit them and I was amazed with just how sharp they are.
How She Got The Shot
Zooming the lens out to 12mm, I put the root of the tree at the corner of my frame so it really stretches inward, the tree stretches toward the sky and then you have the Milky Way behind it. Using the ultra-wide distortion, I can draw the viewer's eye in from the corner up into the tree. If I hadn't used that lens distortion, then it would just be a tree in the middle of the frame and wouldn't be very captivating. By utilizing that distortion on the lens, it draws your eyes into it.
For me, this lens will mostly live at 12mm. When you use a wide-angle lens at 12mm, your foreground elements really get exaggerated as they go into the corners. I really love that look and that's why this lens at 12mm is perfect for me. It's really interesting to see just how big of a difference 12mm makes in how the foreground elements come into the frame and draw your eyes in.
See more of her work on Instagram @missjessbess.