Sony Artisan Don Smith is not only a famous nature photographer, he's also one of the team photographers for the San Jose Sharks hockey team. Smith has been working with the Sony a6300 around the ice for about a month and on his blog, he's just published his results about how the camera is working for him as he covers the Sharks' run at the Stanley Cup.
"I have been using the Sony α6300 for about a month now and have put it through its paces as both a landscape and sports camera. Recently, as co-team photographer for the NHL's San Jose Sharks, I was excited to learn that the newer Pocket Wizard III transceivers would work with the a6300's Sony/Minolta hot shoe design."
He continues, "Sony has touted the replacement sensor to the original α6000 – a 24.2MP APS-C sized Exmor CMOS sensor. Moreover, Sony is claiming the "world's fastest AF system utilizing a '4D Focus system' with 425 phase detection AF points that are densely positioned over the entire image area." Using the Canon 1DX as a benchmark, I would have to agree that this camera's AF is better – that is quite a claim and one that both Canon and Nikon shooters will find hard to believe!"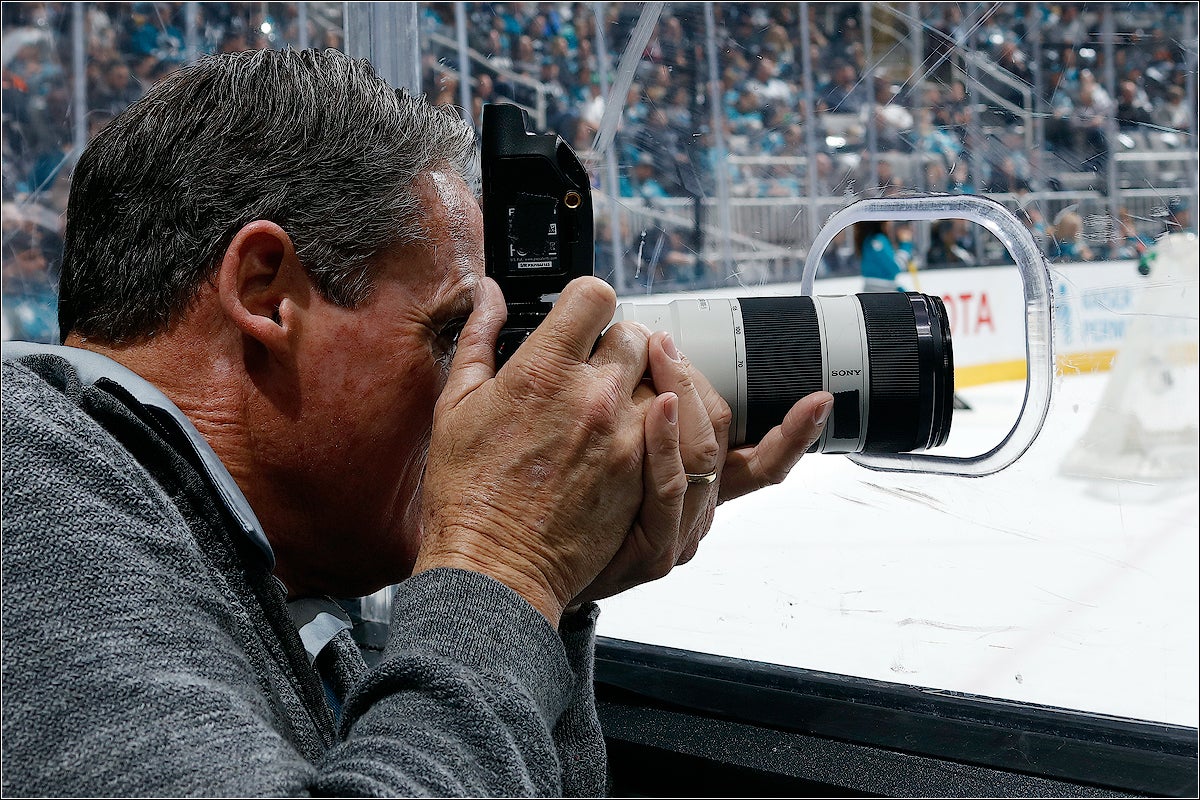 In addition to his overall impressions about using the camera for his hockey shooting, Smith describes his settings to get sharp photos of the fast action--and in hockey it is seriously fast!
Here's how Smith sets up his α6300:
Camera Icon:
1) Quality > Extra Fine. My images are edited by an editor and sent to Getty Images in New York as the game is in progress, no time to convert RAWS.
2) Drive Mode > Single Shooting. I can only fire one frame every 3 seconds when using strobes. If I was shooting available light, I would have set this to Continuous.
3) Focus Mode > Continuous AF / Focus Area > Lock-on AF.
4) ISO > 200
5) White Balance > Custom > 5200K – Best match for our teal uniforms.
8) Color Space > AdobeRGB – Industry Standard for offset printing.
Gear Icon:
1) Zebra > Off. Too distracting to leave it on – must trust the camera's AF.
2) Auto Review > Off. I review during stoppage of play only.
2) Peaking Level > Off. Too distracting for me.
3) Live View Display > Off. This is key. With it on, and with my settings of 1/200th, f/6.3 and ISO 200, looking at Live View would be a good 2 1/2 stops too dark. When I disable Live View, the EVF automatically brightens to allow me to see at a corrected brightness level while retaining my manual settings.
3) Pre-AF > On
4) FINDER/MONITOR > Auto
4) Finder Frame Rate > 12ofps
4) Release w/o Card > Disable – this is critical!
5) Release Set in AF-S > Release and Release Set in AF-C > Release.
5) AF W/Shutter > On
5) e-Front Curtain Shutter > On
7) Custom Key (shoot.) > 2 > AF/MF Button > Focus Hold. I push and hold this button if a player/referee skates in front of me and it disables the AF from the shutter button. Works great on shootouts!
8) Dial/Wheel Lock > Lock (Note: after setting lock, back out of the Menu then hold down on the Fn button on back of camera until you see "Locked" appear in the LCD. Now you cannot accidentally bump your shutter).
Suitcase Icon:
1) Monitor Brightness > Manual.
1) Viewfinder Brightness > Manual.
Here are more images captured with the Sony a6300 and the setup listed above.
See his full writeup as well as sample images at www.donsmithblog.com