Oliver Whone (@oliver.whone) is a landscape photographer from Australia's southern island state of Tasmania. Through his photography he aims to capture natural moments of wonder in our world. "I like to share experiences through my images and inspire others to venture out and take notice of joyful and humbling moments of beauty," he explains. "Originally, I'm from Germany, but, having moved to Australia over 10 years ago, I found myself leaving the 'mainland' in 2018 and settling into a life down here in Hobart, Tasmania. This island is a true treasure trove of natural wonders. And within just a few months of living down here and thoroughly exploring the abundant forests, coasts and mountains, I was inspired to take on landscape photography. Since then my passion for photography has only grown." We connected with Whone to learn more about the gear he takes out into the rugged wilderness to capture the beautiful landscape scenes. Keep reading as he shares what's in his bag.

I now regularly head into the field with a multi-day pack on my back, carrying everything necessary to spend a few days out in the Tasmanian wilderness. How else could I expect to be in hard-to-reach places for good light? And with that in mind, the key consideration I have to take with my photography kit is: weight. When I have to bring enough food, drinking water, a tent, my sleeping bag and lots of layers (Tasmania isn't like the rest of Australia: we get plenty of snow!), it's critical that my photography equipment comes in at a reasonable weight.
That's where my decision to shoot Sony Alpha was an ideal match.
My whole kit, including two bodies and three lenses, comes to a mere 2.7kg (or just under 6 pounds), which I deem perfectly justifiable when it means I'm not compromising on quality or performance. With this kit I'm able to shoot everything from wide scenes to distant compositions and night skies, all with the confidence that my files will end up being wonderful RAWs that process seamlessly.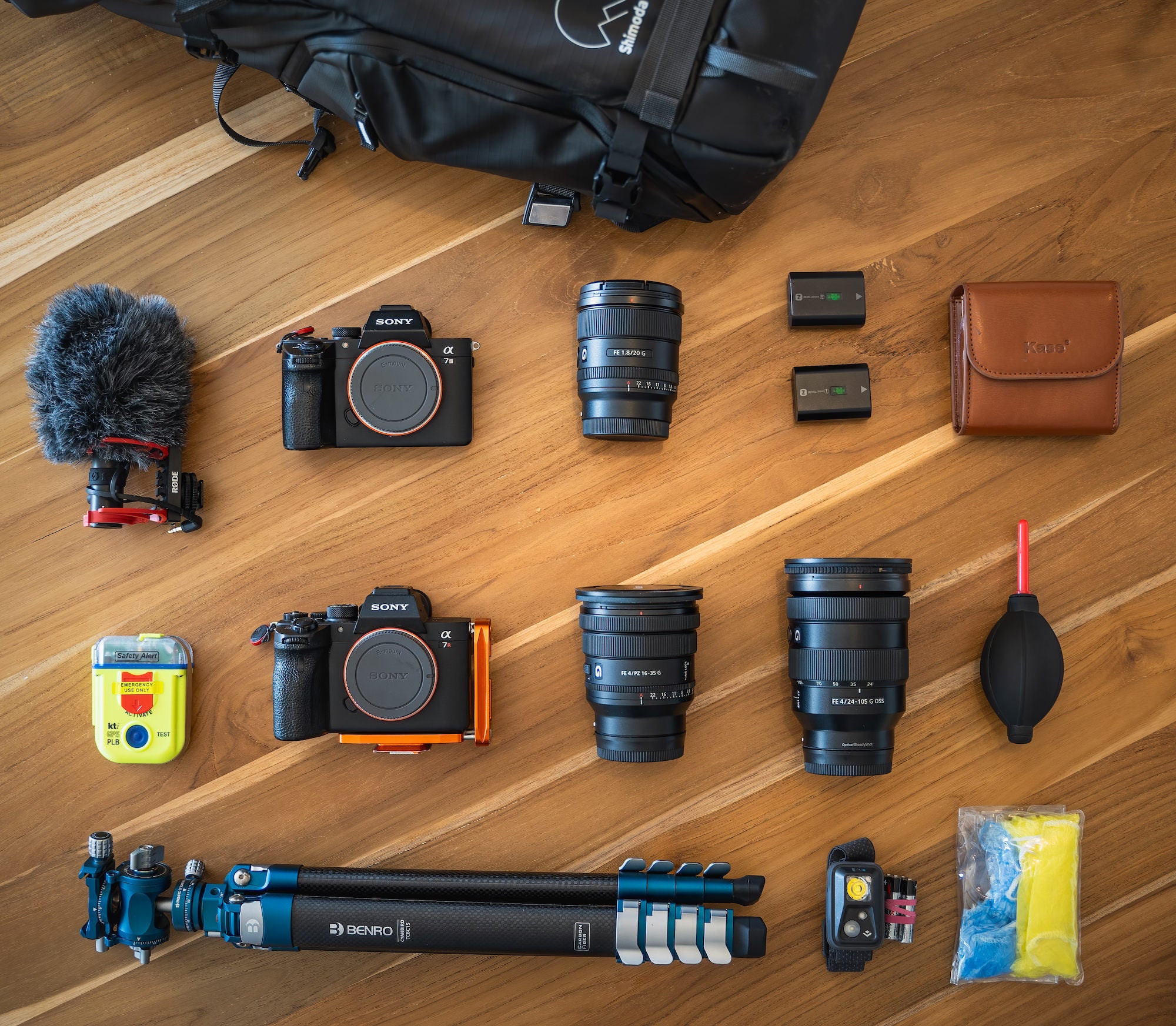 Cameras
Sony Alpha 7R IV: I upgraded to this camera after shooting my original Sony Alpha 7 III for a few years. I absolutely love the amount of detail I can pull out of this 61 megapixel sensor. There's so much joy in zooming into my photographs while working on them back at the computer. It truly feels like capturing the environment in its fullest and allows me to bring home real-life moments with all their beautiful nuances.
In addition to this, the large megapixel sensor allows for quite generous cropping when desired. This comes in handy particularly when I'm shooting time-lapses and I'm able to take a full sensor readout (of almost 10k image resolution!) and crop it in post into more than one final timelapse for social media.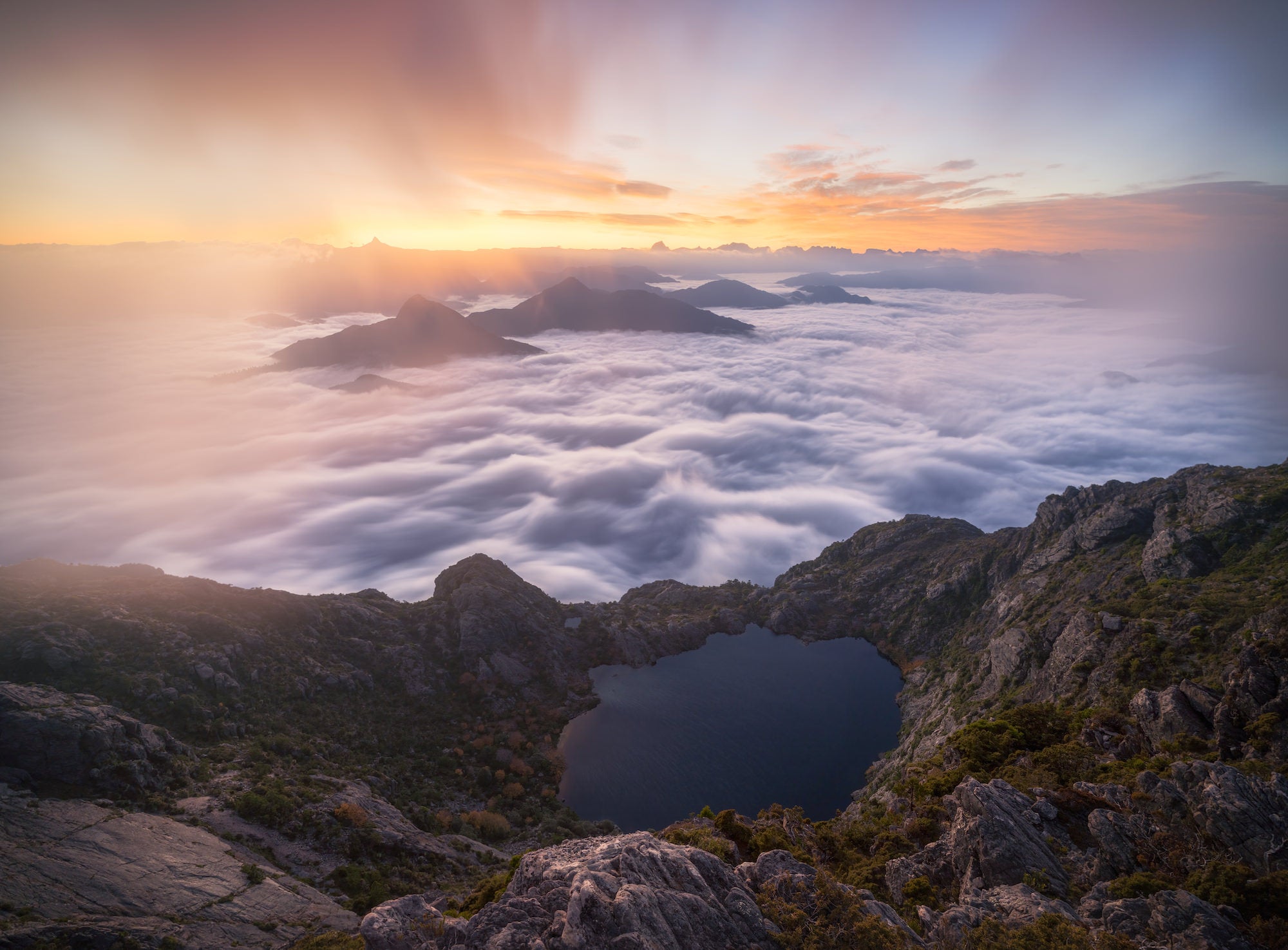 Photo by Oliver Whone. Sony Alpha 7R IV. Sony 16-35mm f/4 G PZ. 4 sec., f/4, ISO 100
Another benefit of the large sensor is shooting in APS-C mode for perceived extended focal length. By assigning 'APS-C mode' to one of the many customization buttons on the body, I can, with one click, give my Sony 24-105mm f/4 G lens the field of view of a 24-155mm. And all while maintaining an approximately 30 megapixel frame with more than sufficient resolution for reasonably large printing.
Overall this camera body provides me with huge amounts of flexibility, which goes a long way while out in the field. Also, the weather sealing of this body was a huge selling point for me. Tasmania gets battered with fairly intense weather systems and I often find myself shooting in less than kind conditions. And thus far wind and weather have not so much as scratched the surface of my Alpha 7R IV. I've stood knee-deep in rainforest creeks during downpours while shooting waterfalls and this camera body didn't let me down.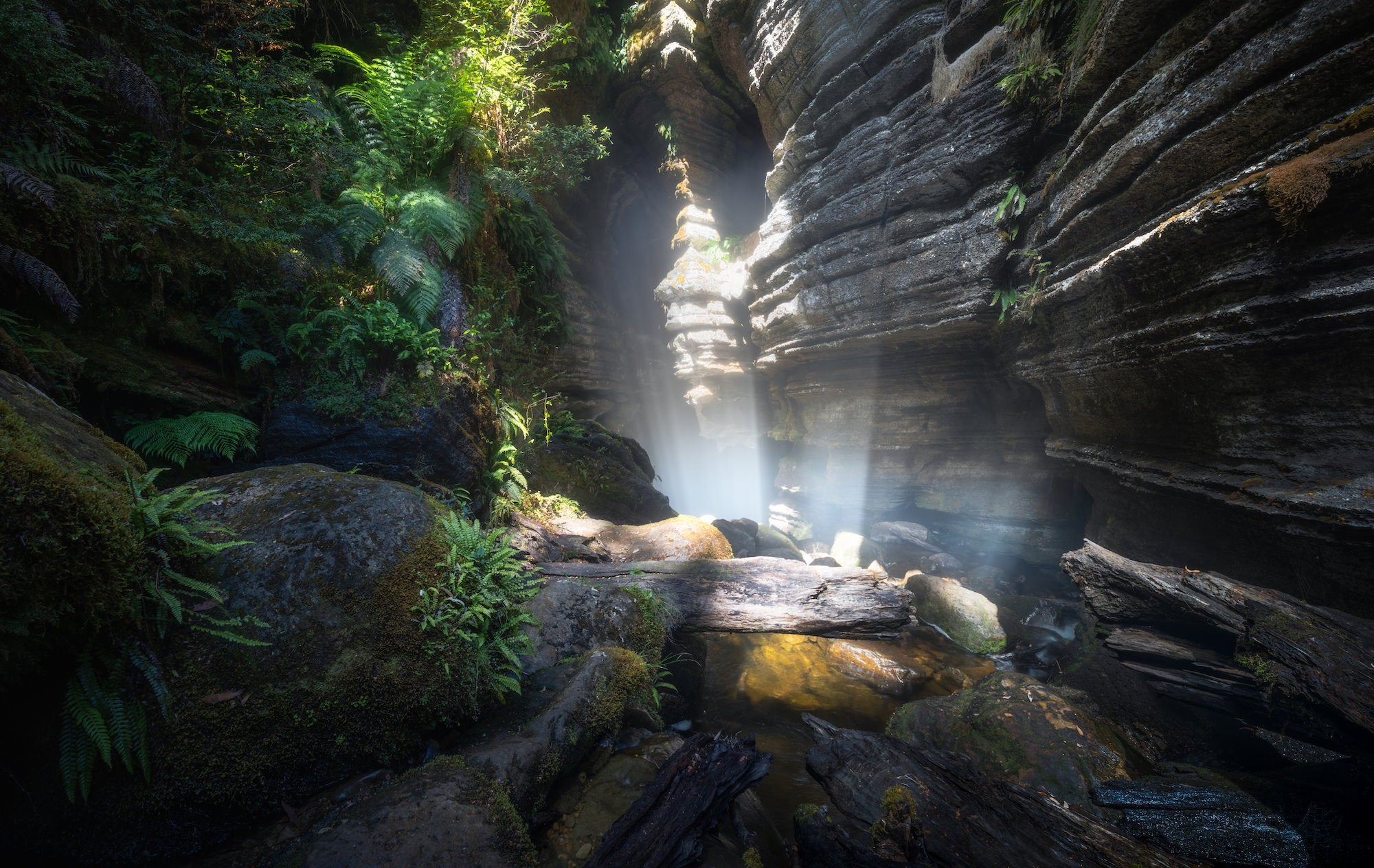 Photo by Oliver Whone. Sony Alpha 7R IV. Sony 16-35mm f/4 G PZ. 1/6-sec., f/11, ISO 100
Sony Alpha 7 III: The Alpha 7 III was my entry point into photography back in 2018. At the time I'd discovered the genre of astro-landscape photography and found myself completely fascinated with our ability to capture beautiful night skies with detail and color in the Milky Way using readily available high-end consumer products. And then the Alpha 7 III with its then revolutionary low-light capabilities was released, leading me to pull the trigger on a camera purchase, and kick-starting my venture into what would eventually lead to professional landscape photography.
And even though I've since invested in the Alpha 7R IV, I still keep the Alpha 7 III in my bag at all times for two reasons: vlogging and astrophotography.
Its video capabilities are outstanding for shooting vlogs when I'm solo out in the field: log profiles, face tracking, and the ability to ramp the ISO quite significantly in low-light scenarios all make this a great vlogging camera despite the lack of a flip-out screen.
And its excellent 24 megapixel sensor still makes this my go-to for astrophotography. The 24 megapixel sensor is just so forgiving when seriously pushing the ISO during moonless nights, allowing me to capture low noise photographs, which are easily cleaned up in post.
I'm clearly very attached to this camera; it has enabled me to have wonderfully humbling experiences beneath Tasmania's exceptionally dark night skies.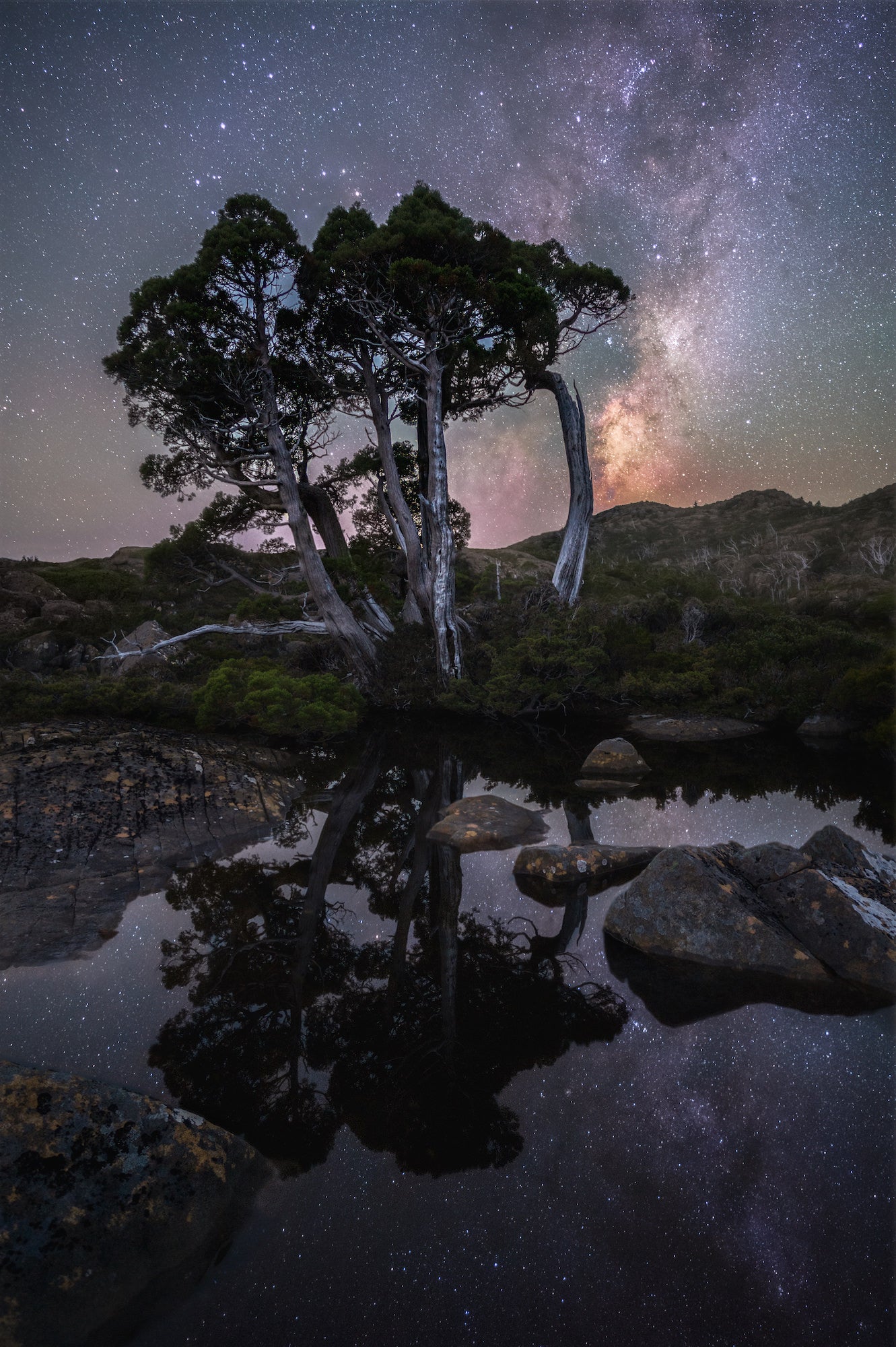 Photo by Oliver Whone. Sony Alpha 7 III. Sony 24mm f/1.4 G Master. 13 sec., f/2, ISO 8000
Lenses
Sony 24-105mm f/4 G: One word: versatility. I couldn't think of a more useful lens for landscape photography. Being able to shoot wide and then immediately punch in all the way to telephoto reach in one twist of the wrist makes this lens an unbelievably powerful tool while out in the field.
While it's tempting to opt for a fast mid-range zoom – such as the extremely tempting Sony 24-70mm f/2.8 G Master II – as a landscape photographer who likes to have his entire frame in focus, I really don't need a fast aperture since I tend to shoot between f/11 and f/16. And with that in mind, getting the additional 35mm on the long end made this piece of glass an easy decision. There have been countless moments when this lens enabled me to capture a fleeting scene, which I would've undoubtedly missed had I had to swap lenses.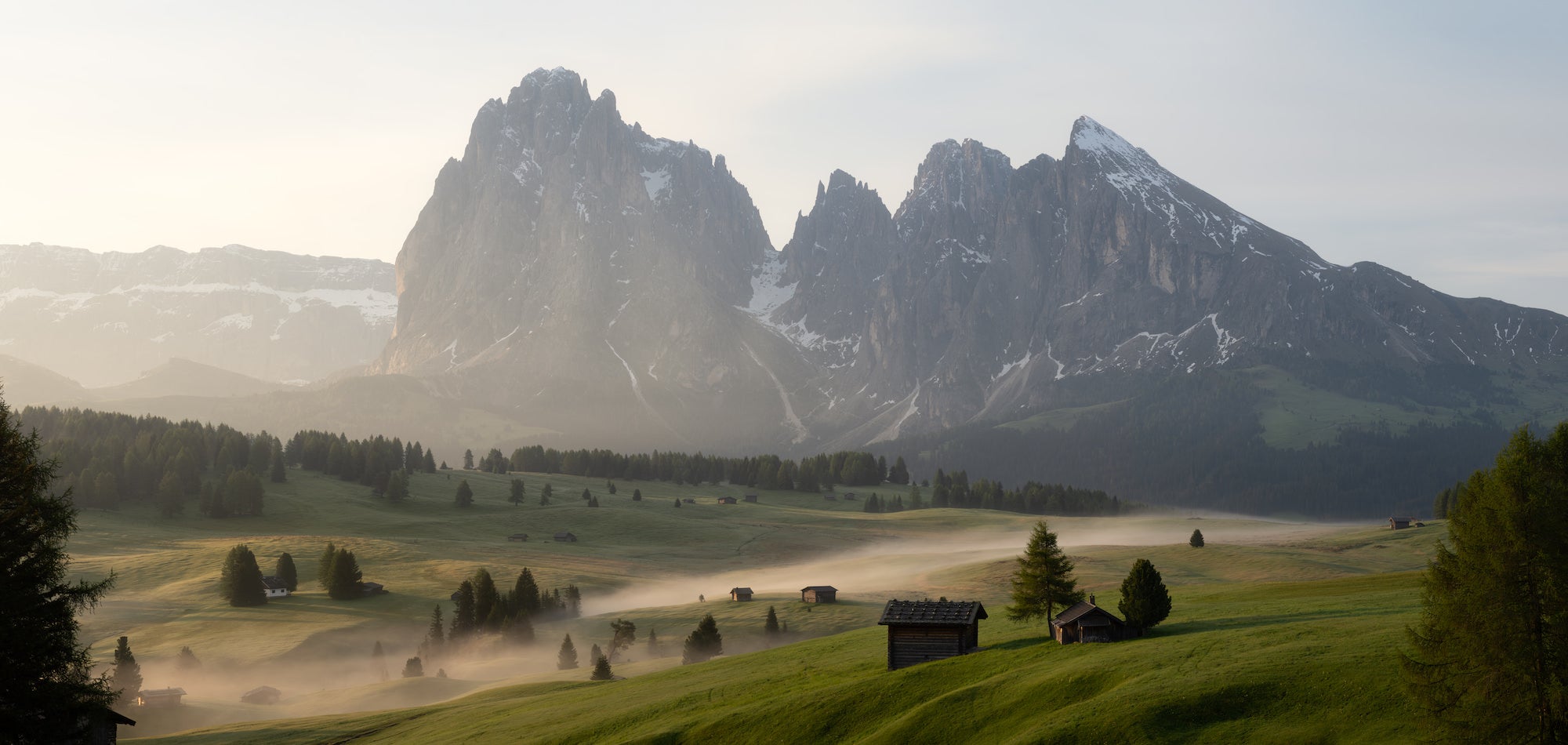 8-Panel Panorama Photo by Oliver Whone. Sony Alpha 7R IV. Sony 24-105mm f/4 G. 1/15-sec., f/16, ISO 100
Here, the OSS plays a big role, too. The majority of my photography is captured on a tripod, where I turn off all built-in stabilization mechanisms. But in moments of quickly changing conditions or subject matters, when being reactive is key, I can confidently shoot this lens handheld and rely on the excellent built-in stabilization (OSS) to ensure I walk away with a sharp photograph - even if zoomed in all the way to 105mm.
And lastly, I feel this lens's optical characteristics are almost underrated. The 61 megapixel sensor on my Alpha 7R IV serves as a high-barrier test for optical performance of any piece of glass. Yet throughout the entire focal range files shot on this lens turn out impeccably sharp and beautifully rendered.
Photo by Oliver Whone. Sony Alpha 7 III. Sony 24-105mm f/4 G. 1/4-sec., f/11, ISO 100
Sony 16-35mm f/4 G PZ: This is one of the newer additions to my camera bag. And given my style of photography I couldn't be happier: this lens is unbelievably compact and light! Coming in at just 353g (12.5 ounces), it's an absolute no-brainer on every outing - no matter how many days I'm going to be spending out in the field hiking to distant locations in chase of good light.
Its weight paired with fantastic optical performance and the obvious versatility of this focal range makes this relatively new Sony 16-35mm lens an essential piece of kit in my bag. It replaced a 17-28mm, which was my first wide angle zoom. And although the 17-28mm has a faster maximum aperture, I much prefer the extended focal range (along with saving another 70g (2.5 ounces)…because every gram counts in a multi-day pack). Plus, for my style of photography I really have no need to carry around fast glass - unless I'm shooting nightscapes and here I rather work with primes than with zoom lenses.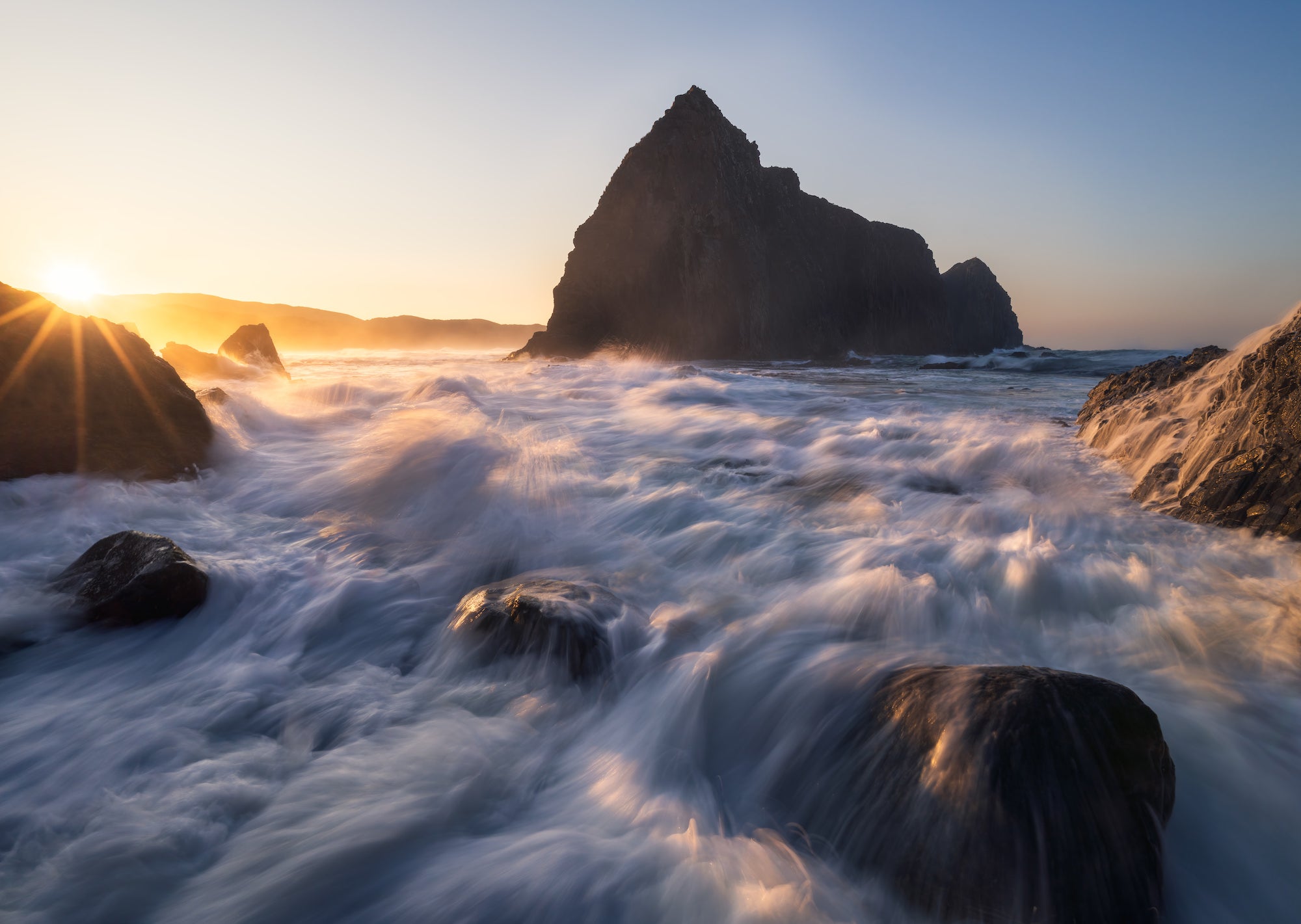 Photo by Oliver Whone. Sony Alpha 7R IV. Sony 16-35mm f/4 G PZ. 1/6-sec., f/16, ISO 100
I recently used th Sony 16-35mm f/4 G PZ to capture the 'turning of the fagus' on Tasmania's West Coast, which, if you know where to look, turns the foliage into vibrant reds, yellows, and oranges. To get the shots I wanted, I needed to go wide. And the Sony 16-35mm f/4 G PZ allowed me to capture the colorful plant-life in the foreground surrounded by massive views, cloud inversions and distant mountains.
Shooting the sunrise that day is a particularly fond moment in my life as a photographer as I experienced some of the most atmospheric conditions one could ask for. And to get shots like this you have to commit to staying overnight in rugged environments. But getting to those places comes with a heavy pack and a fair bit of physical exertion. So adding a tack sharp wide angle zoom weighing only 353g to my bag was an absolute no-brainer.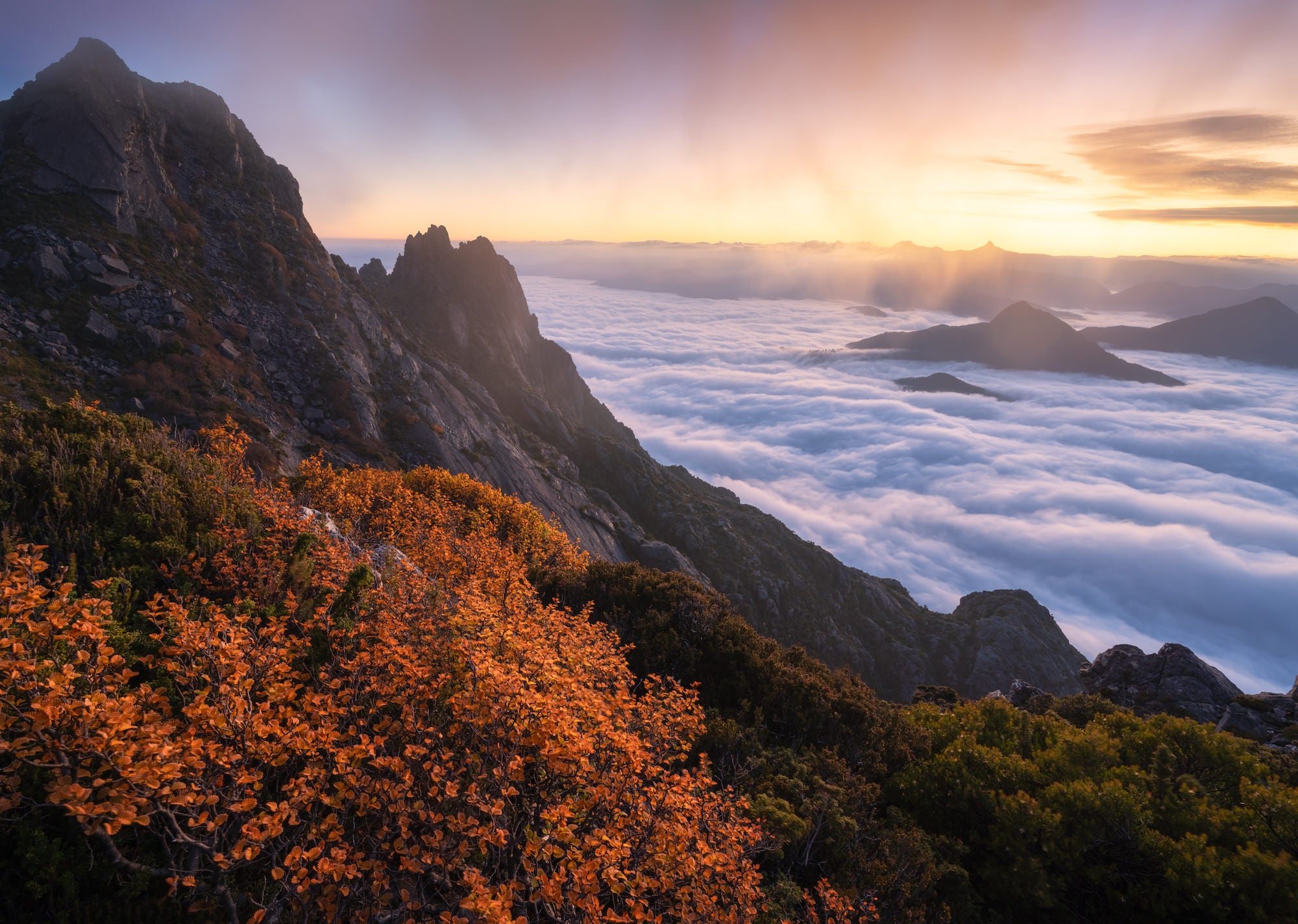 Photo by Oliver Whone. Sony Alpha 7R IV. Sony 16-35mm f/4 G PZ. 2.5 sec., f/11, ISO 250
Sony 20mm f/1.8 G: This lens constitutes my latest addition to the kit. I've always carried a fast, wide prime for astrophotography with me. And for the last four years I'd been extremely happy shooting the Sony 24mm f/1.4 G Master. With this lens I captured some of my favorite photographs. Honestly, 6-8-sec. exposures to capture detailed Milky Way or clearly defined auroras? What a dream!
It truly is a masterpiece in optical engineering and so it was with a heavy heart that I parted ways with this incredible piece of glass quite recently. Reason being: I found quite a few compositions, which would make for outstanding Aurora Australis photographs, but would require the additional 4mm width to really come together. The Sony not only gives me a 20mm lighting-fast prime, it's also outstanding in terms of optical performance.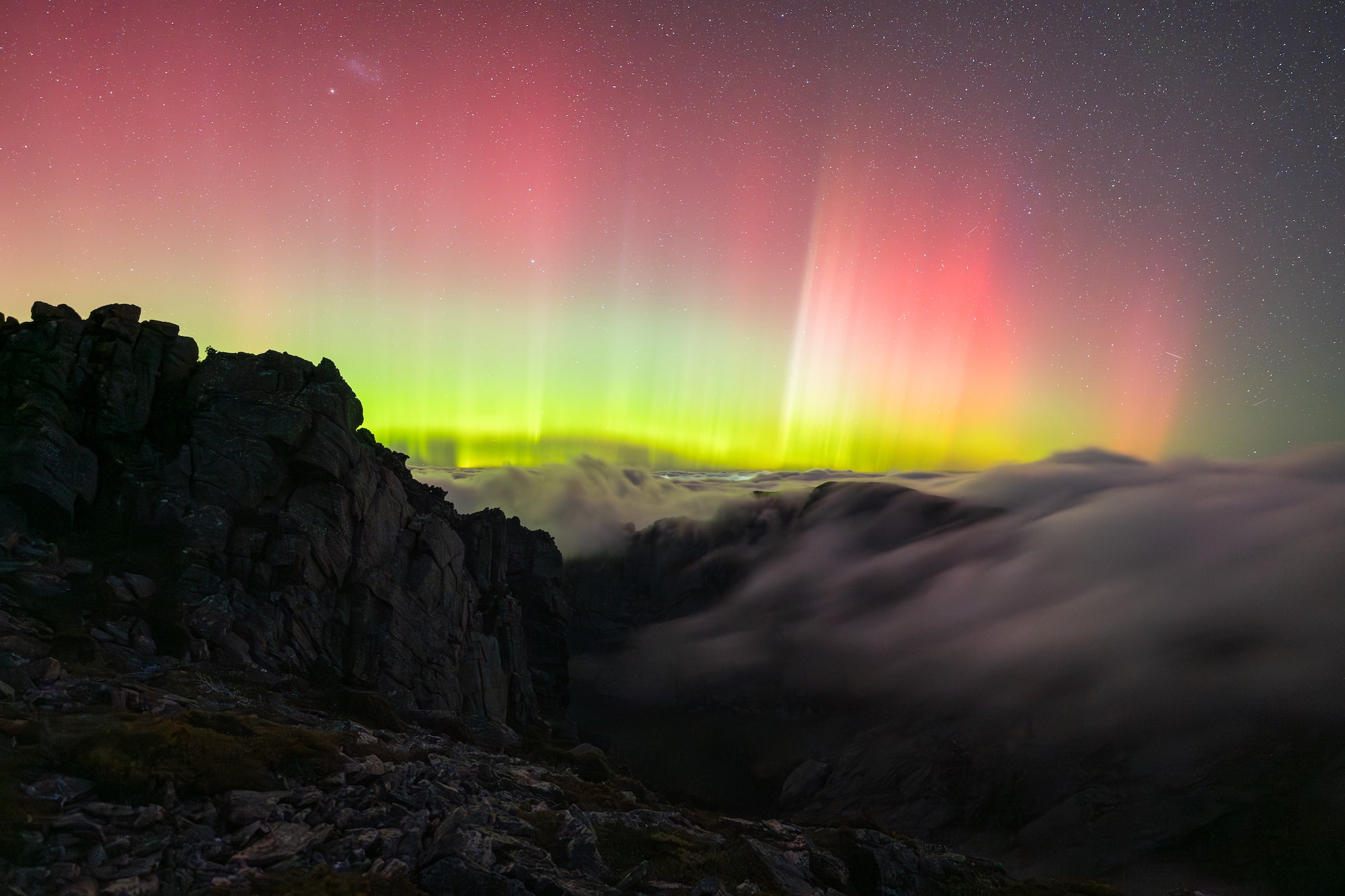 Photo by Oliver Whone. Sony Alpha 7 III. Sony 20mm f/1.8 G. 6 sec., f/1.8, ISO 4000
As of writing this What's In My Bag article, I've only had one opportunity to head out and shoot the night skies with this brand new lens. (But what a winner that one outing was!) So I'll show you a few taken with my Sony 24mm f/1.4 G Master, too.
After all the G Master allowed me to capture scenes from ancient pencil pines reflected in tarns beneath the Milky Way in Tasmania's Southwest National Park, to my first aurora at Australia's most southern beach, and many following nights of magical moments, including intense solar storms, meteor showers, and simply beautifully quiet nights perched solo on a mountain top somewhere in the Tasmanian wilderness.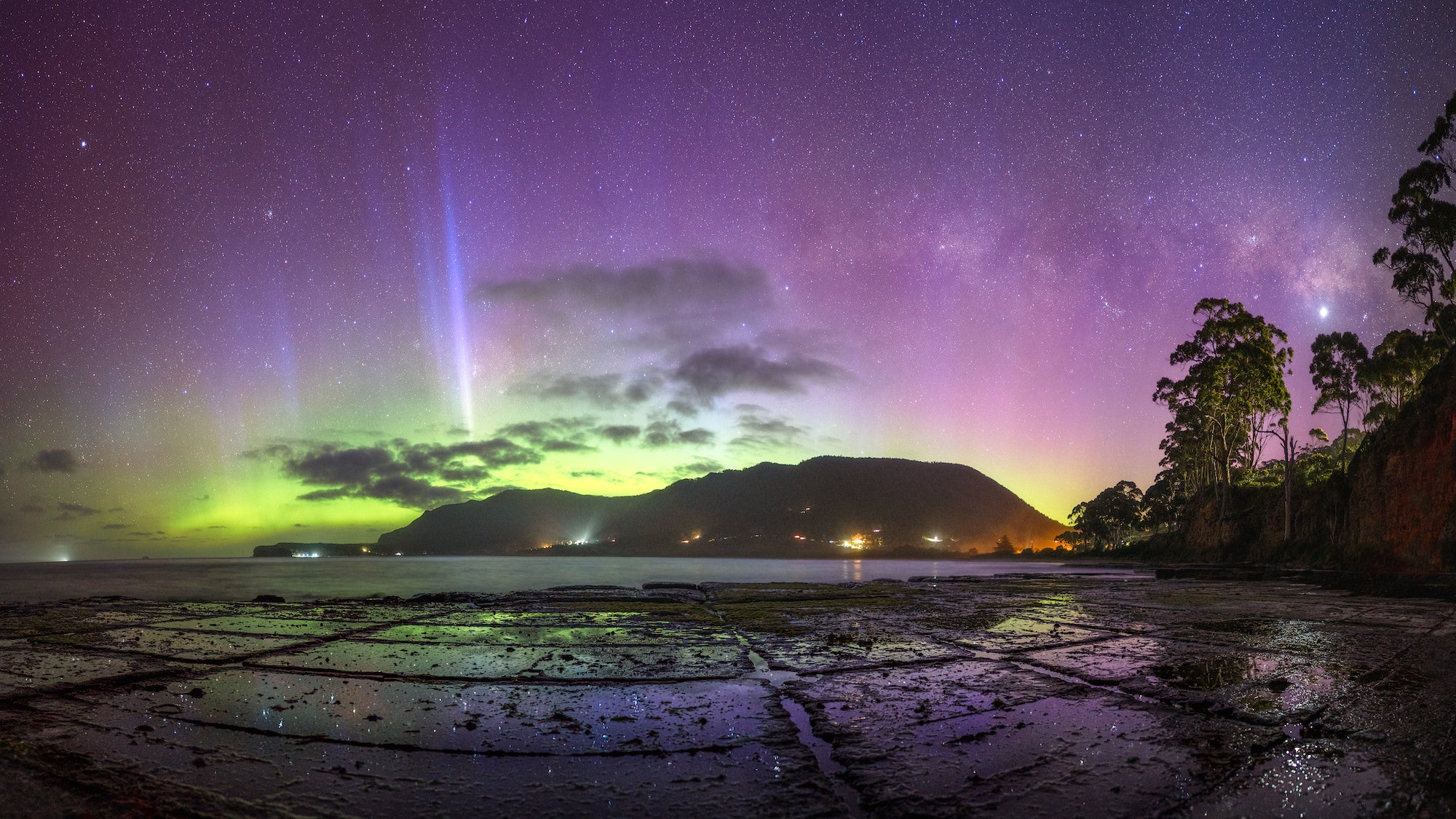 Photo by Oliver Whone. Sony Alpha 7 III. Sony 24mm f/1.4 G Master. 10 sec., f/2.5, ISO 2500
Accessories
Additional Sony NP-FZ100 Batteries: I have zero complaints regarding the battery life in either one of my two camera bodies. Nonetheless, no way would I let a flat battery be the reason for missing out on a shot. So despite it adding weight to the pack, I always carry a few spares with me. That's a few grams I'll never regret.
Lightweight Tripod: I rely on a stable tripod to capture the shots I seek out. And with my Benro Cyanbird I've found an option that combines both outstanding sturdiness with surprisingly low weight.
Head Torch & Spare AAA Batteries: From astrophotography, hiking back after sunset, or setting up camp somewhere in the wilderness, I wouldn't want to be caught out without a decent light source to guide the way.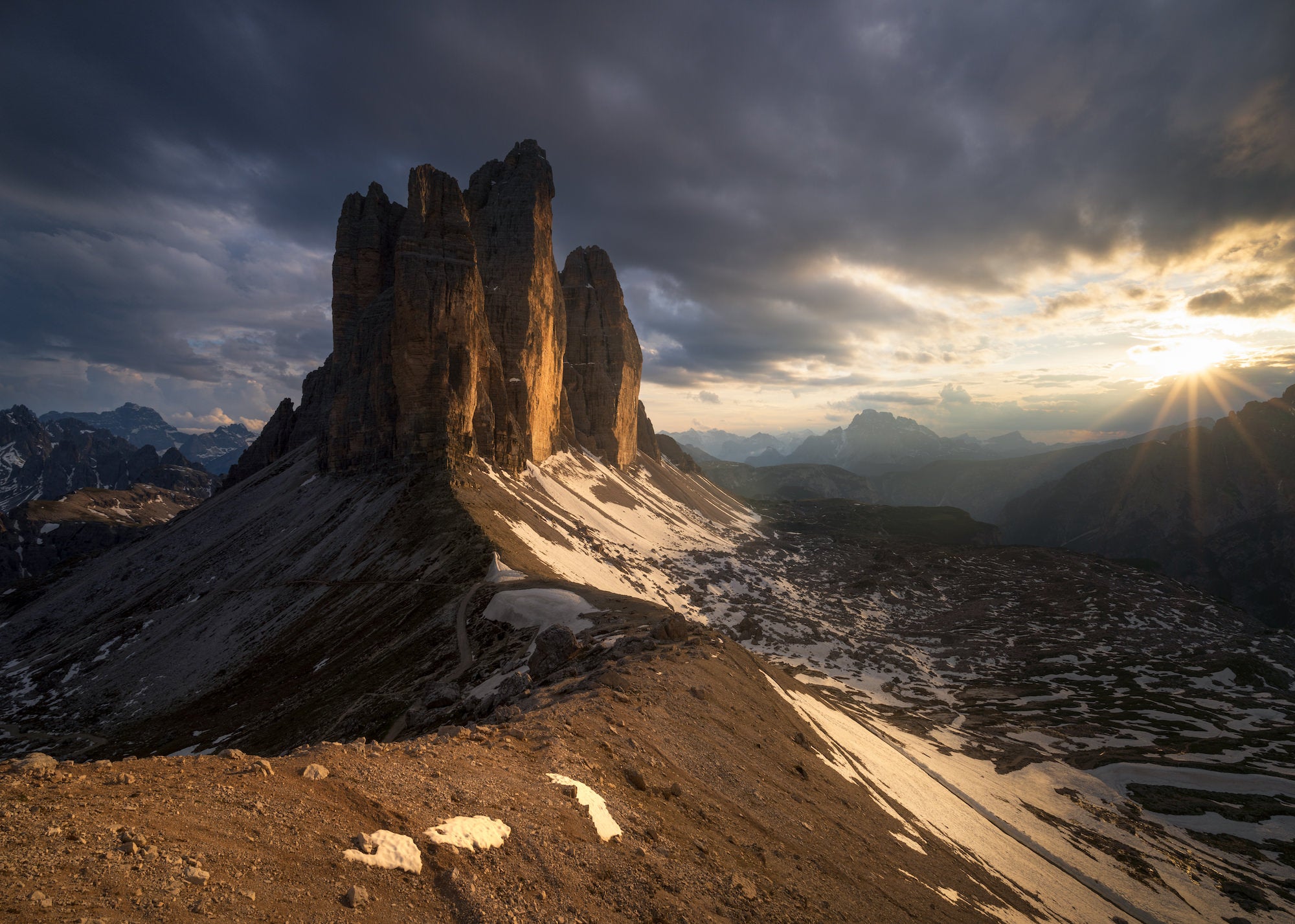 Photo by Oliver Whone. Sony Alpha 7R IV. Sony 16-35mm f/4 G PZ. 1/50-sec., f/14, ISO 100
Personal Locator Beacon (PLB): Tasmania is a rugged place exposed to intense weather systems. With deep snow in winter, blistering heat & bushfires in summer, and tiger-snake riddled remote areas only accessible by air or multi-day walks it would be irresponsible to head out without one of these. A PLB is never a substitute for being fully prepared, but in the event of a dire emergency, PLBs are quite literally a few hundred grams of life-saving equipment. Pound for pound this would have to be the most valuable item in my bag.
Shower Caps: A $0.20 solution to a multi-thousand dollar problem. Shower caps are always in my pack. Despite the weather sealing on my bodies being fantastic, there's nothing more unnerving than watching your camera get drenched on a tripod for 10-20 min during a downpour. Shower caps are the low tech answer to the anxiety that comes with threatening looking clouds and much loved electronic equipment.
Dust Blower: Of course there's one of those in the pack. If I can avoid spending ages cleaning up dust spots in post, I will.
Filters: I usually carry a set of magnetic circular NDs along with a CPL. The NDs come in handy when working with seascapes or less-than-ideal light situations, while the CPL tends to be on the lens when shooting waterfalls or any other old-growth forest scenes for the purpose of cutting glare.
Microphone: Lastly, I always bring a mic for the purpose of shooting vlogs for my YouTube Channel. Weighs only very little and makes a big difference in terms of content output.
Check out more of Oliver Whone's work on Instagram @oliver.whone.