My name is Don Smith (@don_smith_photography) and I have made a living with my cameras for the past 43 years, starting as a professional sports photographer (shooting for Sports Illustrated, the San Jose Sharks in the NHL, and Getty Images) and then, about 14 years ago, fully transitioning into the world of landscape photography. In addition to my photography, I love to teach and share the experience of creating landscapes through the workshops I run all around the world. As AlphaUniverse.com starts a week of landscape content, here's a look inside my kit for landscapes.
How Sony Artisan Don Smith creates crisp and dramatic landscapes shooting with Sony Alpha full-frame and APS-C cameras & zoom (plus 1 prime) lenses.

Cameras
Sony α7R IV: I'm always packing the Sony α7R IV, it's my primary landscape camera. The sensor is a backside illuminated 61MP and I take full advantage of that massive resolution by shooting RAW Uncompressed. It also captures a 14-bit file that reveals a tonal and color range unlike any camera I've ever used. I also use the Sony VG-CEM Vertical Grip with the camera because I like the ergonomics and the fact that I can use two batteries.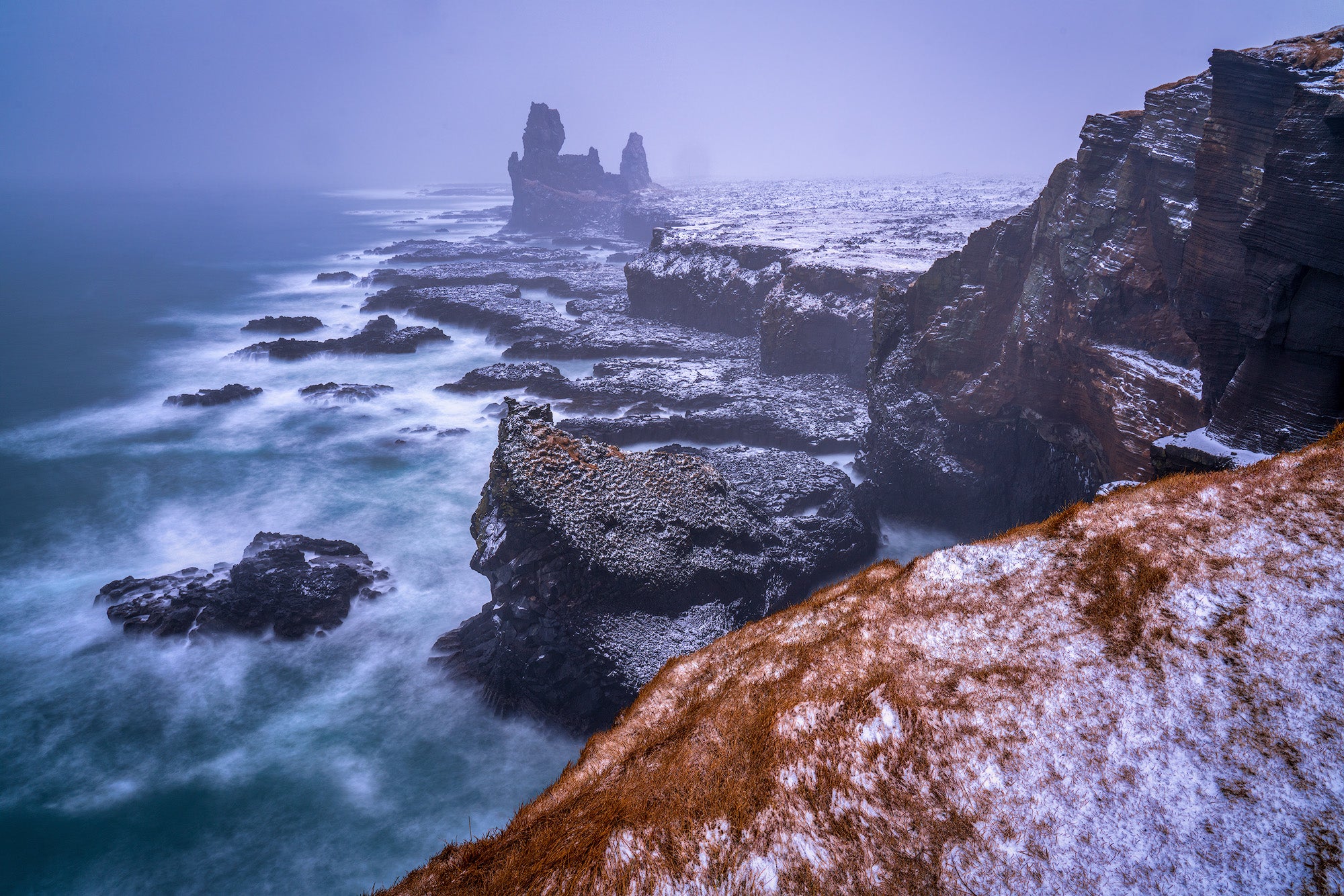 Photo by Don Smith. Sony α7R IV. Sony 24-105mm f/4 G. 30-secs., f/16, ISO 64. A cold January day off the Atlantic Coast, Iceland. The Sony α7R IV performs flawlessly in harsh conditions.
Sony α9 II: My second camera is always the Sony α9 II. This is my go-to body for fast action when I'm photographing especially dynamic scenes such as large waves on the coast and wildlife. The α9 II autofocus system is the best I've ever experienced in my 43-year career and, in my opinion, outperforms all competitors. At a lightning-fast 20fps, I know I am going to capture what I see! I also use the Sony VG-CEM for this camera.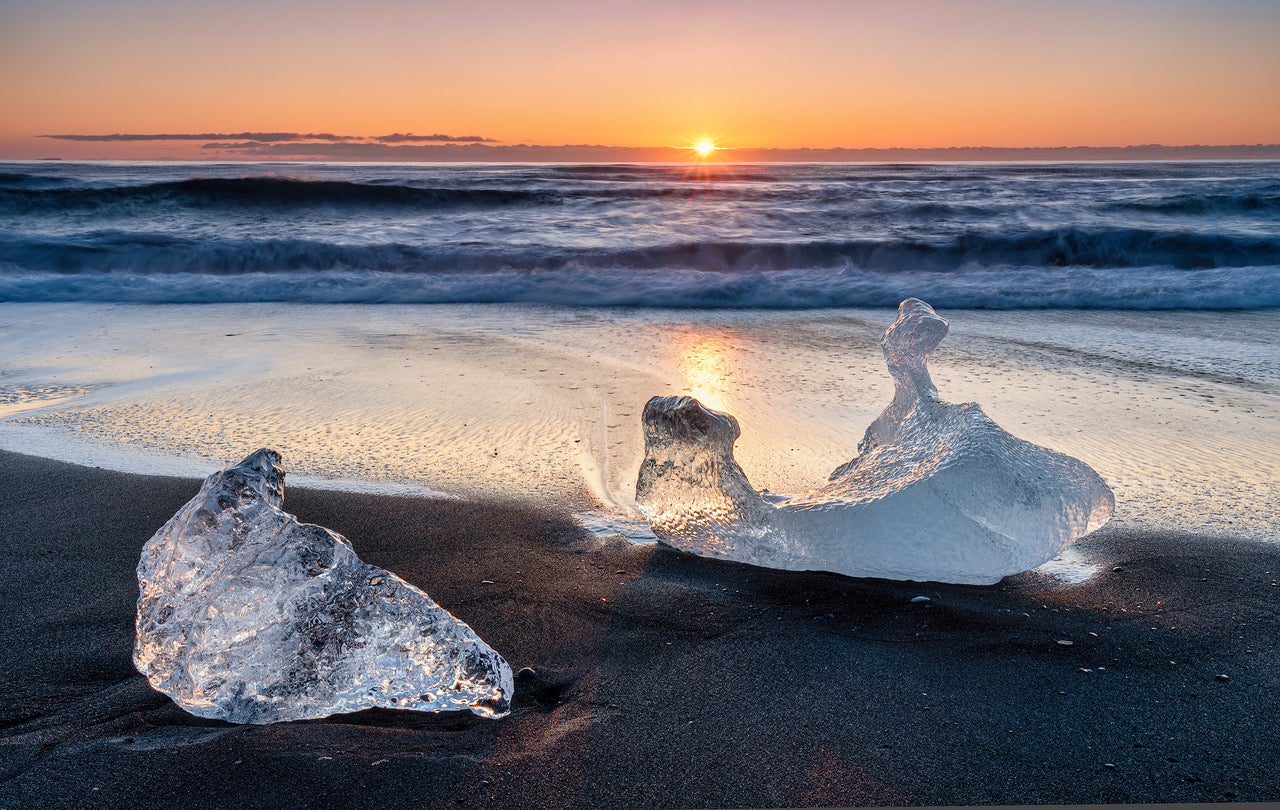 Photo by Don Smith. Sony α9 II. Sony 24-105mm f/4 G. 1-sec., f/22, ISO 50. I took this photo of a sunrise at Diamond Beach this past January in Iceland.
Sony α6000: I've had my Sony α6000 converted to 590nm infrared by a company called LifePixel. This is a specialty camera that I find myself using more during the middle of the day for fun IR photography. It allows me to capture the high-end of the visible light spectrum and the near-end of the IR spectrum (invisible light). It's always in my bag, and when I have downtime during a workshop or other time in the field when the mood strikes, I'm out making infrared images with it.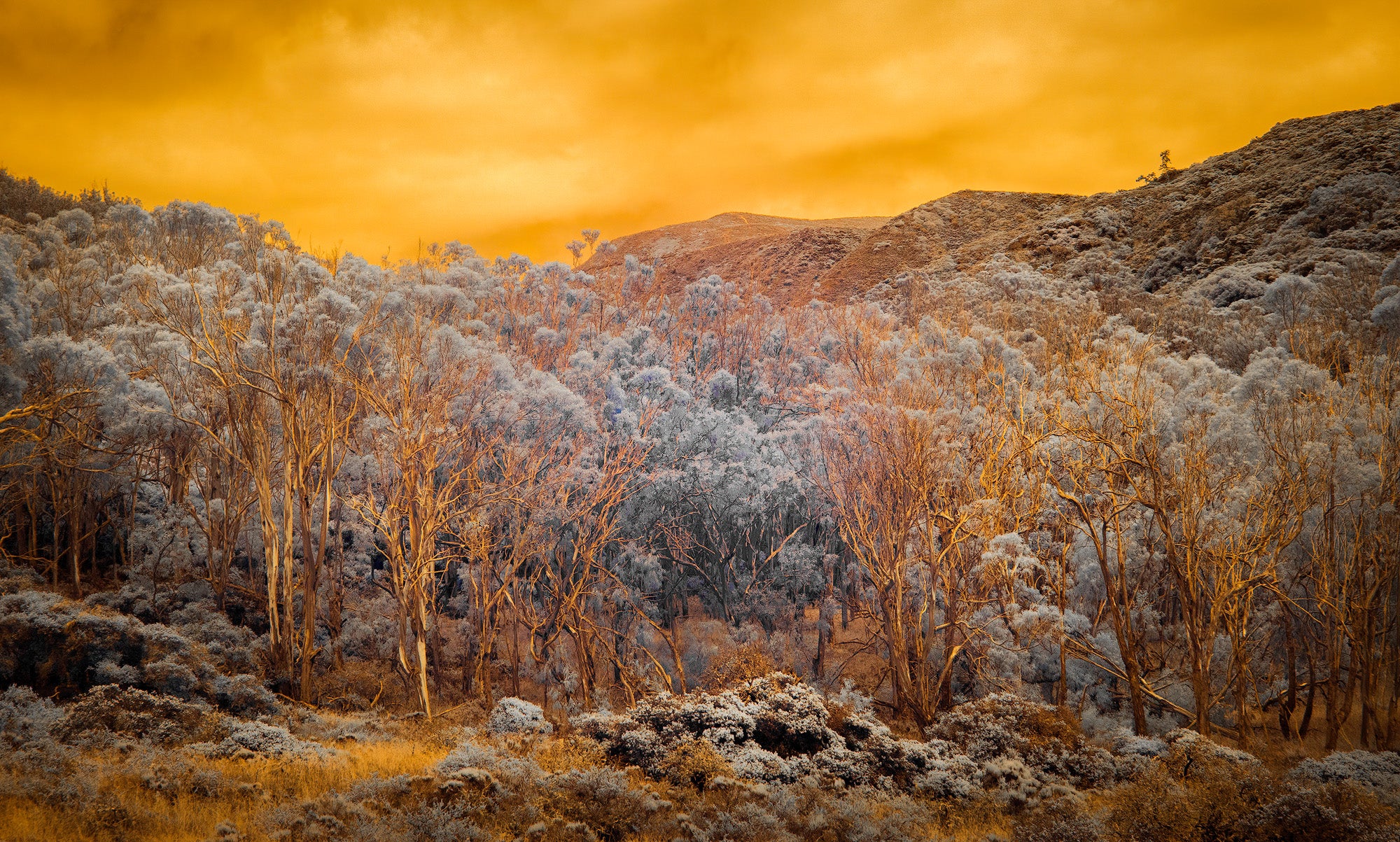 Photo by Don Smith. Sony α6000 (Infrared converted). Sony 24-105mm f/4 G. 1/640-sec., f/5.6, ISO 400. I use my 590nm false color converted Sony α6000 Infrared camera when I see the possibility of mixing color and IR to produce an image. Eucalyptus Trees in the fog, Montana de Oro State Park, Morro Bay, California.
Sony α6300: Like my α6000, I had LifePixel convert my α6300 to IR that captures infrared light in the 720nm invisible light spectrum. I use this also during the day when light is not the best for color and it produces more of a high-contrast IR B&W look. Mirrorless is excellent for IR photography as there are no focusing issues and you can see exactly how the camera is capturing the image.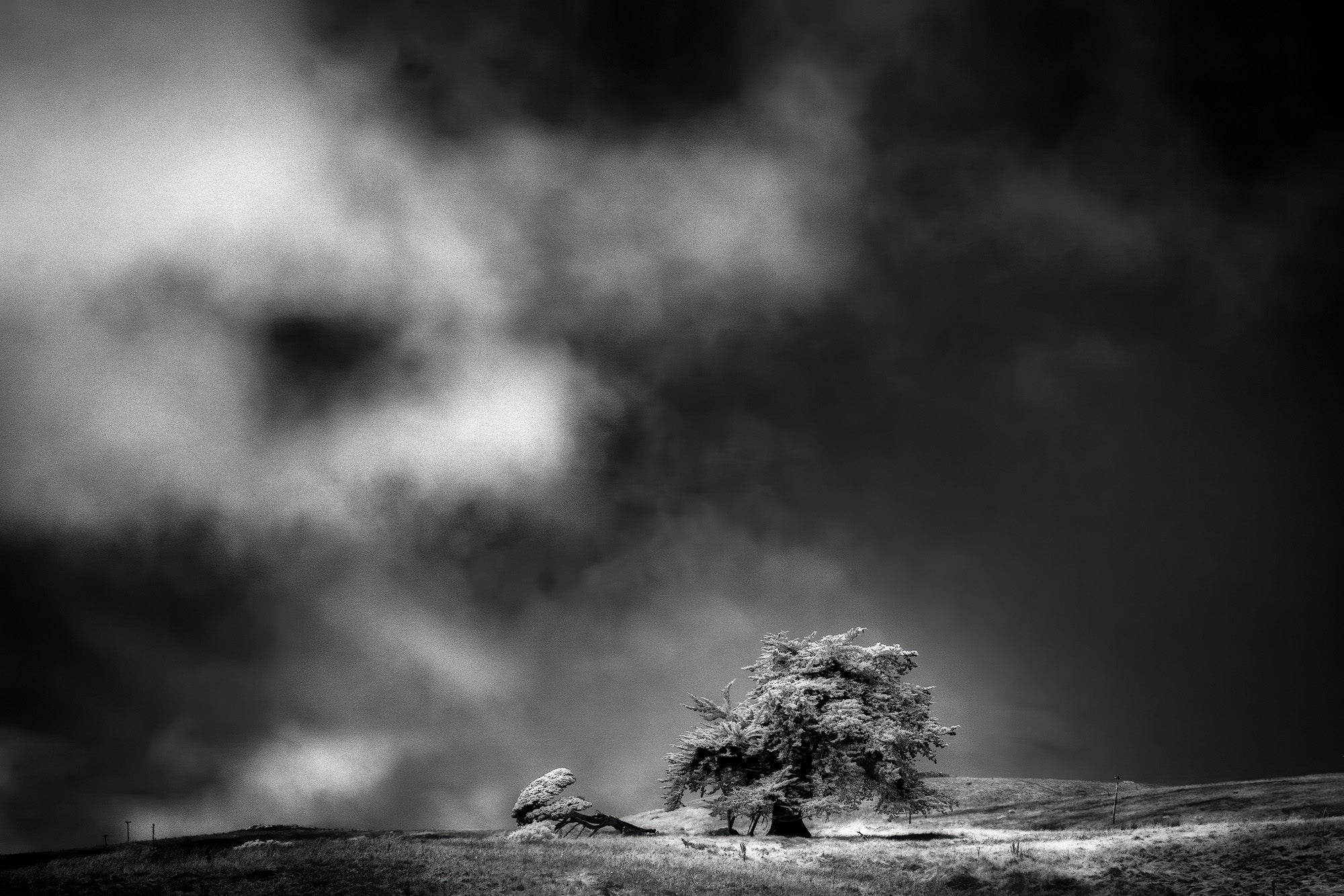 Photo by Don Smith Sony α6300 (Infrared converted). Sony 24-105mm f/4 G. 1/500-sec., f/8, ISO 400. When I want a more dramatic B&W Infrared look, I choose my Sony a6300 which has been converted to 720nm Infrared. This is an image of a lone Cypress at the edge of a fog bank in San Simeon, California.
Lenses
Sony makes some of the world's best glass. Here is my current lineup that comes with me on most trips:
Sony 12-24mm f/4 G: I love this rectilinear lens that allows me to capture scenes extremely wide. I find myself working a lot at 12mm when I want to feature a foreground element prominently in my frame. I believe this is a huge key to captivating wide angle images. The 12-24 f/4 has been outstanding for me and I'm planning to upgrade to the Sony 12-24mm f/2.8 G Master when it's available.
Photo by Don Smith. Sony α7R III. Sony 12-24mm f/4 G. 1/100-sec., f/8, ISO 400. When I need to go ultra-wide, I use my Sony 12-24mm f/4. This lens allowed me to capture this amazing rainbow at sunrise at Torres del Paine National Park in Chile.
Sony 16-35mm f/2.8 G Master: This is such an amazingly sharp lens for composing wide-angle scenes where edge-to-edge sharpness is essential. I also love using this lens with my IR-converted Sony's as there is no "hotspot" (an outline of the aperture that can rear its ugly head with some IR cameras due to light bouncing around inside the lens). I also use this lens a lot for my night photography in tandem with my Sony α7R IV.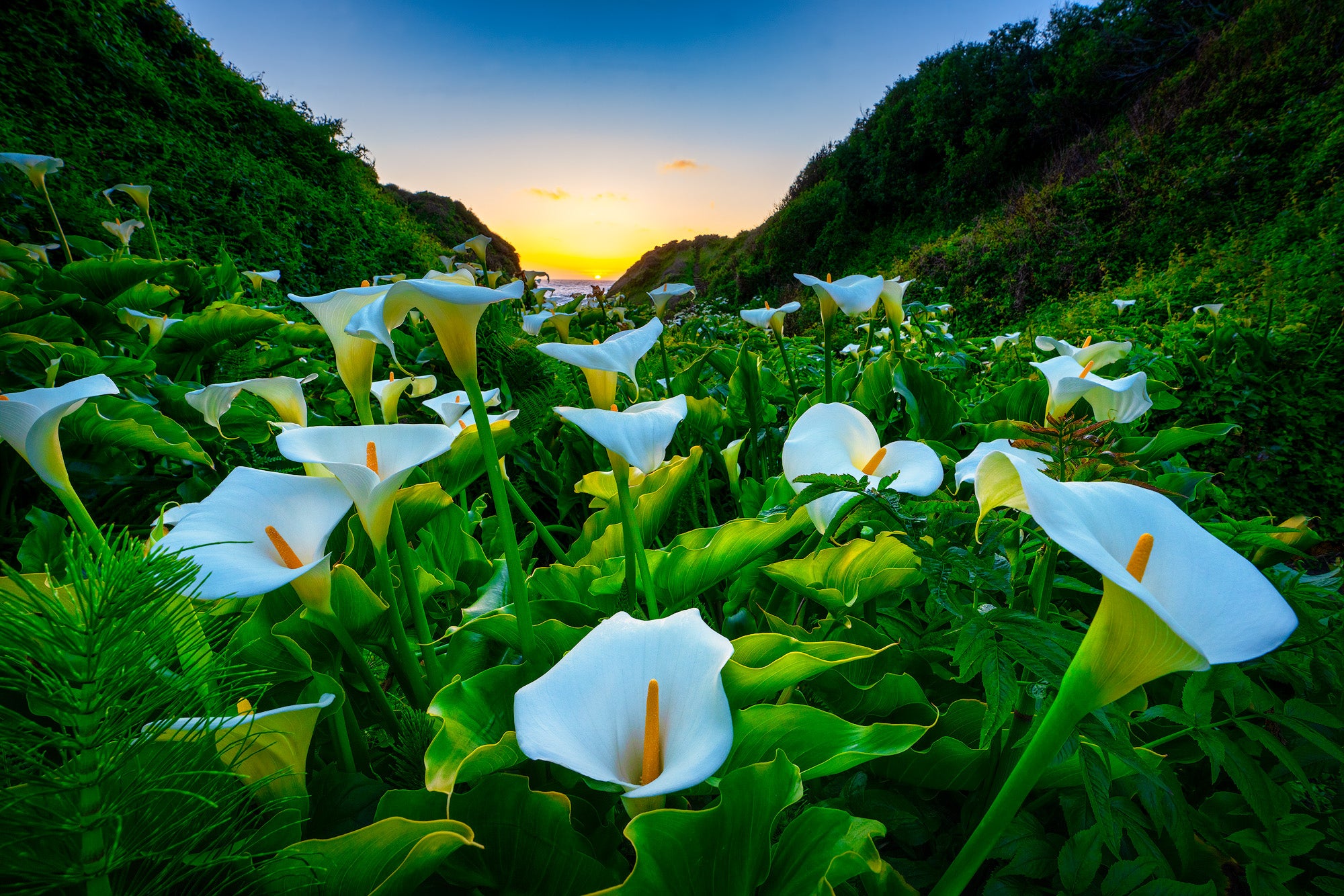 Photo by Don Smith. Sony α7R IV. Sony 16-35mm f/2.8 G Master. 1/20-sec., f/13, ISO 400. One of the sharpest zooms in my bag is the Sony 16-35mm f/2.8. I used this lens to capture this sea of calla lilies at Big Sur's Garrapata State Park just as the sun was setting.
Sony 24-105mm f/4 G: First off, this is an incredibly sharp lens. I am generally in a range of f/8-f/16 for most of my landscapes and it is crazy sharp at f/8-f/11. I use this lens on a regular basis on most of my location shoots.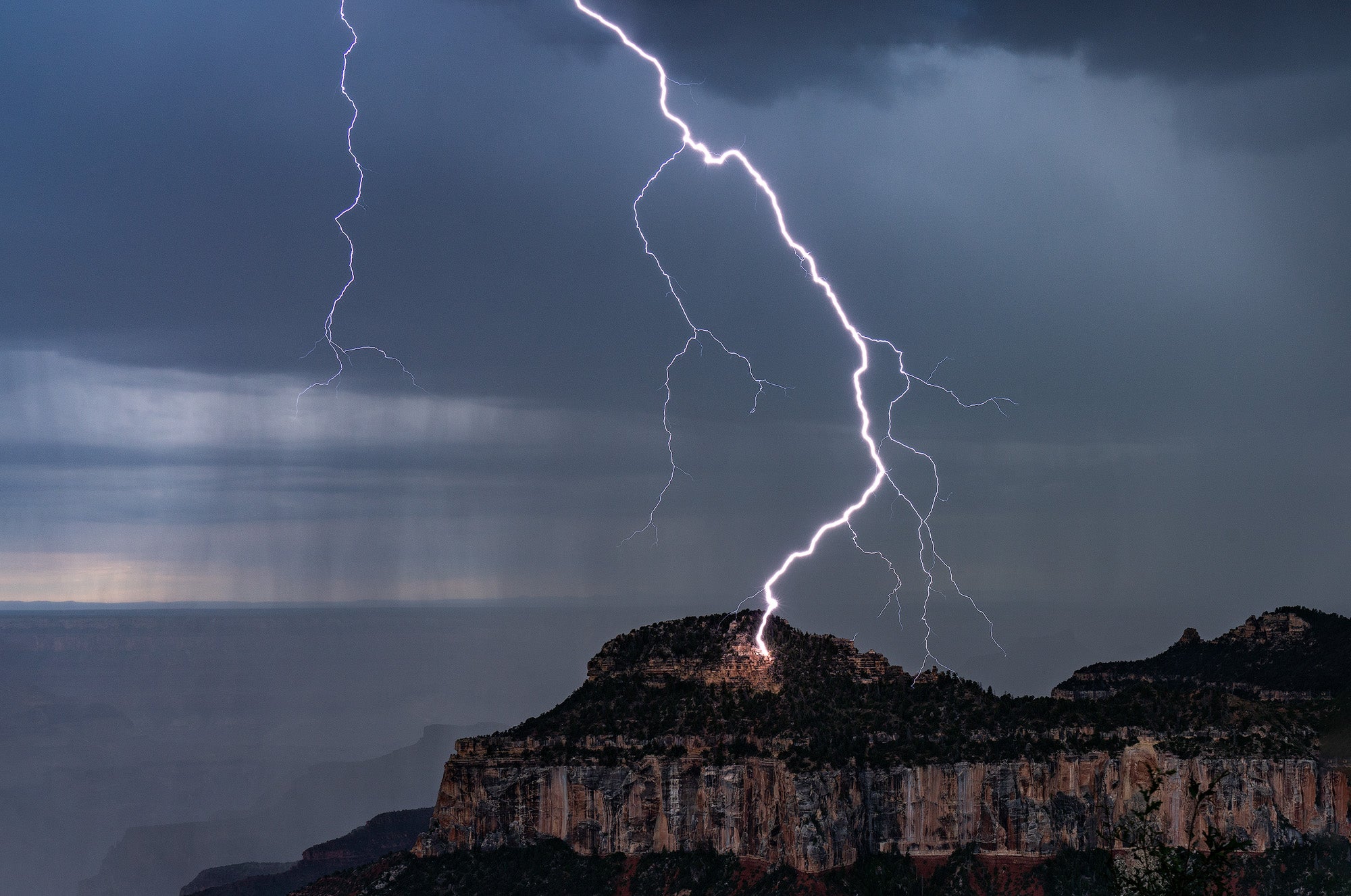 Photo by Don Smith. Sony α7R III. Sony 24-105mm f/4 G. ½-sec., f/11, ISO 200. One of my most-used landscape lenses is the Sony 24-105mm. I love the extra reach that I could not get with my Sony 24-70mm GM. I used it this past August to capture this amazing bolt of lightning along the Grand Canyon North Rim.
Sony 24mm f/1.4 G Master: This is one of my primary go-to lenses for astrophotography and when I need a razor sharp wide angle for my landscapes. Because this Sony 24mm f/1.4 is a GM, I can rest assured that it is razor sharp from edge to edge. I don't hesitate shooting it wide open at f/1.4 at night allowing me to have shorter exposures, which in turn registers no movement in the stars.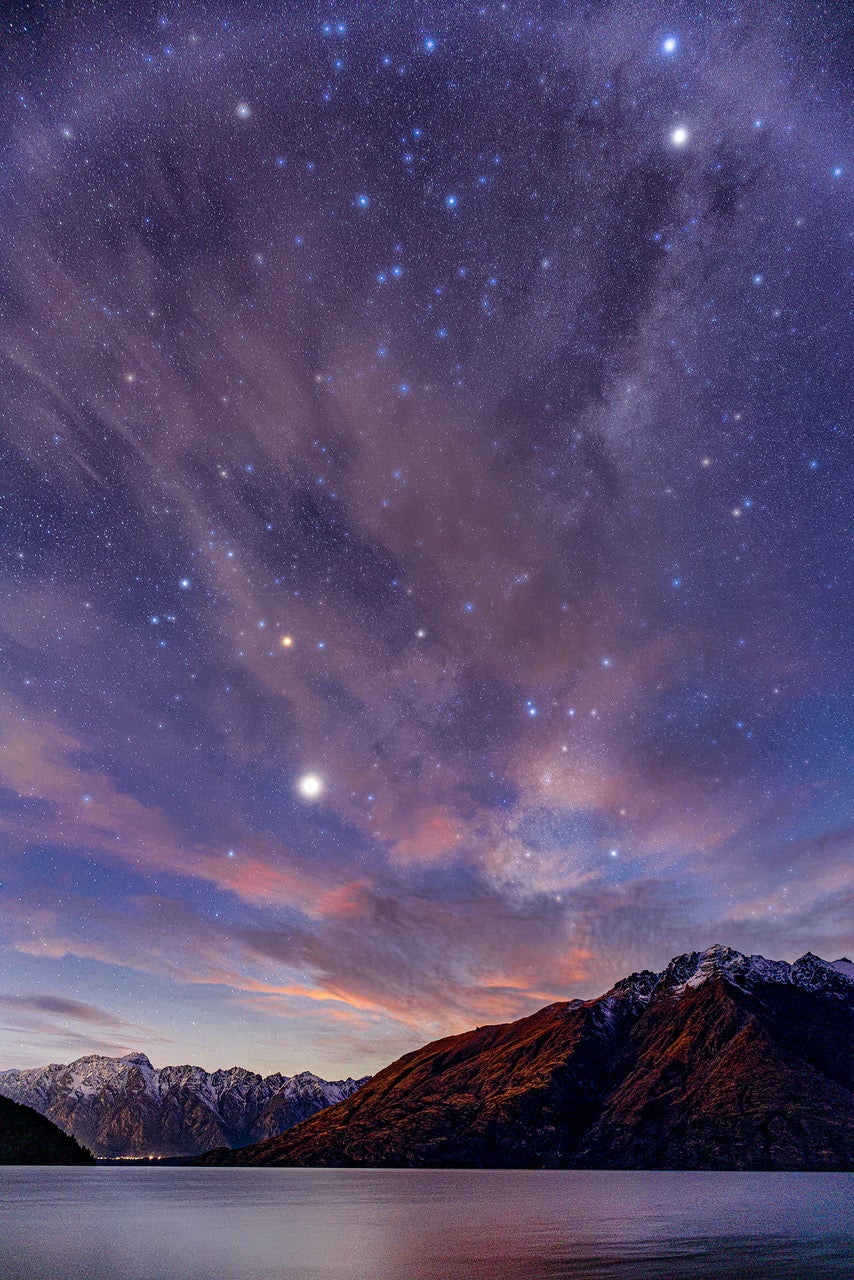 Photo by Don Smith. Sony α7R III. Sony 24mm f/1.4 G Master. 20-secs., f/1.4, ISO 1250. The Sony 24mm f/1.4 GM is an incredible lens - especially for astrophotography. I used it in New Zealand to capture this image of a Milky Way and Venus over Lake Wakatipu near Queenstown.
Sony 200-600mm f/5.6-6.3 G: This is the latest addition to my bag and for the time being it replaces the Sony 100-400mm f/4.5-5.6 GM OSS on most of my domestic trips. On my international trips, the 100-400mm is the go-to lens as it is a bit lighter and more compact. I love seeing telephoto and many of my landscape images are created with this lens. It's tack-sharp throughout the zoom range while only losing 2/3rds of a stop from 200mm to 600mm.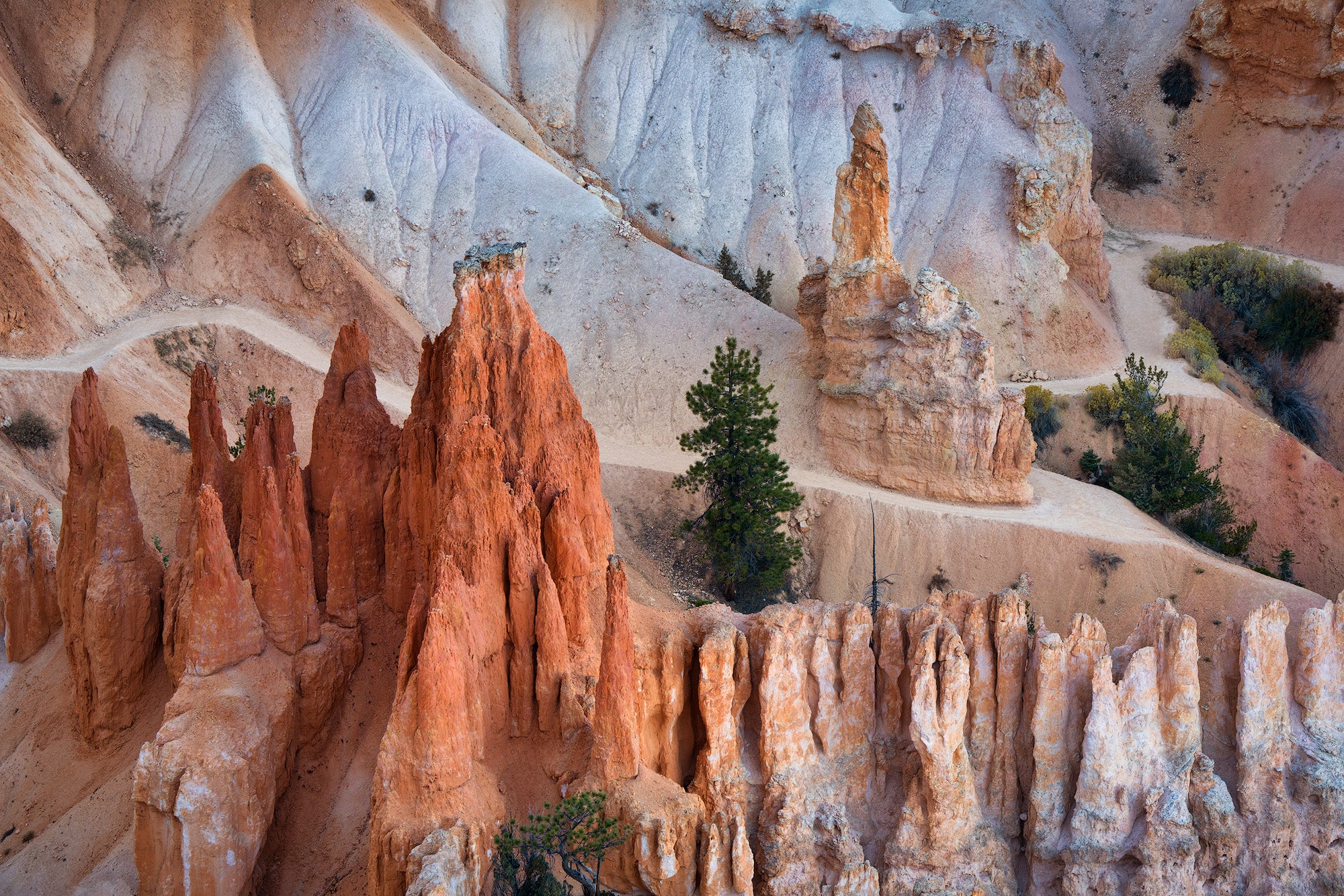 Photo by Don Smith. Sony α7R IV. Sony 200-600mm f/5.6-6.3 G. 1/8-secs., f/10, ISO 200. I absolutely love my Sony 200-600mm. I previsualize a lot of landscape scenes telephoto and this lens allows me a great range to complete my vision. I shot this scene at close to 600mm at Utah's Bryce Canyon National Park.
Sony 1.4x Teleconverter: The days of going to a camera store and trying out multiple teleconverters hoping to find a good match are over. I don't know how Sony has done it, but this 1.4X tele-extender works beautifully with both my 100-400mm and 200-600mm, giving me an extended range of 140-560mm and 280mm to 900mm without any loss of AF speed or sharpness. You will lose just one stop of light.
Sony 2x Teleconverter: Like the 1.4x, the 2x teleconverter retains sharpness throughout the entire range of both the 100-400mm and the 200-600mm while allowing for extreme telephoto images.
Accessories
Tripod: Really Right Stuff is my choice when it comes to anything tripod related. My travel tripod if I am flying is my TVC-23 with a BH-40 ballhead. If I am driving, it is my larger TCC-24L with a BH-55 Ballhead. They carry all related accessories for virtually any camera you could own.
Batteries: I always carry six Sony NP-FW50 batteries for my α6000 and α6300 cameras. I'm enjoying the new Sony NP-FZ100 Batteries and carry four of these also for my Sony α9 II and α7R IV cameras.
Memory Cards: I use the latest fast Sony SF-G SD memory cards. You can't have too much memory.
Backpack: I am currently using a Mindshift Backlight 36L as my main travel bag. I have a host of smaller bags if just taking a hike or short day trip.
Sony RMT-P1BT Wireless Remote Commander: I'm just starting to use the Remote Commander. What I dislike is that if I forget to turn off the Bluetooth setting in my camera, it wears down the batteries faster. Hopefully in future firmware updates Sony would address this issue.
Sony RM-VPR1 Remote Commander: My old plug-in remote cord with locking cable release – great for shooting star trails.
Fotodiox Pro 10mm and 16mm Extension Tubes: I use extension tubes occasionally when I am shooting macro. They work with all Sony E-Mount Lenses.
North Face: Liners and ski hat.
Vallerret Photo Gloves: Super warm and fit over my liners.
Singh-Ray Filters: I carry a full complement of graduated ND's, Neutral Density and Polarizers.
I also always make sure that I have a minimum of two headlamps, a couple of lens cloths, a card wallet, A First Aid kit, a Giotto Rocket Blower and sensor cleaning gear from Micro-Tools.