Wesley Overklift (@wesleyoverklift) is a professional photographer and brand and marketing manager. His work spans all the way from defining what a brand stands for, to creating content that aligns with those values. He has done assignments for major brands like Nike and he recently relocated to the beautiful Swedish Lapland. In his spare time he posts regularly to his Instagram where he focuses his content on landscape, nature, product photography and the occasional portrait. Through his posts, he likes to explain why he posted a certain picture and how he composed it, hoping that his thoughts on composition might inspire others too. We connected with him to learn more about how he composed and created this photo using the Sony α7R III and 24-70mm f/2.8 G Master combination.
Pro photographer Wesley Overklift composition techniques and best lens choices for landscapes with people.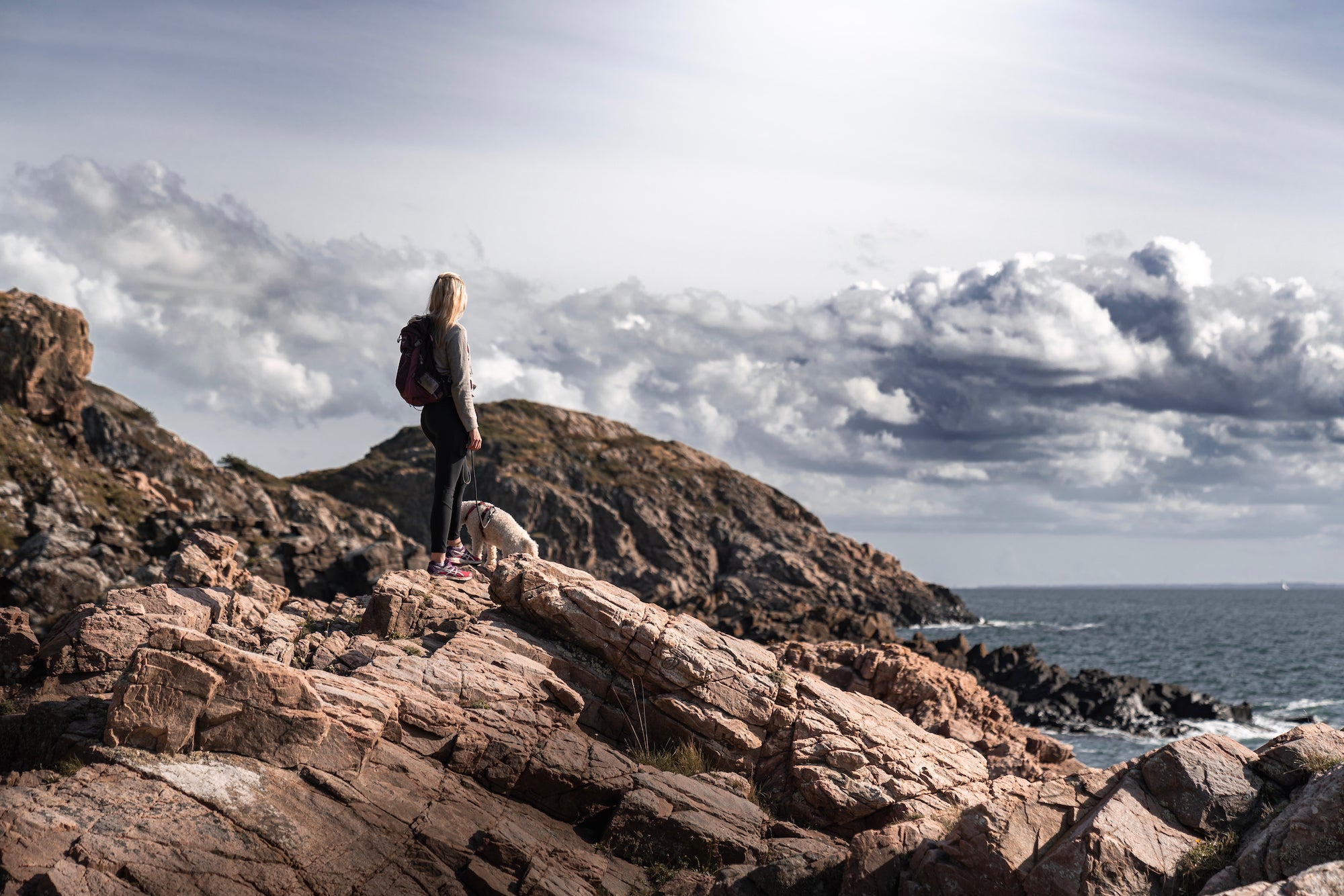 Photo by Wesley Overklift. Sony α7R III. Sony 24-70mm f/2.8 G Master. 1/2500-sec., f/2.8, ISO 100.
Inspiration & Location
In this particular shot, my fiancé (@aliiciaekstrom) and I were making a stop on our way to Gothenburg along the west-coast of Sweden. We found this beautiful place which looked like it came straight out of a scene from Game of Thrones. This shot was partially taken for a Swedish outdoor clothing brand called RevolutionRace. We both love being outdoors and so we collaborated with a local outdoor clothing manufacturer to promote their products and show how they are used in Swedish nature.
The Gear
I used the α7R III with the Sony 24-70mm f/2.8 G Master lens to capture this shot. When hiking outdoors, it's such a versatile but also high quality setup. With great stabilization, faster f/2.8 aperture, 42 megapixels, and adequate range, it really allows me to capture anything from narrower landscapes to wider portraits. Sometimes having all the gear you need with you doesn't make the job more fun, especially not on hikes. Even though you might get better results doing landscapes with a 16-35mm GM and portraits with a 85mm GM, it means you need to carry more and swap lenses. Sometimes you just want to enjoy nature and not worry about getting it absolutely perfect. This is where composition can compensate for that loss of focal range or that wider aperture.
How He Got The Shot
I'm not going to lie, this picture was really an in-the-moment capture so I had to compose quickly. Sometimes you see a scene, and you just feel you need to take the shot. So as my subject was walking towards this scene, I positioned myself, quickly dialed in the settings at 70mm, 1/2500-sec., f/2.8 and ISO 100, and waited for the moment. I took about 15 shots handheld, but this one turned out the best I think. I'm so happy with my Sony cameras, they're fast and easy to dial in which allows me to be in the moment without having to prepare too much. They're also so fast that you can easily find yourself with 50 different pictures of the same subject after a walk with your dog. It's another challenge to then find the one picture that really stands out, the one that you like to share the most.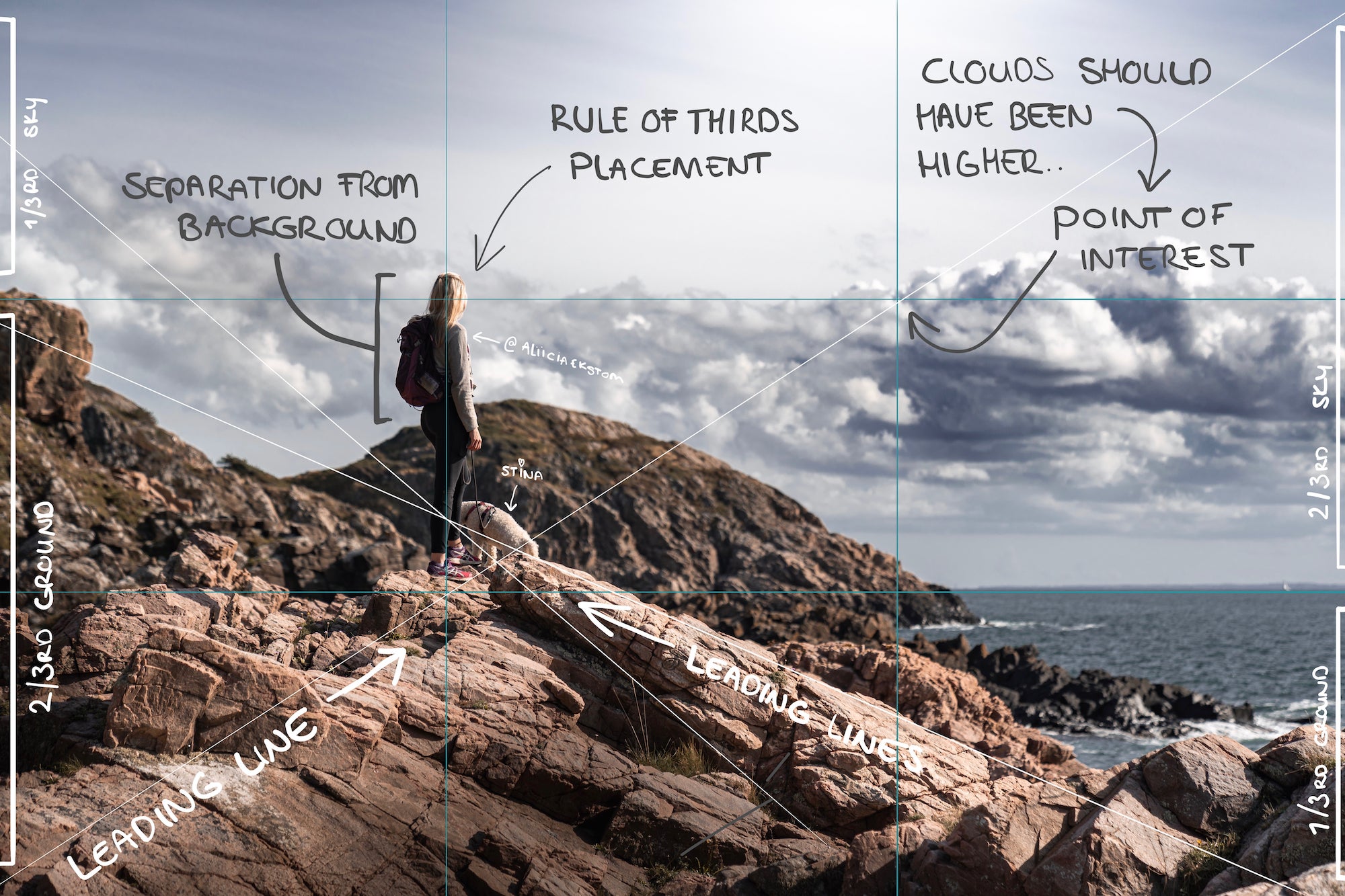 When it comes to landscapes, there are a few simple things I consider when composing. I don't like landscapes without a subject, there should always be an interaction between two things, in this case Alicia and the dramatic clouds. I love the angle on the rocks and ground. They push your eyes out over the ocean and toward the clouds. Furthermore I used the rule of thirds to try to align everything perfectly, which involves moving around a lot. (Though I could've tried to get the clouds up a bit higher, but hey it's not easy moving clouds around!)
Post-Production
As for post-processing, I use Lightroom on an iPad Pro. This is a very light, portable and powerful workflow. I love how I can transfer photos using USB-C from my Sony camera to my iPad. I didn't do too much post-processing other than making sure I didn't have too many dominant colors in my image – I like to stick with one or two. I also highlighted my subject and darkened the areas which are of lesser importance, and there's definitely some dehazing on the sky as well.