This week on Alpha Universe we're focusing on techniques, gear and insights for landscape photography. We connected with Albert Dros (@albertdrosphotography) who is a professional photographer from The Netherlands with an extreme passion for landscapes, to find out more about how he creates landscapes that visually pop off the screen. Photography is Dros' hobby, passion and job and as he says, "I simply can't do anything else." Dros travels the world to guide photo tours, do personal projects and shoot for commissioned jobs and he is always finding inspiration to create spectacular landscape images.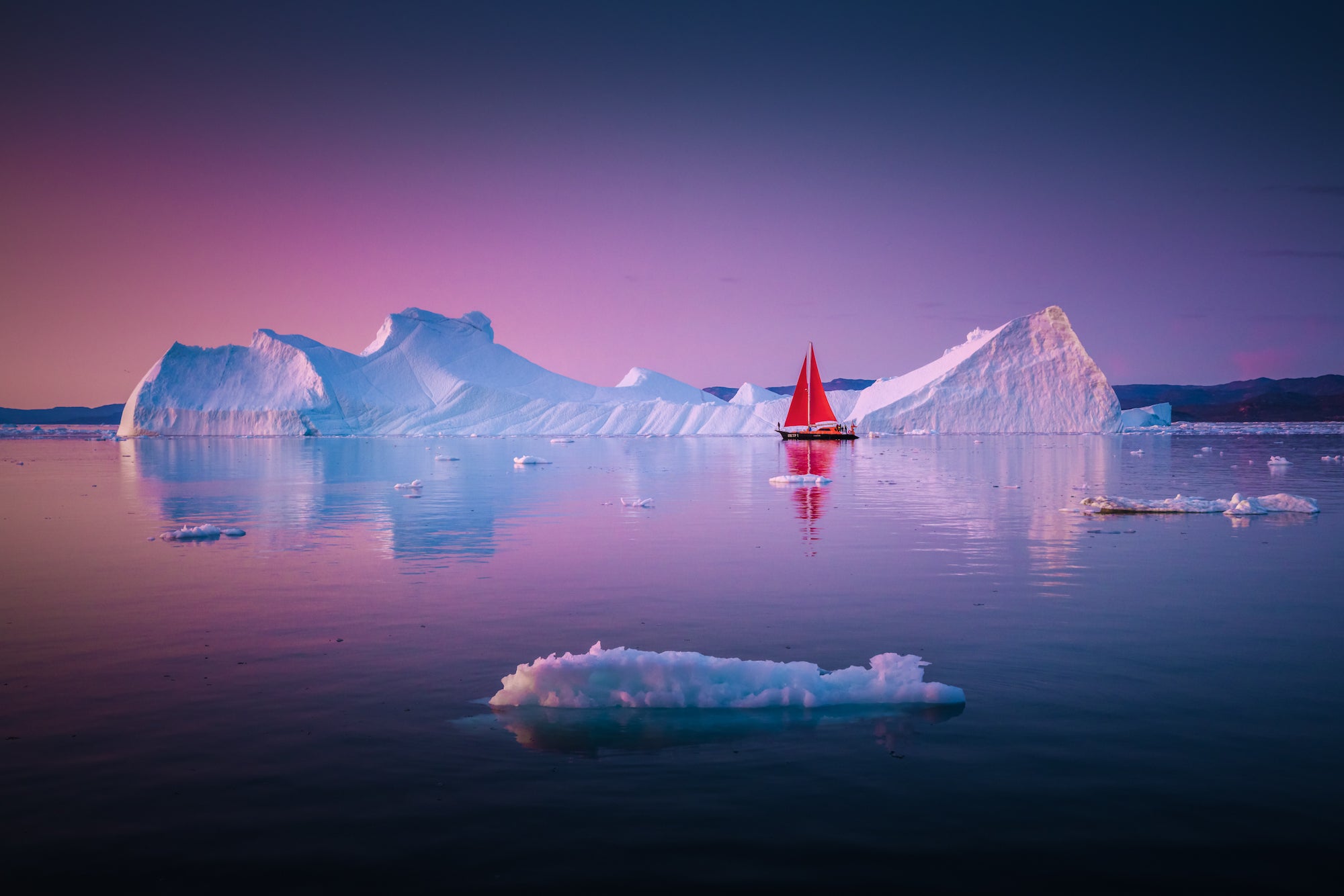 Photo by Albert Dros. Sony α7R IV. Sony 24-70mm f/2.8 G Master. 1/160-sec., f/6.3, ISO 640
Location & Inspiration
This photo was taken in Disko Bay, Greenland. I was guiding tours for my friend's company . In these tours we use boats with red sails to make contrast with the beautiful blue color palette of all the ice in Iceland. The red sails really pop out. By having these little sailboats at our exposal we combine them with the beautiful scenery and midnight sun. In summer, it doesn't get dark during the night in Greenland, leaving a beautiful purple / blue color palette to photograph. By implementing the red sail boats as a subject, these photos almost become a work of art.
The Gear
I used the Sony α7R IV to capture this image along with the Sony 24-70mm f/2.8 G Master. I've used this combination a lot in Greenland. The great thing about it is you can shoot super high quality images, hand-held (remember, I'm on a boat here) AND it's fast. Shooting 60mp stills at a burst rate of 10 fps allows me to capture the perfect moment. Everything is moving in the scene here. The other red boat is moving, my boat is moving, so being able to capture that split second for the perfect shot (with even the ice in the foreground) is crucial for a perfectionist like me.
How He Got The Shot
For this image I shot I had my Sony 24-70mm f/2.8 GM at 44mm, f/6.3 (for a wider focus to get the foreground ice also in focus), 1/160-sec shutter, ISO 640. I always capture my images in RAW. The Sony cameras are known for their excellent dynamic range, and by using RAW I am always sure to capture the entire palette of contrast, tones and color with as much data as possible.
Post-Production
Processing of the RAW file allows me to bring back that moment I experienced into my photo. I want the viewer to 'feel' the image as if they were actually there. In this image, I wanted to emphasize the feeling of the midnight sun and twilight phase. The soft blue and purple tones in the sky were very apparent and I enhanced them in the photo to get that feeling across.