Sometimes, you buy a plane ticket to somewhere new and everything works out great. The weather is perfect, the sunsets are gorgeous and you go home with full memory cards. Other times, you go somewhere for an entire week and only get 3 hours of shooting time. That was the case with my first trip to Portland, Oregon. From the time I landed to the time I took off, it rained non-stop with the exception of a 3-4 hour window on the second to last day. I was staying with my buddy Sony Artisan Brian Matiash and, as he pointed out, "There is rain and there is ruin-your-gear rain." We had the latter all week long, so when the skies cleared for that brief moment, I hopped in the car and headed for the Columbia River Gorge in hopes of at least walking away with something.
One thing I quickly discovered is that there are a few perks of shooting within a brief window of relentless rain. For one, all the crowds that are synonymous with The Gorge are virtually non-existent. Second, the waterfalls and rivers were RAGING. Third, the skies were overcast which provided perfect conditions to shoot in during what would otherwise be harsh midday light.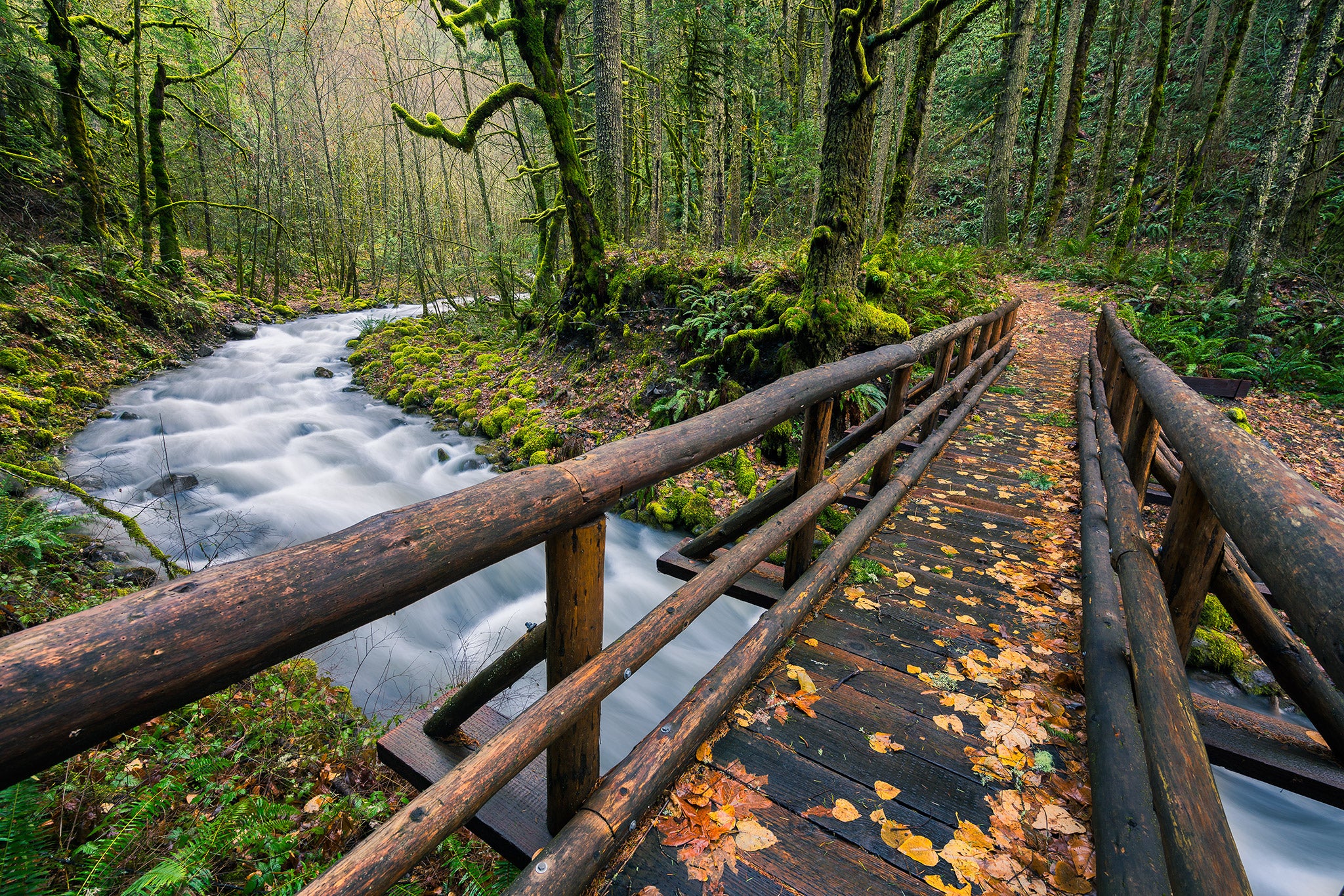 Sony α7R II, Sony FE 16-35mm F4 ZA OSS lens. 2-seconds, f/13, ISO 100
My takeaway from that trip was that not every photography adventure is going to be perfect. When the weather doesn't cooperate, be patient and make the most out of it. Spend time with friends, make new friends, enjoy the cities or towns nearby and explore things beyond the world of photography. In my case, I got to spend around 95% of my time in Portland doing just that and even though I only got a few hours of shooting in the whole week, I still had an incredible time.
About the Image
This image is from a place in the Columbia River Gorge known as "Gorton Creek." It was the last place I visited before it started raining again. I was completely alone in this magical forest and it felt like I was in some kind of fairy tale. The river was raging, so much so that I was actually a bit nervous to get too close to the water. I had seen this bridge before in photos from Brian and other photographers but seeing it in person was incredibly special. It's one of the most perfect scenes I've ever come across. The way the bridge leads the viewer's eye into the frame and takes it around the corner to the creek, which brings you right back to where you began. And the moss growing on the trees was just insane.