Jack Zhi (@jack.zhi.photo) is a software architect working in the information technology field. "Photography is my hobby and I love wildlife," he says. "I shoot after work and on weekends in areas near my home." We came across this photo of his taken with the Sony Alpha 9 II and Sony 600mm f/4 G Master lens and the 1.4X teleconverter. The image, which earned him a Forbes Wildlife Photographer Of The Year Award in 2021, features a juvenile white-tailed kite reaching to grab a live mouse from its father. We connected with him to learn more about how he captured it…read his story behind the shot below.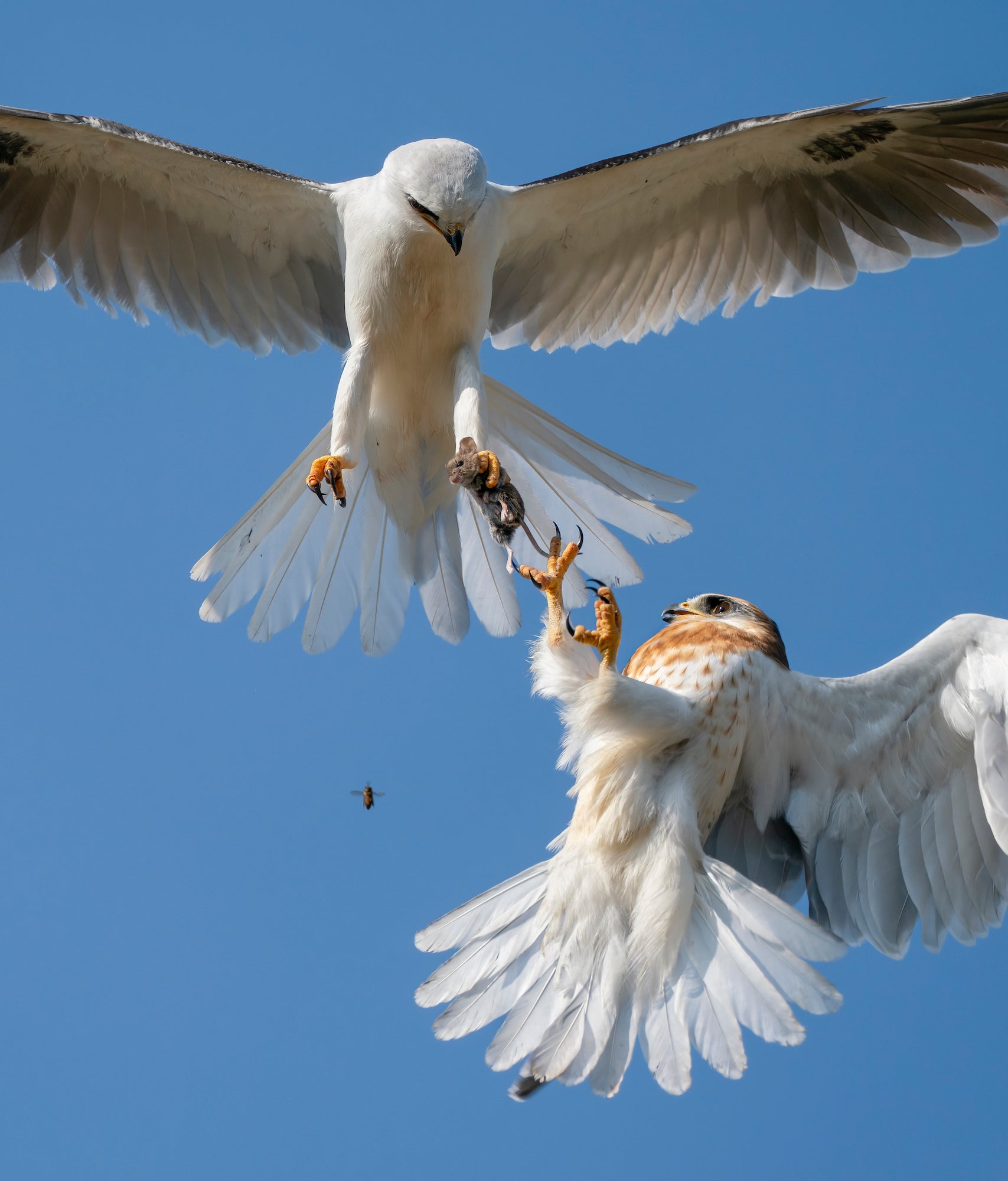 Photo by Jack Zhi. Sony Alpha 9 II. Sony 600mm f/4 G Master + 1.4XTC. 1/2500-sec., f/5.6, ISO 500
"I worked on this for three years to get a close up shot like." How a part-time wildlife photographer caught this dramatic, contest-winning moment between white-tailed kites in mid-air.
The Scene
This was a training session for the juvenile white-tailed kite (the colorful one at the bottom). Dad brought in a freshly caught mouse. He suspended in the air for the newly fledged baby to catch the prey in midair. Experienced kites prefer to come from behind because it's much easier to complete the transfer as they can coordinate their speeds and positions. As inexperienced as this baby was, it came from the side, which left him with one swing of a shot in a four-dimensional world! This was much harder because it's not easy to coordinate with each other when they flew in different directions! The new fledgling did his best but fell an inch short of grabbing the cute little mouse before he started dropping. Look at the concentration and the struggle in his face! Beak opened and body twisted with every ounce of what he's got! Note that the mouse was still alive. Dad sometimes intentionally brought life prey for the purpose of training. Well, the story after the shot? The lucky baby was able to circle back and got his rightful food before his siblings jumped in for a fight! Mostly all the time, one mistake like this meant a win by one of the other two siblings. The bee was an added bonus! Somehow he took an interest in the action and got in my frame in focus.
I worked on this for three years to get a close up shot like this – because these actions can happen anywhere and are always too far away. I actually thought about skipping the year 2020 due to the coronavirus situation. I'm glad I didn't and I finally got a lucky break like this! It's a challenge to get the action, the distance, the weather and lighting, and the angles of the individuals all right at the same time. Not to mention they may start from a clear view then quickly move behind trees. I wish I could be that bee there observing the action like that, but no, I had to study their behavior and guess where they might do it then wait patiently on the ground for my luck.
The Gear
I used Sony Alpha 9 II and the Sony 600mm f/4 G Master lens with a 1.4X TC. Actions like those in this image are normally far. I used 840mm focus length to bring the action close with the level of details I wanted. The 20 fps shutter speed allowed me to capture a sequence of images for me to select the best shot because the action was super fast. There was only a window of a split second when the juvy reached out to grab the mouse. The Sony Alpha 9 II's AF tracking was dead on throughout the shooting. All my captures were in focus!
The Shot
I used zone focus with tracking, 1/2500-sec., f/5.6, ISO 500, 840mm focal length. I stood with lights and wind coming from behind me so that when action took place I would have great lights and the birds would be more likely to face me. Birds like to fly towards the wind, especially when doing food transfer. When I saw dad come back with a mouse and the juvy took off to meet him, I had to ditch my tripod and run towards the midpoint between dad and the juvy, because that's where they would meet and do the transfer. I was able to get in place and took aim right before they got together. I fired my shots as soon as I located them in my viewfinder. Perfect timing, I didn't miss any action.
The Edit
I was very happy with the shot. I didn't have to edit a whole lot. Here's a few things I did, removed a little bit of noise, applied minor adjustments on lights and colors. I used photoshop, camera raw, and Topaz denoise.
Zhi also stood out in the 2021 Audubon Awards using his Sony Alpha gear. See more of his work on Instagram @jack.zhi.photo.