Lydia Ripplinger (@lydebug) is a wildlife photographer based in Provo, Utah. "I'm passionate about photography, wildlife, conservation and education. I'm a total bird-nerd! When I'm not out capturing critters with my camera, I work with bird rescue, conservation, and education efforts. I love how photography allows me opportunities to understand our world's amazing animal inhabitants and their precious habitats. I love sharing all I learn with others through photos and videos. Visual media has so much power to educate, raise awareness, inform decisions, and bring joy to those who view it. My bag of gear allows me to bring animals' stories to life, helping educate and delight many who would never otherwise experience the raw, wild, and beautiful animal side of nature." Learn more as she explains what's in her bag for wildlife photography below.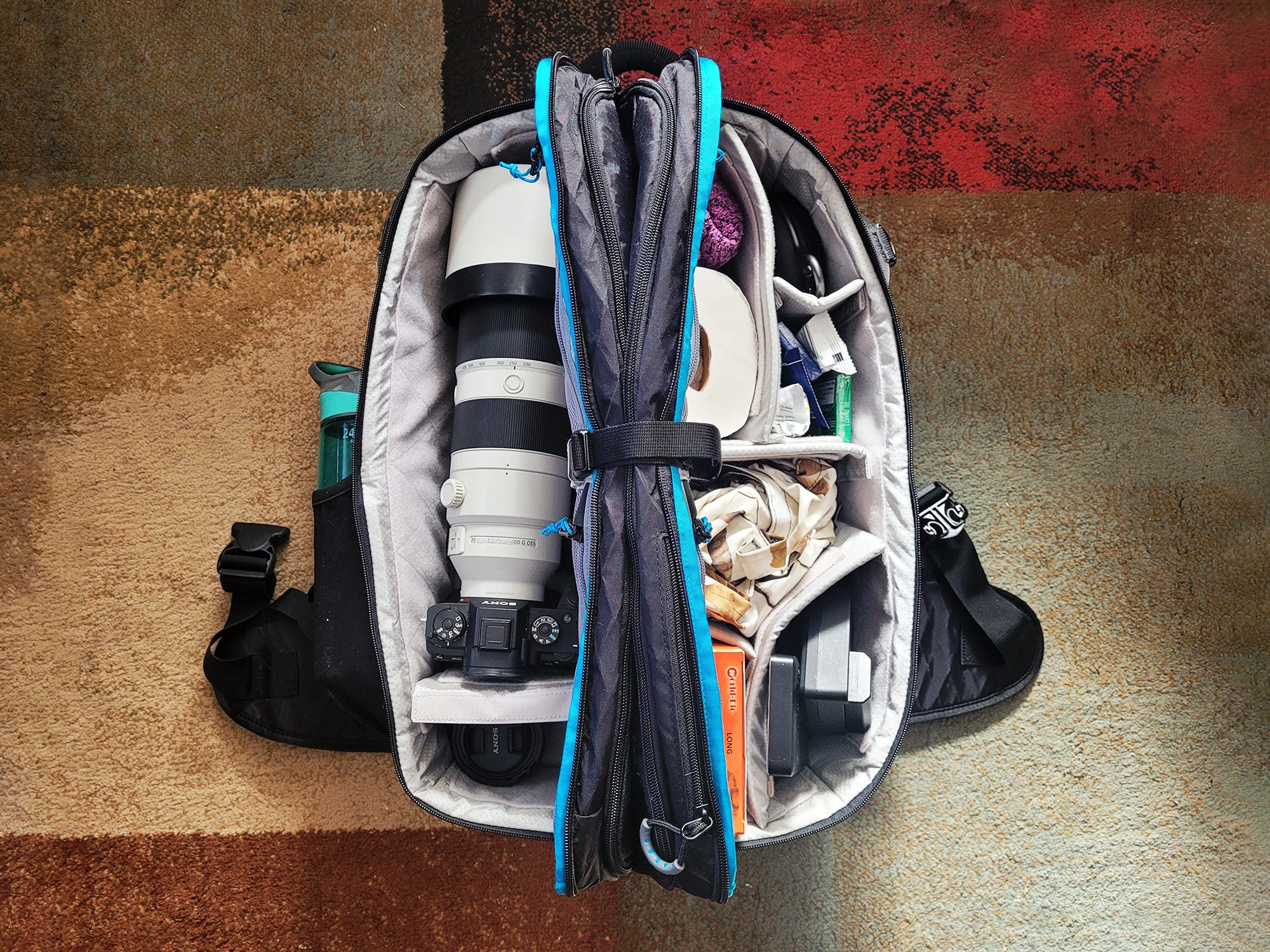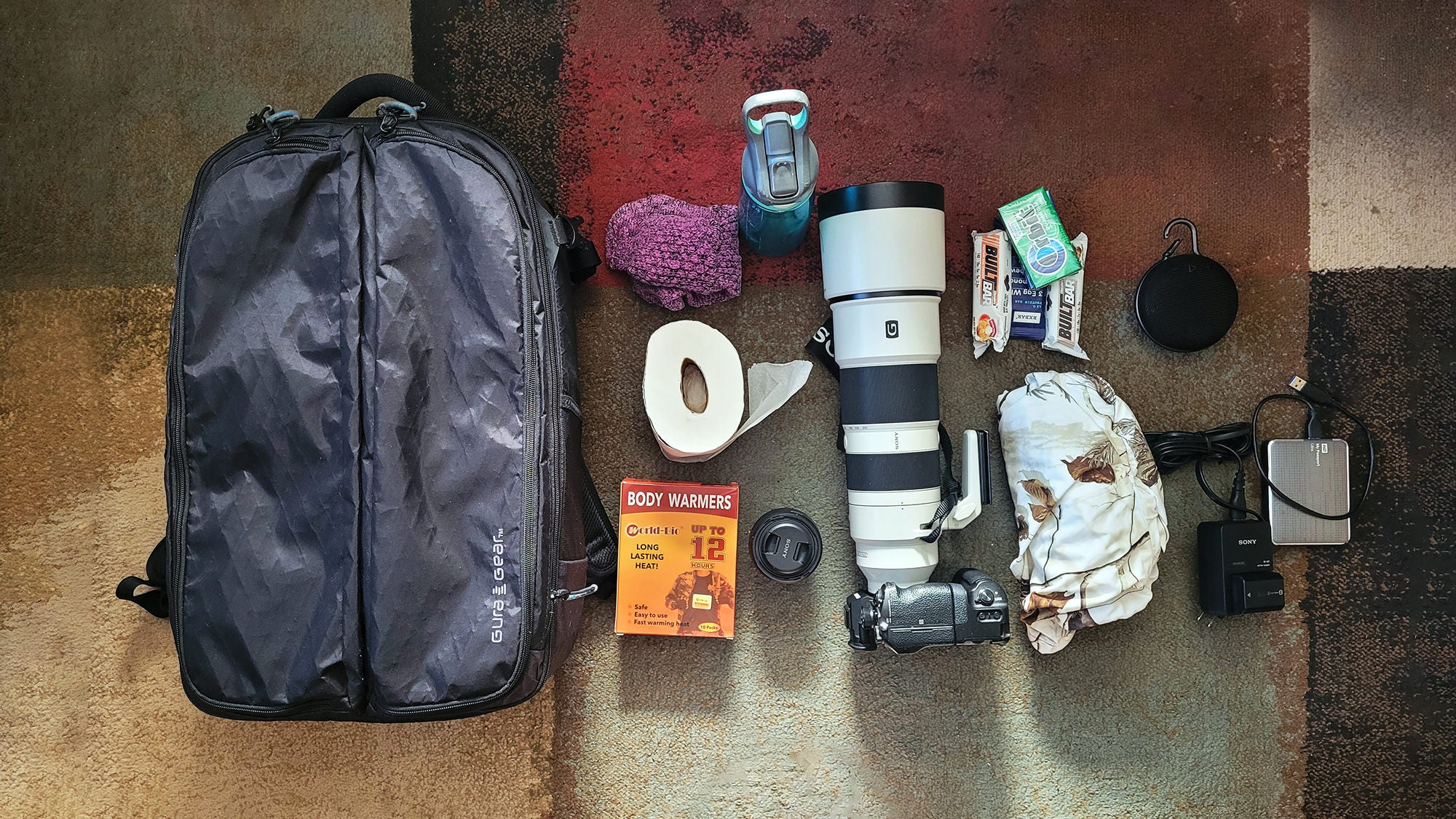 Using her Sony Alpha 9, a zoom and a prime, photographer Lydia Ripplinger creates beautiful imagery of birds and other wildlife.
Camera
Sony Alpha 9: I use my Sony Alpha 9 for all my images. The Alpha 9 camera is absolutely amazing. When I switched to this camera from a DSLR, it felt like cheating. It is so easy to get a good shot with the Alpha 9! The autofocus is lightning fast and incredibly accurate. Having 20 fps allows me to record minute details in an action sequence, capturing story elements that would be missed with fewer frames. I am obsessed with owls, and therefore find myself shooting in low-light situations often. My Alpha 9 consistently produces clean, clear images, even when I have to bump my ISO up and my shutter speed down. Because of the fast-paced, unpredictable nature of wildlife photography, I usually shoot handheld. The Alpha 9's 24.2 megapixels make it possible for me to shoot without a tripod in whatever situation I find myself. The Alpha 9 is the perfect camera for my style of shooting.
This great gray owl stopped and perched on this perfect little stick, right in front of this gorgeous background in Yellowstone national park, for just a few brief seconds. I needed every bit of speed my Alpha 9 afforded me to quickly capture this image before the owl flew into the dense trees. Photo by Lydia Ripplinger. Sony Alpha 9. Sony 200-600mm f/5.6-6.3 G. 1/640-sec., f/6.3, ISO 1600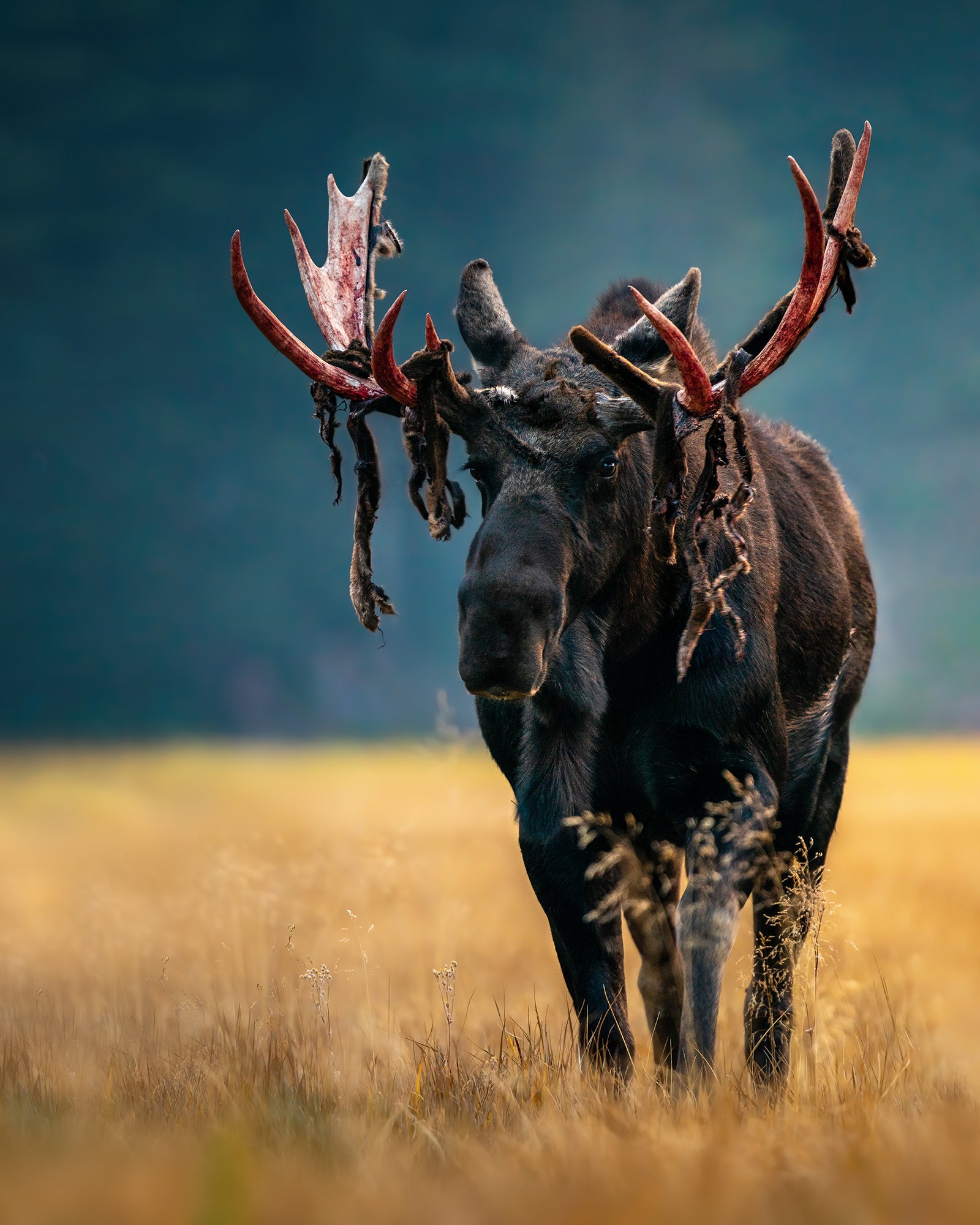 Each year in the fall, moose shed the velvet off their antlers in preparation for the rut. Shedding happens quickly. It's often over in less than an hour. You've got to be ready to shoot fast if you're lucky enough to catch it happening! Photo by Lydia Ripplinger. Sony Alpha 9. Sony 200-600mm f/5.6-6.3 G. 1/100-sec., f/6.3, ISO 1250
Lenses
Sony 200-600mm f/5.6-6.3 G: I basically never take my Sony 200-600mm f/5.6-6.3 G lens off my camera. This lens gives me a full 600mm of reach in a nice, lightweight package. My 200-600mm lens is a full two pounds lighter than most prime lenses of equivalent length. When you're constantly carrying your gear up mountains and through forests as you search for critters, or standing still holding your lens up for hours while you wait for some action to happen, those two pounds make a world of difference! The variable focal length provided by a zoom lens is also ideal for me. What if, for example, I'm out looking at a bird, and a moose suddenly walks through the brush in front of me? I'm going to need to zoom out, and quick! The unexpected photo opportunities in wildlife photography often produce the best images. To make sure I'm prepared, I keep my 200-600mm lens at the ready!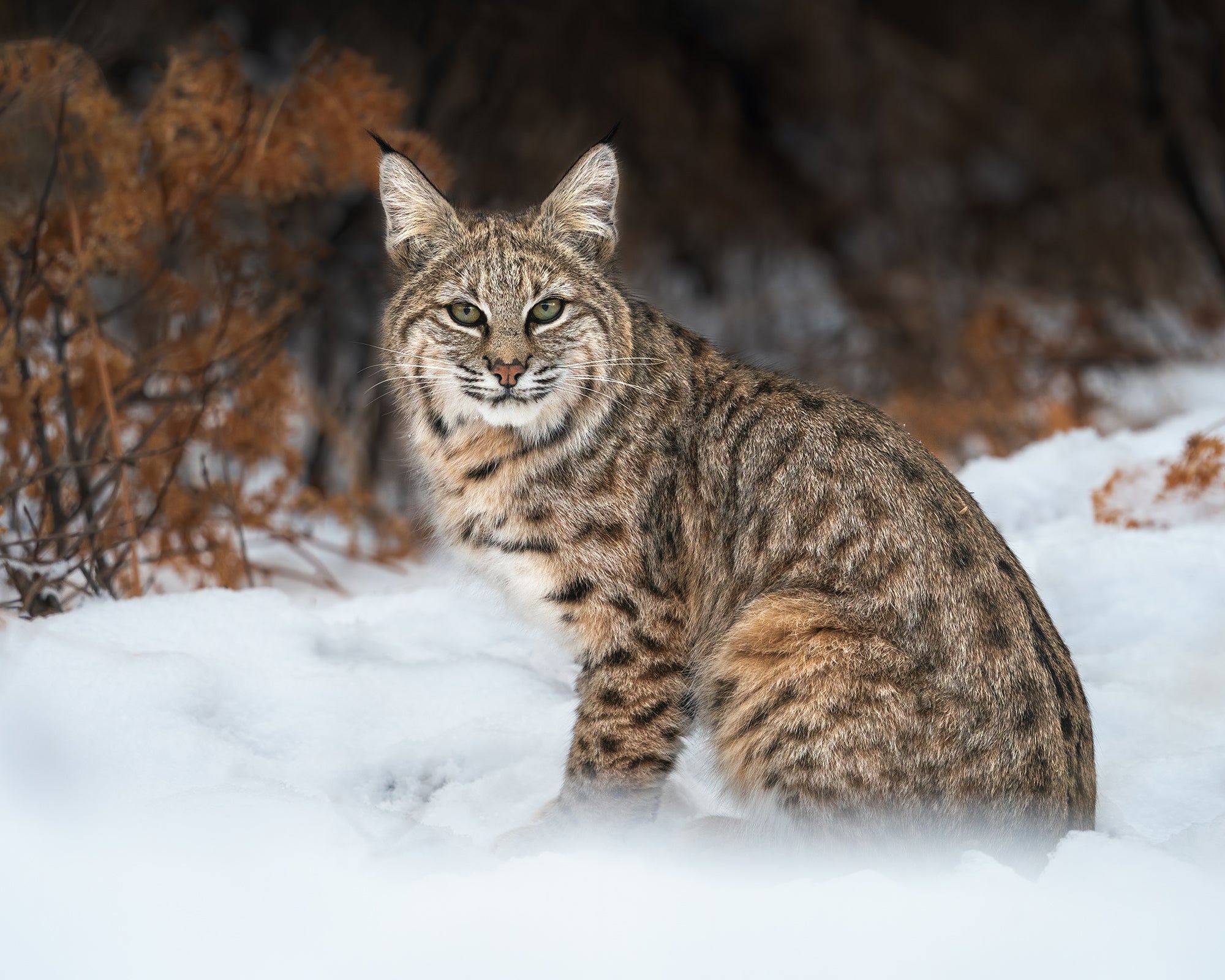 Photographing this elusive bobcat was one of the most incredible photographic experiences I've ever had. Seeing a bobcat is rare. I certainly didn't expect to see one this day, let alone to have him boldly approach me as he did. Thank goodness I had my 200-600mm lens so I could zoom out and capture the image when he came close! Photo by Lydia Ripplinger. Sony Alpha 9. Sony 200-600mm f/5.6-6.3 G. 1/800-sec., f/6.3, ISO 3200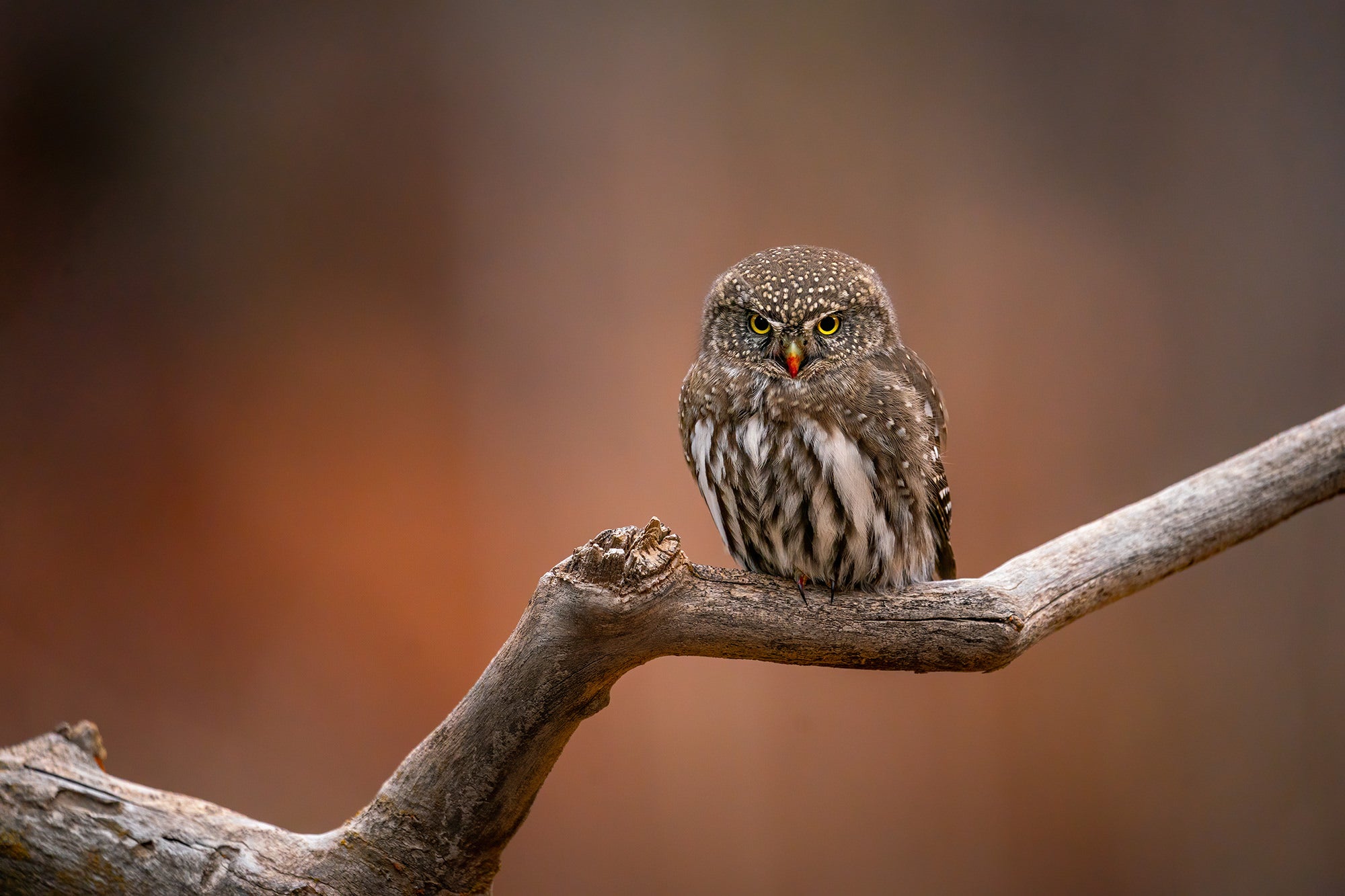 This tiny murder machine is a northern pygmy owl. These feisty floofs are only the size of a tennis ball. When photographing something this small, you need all the reach you can get if you hope to capture any detail. My 200-600mm lens was perfect for this situation. I was able to get an up-close shot without physically approaching the bird and spooking it away. Photo by Lydia Ripplinger. Sony Alpha 9. Sony 200-600mm f/5.6-6.3 G. 1/400-sec., f/6.3, ISO 2500
Sony 50mm f/1.8: For the rare occasions when I shoot something other than wildlife, I use a Sony 50mm f/1.8 lens. This is a high-value, low-cost lens. It's a perfect, small and handy addition to the bag of a wildlife photographer like me, who only infrequently has the need for smaller glass. I can have a 1.8 aperture lens for less than $250? Yes please!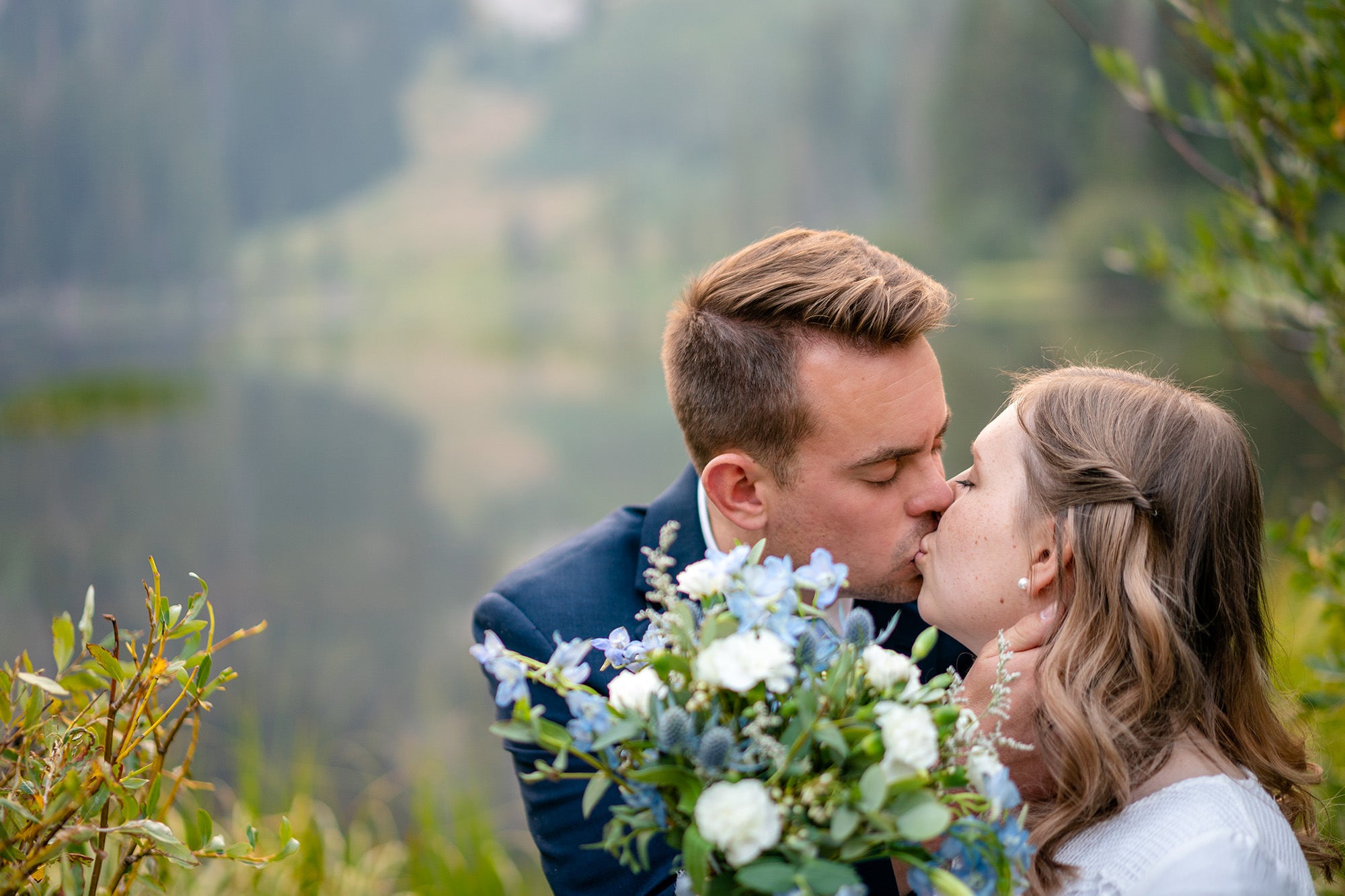 This is an engagement shoot I did for my brother. I love the creamy bokeh created by the 1.8 aperture. Photo by Lydia Ripplinger. Sony Alpha 9. Sony 50mm f/1.8. 1/100-sec., f/1.8, ISO 160
Accessories
Lenscoat Raincoat: when your photography all takes place out in nature, you never know when you'll get caught in a storm! I keep my raincoat handy to protect my camera gear from the elements.
Hand Warmers: I love shooting in the snow, but I don't love wearing gloves. I need to be fast with my shutter finger, and gloves get in my way. My solution is to keep hand warmers in my coat pockets so I can warm up my fingers when the action is slow.
Extra Batteries/Charger: there's really no point if you have no power!
Hard Drive: I admit it. I'm terrible at going through and deleting photos! I tend to dump everything on an external hard drive, and go through it little by little for months afterward. This means I keep my hard drive with me so I have space to keep shooting.
Extra Wool Socks: soggy, cold socks are no fun! I keep an extra pair of warm, woolen socks in my bag just in case I have an unexpected stream crossing while tracking an animal.
Toilet Paper: Have to have some TP for when nature calls, am I right, ladies?
Snacks/Water: nutrition is essential! I always keep protein bars and water with me so I have enough energy to get through the often long hours in the field looking for and waiting on critters.
Bluetooth Speaker: playing bird calls can help me find out what species are in an area. But only if the birds are not nesting or otherwise sensitive, of course!
Battery Grip: I keep a battery grip on my camera. It adds extra bulk and weight that I'd prefer not to have, but it's more than worth it for the extra power it provides.
Guragear Bag: I like this bag because it is long enough that I can keep my camera, lens and battery grip connected while they're inside the bag. This allows me to be ready quickly when the critters appear!
See more of Lydia Ripplinger's work on Instagram and TikTok.