Colby Brown is a travel, landscape and wildlife photographer and a Sony Artisan of Imagery. With his roots in travel photography over time, Brown found himself more and more enthralled with the challenge and diversity of wildlife photography. Brown has been dedicated to it for the past six years.
Sony Artisan and wildlife photographer Colby Brown gives his tips for setting up your camera to best handle photographing the unpredictable nature of wildlife.
"Wildlife has grown into probably my biggest passion right now," he explains. "Within the photography space, I still enjoy doing the landscape and the astro work that I'm fortunate to get to do. But I find myself looking forward more to the wildlife expeditions around the world to photograph rare species. I have the opportunity to photograph many birds, reptiles, snakes, frogs, big cats, and so on, whatever it is, I'm stoked to learn about the species, to learn how to photograph it, do all the research and put forth the effort to in order to, capture something that is unique. And hopefully, there's a good and interesting story that relates to that specific species and that the environment that it's about."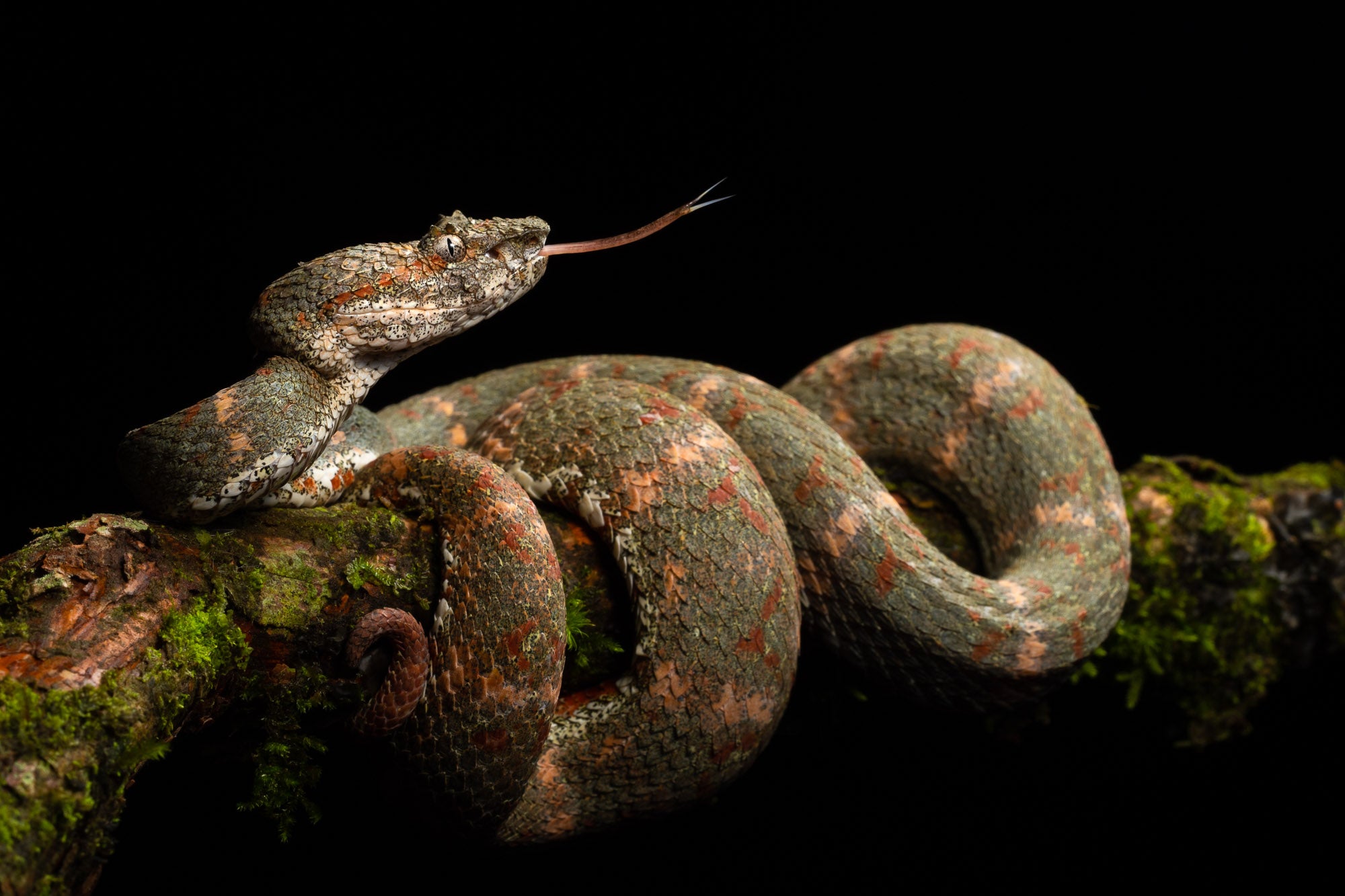 Photo by Colby Brown. Sony Alpha 1. Sony 90mm f/2.8 Macro G. 1/200-sec., f/18, ISO 200
One of Brown's favorite aspects of wildlife photography is the challenge it provides. Animals are unpredictable and the moments he wants to photograph can be in over mere seconds. "Wildlife photography is a challenging genre of photography because of the sheer nature that things happen fast, right? It's not like we're sitting in front of a sunset when you know the sunset is coming and you can sit there and prepare." Over the years, Brown has found a number of techniques to help him react quickly in the moment to get the shot he's been hoping for. We sat down with Brown and got some of his best tips and techniques.
Fully Customize Your Camera
"One of the best pieces of advice I can give, is to fully customize your camera so that any aspect that you need, whether it's changing your auto focus mode, your autofocus zone areas, your the frames per second, whatever it is can be done quickly and easily. Whether it's on the Sony Alpha 1, using the dials or on a Sony Alpha 7 IV - make sure that you have your camera customized so that you have easy access in one press, or maybe two max, to change something on the fly."
This technique has been invaluable for Brown time and time again. He shared an example, when he shoots in Alaska, he adjusts the center button on the rear wheel of his Sony Alpha 1 to cycle through the eye-autofocus modes. The Alpha 1 has eye-autofocus for humans, birds, and animals. Brown removes the human option so his center wheel will switch between Animal Eye AF and Bird Eye AF. That way, when he's in a situation where he's photographing bald eagles, but then all of a sudden he sees a brown bear, a situation that does happen, he can easily switch modes with the press of a button. "And if I hadn't had that dialed in, I'd have to put my camera down, go through the menus, and it would take a couple of seconds. In that time, I would lose the shots. So definitely customize your camera based on what features you feel you need quick access to."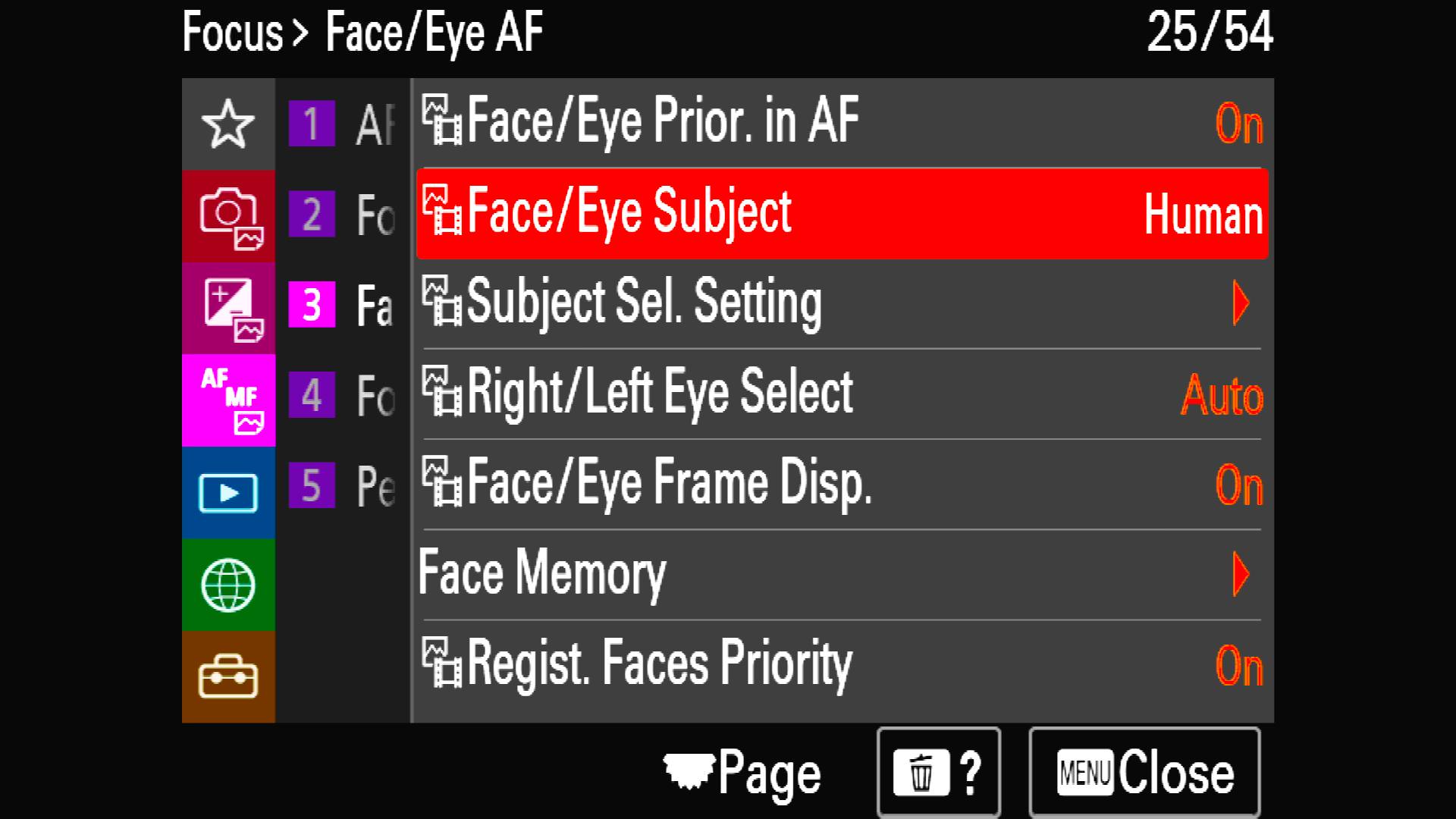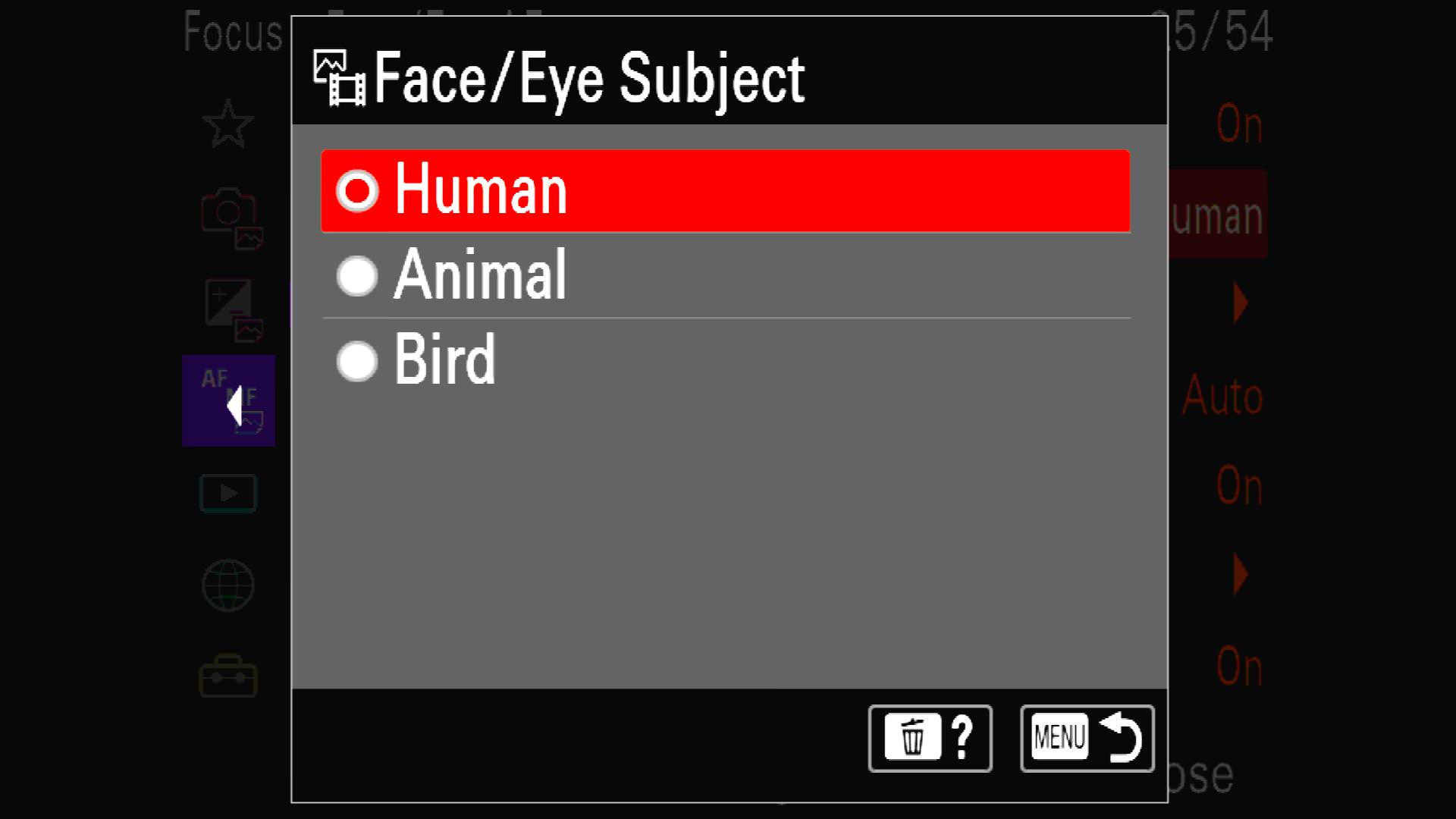 Dial In Your Autofocus Modes
"I recommend fine-tuning your autofocus modes. Your autofocus sensitivity, tied into your frames per second are factors that can play a big role in terms of how easy it is to capture some of the subjects, especially subjects that are in motion. On my Alpha 1, I adjust the Autofocus Tracking Sensitivity to either latch and lock onto a subject or to have it be more freewheeling and adequately adjust back and forth by dialing in different ratio settings from one to five in the menu."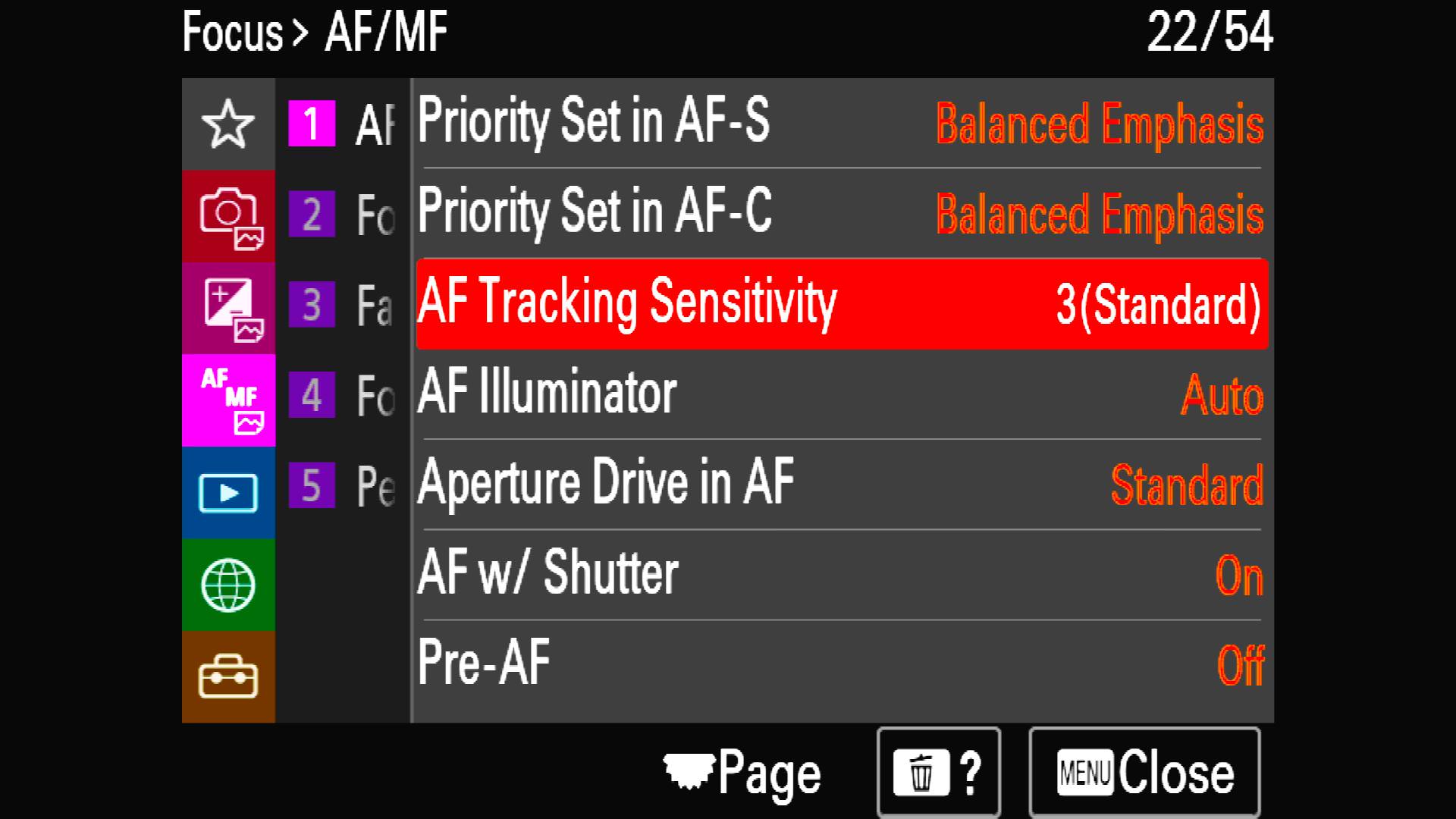 Become Deeply Familiar With Autofocus Zones
"I think it's important to have a good handle on the different auto focus area options that are built into the camera that you're using. Knowing the difference between the Wide and Zone settings, making sure you have the Zone Tracking or Wide Tracking, Single Spot Tracking options, so that you not only have easy access to them, but you know the differences between them is super important.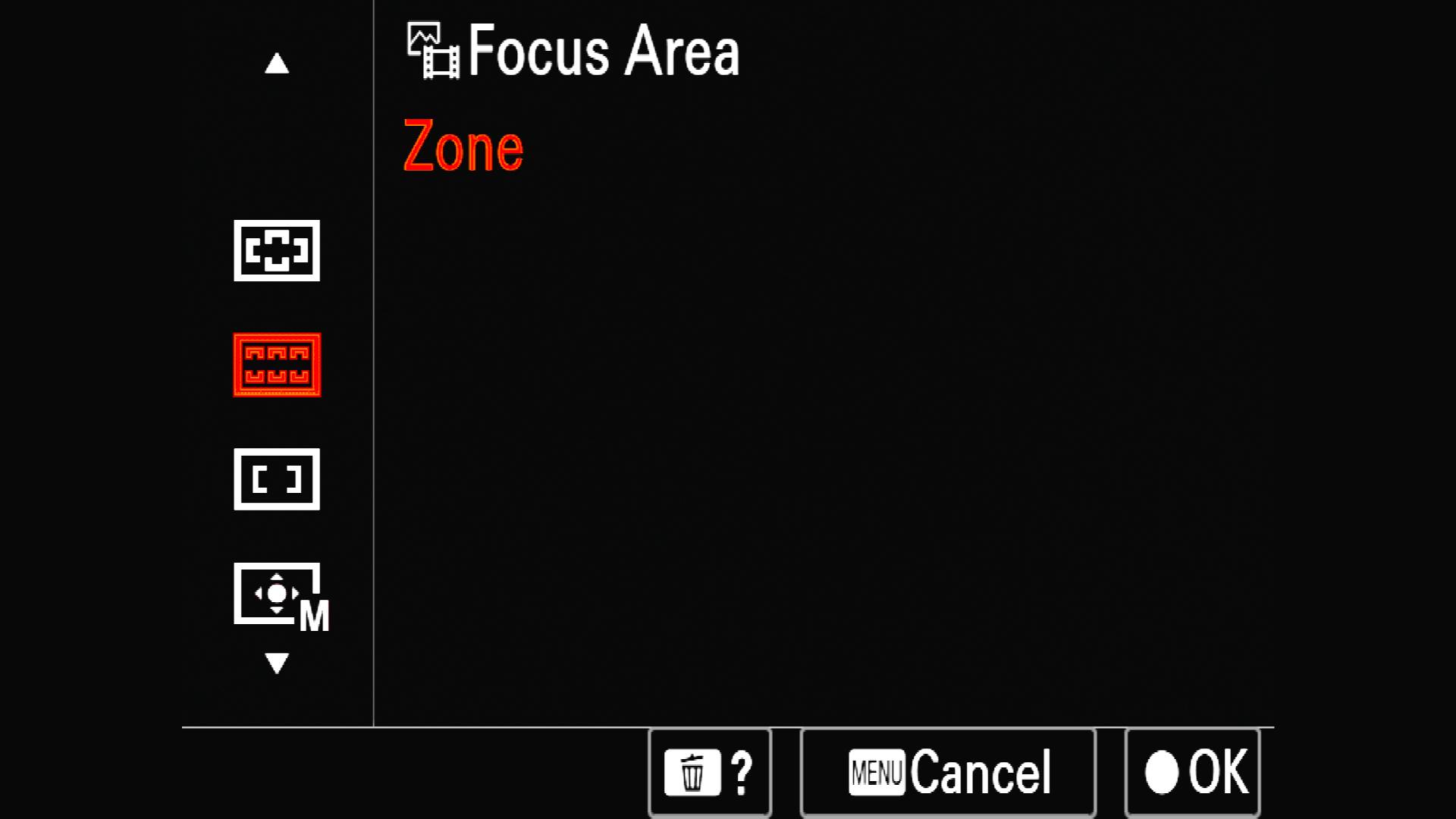 For example, I know I'm going to use a Medium Tracking, Adjustable Spot for when I'm photographing small birds that are perched on branches when I am trying to get them flying away. But I know that I'm going to use a Medium or Wide Area if I'm photographing a coastal brown bear fishing in Alaska because it gives me a wider area in order to lock on and then to capture their eye with Eye AF.
It's just about having a better understanding of the different autofocus area modes and then how to access them will help you quickly adjust on the fly and counterbalance for what I feel is the biggest challenge with wildlife photography, which is you have models that don't cooperate and things that you're going to be surprised by, and if you're not prepared, you're not going to get the shot."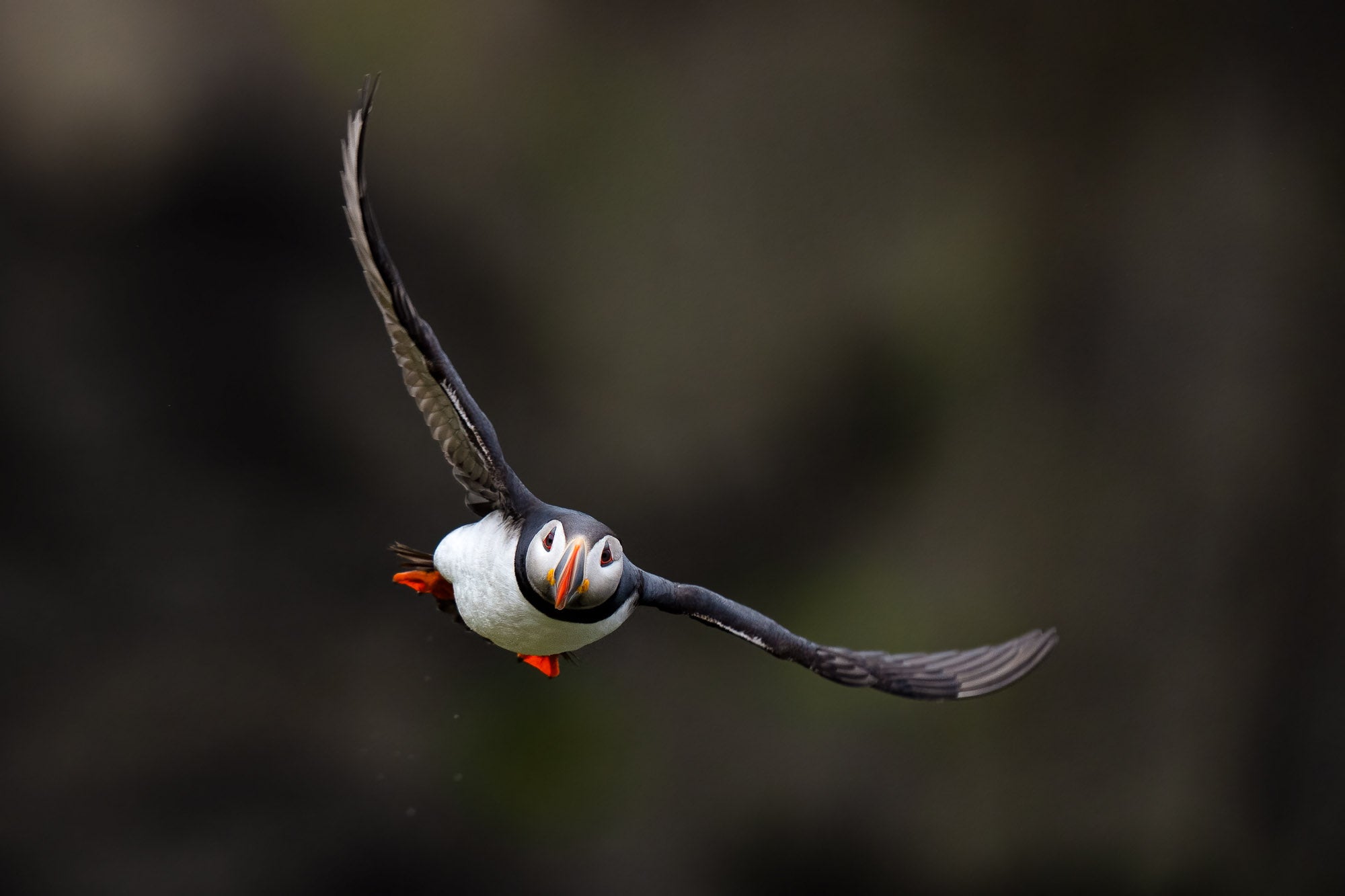 Photo by Colby Brown. Sony Alpha 1. Sony 400mm f/2.8 G Master. 1/3200-sec., f/2.8, ISO 640
Bonus Tip: Become An Expert On The Species
To be able to photograph wildlife encounters, you'll need to become an expert in the species. "You really have to do your research when it comes to photographing and learning about the creatures, whether it's their habitats they live in, or it's the time of year to visit different places around the world." It's also critical to understand the animals' behavior in order to keep from disturbing it with your presence and to keep yourself safe. An alternative is finding a wildlife photography tour or workshop that takes you to these locations and has done the research in advance. These tours can help you achieve your goals in a more feasible manner.
One Of Colby Brown's Favorite Wildlife Photography Moments
"The most special and intimate wildlife experience that you'd get on the planet is always going to be photographing the larger apes. Such as photographing silverback gorillas in East Africa. There's just something unique about those creatures, they share so much genetically and just personality wise with human beings in terms of how they interact and engage, how they have cognitive thought, all sorts of pretty amazing things. It's just something special, I think. I've been photographing those silverback gorillas in Uganda for almost six years now and every time I come away with a giant smile on my face because it's so special and so different from pretty much any other species on the planet.
Photo by Colby Brown. Sony Alpha 9. Sony 100-400mm f/4.5-5.6 G Master. 1/640-sec., f/5.6, ISO 1600
For gorillas these days, I'm using the Sony Alpha 1. In the past, I've used the Alpha 9 series as well as the Alpha 7R series. Initially, I went in with the expectation that I needed a really long lens. I thought I might want to use the Sony 100-400mm f/4.5-5.6 G Master or the Sony 200-600mm f/5.6-6.3 G. But the challenge I realized is that you're shooting in a dark or dense canopy at times, and for those low light situations, I needed to have faster glass. I learned that the best lens for that is more like a 70-200mm. So I use both the Sony 70-200mm f/2.8 G Master original and the Sony 70-200mm f/2.8 G Master II version that just came out, those are my lenses of choice for that particular set up. They're fast enough to work well in low light. They're incredibly sharp, they just check all the boxes for what I'm going after."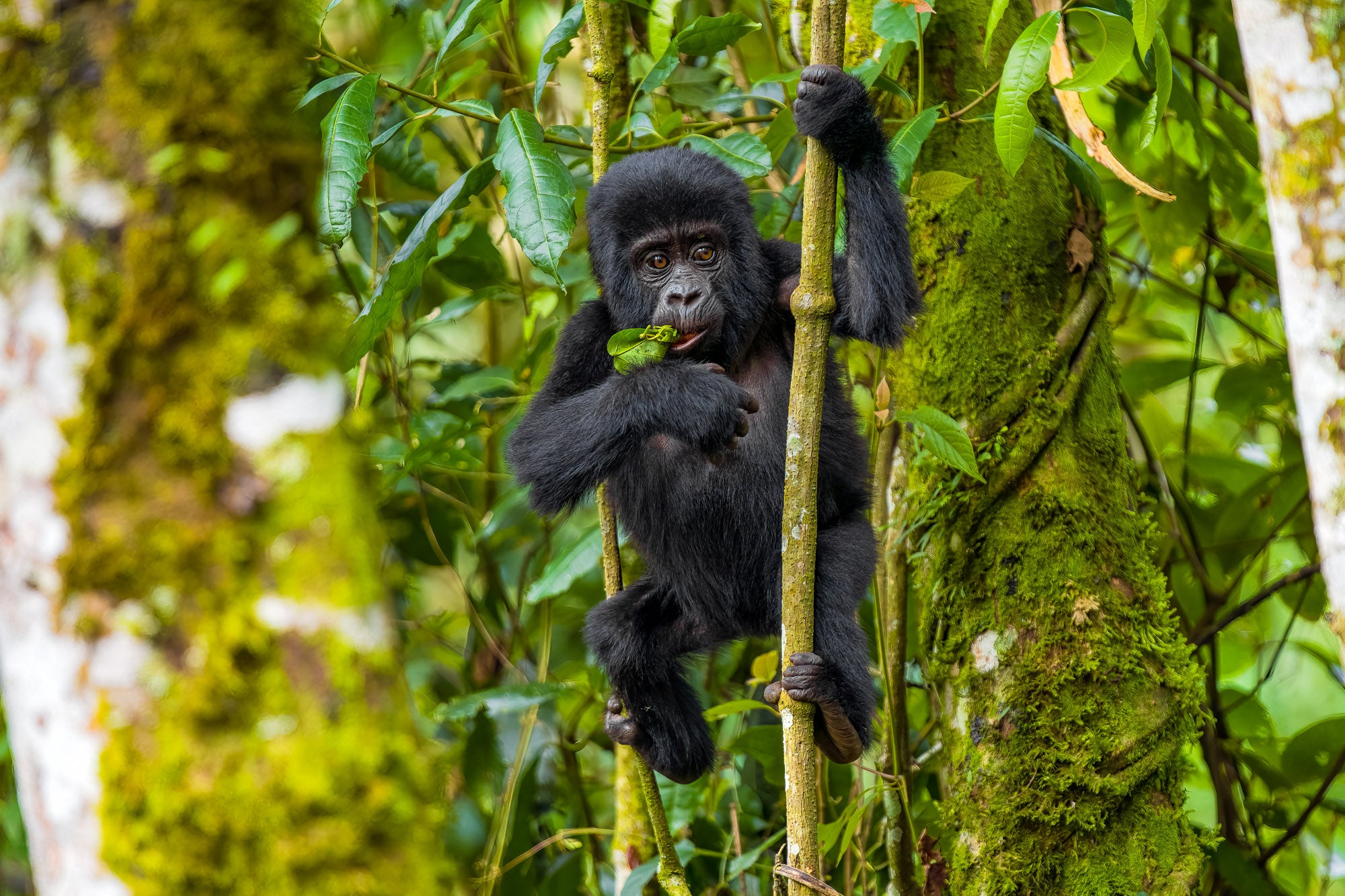 Photo by Colby Brown. Sony Alpha 7R IV. Sony 70-200mm f/2.8 G Master. 1/1000-sec., f/3.2, ISO 1600
See more of Colby Brown's work on his website and on Instagram @colbybrownphotography. Want to travel with Brown and photograph epic wildlife? He leads a series of incredible wildlife focused workshops around the world to destinations such as Uganda, Brazil, Namibia and Alaska.