Emily Byers (@emilybyersphotography) is a pet, family, portrait and real estate photographer. Since she's typically shooting on location at events or in a studio, the current situation has halted her work and kept her at home. After several days of staying put and not taking photographs, she decided to try something out using only what she already had at home. She pulled out her Sony Alpha α7R III and a macro lens and dove headlong into another visual world.
See how this Sony photographer captured this colorful water droplet photo while in social isolation, and see if you can create one of your own.
"I was starting to do things around the house that I normally wouldn't do to fill my time. I took apart all of the wires in a computer and re-wired them, I've organized cables. Suddenly I realized it had been almost a week since I had taken any photos. I couldn't handle it anymore and on the fly decided to try my hand at capturing the perfect water droplet."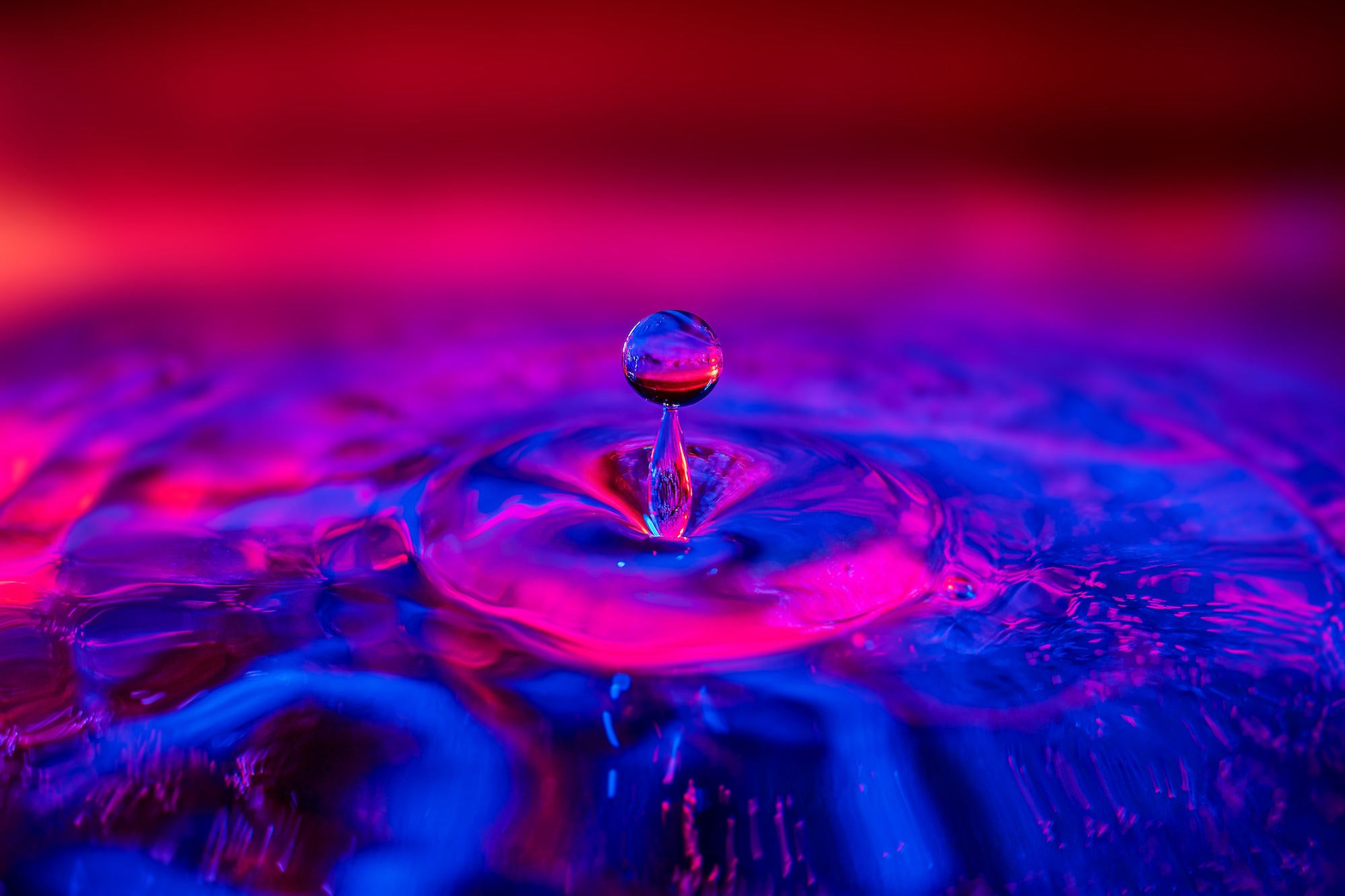 How She Did It
Byers used the Sony α7R III to capture her water droplet image, and you don't have to have a macro lens to do it. In addition to the Sony 90mm f/2.8 G and 50mm f/2.8 Macro lenses, the Sony 24mm f/1.4 G Master works well for close-up shots like this (see more about close-up wide-angle in this article by Robert Evans). She used a Godox trigger and two AD200 flashes along with the gels that came with them.
"First I put a glass cooking pan on my piano bench and filled it with water. I wasn't sure what to use to make an actual drop in the water, but then I came up with the idea to use my Rocket Blower that's typically for keeping dust off my camera sensor. My camera was in manual focus, so I had to have the Rocket Blower in view. Once I had it in view and knew it was in focus, I would raise it vertically and then try to do little drops."
"It was really challenging to get the drop just right. If I pushed too hard, the water would come out in a stream. If I pushed too lightly, the water would get held up and drop inconsistently so I couldn't tell when the drop was coming. I had to practice, take test photos and adjust the light and gels until I got it all right where I wanted it to be. I ended up not using the trigger and just held down on the shutter button and the flashes kept up at 10 frames per second. I ended up taking about 400 photos until I got it right."
If you're looking for something to photograph at home, take a stab at capturing your own perfect water droplet using what you already have. Byers gives this advice for those trying to find their creative outlet right now.
"I would say you have the time now, so use whatever you have available. No one is judging you, no one is looking. Even if you have to bend the rules of photography a bit, now is the time to do it."