Raymond Stiehl (@raymondstiehl) is an adventure and landscape photographer in the Pacific Northwest. His portfolio features ultra-sharp, larger-than-life landscape images that can only be described as breathtaking. By focus-stacking, Stiehl makes his images pop with crystal clear sharpness of the often vividly-colored foreground and background. He created this image of Mount Rainier while hiking and we connected with him to learn more about it. Below he explains how he made the image from a pair of exposures taken with his Sony Alpha 7R III and Sony 24-70mm f/4 lens.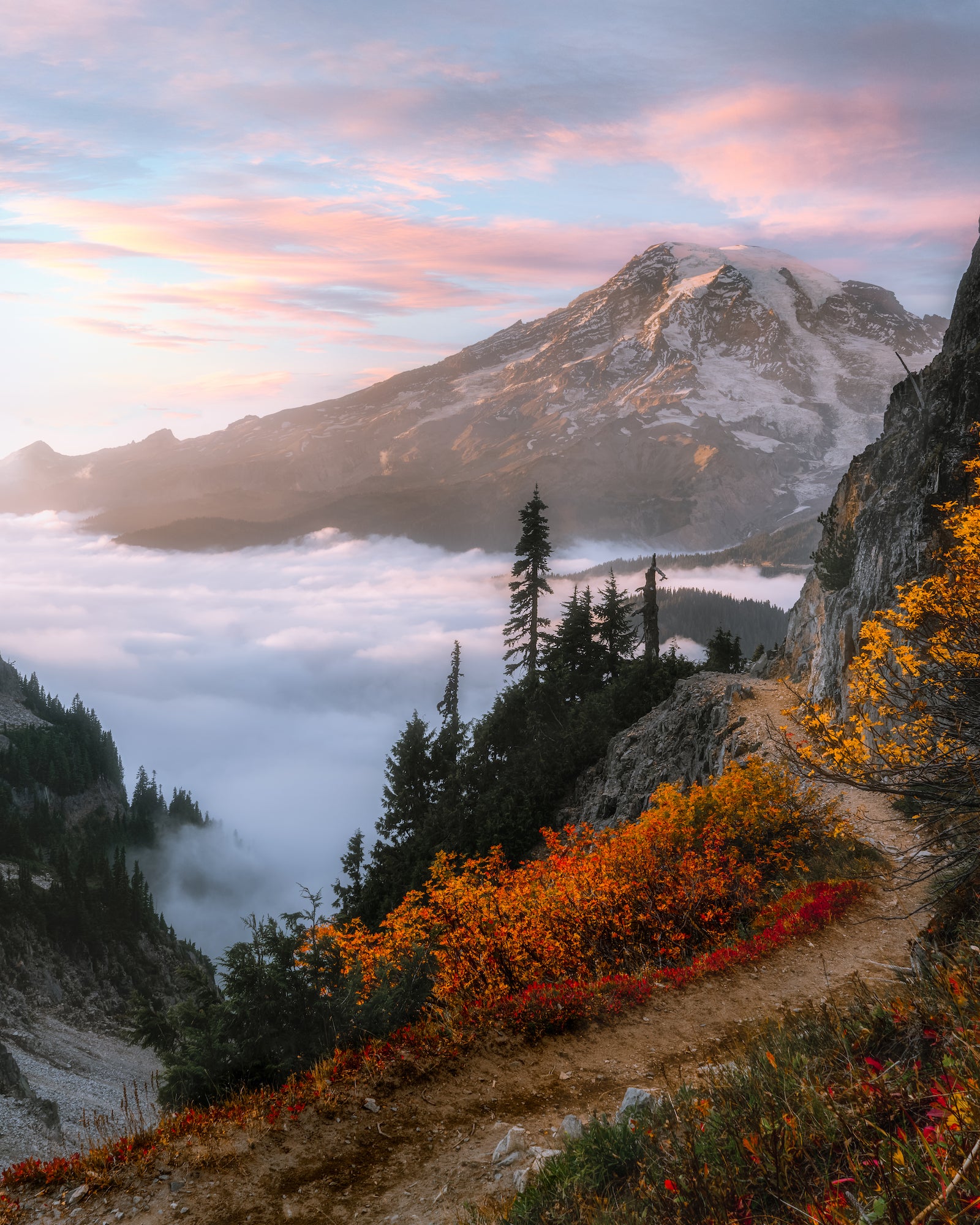 Photo by Raymond Stiehl. Sony Alpha 7R III. Sony 24-70mm f/4. 1/8-sec., f/14, ISO 50
Adventure & landscape photographer Raymond Stiehl shares how he made this image using a simple two-shot focus-stacking technique and his Sony Alpha 7R III & Sony 24-70mm f/4.
The Scene
I feel very fortunate to live in such a beautiful area surrounded by mountain ranges, rainforests, and hundreds of miles of rugged coastline. Growing up I have always lived within sight of Mount Rainier and I have always loved this mountain. Mount Rainier is so massive that each year I always plan to explore a new section of this mountain to see a new angle and the different terrain this place has to offer.
I set out that day to explore a ridge on the Southern Part of the park. I had explored some parts of this area but I had my sites set on getting as high as possible to get a different vantage point than I had been to before. I didn't have any specific composition in mind before I started my hike, so I was keeping my eye all around me for interesting angles and compositions on my hike up the trail.
The Gear
My typical camera setup is two Sony Alpha 7R III cameras. I have absolutely fallen in love with these cameras as they offer both the megapixels I need, and fantastic dynamic range. My lenses I bring with me to any hiking adventure are the Sony 12-24mm f/4 G, the Sony 24-70mm f/4 and the Sony 70-300mm f/4.5-5.6 G. These three lenses offer a lightweight option for miles of hiking but also cover a huge array of focal lengths I need.
How I Got The Shot
While hiking along this ridge I really loved how the trail wrapped around the ridge giving me this unique angle of the mountain. The fog was rolling in covering the valley below and the sky started to light up. I knew this was going to be a pretty spectacular evening. Instead of continuing up the ridge, I decided to watch the sunset along this part of the trail. This particular shot I needed my medium focal zoom lens so I went with the Sony 24-70mm f/4. I shot this image right at 24 millimeters with an ISO of 50. While the sun was setting, I still had plenty of light to keep my ISO low to have optimal image quality.
Post-Processing
For this image I did a two-shot focus stack. I focused once on the trail and one other frame on the mountain itself. By combining these two images I was able to get complete sharpness throughout the frame. I enhanced some of the highlights in the left side of the image with luminosity masking.
See more of Stiehl's work on Instagram @raymondstiehl.