Remo Demont (@remodemont_photography) is a passionate landscape and astroscape photographer. "On one of my photo adventures last summer, my goal was to capture a mountain edge near Lenzerheide in the Swiss Alps. I set off with my photo equipment and a tent, and got this sun star during sunset." The image was made using a simple focus stacking technique. "Focus stacking" tends to conjure up visions of shooting a dozen or more photos and combining them with elaborate Photoshop techniques to generate extreme depth of field. In this case, however, Demont's process was much less complex. Keep reading to see how he made the image.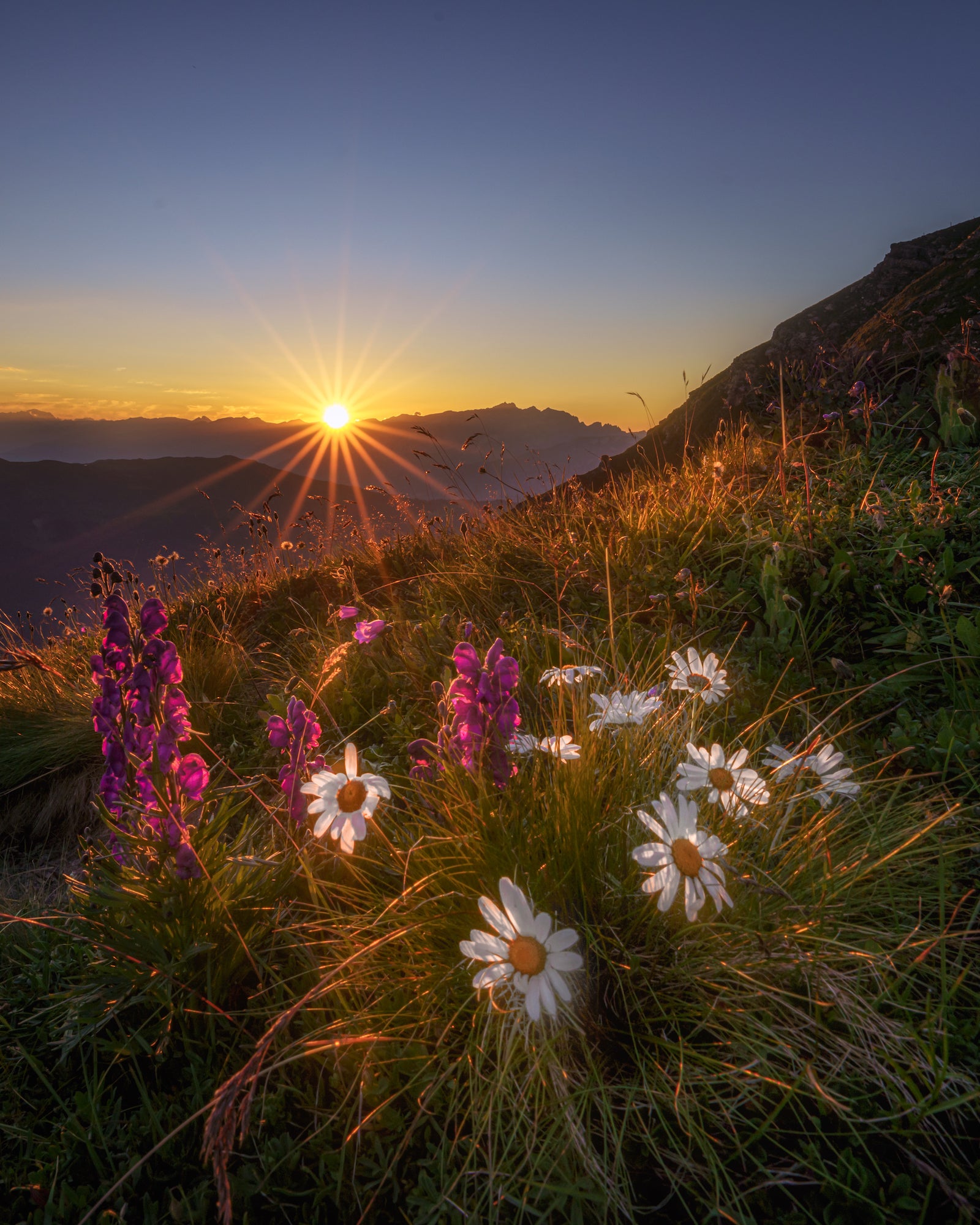 Photo by Remo Demont. Sony α7R IV. Sony 12-24mm f/2.8 G Master. 1/40-sec., f/16, ISO 100
See how landscape photographer Remo Demont used focus stacking to capture this beautiful sun star in the Swiss Alps with his Sony Alpha 7R IV and Sony 12-24mm f/2.8 G Master.
Getting The Shot
Demont used the Sony Alpha 7R IV paired with the Sony 12-24mm f/2.8 G Master lens to capture the image. "I placed my tripod in front of the flowers and established my composition," he explains. "To assure the entire image was sharp, I worked with focus stacking by taking a shot with the foreground in focus and then taking one with the background in focus. I waited for just the right moment before the sun went down and the flowers appeared in this beautiful light."
"I hadn't actually had this lens very long," he says, "but I was immediately impressed by this sun star. I took the shot at 14mm and 1/40-sec, f/16 and ISO 100. While I was taking the photos, I tried different apertures for the sun star so I would have options to choose from when I was looking at them back on my computer at home. Editing the photo was easy. First I adjusted the lights in Lightroom and then in Photoshop I edited the focus stacking and merged the images together."
See more of Remo Demont's work on Instagram @remodemont_photography.
Join Alpha Universe and complete your public profile. It's free and you'll have a chance to be featured on Alpha Universe! Click here to learn more.