Lizzy Gadd (@elizabethgadd) is a self-portrait photographer and member of the Alpha Collective. She combines self portraits and landscapes to create beautiful and compelling imagery. She recently captured this stunning self portrait in front of the aurora borealis with the Sony Alpha 7R IV and Sony 12-24mm f/2.8 G Master lens. We connected with her to learn more about how she captured it – read the story behind the shot below.
Self-portrait artist Lizzy Gadd takes us inside the story behind her dramatic photo under an aurora, made with the Sony Alpha 7R IV and 12-24mm f/2.8 GM.
Photo by Lizzy Gadd. Sony α7R IV. Sony 12-24mm f/2.8 G Master.
The Scene
Gadd was in Alberta in April when she received notifications that there would be an aurora show that night. She and her partner decided to drive out to the Badlands of Alberta where the sky would be clear to see if they could capture anything. "We were kind of on the edge of a huge ravine that goes down into the Badlands," explains Gadd. "We just camped out in our truck there, waiting to see what would happen. At about 1:30 in the morning, all of a sudden the sky just lit up."
Setting Up For The Shot – Trial & Error
Setting up for the shot would prove to be a challenge because of the weather and also their location next to the ravine. Gadd wanted a clean shot angled low and had to get creative to make it happen. "I like using a wide zoom for opportunities like this," says Gadd. "To get the photo, I was trying to angle it down low so that it was just the ground and then me and the sky with no other distractions. I really like a clean photo like that for my work. But it was so hard to get the camera low enough. The only place that I could find to get the camera positioned well was in an actual gopher hole. With the camera inside the gopher hole, I was able to balance it just right at the right angle and set it up." Gadd put her Alpha 7R IV in time-lapse mode to shoot a sequence of photos without having to touch it again.
"It was a bit windy out and pretty cold. I was dreading taking a photo, but I knew that this was a once in a lifetime opportunity. It's so rare that we get an aurora show this far south. I changed into the dress and we lit the candle, or rather we tried to light the candle hundreds of times. We tried to get this specific image for about two hours. It was a lot of back and forth. When I got too cold, I put on the warm coat and gloves and everything. Then after I warmed back up and the wind would die down a bit, we would try again with the candle. It was a lot of trial and error, but we got it eventually." Gadd's perseverence paid off as she says, "This is one of my favorite photos."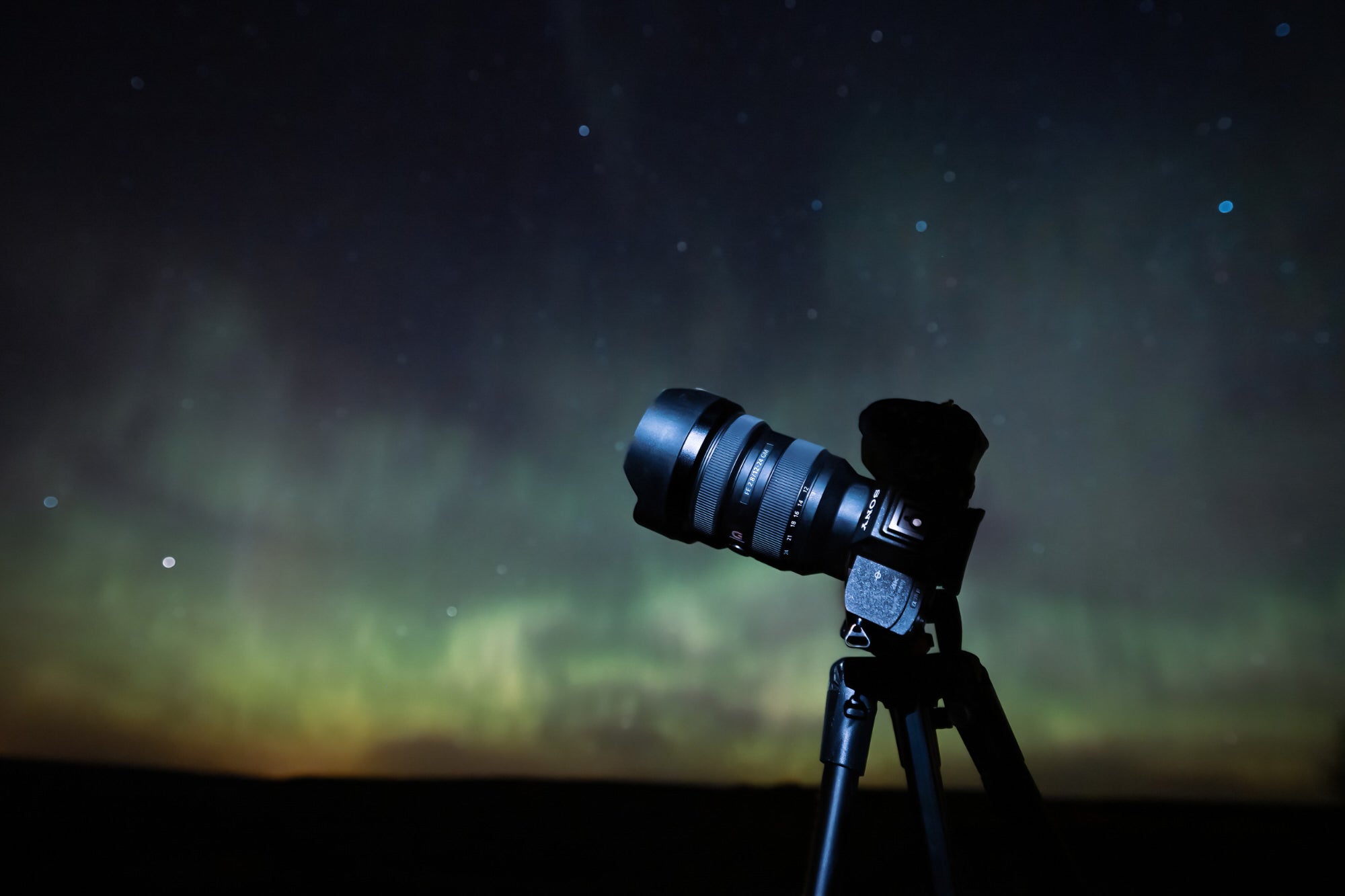 Nighttime Photography With The Sony 12-24mm f/2.8 GM
For years, Gadd has been curious about nighttime photography and creating images like this one. "I've had this specific image, among others, on my mind. I visualized them for years, but just never had the ability to make a really clean, clear, non grainy photograph of that. I have used a 16-35mm f/4 lens for nighttime work, but I could never create as good a photo as I wanted shooting at nighttime with that lens. I've been waiting for a lens like the 12-24mm f/2.8 G Master for years. My exposures have been so much shorter which makes it easier for me to stay still when I'm doing my self-portraits. It makes a huge difference and I can't believe how sharp and clear it is."
Gadd loves to create moody photos and finds that the darkness adds that element of mood. Since getting it, she's been using the 12-24mm f/2.8 G Master in a variety of low light situations like ice caves, mountain caves and dark canyons.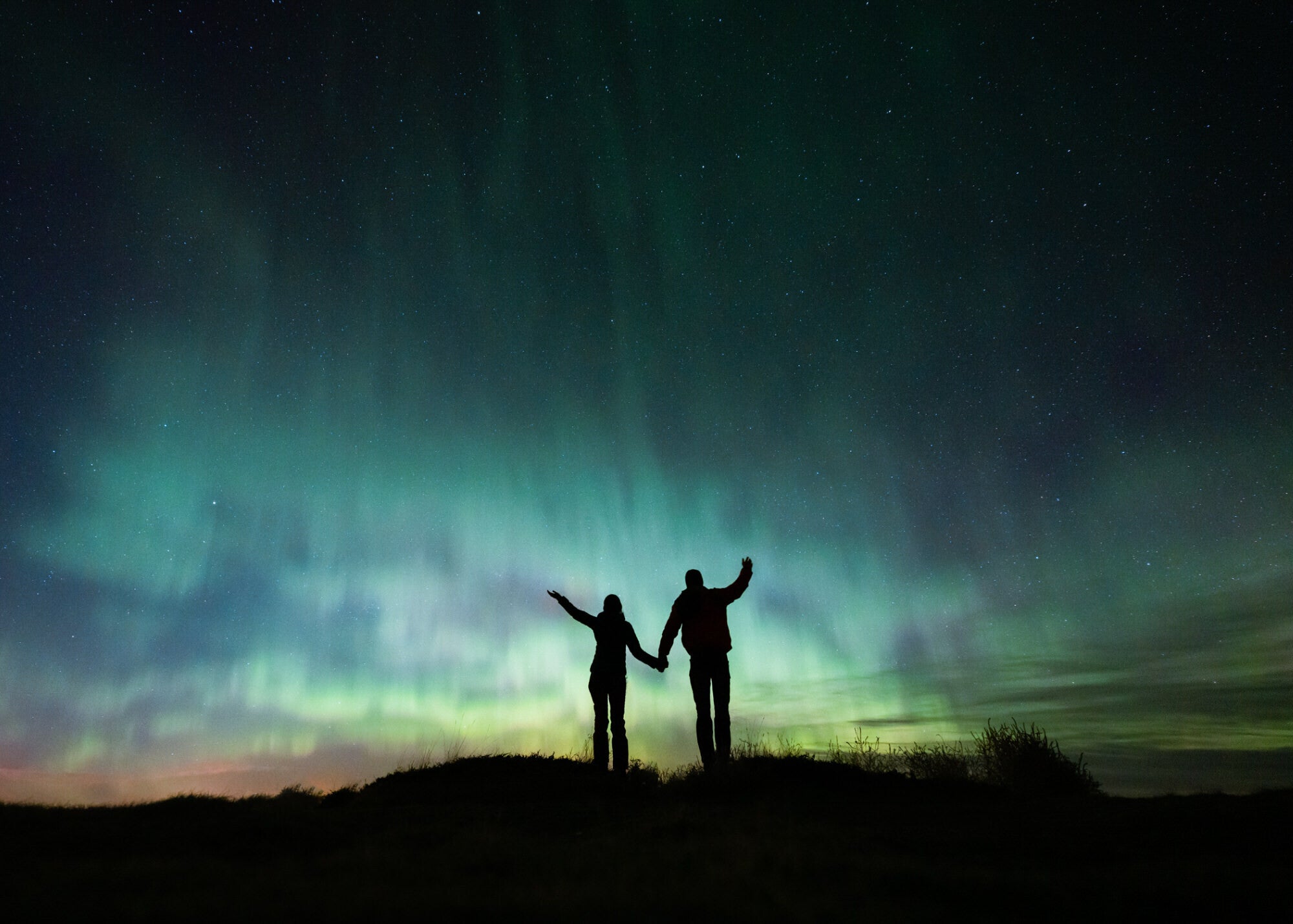 Photo by Lizzy Gadd. Sony α7R IV. Sony 12-24mm f/2.8 G Master.
"I love finding dark places but then adding in the element of light," she says. "I really like dark areas because I can find where the light's coming in, and figure out how to use it. When I hike with my friends they comment that they never see me pulling out my camera during the day. The only times I ever pull out my camera in the daytime are on the darkest, stormiest days with big black clouds. There's just something about that, that draws me in a lot more to tell a visual story, than just the broad daylight would."
The dark skies and moodiness of the aurora were a treat for Gadd, and with the glowing sky she decided to add the candle to pull the entire image together. "Like holding your own light to match the light in the sky," she says.
Creating A Clean Composition
As Gadd mentioned, she prefers clean compositions that are uncluttered. She uses the positioning of her camera and lens to simplify and declutter the scene. "For me, it draws you in more, almost like a story. There's nothing to distract you from just seeing the subject, which is usually me since most of my work is self portraits. It's just the subject interacting with their surroundings in nature and connecting with nature. It just makes me feel like I connect more with the photograph when there's nothing in there that really distracts from the story in front of me."
"It took me quite a while to get to this point too. For 10 years of taking these photos, I often thought I was taking pretty clean photographs, but over time I realized how cluttered my old work was. Gradually over time, I kind of narrowed my vision down. I look at a scene and I go, 'What can I take out that would be distracting?' 'What would make the main subject pop more?' I think over time I've developed the ability to make a pretty clean photo. I'm constantly evaluating my photography and I'm trying to learn all the time."
See more of Gadd's work on Instagram @elizabethgadd.