Bob Riach (@bob_riach) is a nature photographer based in the UK. He and another nature photographer, Jo Bird (@joannebird333), make up Jigsaw Photography, and many of their outdoor photographs and videos have been featured in national and regional media publications. We came across this mid-air red squirrel photo Bob took using the Sony Alpha 1 and Sony 100-400mm f/4.5-5.6 G Master, and connected with him to learn more about the shot.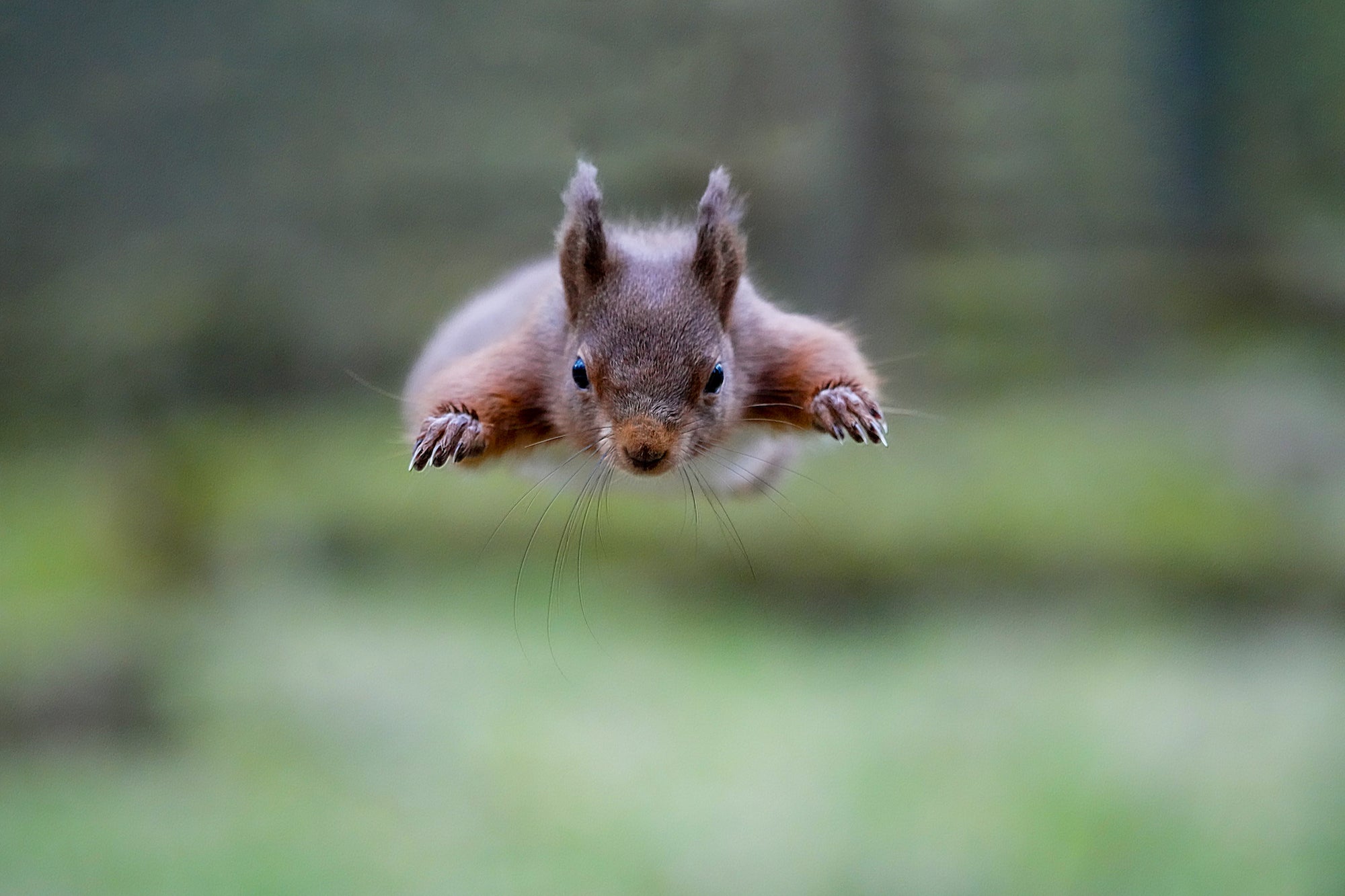 Photo by Bob Riach. Sony Alpha 1. Sony 100-400mm f/4.5-5.6 G Master. 1/2500-sec., f/5.6, ISO 10000
Nature photographer Bob Riach shares how he captured a photo of this red squirrel in mid-air with the Sony Alpha 1 & Sony 100-400mm f/4.5-5.6 GM.
The Scene
Nature photographer Jo Bird and I were the first people in the UK to receive the new Sony Alpha 1 Camera. Sony UK asked us if we would send some sample photos using the new camera. Under the UK lock down rules we were allowed to travel as we have a professional photography company and also had a written request from Sony UK.
Jo Bird and I had booked a red squirrel hide in North Yorkshire England in 2020 that we canceled due to lock down. However, we paid the owner so as to help him financially during the difficult lock down period that has affected his business. We made contact and based on the Sony UK request it was agreed that we could visit as the area is covid safe with no humans around the area for several miles. These photos were taken on some private land in the Yorkshire Dales.
It was so exciting to get out with our cameras. We were excited when driving just to see the countryside and nature after not being able to travel. We thought it would be great to share these pictures so that people that are not able to get out into nature can see them, especially people that are self-isolating. It was a five-hour round trip leaving home at 6am, but well worth it.
The native red squirrel in Britain is rare since the introduction of the grey squirrel in the eighteenth century. The population of the red squirrel declined due to disease spread by the grey squirrel. The red squirrel is protected in most of Europe. It has orange-red fur ranging from vivid ginger to dark brown. The long tail helps the squirrel to balance when jumping from tree to tree. The red squirrel is full of character and amazing to watch although they are wild, they were quite friendly.
Pushing The Sony Alpha 1 To Its Limits With A Telephoto
We really wanted to push the ability of the new camera to its limits so spent some time photographing the squirrels jumping. These are really hard photographs to capture as they are so fast. We are really pleased with the results – they look like ninja squirrels!
Jo Bird and I have the same Sony cameras and lenses. We used the new Sony Alpha 1 and had a Sony Alpha 9 II in the bag as a backup. We used a Sony 400mm f/2.8 G Master as it was dark in the forest when we arrived. This lens works well under low light. We switched to the Sony 100-400mm f/4.5-5.6 G Master when the squirrels got used to us, as they started to come close so we could no longer get focus with the Sony 400mm f/2.8 GM.
To take the pictures of the squirrel flying nuts are placed on a tree trunk close to a tree branch a few feet away. The squirrels jump from the branch onto the tree trunk to get the nuts. The camera is set up on a tripod behind the tree trunk. Jo held her hand up in an area that I expected the squirrel to be in the air when jumping. I focused on Jo's hand then locked the focus. When the squirrel jumped, I held the camera trigger down taking a sequence of photos. The Sony Alpha 1's 50.1 MP sensor allows continuous bursts at up to 30 fps. to capture the instant when the squirrel passed into the locked-off zone of focus. There was little editing on this picture other than cropping. The Sony Alpha 1's 50.1 MP sensor allows cropping with little, if any loss of quality.
Join Alpha Universe and complete your public profile. It's free and you'll have a chance to be featured on Alpha Universe! Click here to learn more.