Wedding photographer and Sony Artisan Of Imagery Kesha Lambert has documented hundreds of weddings to date for couples from all over the globe. With all of that experience, Lambert has come to know what to expect throughout the wedding day. While each couple and their special day is different, there are certain moments she can anticipate and be ready to capture – like the one captured in the photo below. We connected with Lambert to learn more about the story behind this photo and how she created it with her Sony α9 II and Sony 85mm f/1.4 G Master.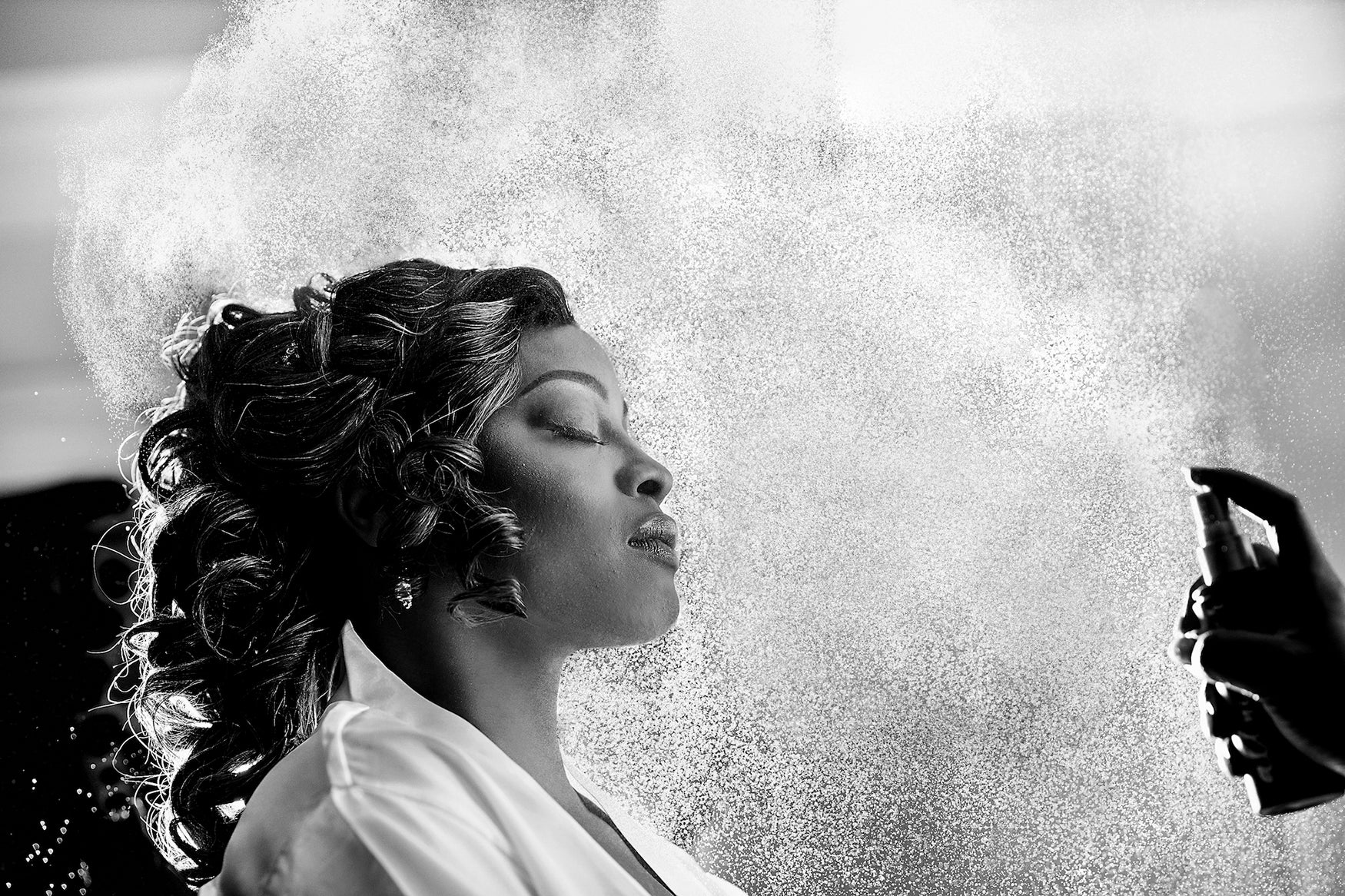 Photo by Kesha Lambert. Sony α9 II. Sony 85mm f/1.4 G Master. 1/200-sec., f/3.2, ISO 640
Anticipating The Moment
This photo was captured on the wedding day in the bridal suite. Throughout the day there are many special micro moments like this that repeat across almost every wedding that I photograph. Learning when to anticipate these small moments is critical for creating images that truly stand out. I have always loved trying to document the moments of quickly unfolding magic on wedding day, it's a challenge that never gets old for me.
As a wedding photographer I knew that at some point in the makeup and hair application process there would be a finishing spray moment. Makeup setting spray or hair spray; finishing touches often involve mist. I love how lighting particles in the air adds dimension so I set up lights in anticipation of this happening.
The Gear
For a sharp capture of both the bride and the moving fine particles in the air, I used the Sony α9 II and 85mm f/1.4 G Master, a combination I am currently obsessed with. The α9 II is lightweight yet durable and offers intelligent features and functionality, all of which are necessities for weddings. I love the design and build of this camera. One of my favorites is the flow and accessibility of the joystick.
I chose to use the 85mm f/1.4 G Master because, like many portrait photographers, I love this focal point. Because of the compression, this is my go-to lens for any face-focused imagery. I used the 85mm GM lens for this particular shot because it is insanely sharp and has virtually no distortion.
How She Got The Shot
For this photo, I chose my focus area using the joystick. In this instance I went with flexible spot focus mode because it was the right choice for locking focus on my subject. I was shooting at 1/200-sec. and at f/3.2 with an ISO of 640.
I put together a two light setup; one light to create rim and backlight the mist and another as fill. I had the Profoto A1 light on my camera and the Profoto B10 with a MagnetMod MagBox off-camera and positioned about five feet away, directly behind the bride's head.
Post-Production
Once I'm done photographing a wedding, I import my photos into Lightroom with the soft light VF Preset from the Modern Pack. I do most of my edits in Lightroom and open them in Photoshop only for edits that fall outside the scope of Lightroom tools, like composites or in-depth skin edits.
This was a five-minute edit. I started by softening the skin using an adjustment brush, and used the spot removal tool to remove small blemishes and clone out a few distracting elements in the background. I then converted the photo to black and white using the B&W all preset from the modern pack as my base. I used an adjustment brush to add sharpness and texture to the mist, lashes and hair, and a graduated filter to play up the direction of the light.