Chelsea Mayer (@chelseamayerphotography) is a photographer focused on wildlife conservation. "I grew up in Huntington Beach, California and graduated from UCLA with a degree in film production," she explains. "While I worked as a photographer and cinematographer in LA for the first half of my twenties, I fell in love with wildlife photography when I landed a job with a whale watching company in Newport Beach. There I filmed and photographed whales and dolphins in addition to working as a deckhand and earning enough sea time to get my 100 ton captains license. I recently moved to San Diego, where I learned to scuba dive and expanded my wildlife photography into the underwater world. This year I earned my divemaster certification, and now I work on a boat that does scuba diving trips to the Channel Islands, as well as great white shark cage diving at Guadalupe Island." We recently came across these close-up carpenter bee images she took with the Sony Alpha 7R III and Sony 100-400mm f/4.5-5.6 G Master lens and connected with her to learn how she captured them. Keep reading as she explains the story behind the shot.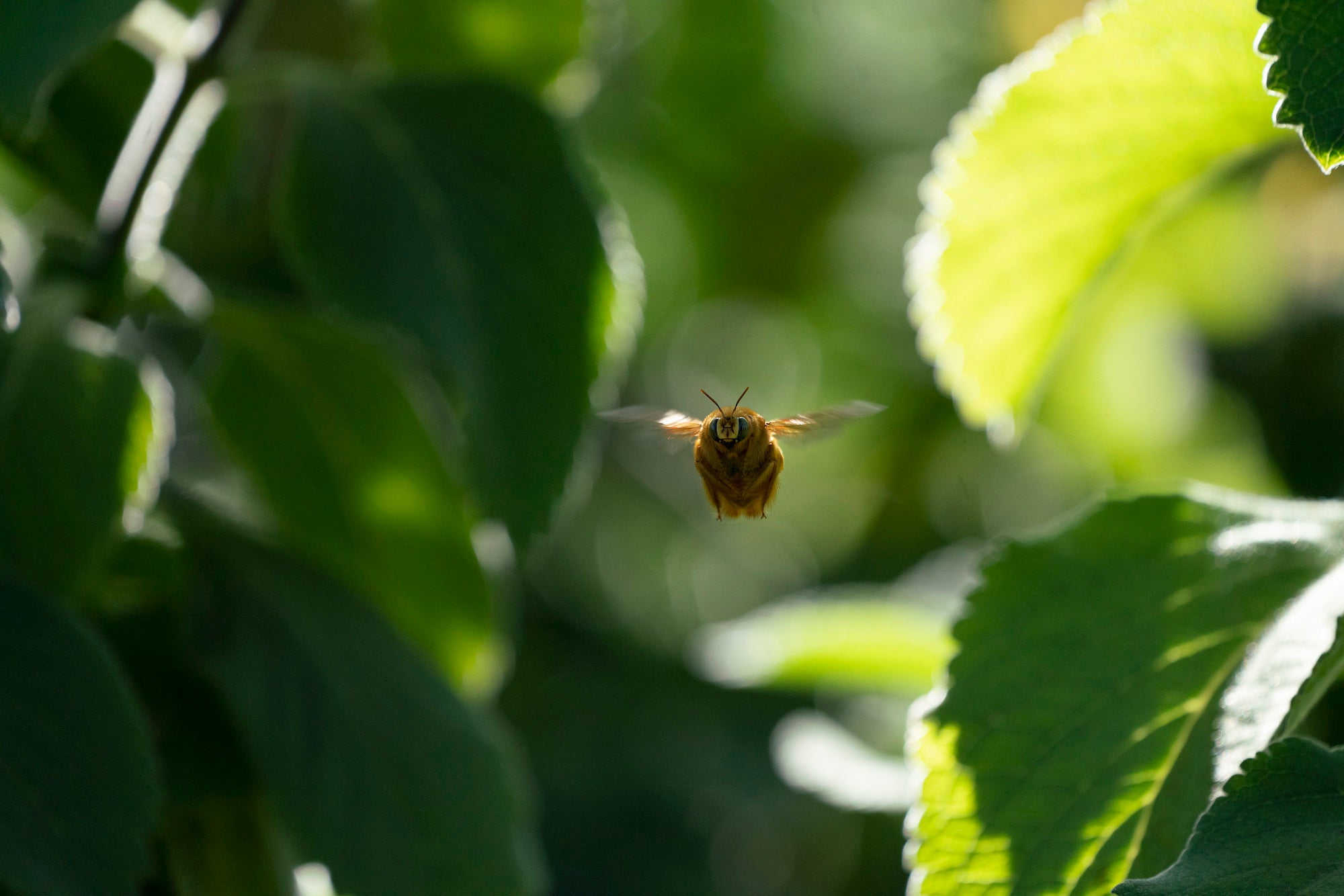 Photo by Chelsea Mayer. Sony Alpha 7R III. Sony 100-400mm f/4.5-5.6 G Master. 1/1600-sec., f/6.3, ISO 2000
Wildlife photographer Chelsea Mayer shares how she captured these close-ups of a carpenter bee with her Sony Alpha 7R III & Sony 100-400mm f/4.5-5.6 G Master.
The Scene
This was actually my first time out with my Sony setup! I wanted to familiarize myself with the new camera and test out its autofocus, so I went to a public park in Huntington Beach to shoot one of my favorite subjects: hummingbirds. But my mission was immediately derailed when I saw this beautiful male valley carpenter bee! The males of this species are a stunning shade of gold, and they ceaselessly patrol their small territories in hopes of attracting a mate. This particular bee landed only twice in the hour or so I watched him, and I was doubly impressed with his dedication when another group of photographers walked by, and told me that he had been buzzing around this same plant all week.
The Gear
I used the Sony Alpha 7R III and the Sony 100-400mm f/4.5-5.6 G Master lens. A super telephoto lens is essential to my wildlife photography, because I'm able to capture closeup shots of animals without interfering with their behaviors. I was amazed by the sensitivity of the Alpha 7R III for this situation as well. I had my ISO bumped way up to compensate for the low light in the shaded garden, and was blown away that the image quality held together with so little noise.
Getting The Shot
This was a tricky set of circumstances that really put my new setup to the test. Because I was essentially just goofing around and trying to push the limits of my camera's capabilities, I used more extreme settings than I normally would have- and they worked beautifully!
The bee was moving nonstop, so I knew if I was to capture him, I would have to do so mid-flight. I settled on a fast shutter of 1/1600, and an ISO of 2000 and aperture of 6.3 to compensate for the low light and high shutter.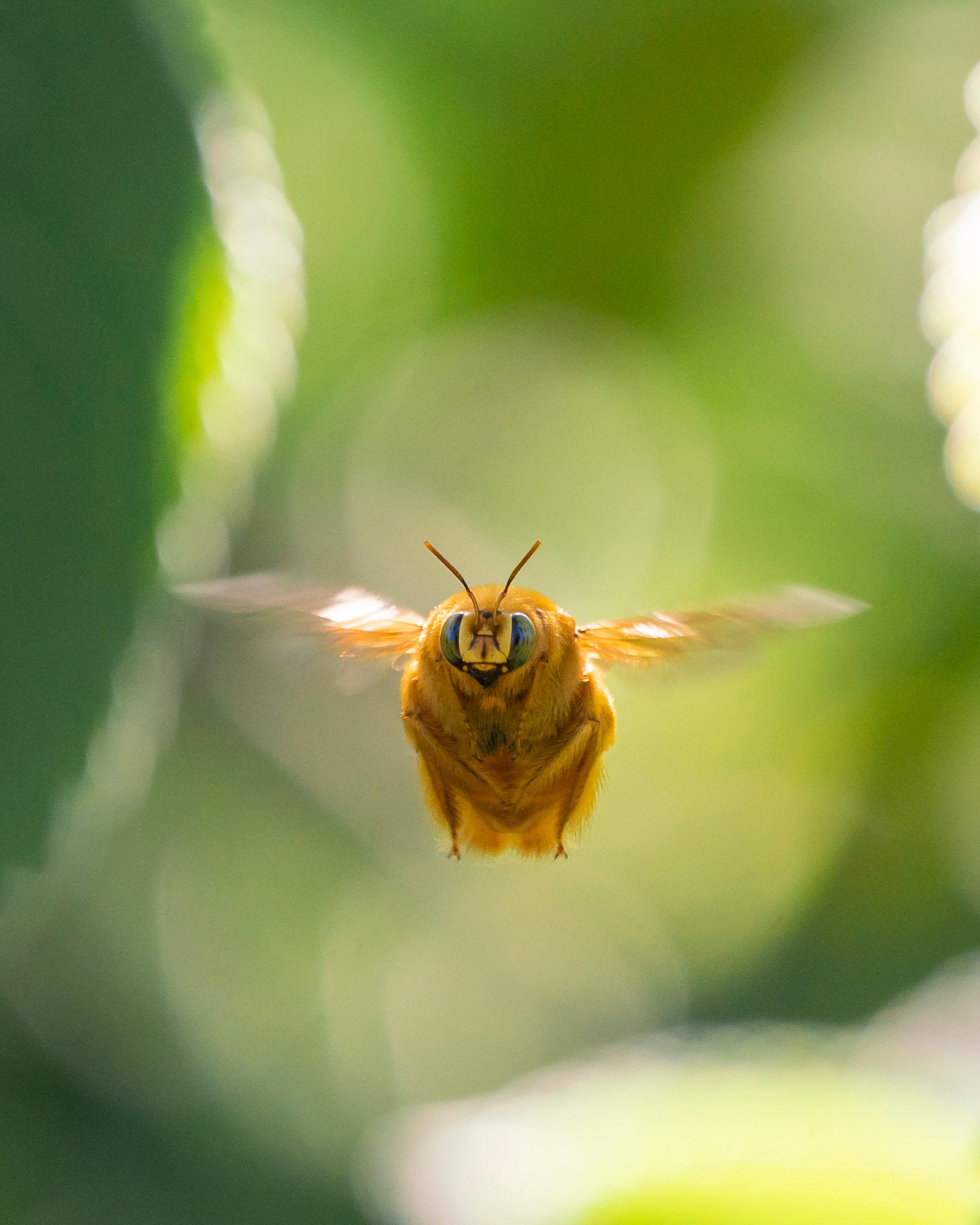 Photo by Chelsea Mayer. Sony Alpha 7R III. Sony 100-400mm f/4.5-5.6 G Master. 1/1600-sec., f/6.3, ISO 2000
Even with a great low light camera, this wasn't an easy subject; the bee was fast and small and moved erratically. I wanted to capture him in as much detail as possible, so I zoomed all the way in, to 400mm, which meant that he was not even in the frame for a lot of my attempts.
After a while I noticed that there was something of a pattern to his patrol. Every minute or so, he would fly facing me through the same little gap in the plants, and with my camera held up to my eye and focused on this spot, I was able to capture a few decent shots of him over the course of an hour. The image featured here was my final attempt. I knew when I reviewed it that I wasn't going to do any better than that, so I finally gave my shoulders and arms a break and turned my attention back to the hummingbirds.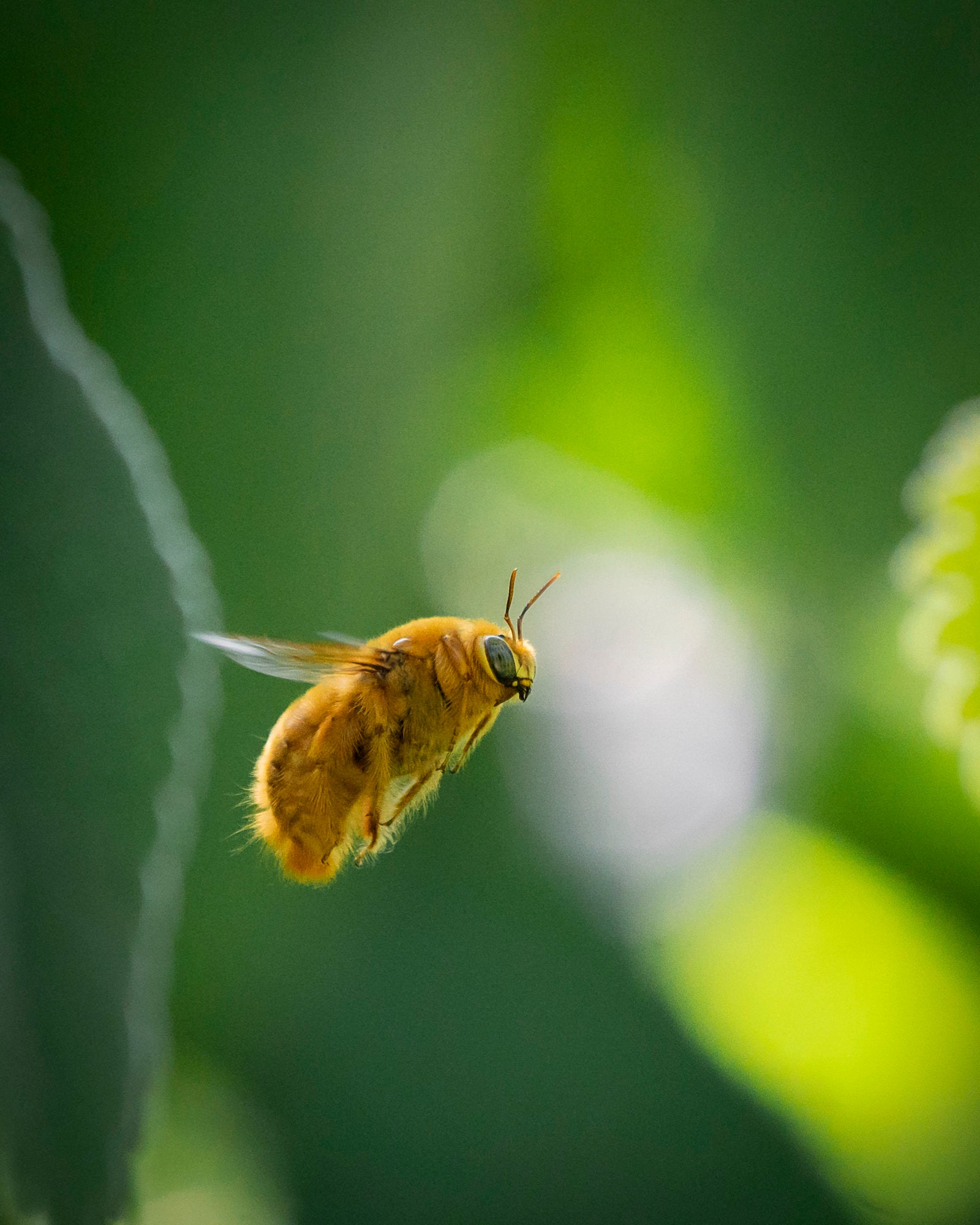 Photo by Chelsea Mayer. Sony Alpha 7R III. Sony 100-400mm f/4.5-5.6 G Master. 1/1600-sec., f/5.6, ISO 2000
The Edit
Adobe Lightroom is my go-to for photo editing. The bee was in shade with a bright patch of sun behind him, so I evened out the lighting a bit, bringing up the shadows and toning down the highlights. I also wanted to emphasize the brilliant gold of the bee, so I turned down the green saturation and messed with the orange and yellow hue and saturation until he looked the way I remembered him in person. I finished by masking the sharpness so that only the bee was in focus, and did a bit of noise reduction to smooth everything out.
See more of Chelsea Mayer's work on her website and on Instagram @chelseamayerphotography.