Kara Nelson (@Sea.Kara.Explore) is a photographer and conservationist from Minnesota. She travels the globe to make stunning images of the natural world, both underwater and topside. She recently went to one of the planet's most endangered places, the Maldives, where she took this stunning photo. The fragile chain of low-elevation islands that make up the Maldives, are in imminent danger due to rising sea levels. Beneath the water's surface, the delicate ecosystem hosts a broad range of majestic animals. Nelson went to the Maldives with a lightweight Sony Alpha camera and lens kit to record this pivotal time in the Maldives' evolution. We recently came across this image on Instagram and were blown away! We sat down with Nelson to learn about the story behind the shot - keep reading below as she explains it in her own words.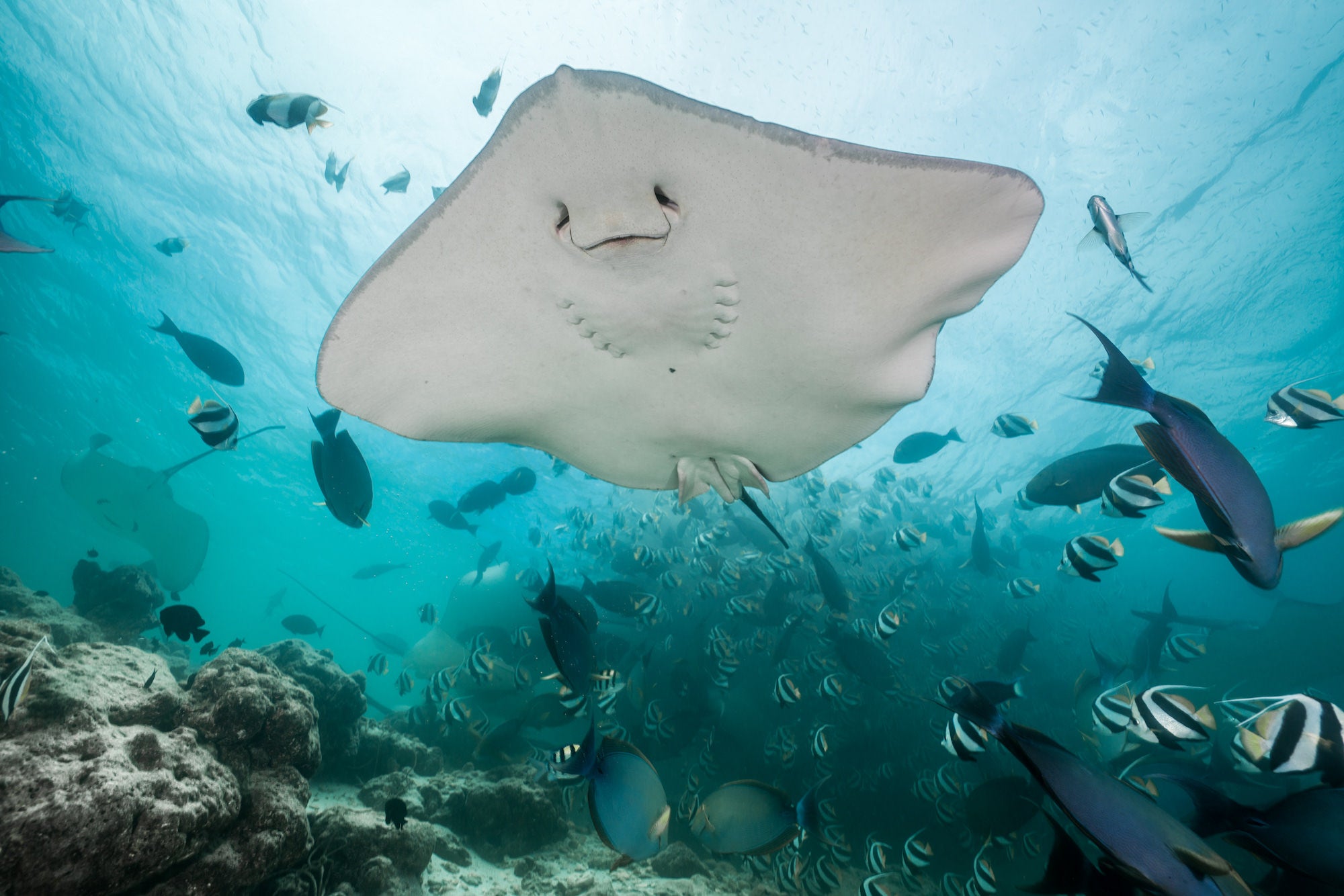 Photo by Kara Nelson. Sony Alpha 7R II. Sony 16-35mm f/4. 1/125-sec., f/8, ISO 200
See how a photographer and conservationist went to one of the most endangered places on Earth to get this beautiful underwater scene.
I take pictures nearly everywhere I go, but I am fueled by the desire to experience and share as much of the natural world as I can. I am most in my element when I am underwater or hiking through new landscapes and enjoy creating a wide variety of images that illustrate how beautiful the natural world is - everything from underwater, wildlife, nature, landscape, travel, and astrophotography. I like to document the many reasons why our wildlife and natural resources are worth protecting.
Diving Into The Scene

The Maldives is known for its manta ray and whale shark sightings among other animals, but it is also one of the most threatened countries due to climate change and sea level rise. Each part of the world has a different look and feel to its underwater ecosystems and I want to be able to explore and document as much of it as I can. I traveled there on my own from the other side of the world, but I was diving with a group of divers I had just met. Before the dive, we had a briefing on the dive site, conditions, and wildlife that you might see. They had said that the nearby jetty was often used by the locals to throw their fish waste from and it was this that attracted large numbers of fish of varying species. Throwing fish waste and ultimately feeding fish can unintentionally change animal behavior, but it is difficult when the local economy relies on the resources without knowing the best management. The possible wildlife sightings in the briefings are never guarantees but plausibilities. There's almost nothing guaranteed in diving other than getting wet. I try to keep an open mind because I never really know what I'm going to see.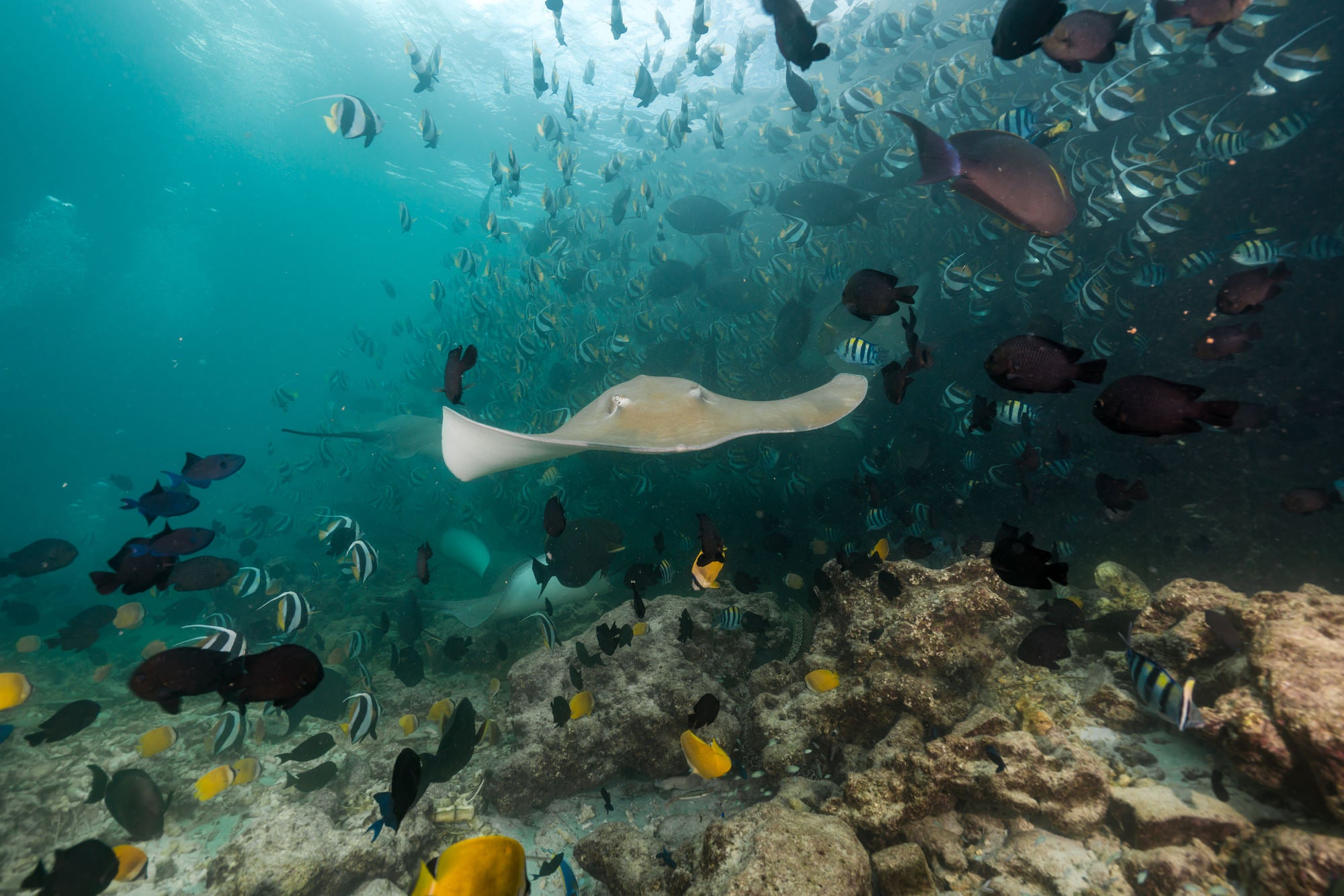 Photo by Kara Nelson. Sony Alpha 7R II. Sony 16-35mm f/4. 1/125-sec., f/8, ISO 200
We dropped down under, and the visibility was a bit cloudy and green compared to other dive sites in the area. We made our way along a steeply-sloping sandy reef with mostly algae-covered coral and coral rubble. The current was moderate on the outside edge of the reef and so some of the other divers used reef hooks on rocks to keep themselves close to the action without having to use up their air supplies quickly battling the current to stay in place. Despite the dive site being seemingly in poor condition, it actually had a huge amount of life. There were dozens of some of the largest rays I've ever seen, triggerfish, reef fishes, moray eels, and even the huge Napoleon wrasse!
For shooting underwater, I just choose my lenses (macro or wide-angle) based on the probability of seeing certain animals or scenes. I use my Sony Alpha 7R II body paired with my Sony 16-35mm f/4 lens when I'm shooting wide-angle underwater. I have always shot with Sony cameras, but I noticed a big change in my photography when I switched from my RX100 II to the Alpha 7R II body. The Alpha 7R II's 42.4-megapixel sensor allows me to capture more detail as well as allow some room for cropping at times while still being able to create prints. I love this lens for underwater seascapes and larger marine life because it has great flexibility to allow you to zoom if needed. I prefer the 16-35mm range because I think it captures what the eyes naturally see underwater with less distortion. In this scene, I was able to keep it at 16mm because of all of the action in the frame and also utilize the built-in image stabilization as I was moving through the water.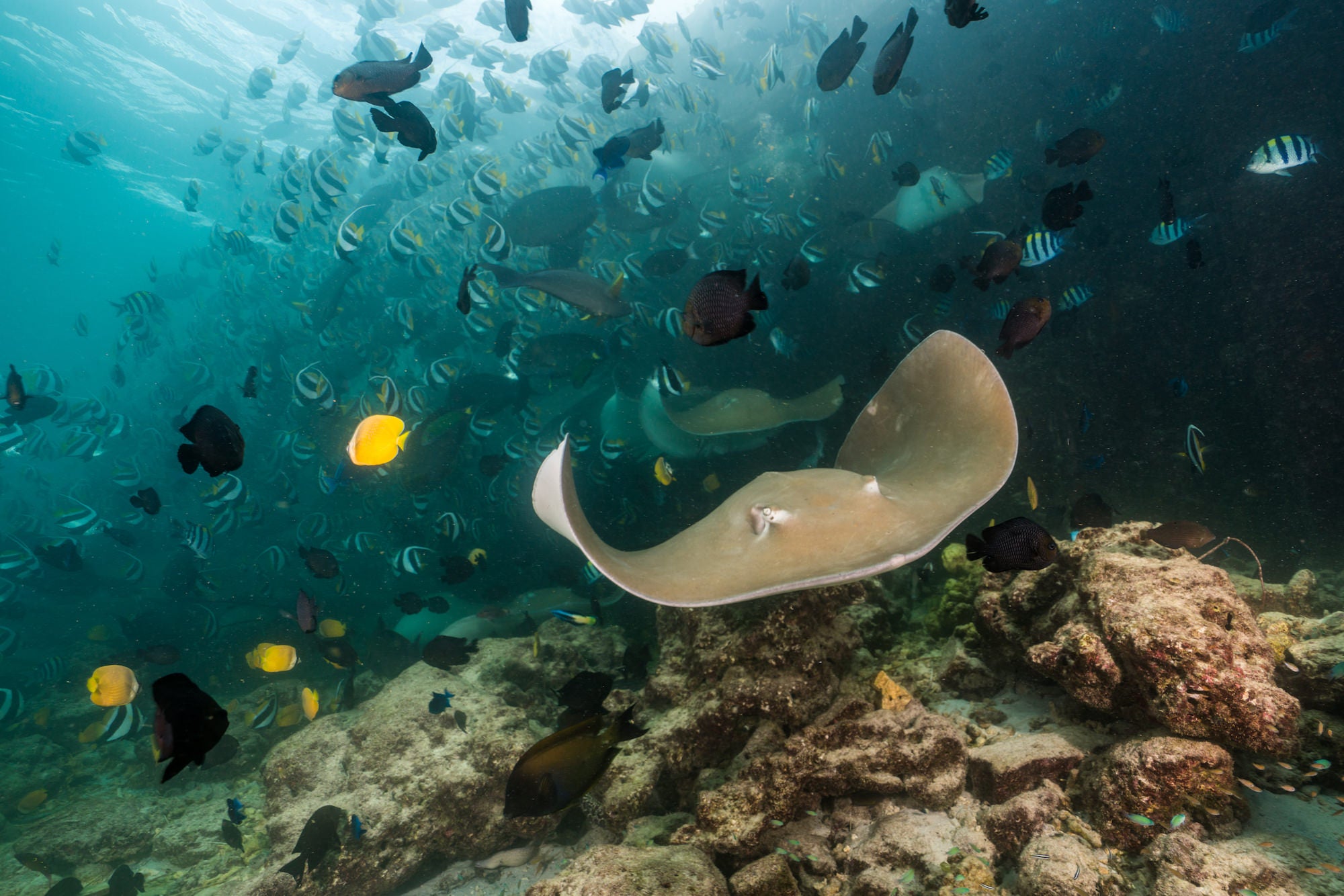 Photo by Kara Nelson. Sony Alpha 7R II. Sony 16-35mm f/4. 1/125-sec., f/8, ISO 200
Planning Ahead To Be Able To React Quickly

Taking pictures underwater can be quite complex and the amount of equipment needed increases significantly from land-based photography. In order to protect my camera setup from the pressures of diving, I use an aluminum Nauticam housing which is built specifically for the Sony Alpha 7R II and allows me to access all of the buttons and features of my camera and lenses. As you dive underwater, you start to lose colors of the visible light spectrum and it is why I have two Sea and Sea YS-D2J strobes that bring back the light and colors. They are connected to the housing with arms and fiber optic cables that send the flash signal from the camera to the strobes. The strobes perform differently in different water clarities as well as ambient light. It's a dance really to get the strobes placed in the right positions as well as the light intensities of each. I manually set the output of each strobe and sometimes it's experimenting with a baseline and dialing it up or down from there.
For this shot, I went to the side of the dive group I was with to position myself in a way that I could be closer to the action as well as to get out of their way so that I wouldn't be the annoying photographer. I kept myself hovering very low to the bottom and swam very slowly with my camera at the ready in front of me. Not only did it allow me to get closer to the fishes, but it also allowed me to have a good angle to shoot upward toward the surface. There were large stingrays swimming all around me and I had to act fast, but intentionally. I cannot do burst shooting with strobes as there is a recycle time between flashes.
Sometimes, the stingrays would swim by fast or take me by surprise and I could not really plan my shot ahead. I always shoot in manual mode underwater, I used autofocus wide, and a focal length of 16mm to make sure I could get as much of the moving action in focus. The aperture was f/8 since I was shooting up towards the late afternoon sun and also wanted to get a greater depth of view. I set the shutter speed at 1/125-sec since I need to shoot below 1/250-sec which is the speed at which my shutter would be faster than my strobes. I was then able to keep a lower ISO at 200 reducing the amount of noise I could've had. I saw this cowtail stingray start coming out from the massive cloud of reef fishes toward me so I had a few more seconds to plan the shot. If you've got one shot, sometimes that's all you need.
Processing Underwater Colors

I try to do very little post-processing because I really want to represent the images as truthfully as I can. However, I wasn't fully satisfied with how the colors turned out in the RAW image. Since the water was a bit cloudy and green, it absorbed more of my strobe lighting and so I wanted to do more white balancing to make the fish colors appear more natural. During my post-processing, I used Adobe Lightroom 6 (standalone) to make color corrections as well as increased the clarity of the subject. My usual workflow is what I used on this shot which was to correct the white balance, blacks, whites, contrast, clarity, shadows, highlights, select colors, and then finish with noise reduction.
See more of Kara Nelson's work on Instagram @Sea.Kara.Explore.