Alpha Collective member Andrew Eggers (@andreweggers) is known for his night sky and astrophotography work. "I'm an avid photographer who mostly shoots landscapes and cityscapes," he explains. "My favorite time to shoot is at night or during sunrise/sunset, and recently I've been getting into timelapsing. I've always been a huge fan of any kind of long exposure photography, whether it's light trails from traffic or the Milky Way in the night sky." You can find great inspiration while scrolling through his work, looking at his technical skills and the creativity he puts into every image. We sat down with Eggers to learn how he worked within the environmental constraints to make a unique single shot image with one of his favorite gear setups – the Sony Alpha 7 III and Sony 24mm f/1.4 G Master.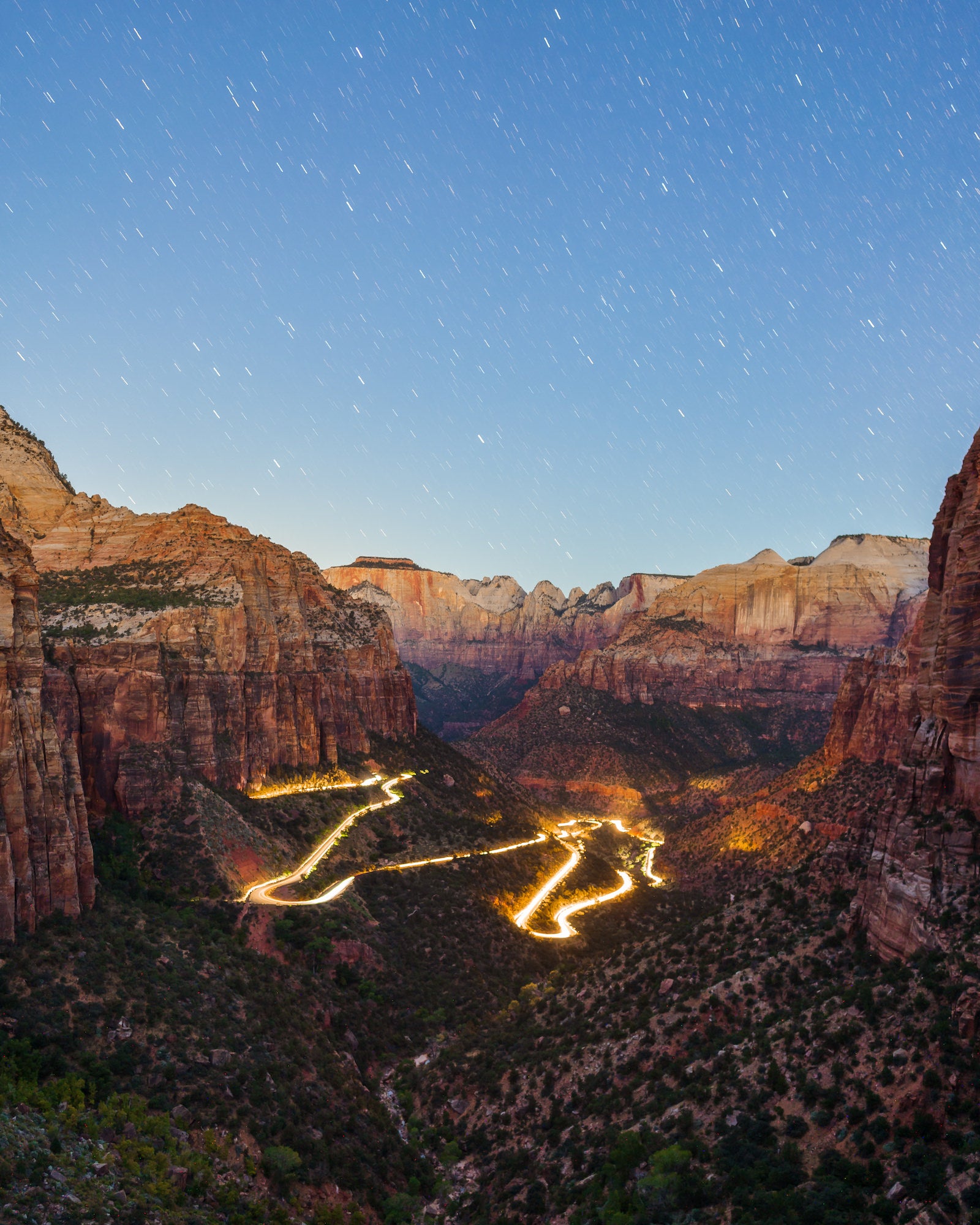 Photo by Andrew Eggers. Sony Alpha 7 III. Sony 24mm f/1.4 G Master. 123-sec., f/1.4, ISO 500
Astrophotographer and Alpha Collective member Andrew Eggers explains how he used focus peaking and a sharp prime to get this shot at Angel's Landing in Zion National Park just before sunrise.
Finding The Scene On A Sunrise Hike
This photo was taken just before sunrise at Angel's Landing in Zion National Park during a Southwest road trip with friends back in 2019. We ventured primarily to Utah and Arizona hitting several National Parks and other nice landscapes along the way. The hike up to Angel's Landing isn't difficult but it's nice and refreshing when done early in the morning, which is what we did to catch the stars that were still out before the sun came up.
This was a shot I wanted to get because I knew there weren't any clouds lined up for a colorful sunrise. The best alternative to me at the time was capturing the light trails because I dug how the switchbacks curve down the mountainside plus the clear sky allowed the stars to be seen so well.
Using Focus Peaking & A Sharp Prime To Get The Shot
It was nice having rented the Sony 24mm f/1.4 G Master lens for that trip to pair with the Sony Alpha 7 III for this shot. I love that lens for astrophotography because of how much light it lets in at f/1.4, allowing you to shoot at lower ISO and it's easy to get locked in on the stars with focus peaking on the Alpha 7 III. This setup is up there as one of my favorites for astrophotography without a doubt.
The camera was set on a tripod and connected to the Sony Imaging Edge Mobile App to utilize bulb mode for this lengthy exposure of 123 seconds at f/1.4 and ISO 500. There was some trial and error using different ISOs and exposure lengths to balance the light in this photo. Thankfully, there were a decent amount of cars that drove by while we were taking photos so it wasn't hard getting the whole road covered by a light trail.
Editing True To The Eye
I used Lightroom and Photoshop and my goal when editing is to try and make the photo look as true to the eye as possible while highlighting certain colors already in the photo. The original photo was a bit brighter than I had hoped but I loved how the stars seemed to be 'falling', so I dropped the highlights quite a bit, tweaked the exposure and contrast as well as adjusted the colors in Lightroom before adding the Orton Effect in Photoshop.
See more of Andrew Eggers' work on his Alpha Universe Profile and on Instagram @andreweggers.