My name is Demas Rusli (@demas) and I am a freelance photographer/designer based in Sydney, Australia. I worked in architecture for the past five years before I decided to go full-time freelance last month. I specialize in urban, architecture and aerial photography and have worked on international campaigns with brands such as Adobe, DJI, Nike and Etihad Airways. At the beginning of a road trip through the Southwest U.S. with three other photographer friends, I created this photo at the Valley of Fire State Park in Nevada. Here's the story behind this composite shot.
See how photographer Demas Rusli (@demas) composited four photos together to create this landscape with light trails using Sony α7R IV & 24-70mm f/2.8 GM.

Photo by Demas Rusli. Sony α7R IV. Sony 24-70mm f/2.8 G Master.
The Inspiration
We had just arrived from Australia and it was the first point of interest we stopped at in the beginning of this Southwest U.S. road trip we were taking. We were just shooting for fun and trying to get as creative as we could. I had seen a couple of shots similar to this at the same location but I wanted to try and give it my own spin. We climbed up some rock formations to get the vantage point looking down onto this road. We arrived at the location just before sunset and stayed until blue-hour before making our way to the next destination, Antelope Canyon.
Camera And Lens
This image was created using a Sony α7R IV with a Sony 24-70mm f/2.8 G Master lens. I had just bought the α7R IV right before this trip and was super excited to shoot with it. I knew that both the camera and the lens combination was definitely capable of capturing super clean low light images and wanted to test it out. I also had the 70-200mm f/2.8 GM with me at the time, but opted for the 24-70mm f/2.8 GM instead as the location was pitch black and the 24-70mm was much lighter and easier to handle when attached to a tripod.
How I Got The Shots
This photo was created by compositing four different shots. All photos were shot on a tripod, and I used a two-second timer for all images to reduce camera shake.
Image 1, Car Trails: I wanted a super clean shot with the windy car trails, so I adjusted the settings around ISO 100 and with a 30-second exposure. We waited until it was safe and the roads were empty before one of my friends drove down the road in a snake-like pattern. We had to do this a couple of times to get the zig-zagging the way we wanted it. I shot this one when it was already starting to get dark.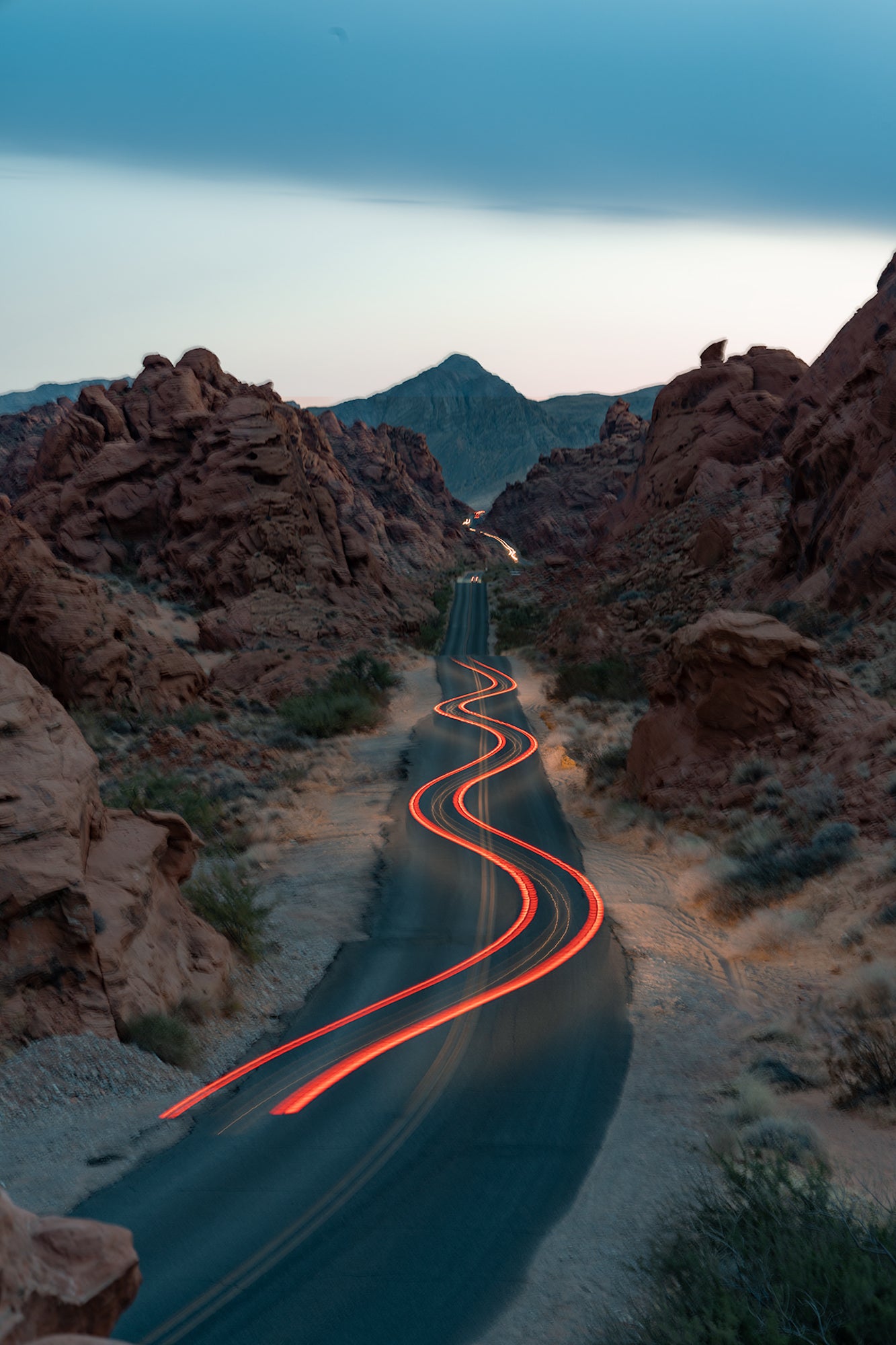 Sony α7R IV. Sony 24-70mm f/2.8 G Master at 70mm. 30-sec., f/11, ISO100.
Image 2, Car Trails Extended: Since I had only exposed for 30 seconds in the first image, I didn't have shots of the car lights going further down the part of the road that was still in frame. I asked my friend to drive the same way further down so I could stack the images together and join the two light trails, covering the entire roadway present in the composition.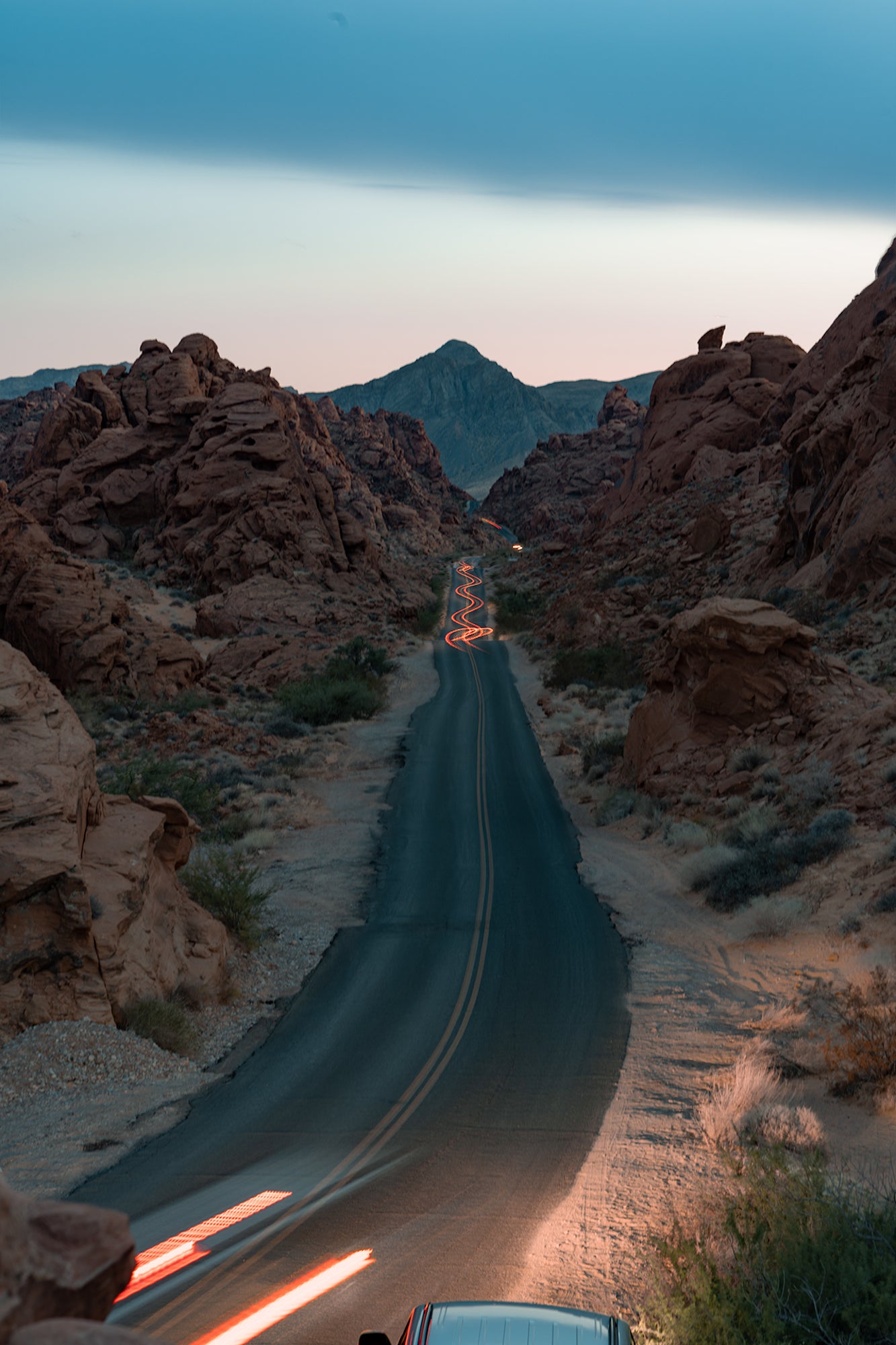 Sony α7R IV. Sony 24-70mm f/2.8 G Master at 70mm. 30-sec., f/11, ISO 100.
Image 3, Empty Valley With Subject Standing On Road Just Before Blue-Hour: Before it got fully dark and after checking to make sure the road was clear, I had my friend go stand down in the empty valley. I took a shot of it so I could fill in the details and composite this image together with the trails.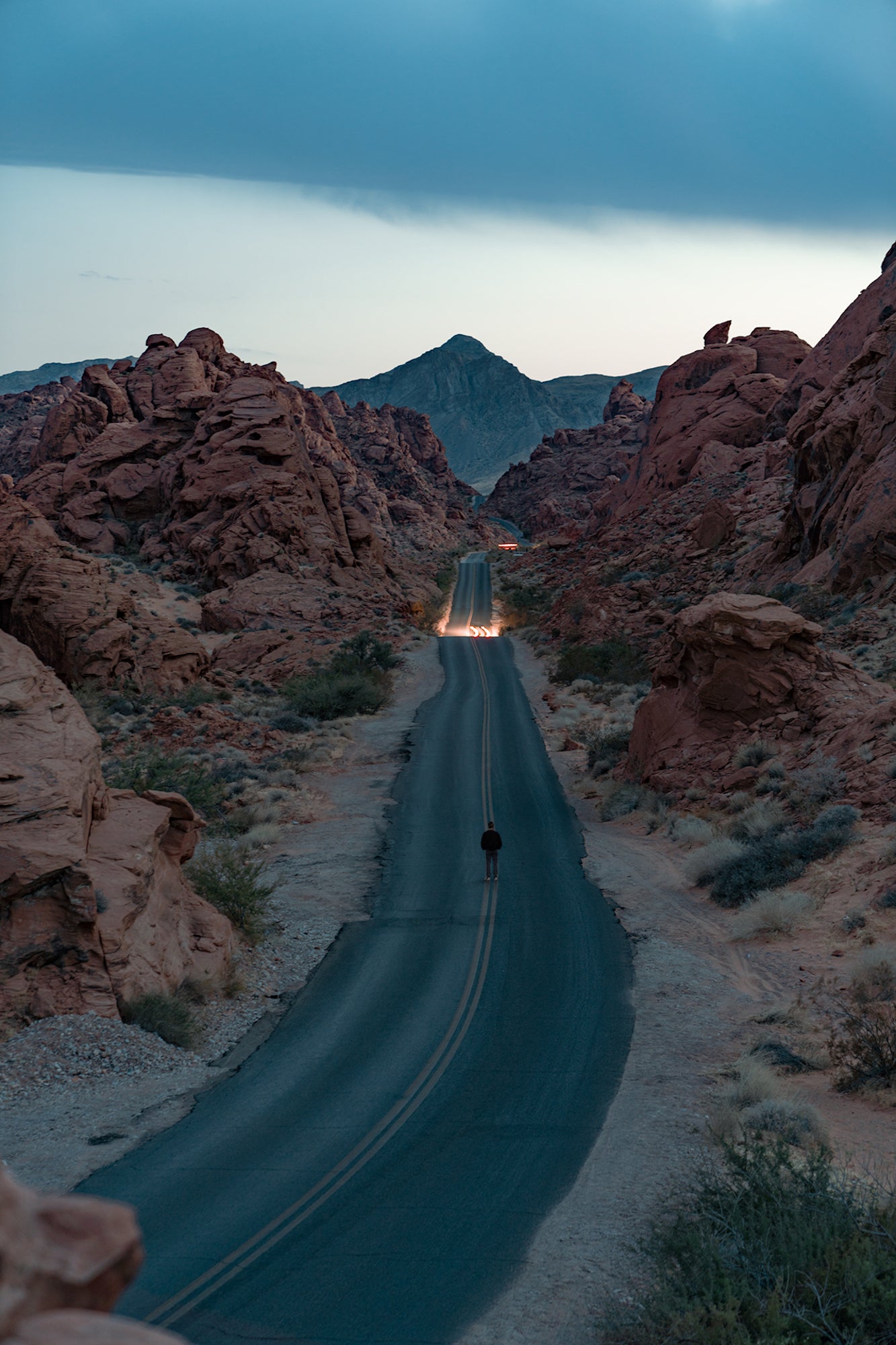 Sony α7R IV. Sony 24-70mm f/2.8 G Master at 70mm. 2-sec, f/2.8, ISO 100.
Image 4, Stars: This image was actually shot at a separate location (Monument Valley) and then added to this composite in post-production.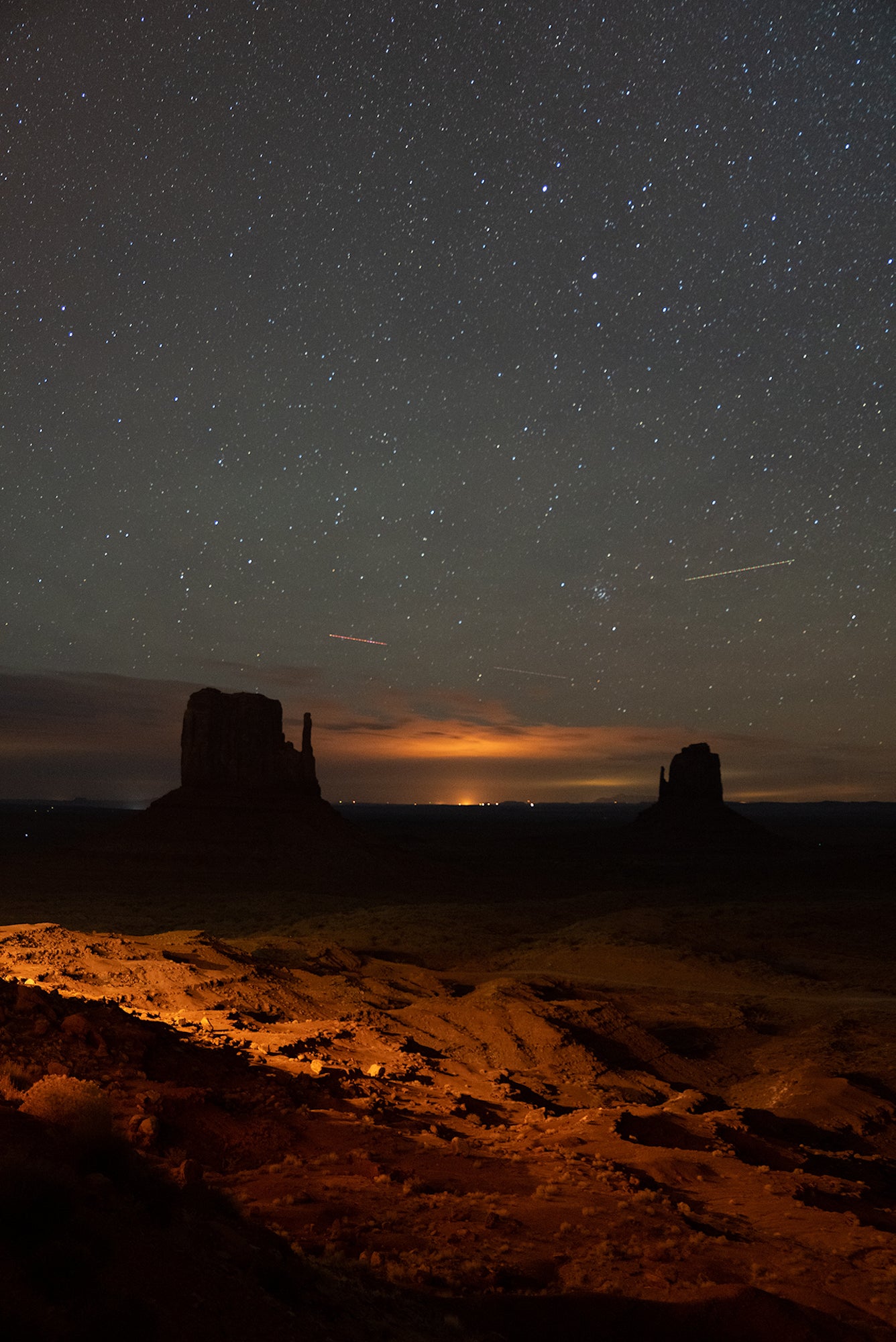 Sony α7R IV. Sony 24-70mm f/2.8 G Master at 31mm. 25-sec. f/2.8, ISO 4000

Post-Production
Once I had all of my images, I imported them into Adobe Lightroom for color grading and then composited all four images together using Adobe Photoshop. The aim was just to match the colors of each photo and combine them all using multiple layers and a series of layer masks to make the image look as seamless as possible. I wanted to create a sense of fantasy and something unique from the incredible location.