On December 5, our one-of-a-kind event Creative Space Online is free and open to everyone. Creative Space will be a full with all sorts of content and live Q & A's with leading instructors in photography and video. In addition to the classes, live shoots, and special sessions, we'll also be holding Portfolio Review sessions, where Brooke Shaden and Mahesh Thapa will select portfolios to discuss in open, live sessions and share their expert feedback with the portfolio creator and the audience.
Portfolios will be selected for review from sign-ups submitted via the Creative Space Online page.
To get your portfolio into the running for a Portfolio Review, here are a few tips:
1. Ensure your Public Profile is complete. This means you'll need to publish your name, a user photo, a header photo, a bio, your social media links, your photography expertise, and your Gallery. Here is a great sample profile, courtesy of Alpha Imaging Collective member, Autumn Schrock.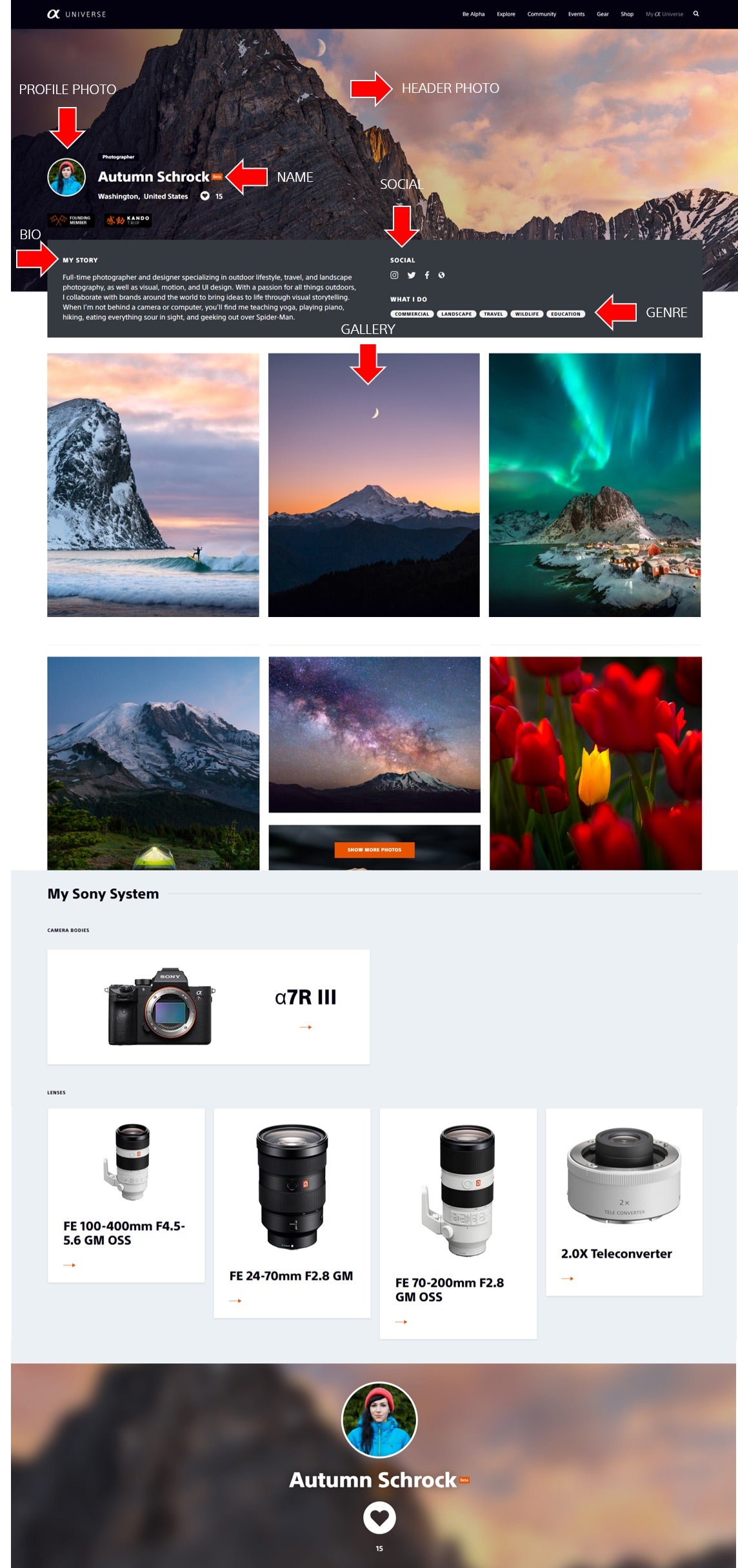 2. Ensure your Public Profile is set to actually be Public. To ensure you're only sharing the content you want, we've placed redundant public toggles on each section of your Public Profiles. So in addition to the final button at the end of the page, you'll need to ensure that each toggle in the top right hand corner of each section is also set to public.

3. If you run into trouble uploading your Gallery photos, please ensure that your files are no bigger than 10MB each (this is typically the number one issue users run into when trying to complete their gallery). You can upload up to 25 photos. The Gallery has a responsive design, so it will arrange the photos according to their aspect ratios.
4. When it comes to the photos you choose to upload, ensure that those are the photos you would include in your portfolio when asking an expert for feedback—these are the photos that will introduce you to your reviewer and our Alpha Universe audience.
That's all you need to do for a chance to be selected for a portfolio review. If you are one of the lucky chosen, we'll contact you ahead of time to make sure you know to tune in—the review will happen live, so you'll be able to ask the reviewer questions.