Autumn Schrock (@autpops) is a photographer and designer specializing in outdoor lifestyle, travel, and landscape photography, as well as visual, motion, and UI design. Her photography is known for its bright colors and tranquil outdoor scenes. Traveling all over the globe in search of landscapes that evoke emotion and wonder, she uses Sony Alpha gear to capture the fragile beauty of our world. Autumn is also a member of the Sony Alpha Imaging Collective and we connected with her to learn more about her go-to gear.
Photographer and designer Autumn Schrock (@autpops) shares the gear she uses to showcase landscapes that evoke emotion and wonder.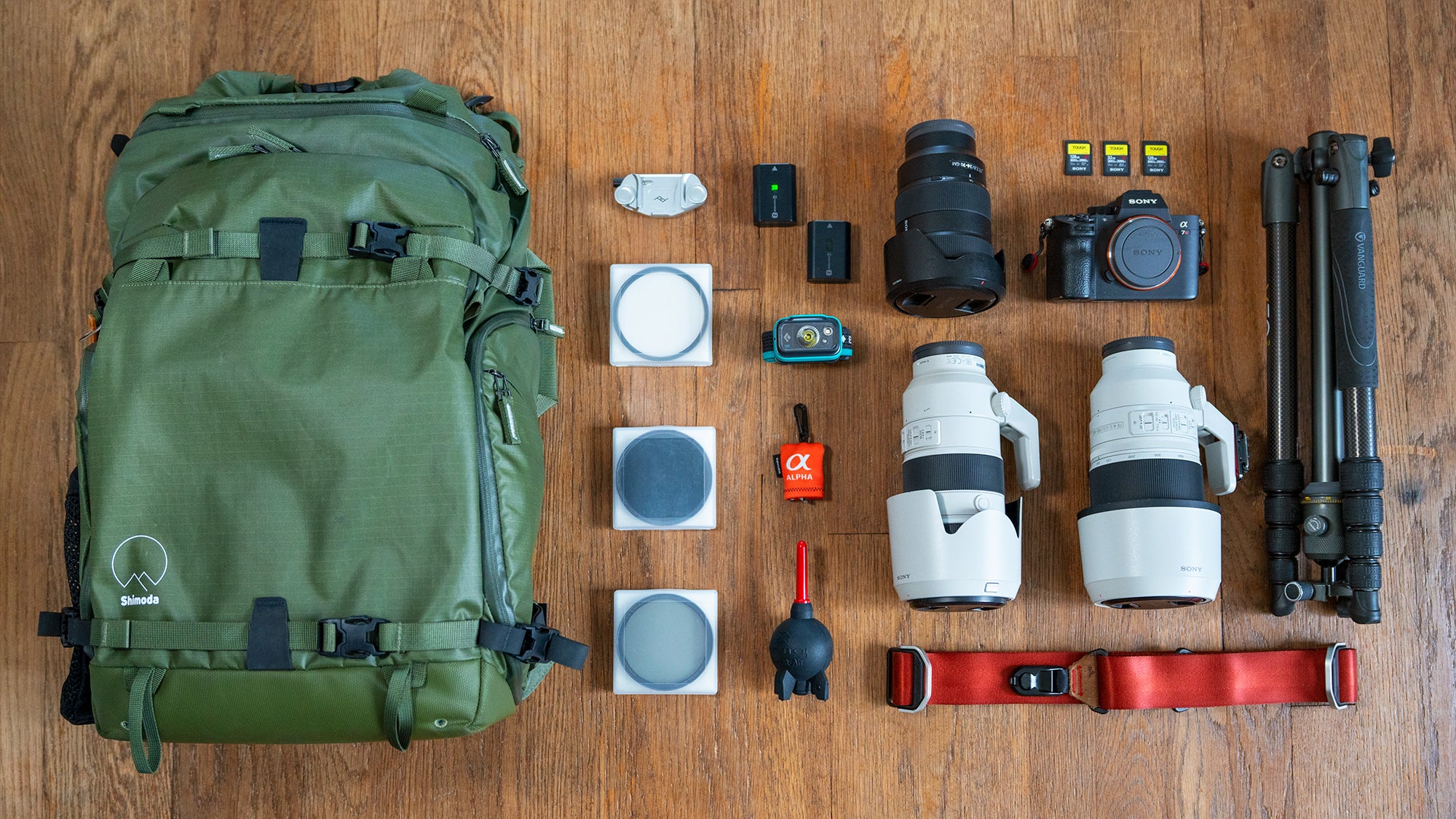 Lenses
Sony 24-70mm f/2.8 G Master: The first lens that I bought when I switched to Sony in 2016 and hands down the most-used lens in my kit. Its focal length range makes it a versatile lens for both wide landscapes and more intimate, isolated landscapes. The fast aperture allows me to shoot at all hours of the day and night, and its sharpness still surprises me. It's what I used to capture the photo below easily with very little noise.
Sony 70-200mm f/2.8 G Master: I pack this lens when I need a little extra reach and know that I won't need more than 200mm. It's wildly sharp, and the fast aperture allows me to shoot in a wide array of conditions. In the photo below, I was losing light fast at sunset. The faster aperture was a lifesaver while shooting these surfers in the arctic. The telephoto compression also helped to isolate the subject from the background.
Sony 100-400mm 4.5-5.6 G Master: This is my go-to wildlife lens. It has the sharpness and reach while being small enough to hike and backpack with comfortably. I also use it for landscapes to give the impression that distant objects, like mountains or the moon, are larger than they actually appear. In the photo below the roads were closed after a blizzard came through. Luckily enough I had the reach of 400mm to capture an intimate view of these beautiful mountains under the crescent moon.
Camera
Sony α7R III: This camera has been a game-changer for me. The 42 MP sensor allows me to crop into images if I need to while retaining high resolution. The autofocus is very quick and responsive, shooting astrophotography is no problem with its low-light capabilities, the dynamic range is absolutely incredible and allows me to do plenty of tweaking in post-processing, and it's all packaged in a compact body that's easy to carry around for long periods of time. Like in the photo below, a dark foreground and bright sky make for a challenging pair to photograph. With the dynamic range of the α7R III, I was able to capture details in both the highlights and the shadows.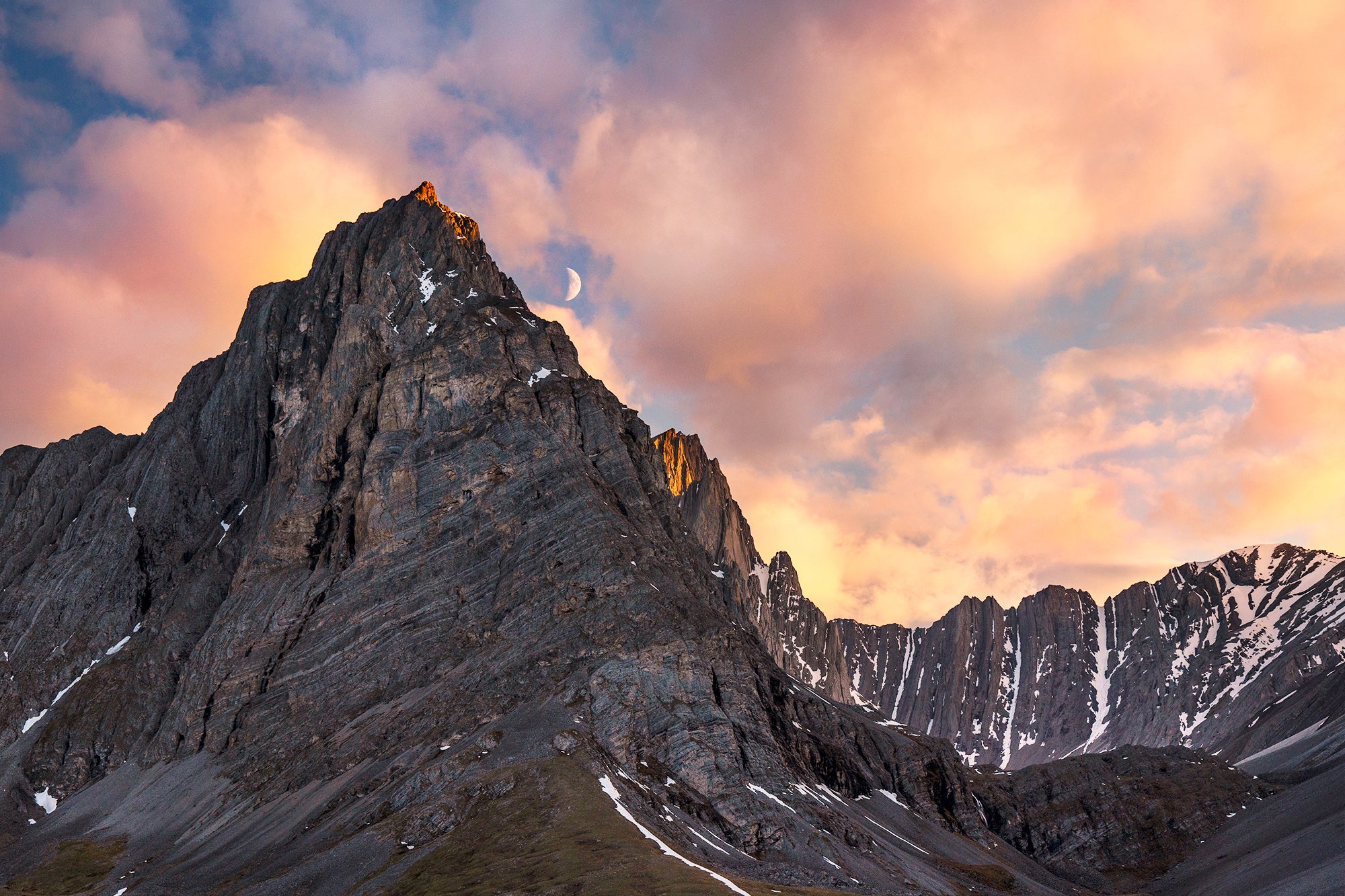 Sony α7R III. Sony 24-70mm f/2.8 G Master. 1/250-sec.,f/5.6., ISO 320
Accessories
Sony TOUGH SD Cards: There's nothing worse than going out on a shoot and losing all of your hard work because of a memory card failure. The Sony TOUGH cards are fast, as well as dust, dirt, water, mud, and grime-proof, which gives me peace of mind.
Shimoda Action X Backpack: My favorite hiking and adventure backpack. It holds all of my equipment comfortably with amazing customization options like women-specific straps that fit my petite frame.
Peak Design Straps and Capture Clip: I keep the Capture Clip secured to my backpack straps for quick camera access. Not having to pack up my camera while hiking around between shots saves me a lot of precious time. Their quick-removal strap system is also extremely beneficial when out and about with limited time.
Vanguard VEO 2 Tripod: This lightweight travel tripod is the perfect blend of sturdy and portable. The carbon fiber construction keeps the weight down and the ball head is easy to use even when wearing burly mittens.
B+W Filters: I almost always have a polarizer on my lens for added contrast and controlling reflections/glares. I also always have UV filters on for protection, and they help to remove the blue cast from daylight. I use a neutral density filter for long exposures, such as waterfalls or clouds.
Headlamp: For shooting early morning or late at night. It's always a good idea to have a headlamp with you when you adventure outside, even if you don't think you'll be out past dark. You never know what could happen!
Spare Batteries: The newer Sony NP-FZ100 batteries last a very long time, but I always keep a few spares with me just in case.
Rocket Air Blaster: Sensor spots always seem to show up at the worst times, so I always carry an air blower to minimize dust and specs.
Microfiber Cloths: I'm a clean freak and love to keep my gear looking spotless. Microfiber cloths help to keep the glass, back screen, and viewfinder free of the elements.
See more of Autumn's work at autumnschrock.com and on Instagram @autpops.