Nate Luebbe (@nateinthewild) has traveled to beautiful natural locations around the world with his Sony gear, capturing various landscape and astroscape scenes that are both breathtaking and scroll-stopping. The Alpha Collective member had a chance to try out the new Sony Alpha 7R V camera recently in Utah, where he created this astro-landscape imagery. "I went to Goblin Valley, Utah. It's an International Dark Sky Park, meaning it has excellent star gazing, in addition to a myriad of exciting foreground opportunities." We connected with Luebbe to learn more about his thoughts on using the Sony Alpha 7R V for his work.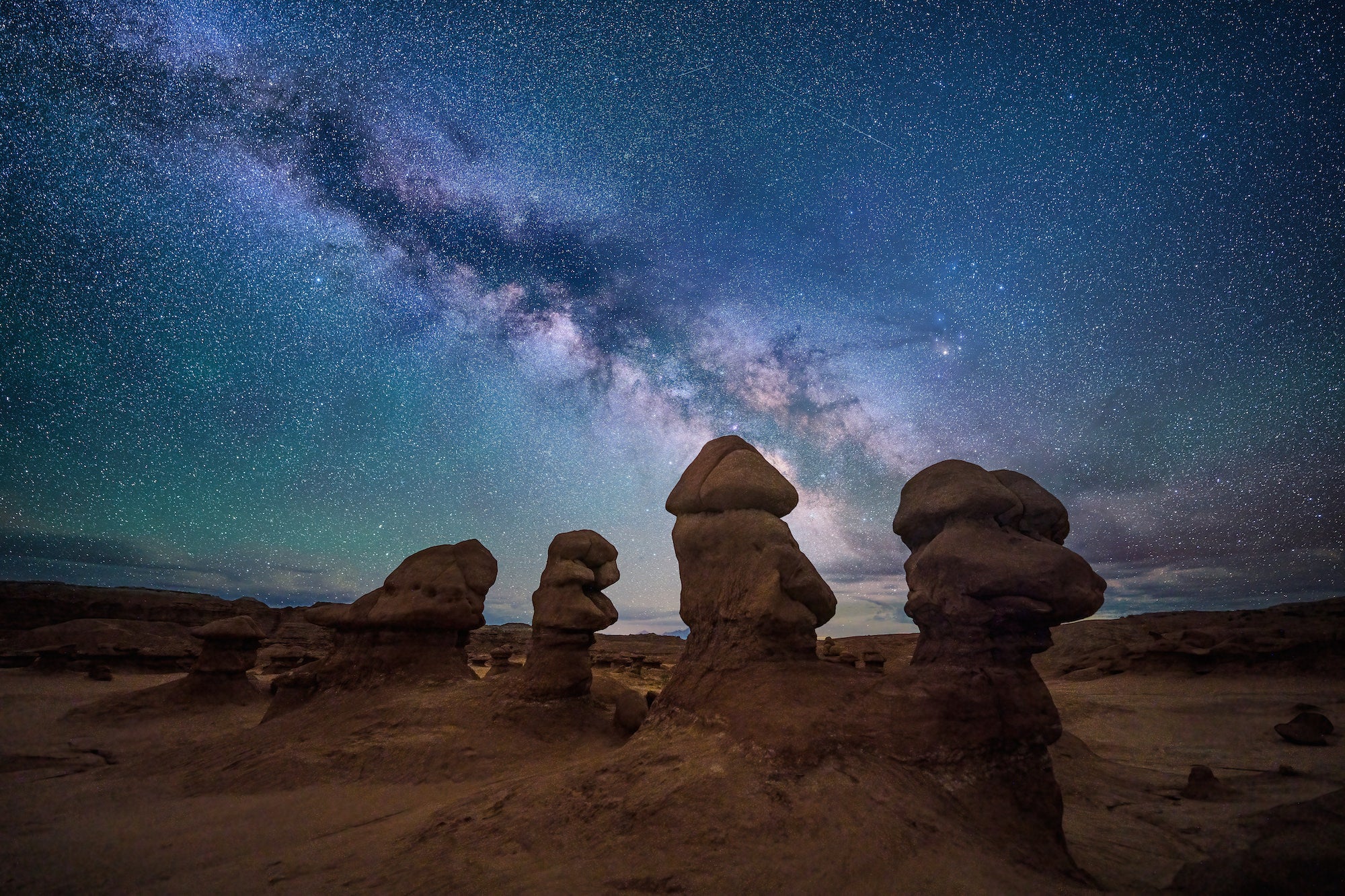 Photo by Nate Luebbe. Sony Alpha 7R V.
See how Alpha Collective member Nate Luebbe created stunning astro-photos in Goblin Valley, Utah using the new Sony Alpha 7R V and a pair of fast Sony primes.
While in Goblin Valley, Luebbe paired the new camera with the Sony 20mm f/1.8 G and the Sony 14mm f/1.8 G Master. "These lenses are by far some of the best I've ever encountered for astrophotography," he says. "Great light transmission from the fast aperture, super sharp and brilliant image quality."
That was the theme of the night testing the new camera – brilliant image quality. Luebbe says that the image quality from the Alpha 7R V combined with those lenses is absolutely exceptional. "The level of detail that's captured by a sensor with this resolution is astounding. I got to use this camera in some extremely difficult lighting situations and I was completely blown away by the clarity of the image and the cleanliness of the data. The improved processing power is very apparent and really comes through in the final imagery."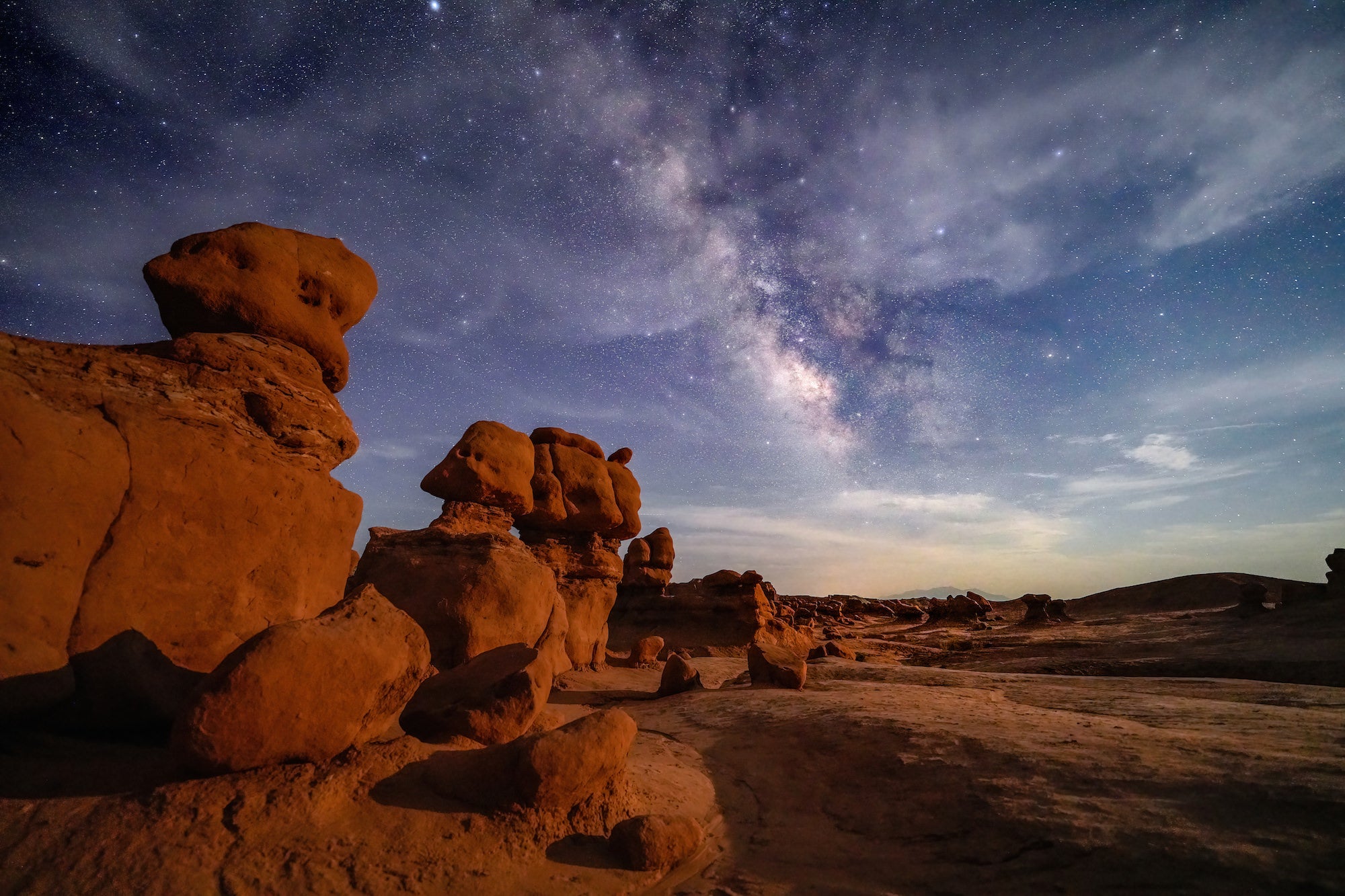 Photo by Nate Luebbe. Sony Alpha 7R V.
Luebbe has years of experience shooting astrophotography and found it easy to find the proper exposure using his setup. "I'm able to kind of look at a scene and get a good feel for where the exposure needs to be," he explains. "This was a night with a setting crescent moon, which diminished the Milky Way a bit, but the illumination on the hoodoos in the foreground was paramount for these images. Not often you get to have a fully starry sky plus dramatic shadows in the foreground."
He continues, "I think the feature I'm most excited about for this camera is the built in focus stacking, and after that the bulb exposure to create star trails. Those are both really exciting creative tools that I love using to create unique depth to a night sky scene, and it's very nice to no longer have to do this manually. I was also really impressed by the dynamic range of this camera, and the incredible detail that's captured with a 61MP sensor."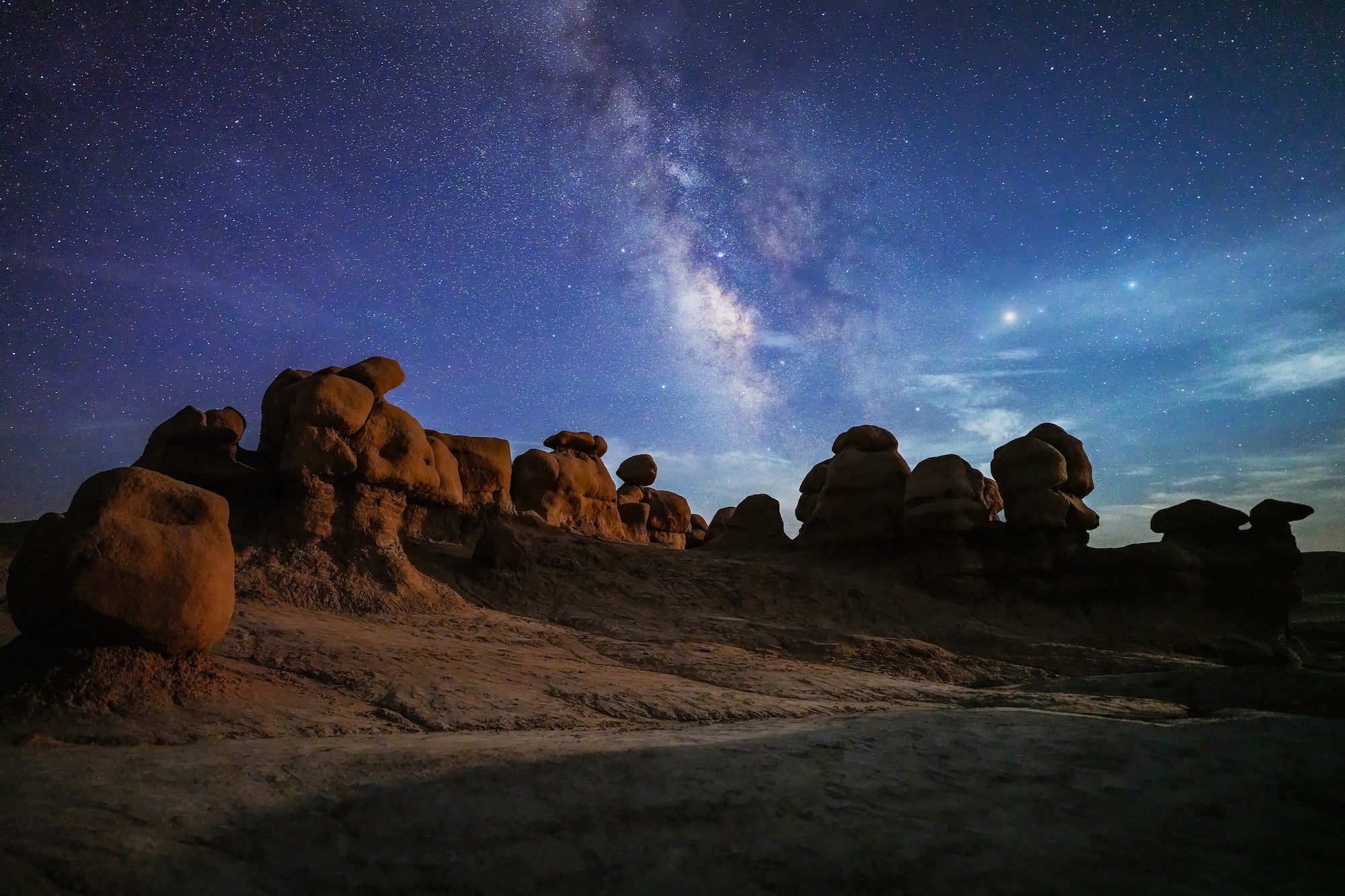 Photo by Nate Luebbe. Sony Alpha 7R V.
Much of the tech in the new camera is geared toward live live-action focusing and subject identification, not directly related to astrophotography…still Luebbe sees the camera as a huge benefit for all photographers. "Having 61MP of resolution is always exciting for landscape photographers, and the new BIONZ XR processor delivering two stops better ISO performance and two stops better dynamic range is going to be a huge benefit for low-light photography of all kinds."
Learn more about the new Alpha 7R V HERE.