Creatives Michael Dyrland of DPdrones, Craig Coker and Eddie Hayes recently used the new Sony Airpeak S1 with the Sony FX3 on set for a film project at Four Aces Movie Ranch. The Airpeak S1 is the world's smallest drone that can be equipped with a wide range of Sony's camera bodies, something that Dyrland says opens a whole new realm of filming for drone filmmakers. For the film project they captured several difficult transitions including a fly-by close-up of a moving car scene. We caught up with Dyrland to learn more about his experience filming with the new Airpeak S1.
We connect with long-time drone filmmaker Michael Dyrland about his experiences with the Sony Airpeak S1 on set for a film project.
Dyrland has years of experience flying different drones, and he says a major gamechanger with the Airpeak S1 is being able to fully utilize Sony's low light capability while capturing footage from a drone – something he could only wish for in the past. "I specifically remembered this time I was filming a ski film up in Alaska," he explains, "and this was right before drones came out. We just happened to see that the northern lights were in the sky, and it was probably one of the most beautiful northern lights I'd ever seen. I was filming with a Sony Alpha 7, I think it was the original Alpha 7, and I was able to shoot video of the northern lights."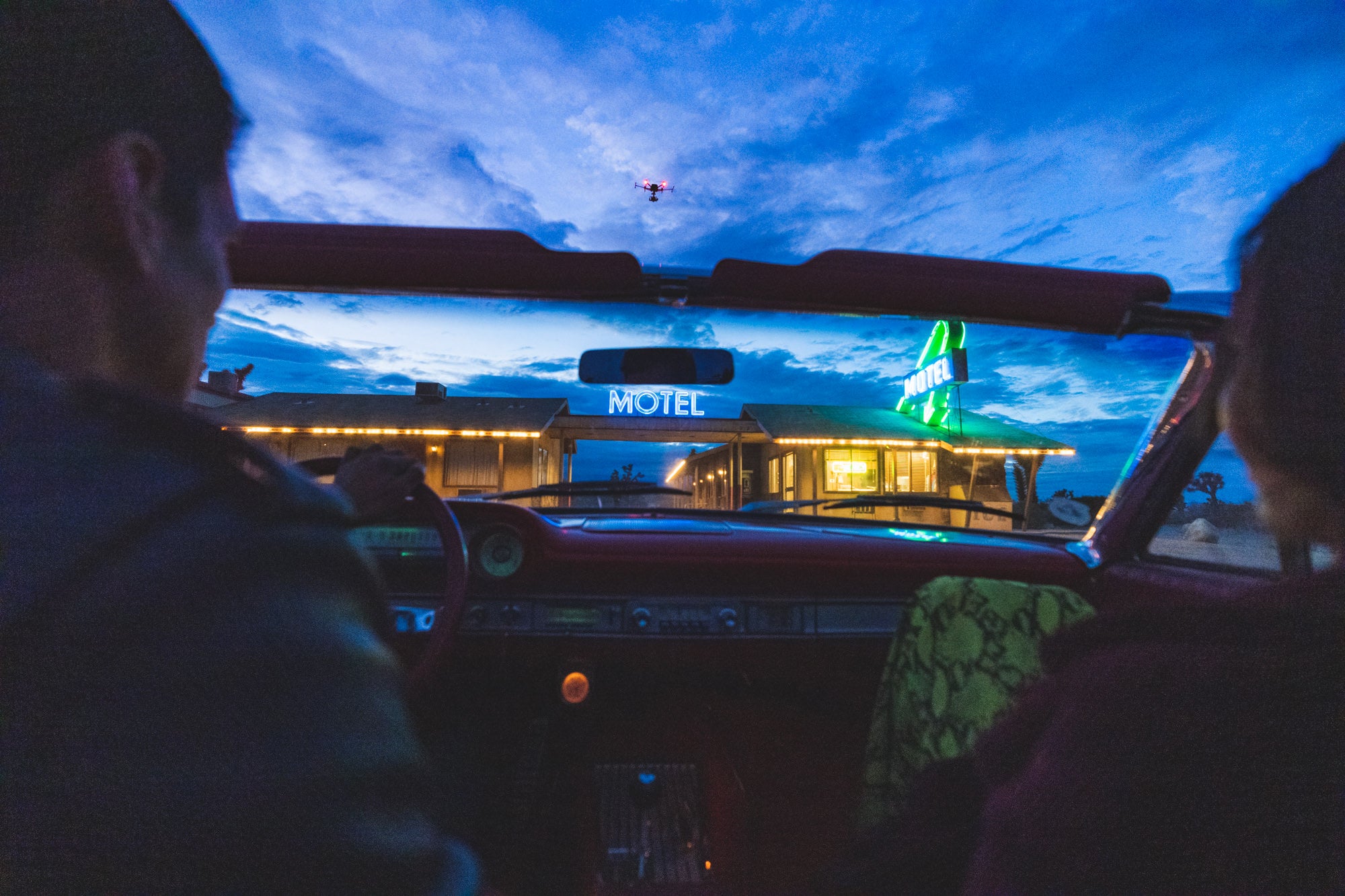 He continues, "I was so impressed by Sony's low light capabilities, and I remember specifically thinking in my head, 'Man, if I could put a Sony camera and Sony lens on a drone right now, I'd get the most amazing shot the world has ever seen.' Now being able to put Sony's low light capability on the Airpeak S1, I think will open a whole new realm of filming for drone filmmakers. Other drones just don't capture low light that well, and clients want night footage so you were kind of stuck with darker shots at night. That low light capability is difficult with drones except for Sony's Airpeak S1."
In addition to now having Sony's low light capability on a drone, Dyrland also notes how the lens selection that's now available for you to use also opens the door to new creative possibilities. He explains how this is especially what helped them get the close-up shot in the moving car scene. "What excited me about using the Airpeak S1, specifically for filming the car, was being able to throw on Sony's awesome glass. We primarily stuck with the Sony 85mm f/1.4 G Master for this scene. With everything else on the market right now, you don't have too much lens selection. I've never really been able to film on anything greater than a 50mm lens. So filming on the Sony 85mm f/1.4 G Master was amazing. It gives a new perspective and we got some really beautiful shots, especially with these car chasing scene – that really stoked me out."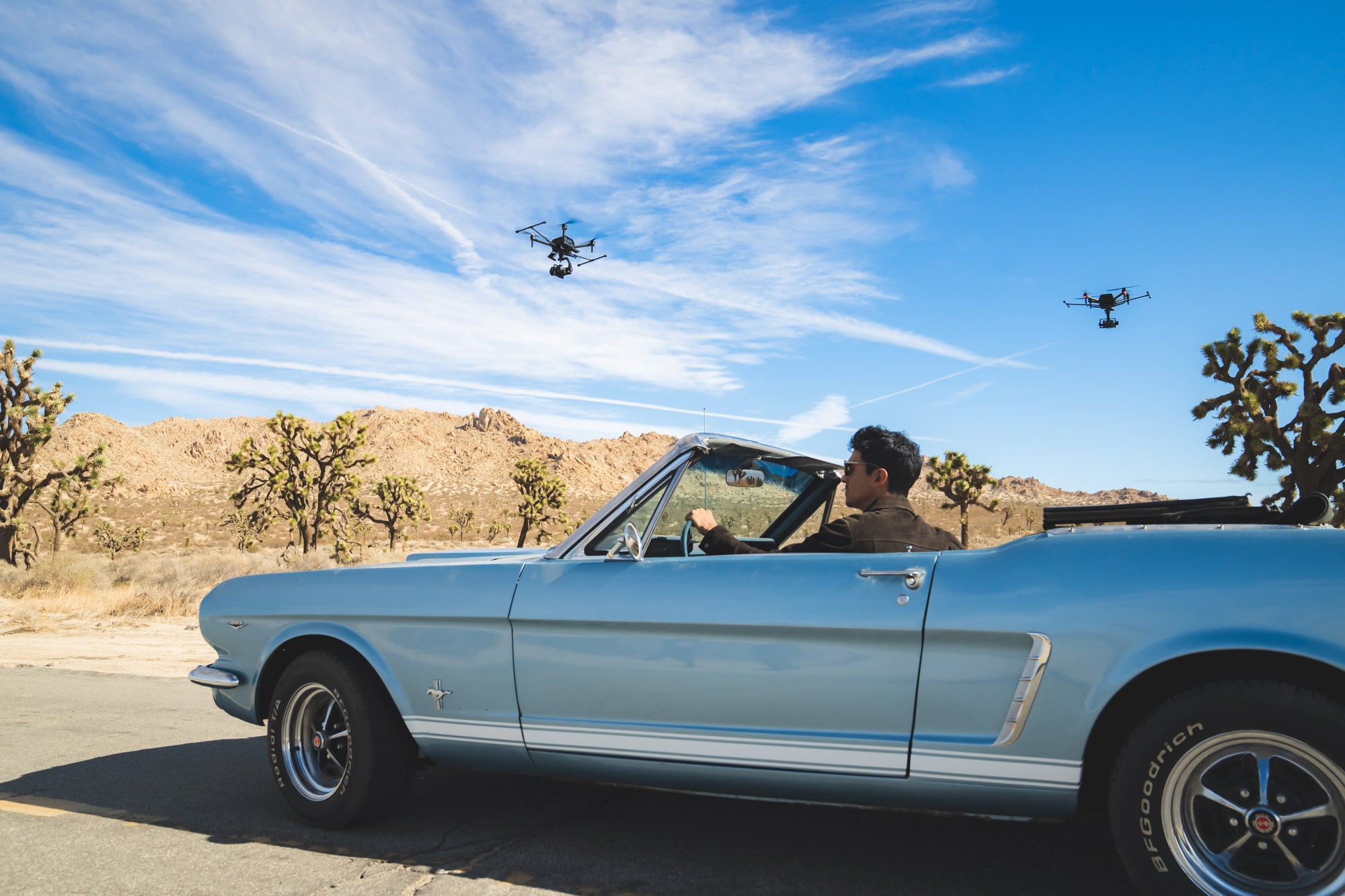 He continues, "When I film with bigger clients, let's say with Verizon or T-Mobile, they're kind of specific on what cameras and what lenses they want to use. And so having those different lens options are great to be able to have and to film with so you're not stuck with, let's say the Mavic, which just has a built-in lens and you can't switch different focal lengths and things like that. I'm really thankful that we're in this time that technology has put us in a place where we have these amazing tools. I just love drones and aerial cinematography and it's been a great thing to be in from the get go."
Read more about the film project at sonycine.com.