Over the course of my photography career I've been fortunate to develop several genres of photography which in turn have created multiple revenue streams for me. One of which, is photographing luxury commercial and residential photography. Here is my Luxury Real Estate Photography Kit.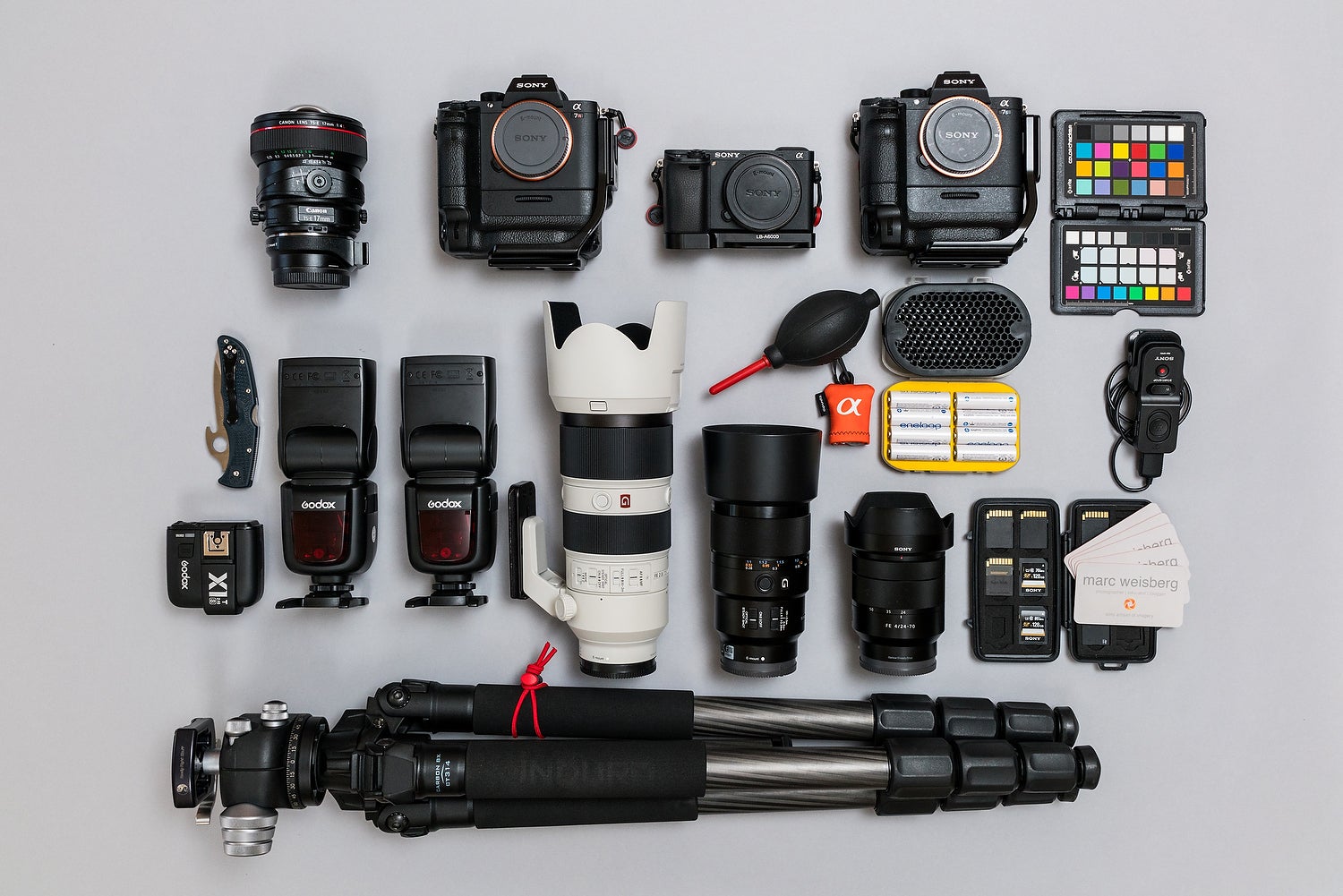 Sony α7R II: When I'm photographing a luxury real estate exterior or interior and I know that it's going to be published, I reach for this camera because it's a full frame camera with 42.4 megapixels and 5-axis image stabilization. Each of my α7-series cameras have the optional vertical battery grip which holds two batteries.
Sony α7S II: The thing that makes the α7S II remarkable for real estate is its ability to handle any lighting situation. I'm often commissioned to photograph interiors that have very low levels of ambient light. Although I light the majority of my interiors, I never had to think twice about photographing at very high noiseless ISOs. Each of my cameras has a Really Right Stuff L bracket for quick attachment to my Really Right Stuff BH-55 ball head.
Sony α6300: The α6300 has a 1.5X magnification factor and turns my 17mm tilt shift into a 25.5mm lens. You may notice the small round red rimmed "pucks" hanging from the shoulder strap lugs on all my Sony cameras. These attach to a Peak Design camera strap.
Sony 70-200 f/2.8 G Master: Wow! What a lens. This lens is razor sharp at f/2.8 all the way through. I use this lens to photograph ocean views, and vistas and sometimes exteriors.
Sony 90mm Macro f/2.8 G OSS: This lens is indispensable. I am constantly using it for architectural details. It also comes in handy as a remarkable portrait lens and for creating compelling real estate landscapes. The 90mm is tack sharp at f/2.8 through the range of f/stops. I make use of the OSS (Optical SteadyShot) when I have to hand hold.
Sony FE 24-70 f/4.0 ZA OSS: An essential zoom lens in my luxury real estate kit. I use the 24-70mm on every shoot.
Canon 17mm Tilt Shift Lens: It fits onto all my Sony cameras with use of a Metabones IV adapter. A tilt shift lens allows to me control perspective and achieve images not possible with zoom or prime lenses.
X-Rite ColorChecker Passport: When photographing interiors for interior designers, my color needs to be spot on. This small, compact portable tool allows to me get accurate color and ships with software to profile each camera in Adobe Lightroom.
Spyderco knife: Comes in super hand for cutting stray threads, tape, boxes and other items.
Godox V860 II: Godox recently came out with these great speedlights. I have 6 speedlights in my kit and use them to light my interiors. They are lightweight and very easy to work with. If I need a lot of extra light in one single area, it's easy to gang up two lights. The V860 II's have built in radio transmitters and house rechargeable lithium ion batteries that last far longer than AA batteries. Although the Godox is capable of TTL output and high speed synching, I use it in full manual mode when photographing luxury real estate.
Pelican SD Card Case: This is the best SD card case I've found on the market. My SD cards fit in snuggly and don't fall out when I need to open and close the case.
MagMod Grids: There are times when I need to add just a kiss of light in a specific area. MagMod to the rescue. These grids are stackable and use rare earth magnets to quickly and easily attach the grids to the MagGrip that fits onto the head of any speedlight.
Eneloop batteries: I've been using Eneloop rechargeable batteries for years. They are reliable and hold their charge when not in use for what seems like forever.
Sony RM-VPR1 Remote: This great little remote is powered via the mini-USB camera connection. I use it to trigger my camera when using slow shutter speeds. The red button allows me to start and stop video recording and there's a toggle switch for zooming Sony Power Zoom lenses.
Godox XIT-S Remote: Wireless remote form my Godox V860II flashes. Allows me to control the output power.
Enduro CT 314: One of the finest tripods I've ever owned. It's made of lightweight and super-sturdy carbon fiber with quick release twist locks. On top is a Really Right Stuff BH-55 ball head that I've owned for almost a decade.
Think Tank Airport Advantage: It's not in this picture, but my Think Tank Advantage is a super-light rolling bag that fits all my gear shown here with a bit of extra room. My Think Tank bags are bullet proof and I rely on them to protect my gear while in transit and they're super-easy to work out of on location.