Sandee Lim (@finding.aim) is the winner of the Alpha Female+ #SonyMacro Challenge for her dragonfly image. We connected with her to learn more about how she captured it using the Sony Alpha 6400 and Sony 90mm f/2.8 Macro G.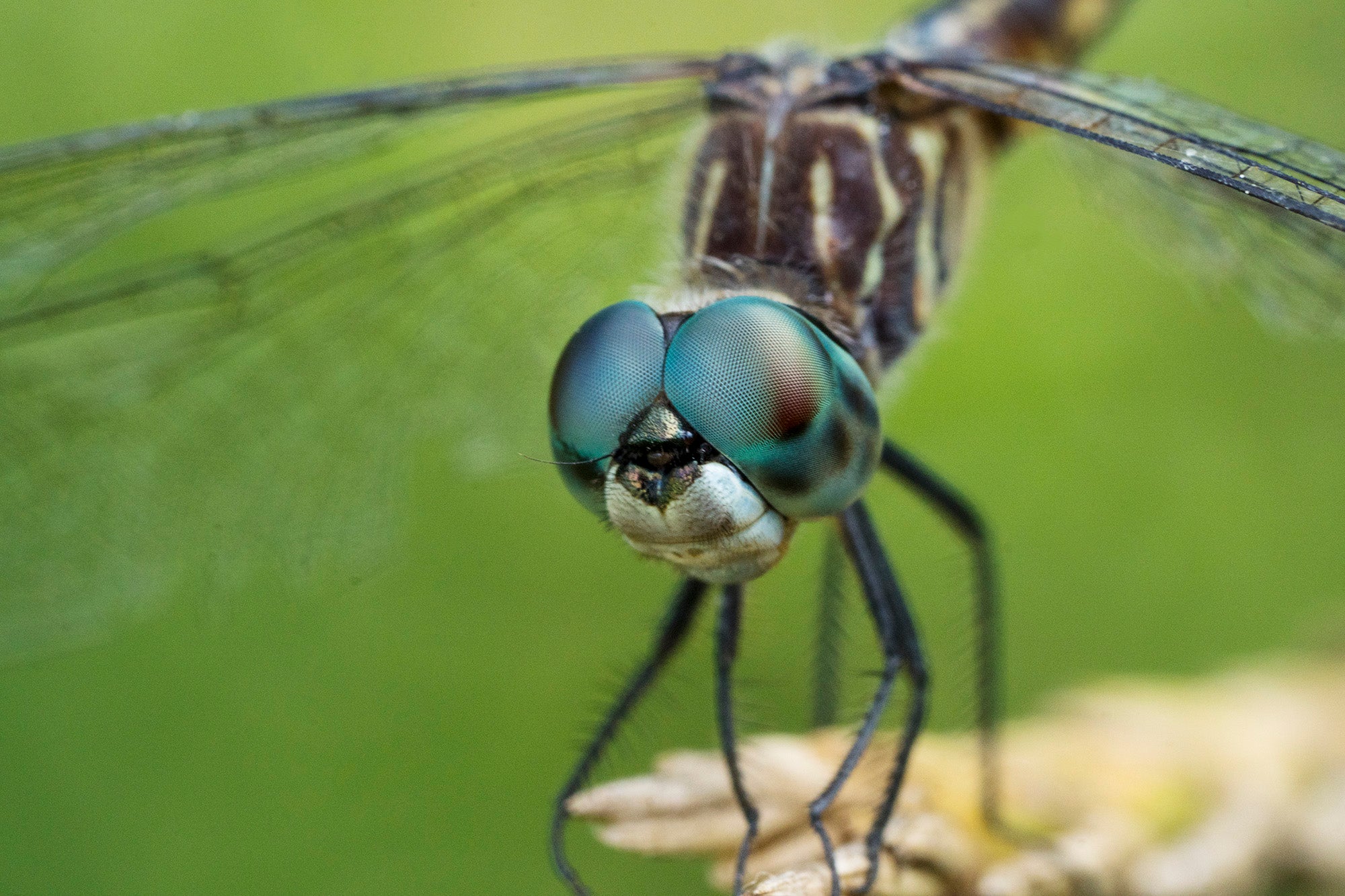 Photo by Sandee Lim. Sony α6400. Sony 90mm f/2.8 Macro G. 1/125-sec., f/11, ISO 800
Learn more about this dragonfly macro image created by Sandee Lim and winner of the Alpha Female+ #SonyMacro Challenge.
The Scene
Lim draws much of the inspiration for her photography from her own backyard. "I go out into my yard nearly everyday to photograph insects or plants or whatever strikes my eye at the moment. The natural world is my inspiration, especially when viewed through a macro lens. The more I find, the more curious I become about my surroundings and what shares my space. I find it useful to go out photographing without any expectations in mind, because then your eyes are open to experience whatever shows up in the moment."
How Lim Captured The Image
While wandering around her yard, Lim kept noticing this dragonfly flying about. "It seemed as if it was following me around the yard, so I had decided it probably wanted a portrait," she explains. "I stopped and stood still, taking a moment to watch where it was headed. It landed close by on some tall grass. I moved very slowly toward it, trying not to block out the sun or make any sudden movement that would scare the dragonfly away. In this case I did not have a flash attached to the camera, but still wanted to keep as much detail as I could, so I adjusted the f-stop to 11 and raised the iso to 800. The image was still a bit dark so I brightened it up in PhotoShop. I'm a self taught photographer, so I may not always do things 'technically' right, but my aim is to capture a beautiful image that shares what I found most interesting about the subject at that moment in time. In this case it was the dragonfly's eyes."
"Photographing insects with a macro lens can be challenging and you need to work fast because they usually don't hang around for long, so I do whatever works in the moment. I learn as I go. This shot was also hand held and I used manual focus. Bracing the camera the best I could, keeping my elbows tucked against my body, I pointed the Sony 90mm f/2.8 Macro G lens at the dragonfly and manually adjusted the focus ring until it was at 1:1 magnification. I'm using the Alpha 6400 so I used the in-camera focus peaking to help get the perfect focus as I moved in for the shot."
Shooting Macro With The Sony 90mm f/2.8 Macro G Lens
"The Sony 90mm Macro is my absolute favorite lens, it has allowed me to see the world in a new way," she explains. "It's my go-to lens when I'm out wandering and looking for small subjects to photograph. Seeing the small things in life really helps me to understand the bigger picture and how everything works together. It's also opened me up to the diversity that exists in nature. There are so many different insects and plants that we share the world with that you might not realize exist right beneath your feet or in your own yard until you take the time to really look. Macro photography also lets you take a new look at familiar subjects like this dragonfly, to really see the detail and beauty that might otherwise be lost upon you. I was fascinated by the dragonfly's compound eyes and how they reflected light and were so colorful and that is why I decided to make the focus of this shot on the eyes."
For winning the challenge, Lim receives a Sony ZV-1 camera. You can be a part of the September Alpha Female+ Photo Challenge. The topic, inspired by Alpha Female+ Grant Winner Sharon Miller, is children's portraits. From now until October 10, 2021, post your best macro photo on Instagram for your chance to win a Sony ZV-1. Follow and tag @sonyalphafemale and use #sonyalphafemale and #sonykids in your post for your chance to win a Sony ZV-1. The winner will be notified via DM on Instagram and you can see the Official Contest Rules for details.