A smartphone with a good camera can be a powerful complement to your overall creative system. I have shared the Sony Alpha mirrorless cameras and lenses I pack in my bag to capture waterfall photos, and as a photographer, my smartphone certainly doesn't replace what's in this bag – but is a device that I like to use in situations when it's not convenient to use the Alphas or it's simply not possible. In those situations I want my smartphone's camera to be both familiar and capable of sophisticated picture-taking.
You say your phone doesn't have manual settings? You say your phone can't take filters? You say your phone can't do exposures longer than ¼ of a second? You say your phone doesn't have the versatility of three native lenses? I say, you should give some serious thought to switching over to a Sony Xperia (see more about the camera system in the new Xperia 5). You can really see how some of the Alpha technology has worked its way into the Xperia line.
As a landscape and nature photographer, I'm constantly shooting in manual mode, with filters, and in conditions where I require long exposure times while keeping the ISO values to a minimum. Recently, I visited Franklin Falls on a gorgeous, sunny afternoon, and I brought along my Sony Xperia 1 to see how it could handle the harsh lighting.
Since conditions were very bright, I also brought along a set of filters that I could simply attach to the phone with an inexpensive clip accessory readily available at online retailers. I had a circular polarizer along with four-stop, six-stop, and 10-stop ND filters. I also brought along a lightweight tripod and mount that could hold my phone.
Remember the aperture on the vast majority of phones are fixed (usually to a very wide f/1.6 for something similar), which is no different for the Xperia 1. This translates to very fast shutter speeds even at the lowest ISO value (in the case of the Xperia 1, it's 64). At such wide apertures and sunny conditions, the shutter speeds would be around 1/1000 second, nowhere close to what you'd need for a "smooth water" effect.
For this particular shot, I paired a circular polarizer with a six-stop ND filter. This gave me a respectable shutter speed of one second. I like to keep shutter speeds between ¼ to two seconds for waterfalls, because I want to convey a sense of motion without having the water look like shaving cream or mist that can occur at longer shutter speeds. The polarizer helped minimize glare off shiny surfaces like the water and wet rocks; while the six-stop ND filter allowed me to extend the shutter speed to ½ second. After capturing the shot, I made some quick adjustments in SnapSeed and published the results on my social media accounts. And I did all this without a computer, or additional editing software.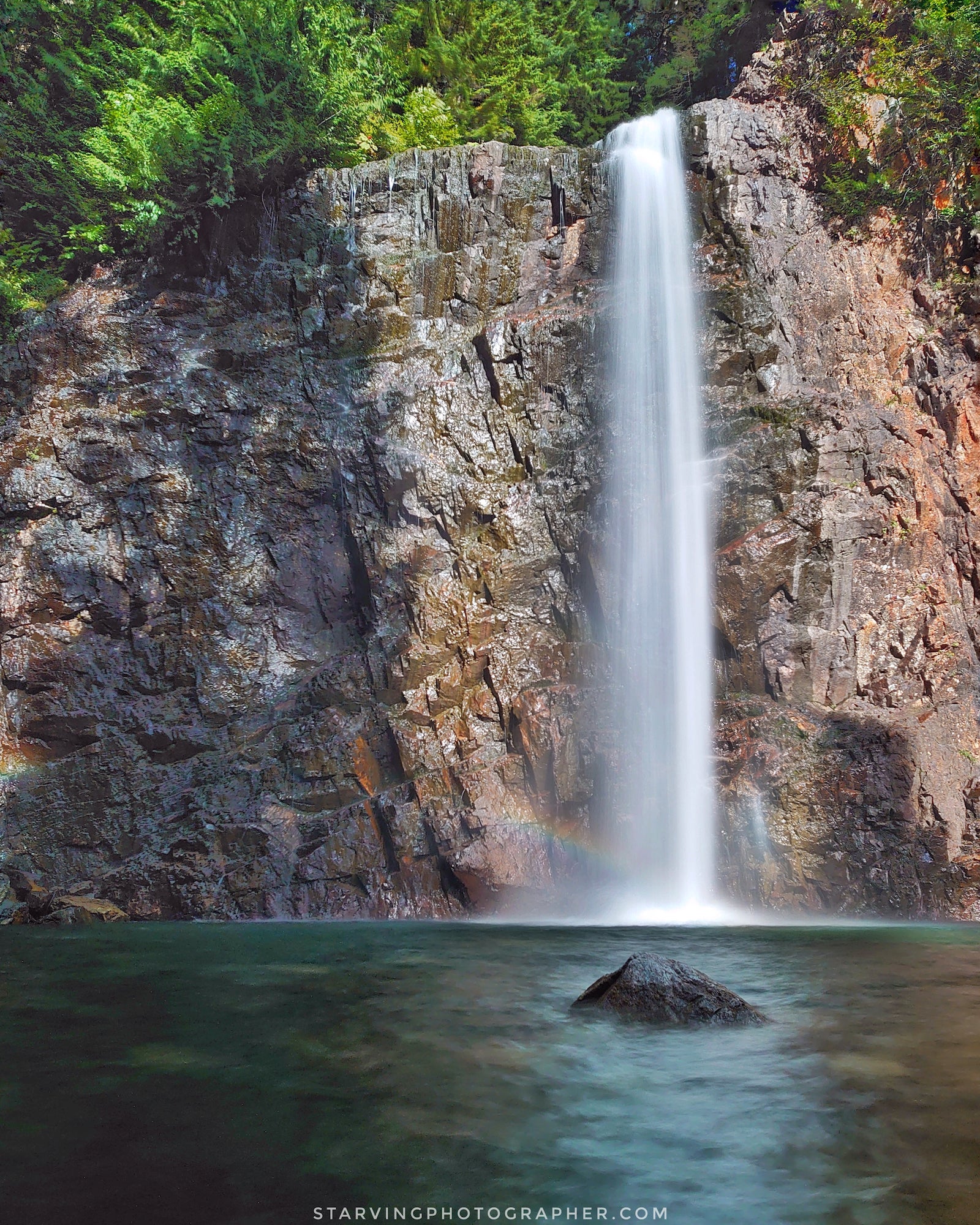 Sony Xperia 1, ISO 64, f/1.6, 1 second, 26 mm, Circular Polarizer & 6 stop Neutral Density filter
The newly announced Xperia 5 brings advanced imaging technology from the Sony Alpha camera line to an advanced smartphone. With Eye AF technology, a BIONZ X processor, AF/AE tracking and fast 10fps burst shooting, the Xperia 5's triple-camera system gives creatives another powerful tool in the expanding Sony lineup. Learn more

here

.