Unpredictable! That's the best word to describe photographing wildlife. In Costa Rica, when I was there photographing the small mammals that live under the rainforest canopy, the challenges were magnified by the combination of low light and fast-moving animals.
To get the shot, I try to eliminate the variables one by one. Picture this… you're on a river boat and you see a troop of squirrel monkeys descend as they travel through the trees. But in addition to the monkey's moving, you're on a boat moving too. One more thing. You're under a canopy of trees, so there's not enough light to get your shutter speeds very high.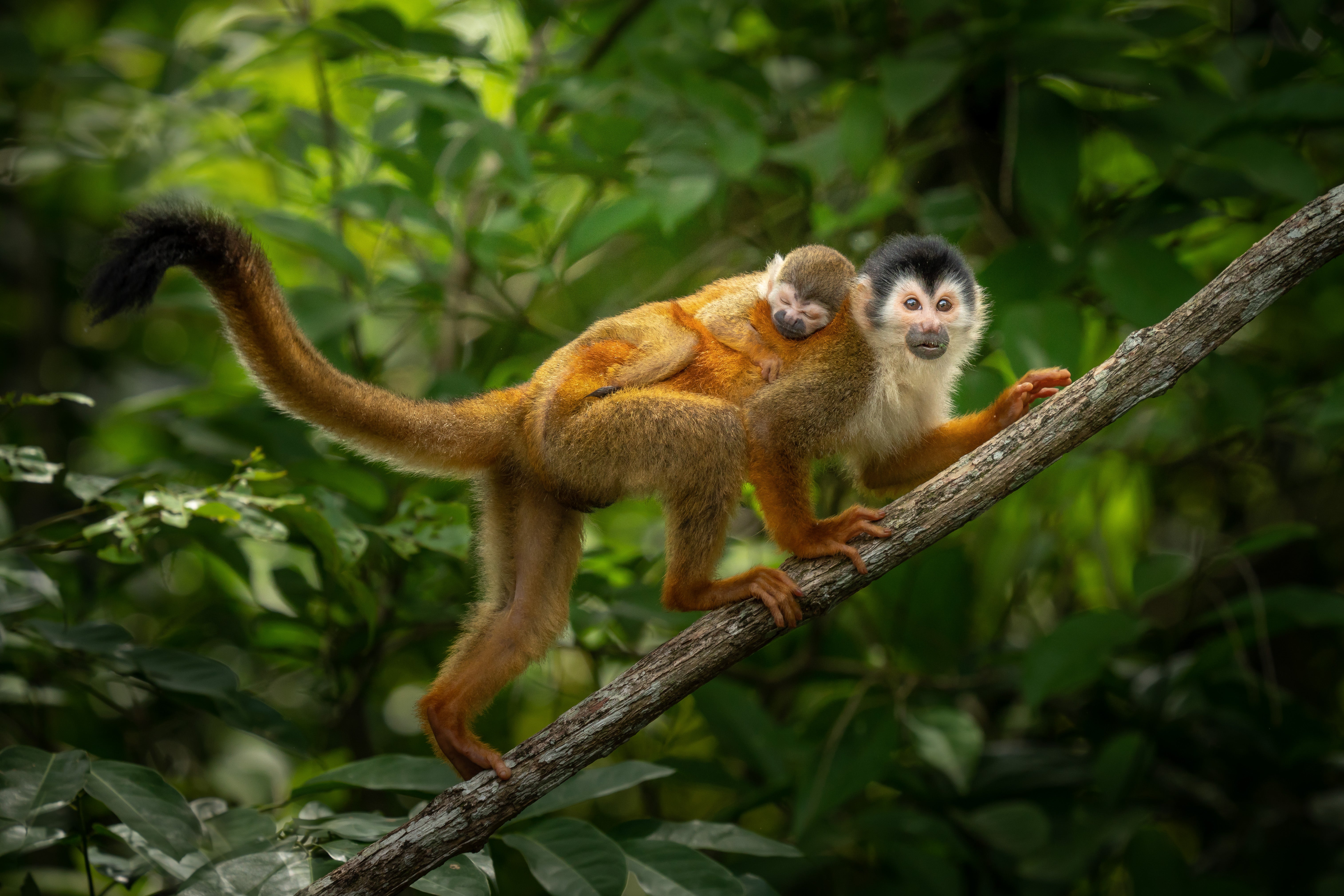 Sony α7R III. Sony 100-400mm f/4.5-5.6 OSS G Master lens. 1/800-sec., f/8, ISO 800
I've battled with this situation many times. Before I even raise the camera to my eye, I just observe. From watching the squirrel monkeys, I saw that every once in a while they stopped as they decided which branch to jump on next. That gave me a plan of action. In addition to predicting the action, to make a strong image, I want to be as close as possible to the animal. I positioned myself in a spot that seemed like a logical place for one of the monkeys to land and pause before leaping on.
For the exposure, I made some assumptions. I knew I'd be at a long focal length so even if the monkey wasn't moving fast, to get a sharp image, I would need to have a fast shutter speed to eliminate camera shake. I was shooting with the Sony 100-400mm f/4.5-5.6 G Master which has OSS (Optical Image Stabilization) and my α7R III. This combination gave me several advantages. Between the IBIS and OSS, I felt confident handholding the lens at a moderate shutter speed (for such a long lens). People use the 1/focal length rule for hand holding, but that rule, which is more like a guideline, gets less effective at longer focal lengths and it assumes you're at your steadiest. When photographing wildlife as it's moving in the rainforest, you're definitely not at your steadiest. Shooting close to 400mm and following the monkeys in the canopy, I used stabilization in Mode 2 (allowing me to pan around) and shot at 1/800-sec and f/8 to give me a little bit of focus latitude. That gave me an ISO of 800.
With my position and the exposure both dialed in, the next variable is the focus and here's where I turn it over to technology. Getting into a great place with a great subject is a major part of photography. Knowing that once I'm there, my gear is going to live up to its expectations really helps me concentrate on being creative and getting the shot. I've shot enough with the G Master lens and the AF system in the α7R III, so that I had confidence that if I had the squirrel monkey in my frame, I'd have it in focus.
Anytime you're shooting in a situation with multiple challenges, to get a successful shot, I suggest you start by slowing down and making a good assessment of the scene. Then just start reducing the variables one at a time. When you do that, and assuming you have gear that you can trust, the difficult shots become very doable.