In mid-September I got a call from Sony asking if I was interested in a super secret project. I responded with "I LOVE super secret things… so YES of course!" A day later I had a Sony 24mm f/1.4 G Master lens at my doorstep.
So I started planning my photos spots, and had three jam-packed days of sunrise and sunset shoots planned. First stop… the water of course! I went out to one of my newfound favorite sunrise spots in St. Petersburg Beach, FL. Being on the West Coast of Florida, shooting at the beach at sunrise is usually kind of blah, so I try to save the beach for sunsets instead. But we have lots of little intercoastal areas that give a nice easterly view of sunrise, and still let me get some water and foreground in to the shot.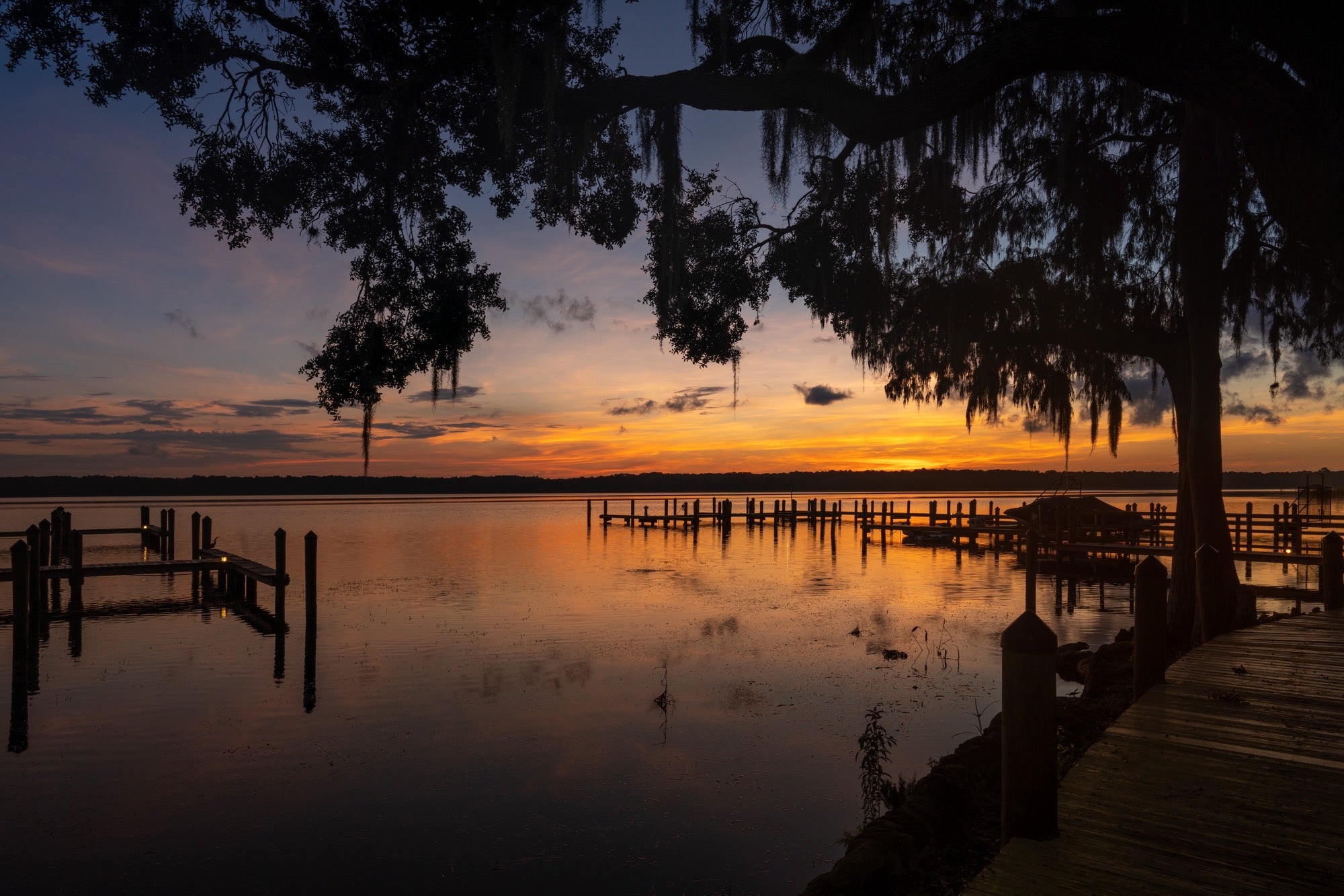 All images made with a Sony α7R III with the Sony 24mm f/1.4 G Master Lens
Advantages of a 24mm Prime Lens?
Before I go rattling off advantages of a 24mm prime lens, let me first say that this post isn't meant to convince you to go with one. There's advantages and disadvantages of going with prime lenses versus zooms. My only hope here is to try to give you some things to think about, and see if it's a lens you want to add to your kit.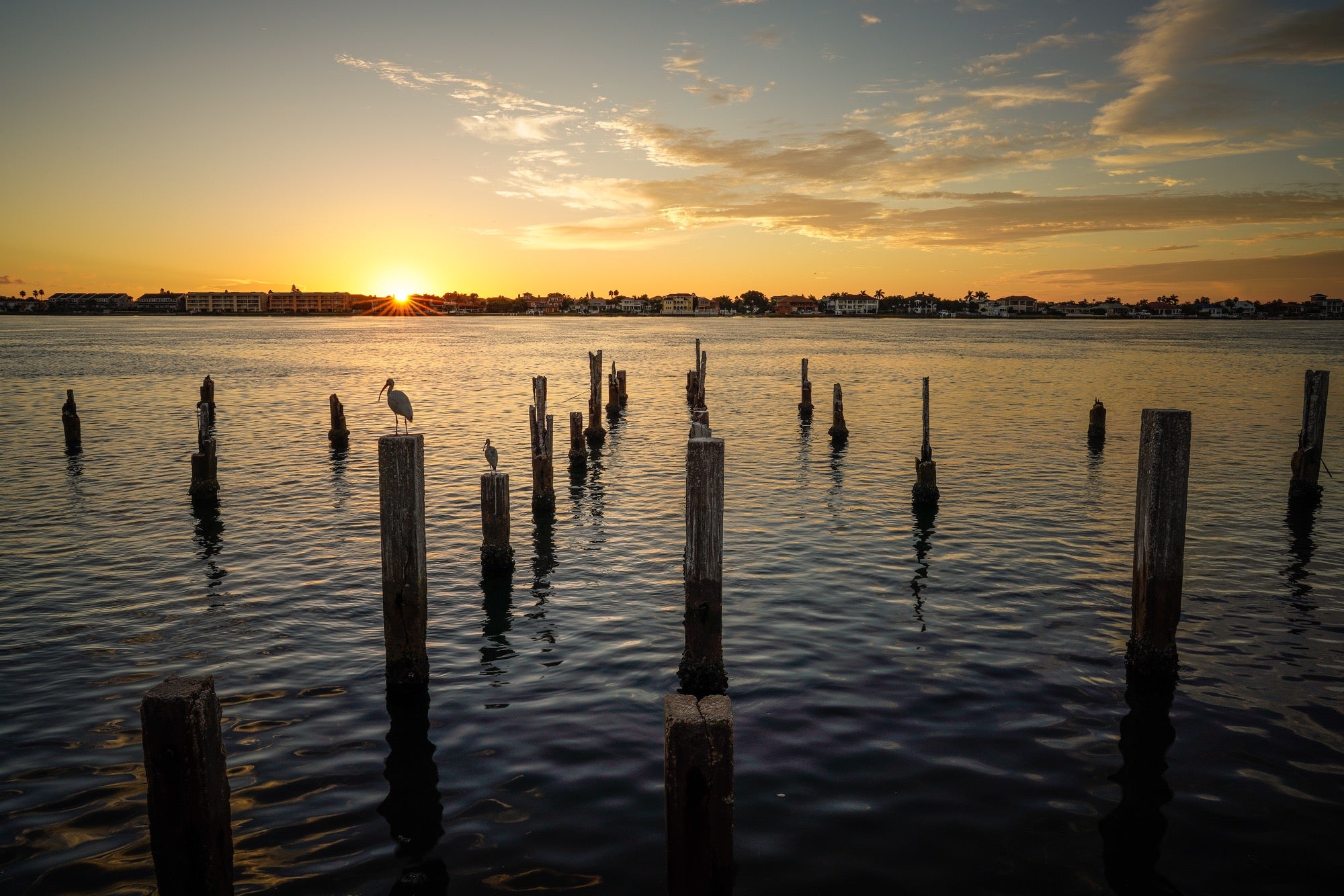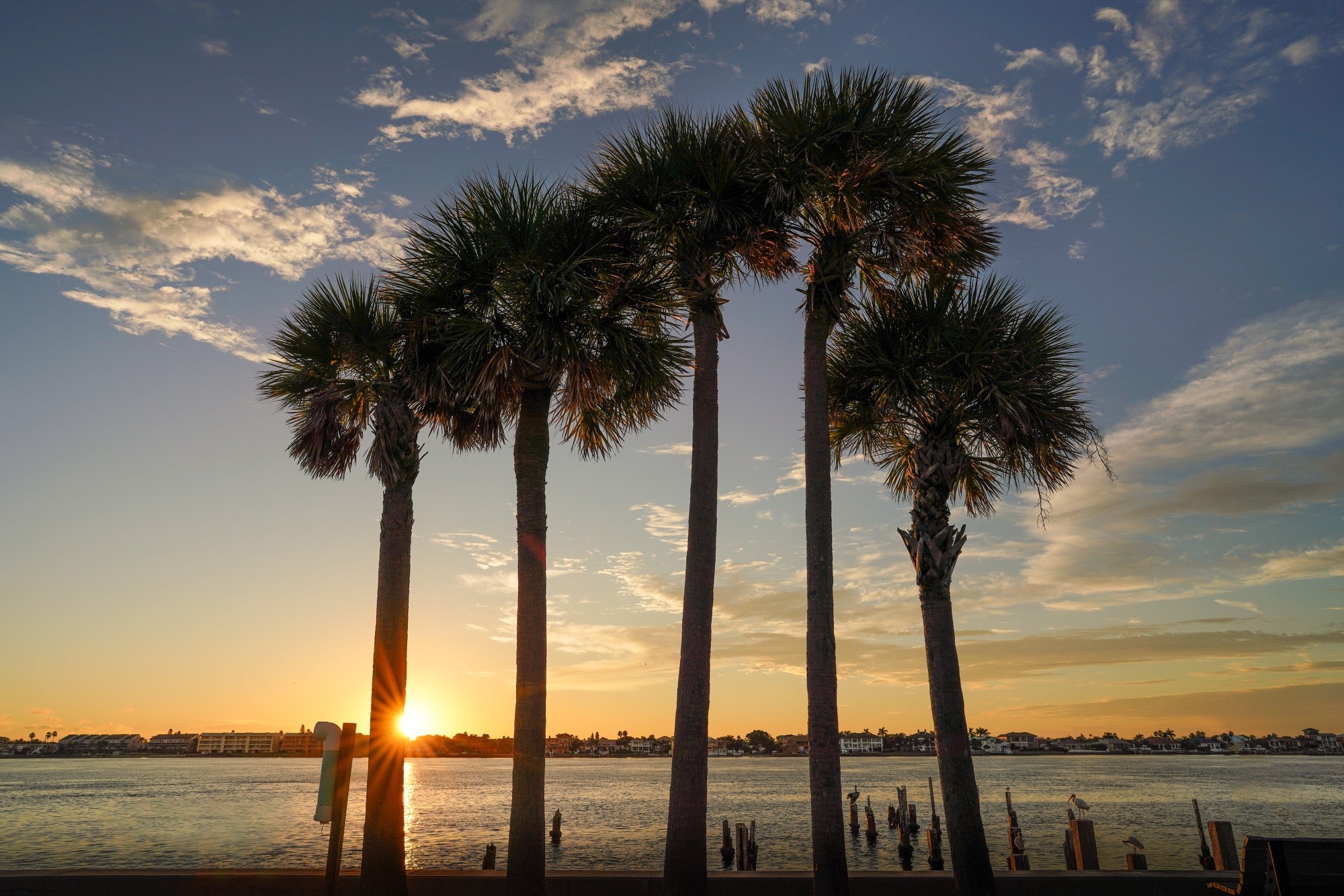 So what are some of the advantages of a 24mm prime lens? I think some of the first questions that'll pop in to some one's head about a 24mm prime is why? Why use a 24mm prime, when we have a 16-35mm or 24-70mm zoom. Aren't zooms more versatile?
Weight – This 24mm prime weighs in at 15.7oz while my 24-70 f/2.8 G Master weighs in at 31.25oz. That's a pretty big difference. In fact, most (not all) primes are going to be smaller and lighter than their zoom counterparts.
Building on that, you'll probably still say to yourself that you'd rather carry the 24-70mm zoom lens. It's honestly one of my favorite lenses for landscapes because I feel 16-35 and a 12-24 is too wide for many (again, not all) needs of my personal shooting style. And I thought the same thing. Until I started looking through my photo library and noticed that most of my 24-70mm photos are shot at 24mm or 70mm. I very rarely use anything in between. And when I do go out to 70mm, I usually end up putting the 70-200mm on so I can go longer. So with a 24mm prime, I can carry that and then throw on my 70-200 lens if I need more reach.
Aperture – A pretty obvious difference with this lens is the f/1.4 aperture instead of f/2.8 or f/4 on some other lenses. As a landscape photographer, I don't find myself shooting much at f/1.4. But I can say that the more I shoot and the more I hone my photography style, I enjoy getting creative with landscapes. I'm not one of those people that travels all year shooting great scenes. So I have to make do with what I have here in Tampa, FL. And, as you can imagine, sometimes what's around you gets a little stale and old. But bringing some creative use of aperture in to the scene gives me more options.
Also, the photo you see below would have been really difficult to capture at a higher f-stop. It was hand held at f/1.4 with the Optical Steady Shot turned on in camera. It was night time but this hand held photo is plenty sharp.
Night / Astrophotography – Another popular use of a lens like this is night or astrophotography. See, with night shooting, I pretty much set my aperture to the lowest the lens will go (usually f/2.8 on most of my lenses). Then I lock in my shutter speed usually around 15-20 seconds. And 99% of the time at ISO 100, the photo is WAY too dark. So the only thing we can do from there is increase ISO to get a well exposed photo. But with f/1.4 we get much more light in and end up not having to raise the ISO quite as high.
"Just Because" – Don't discount that some (actually many) people like shooting prime lenses "just because". They like having a locked in focal length and the creative aspect of working with one fixed focal length. It may not be you. It's not me. And that's totally okay. But I run in to folks all the time that love their prime lenses for just this reason.
Here's some more photos I shot throughout the 3 days. This was a new spot I had never been to on Lake Tarpon. I had seen some photos of it a while back and finally made it out there. I have to say this was my favorite shoot of them all. There was nobody around. It was quiet. Some birds were flying in and out and it was a gorgeous and peaceful sunrise. I got VERY jealous of the houses I could see next to me, who get to witness this every morning.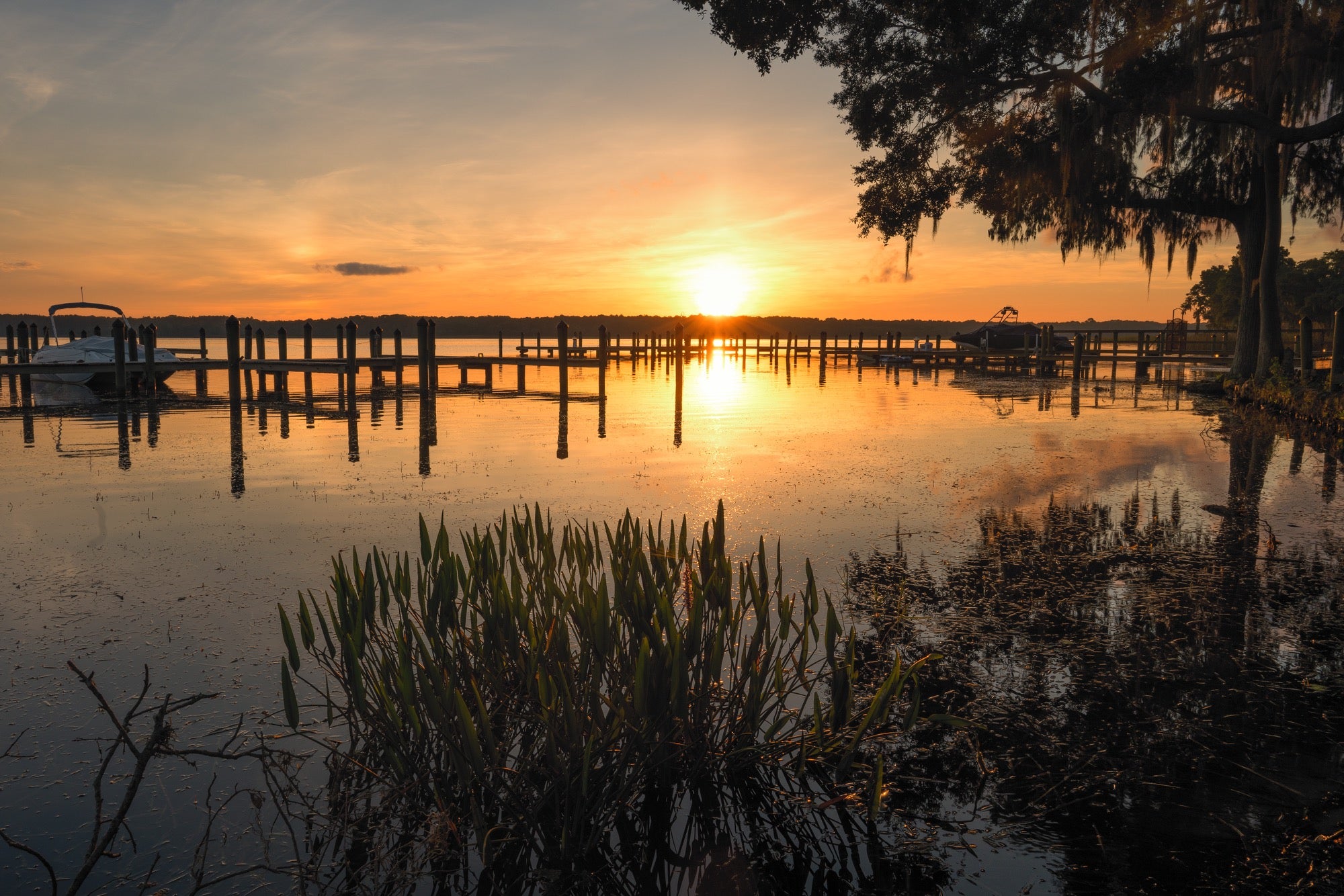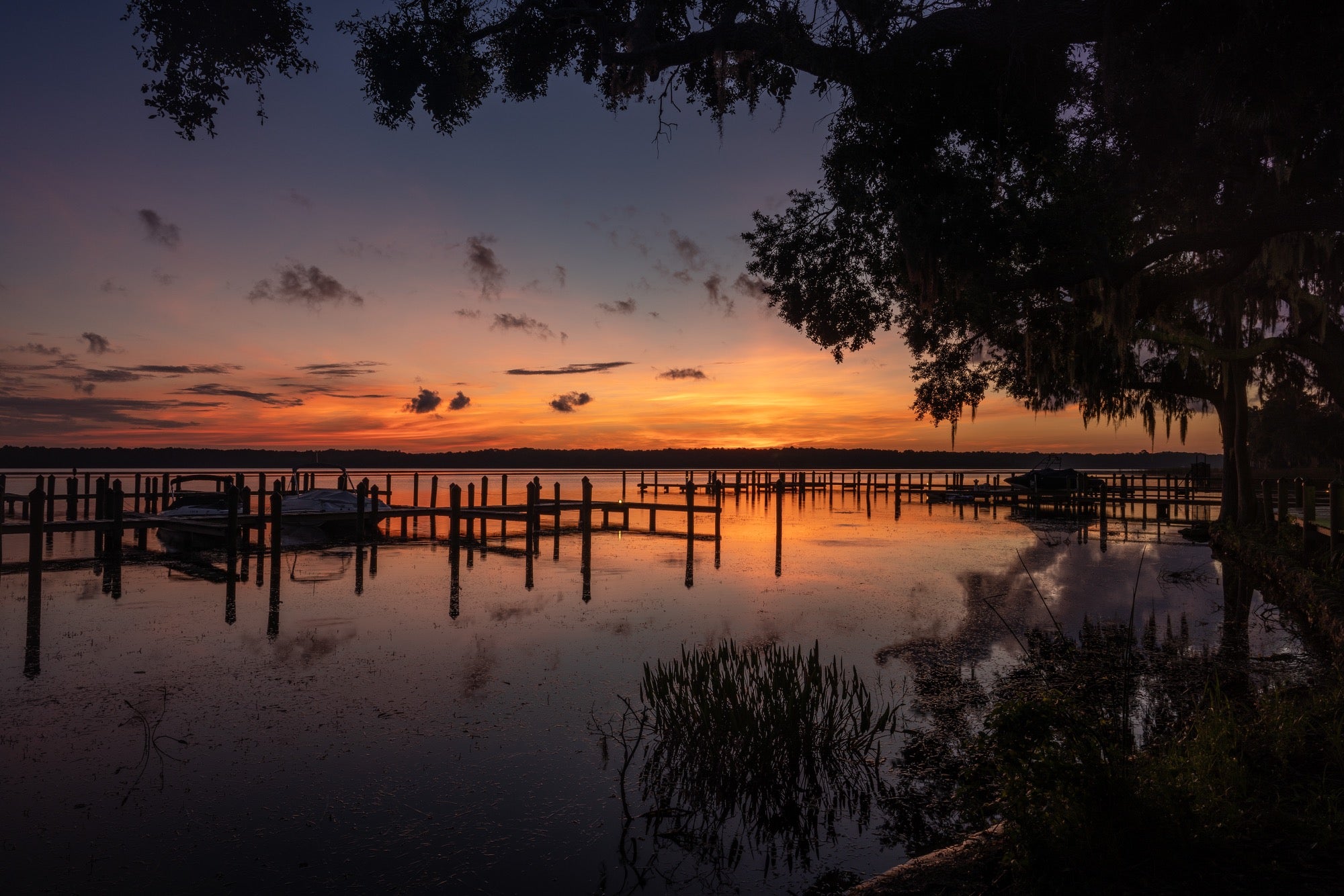 I walked around downtown Tampa in late afternoon and of course got rained on. And it was a pretty stormy sunset over the skyline, but it made for some fun photos anyway.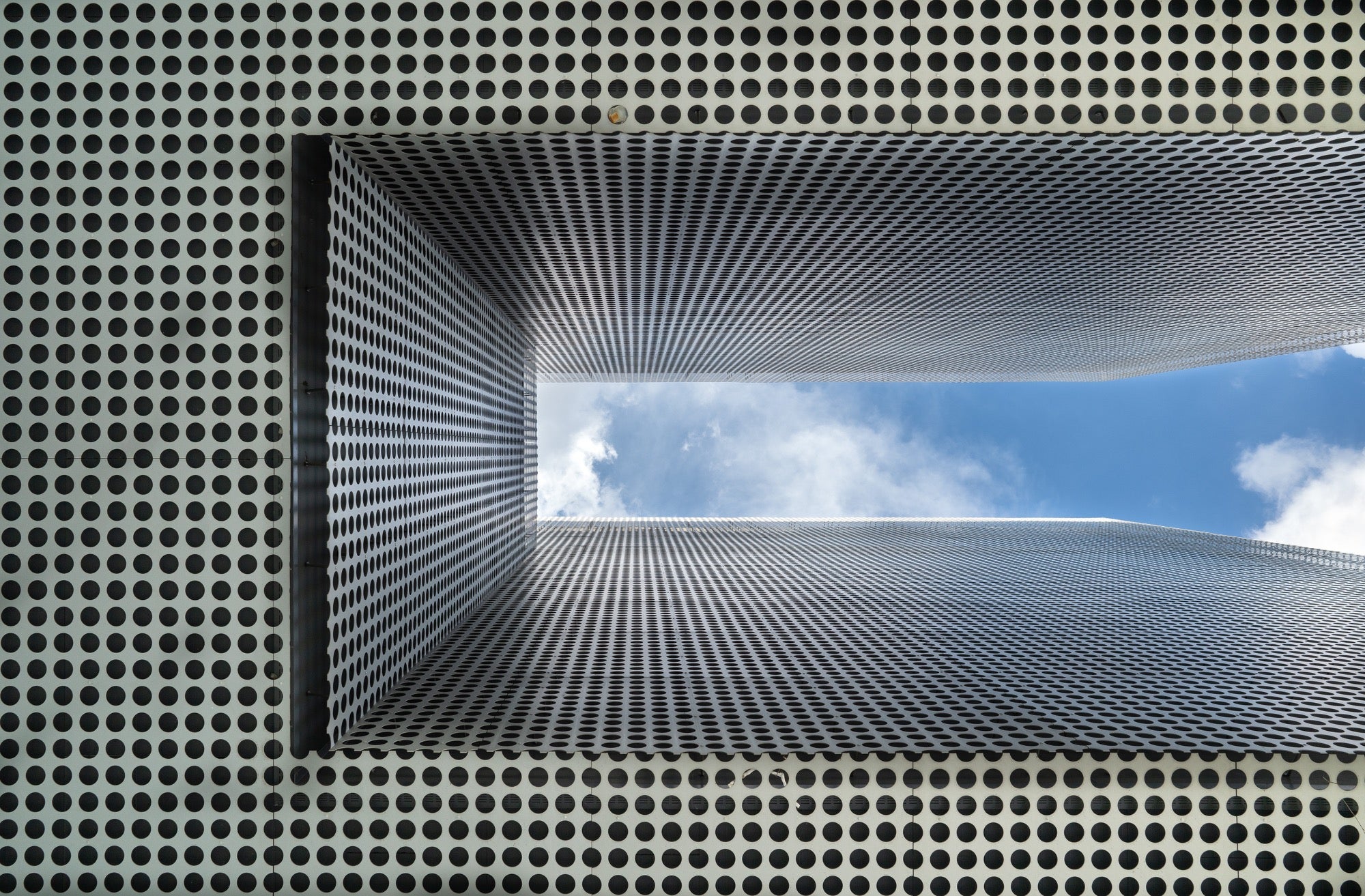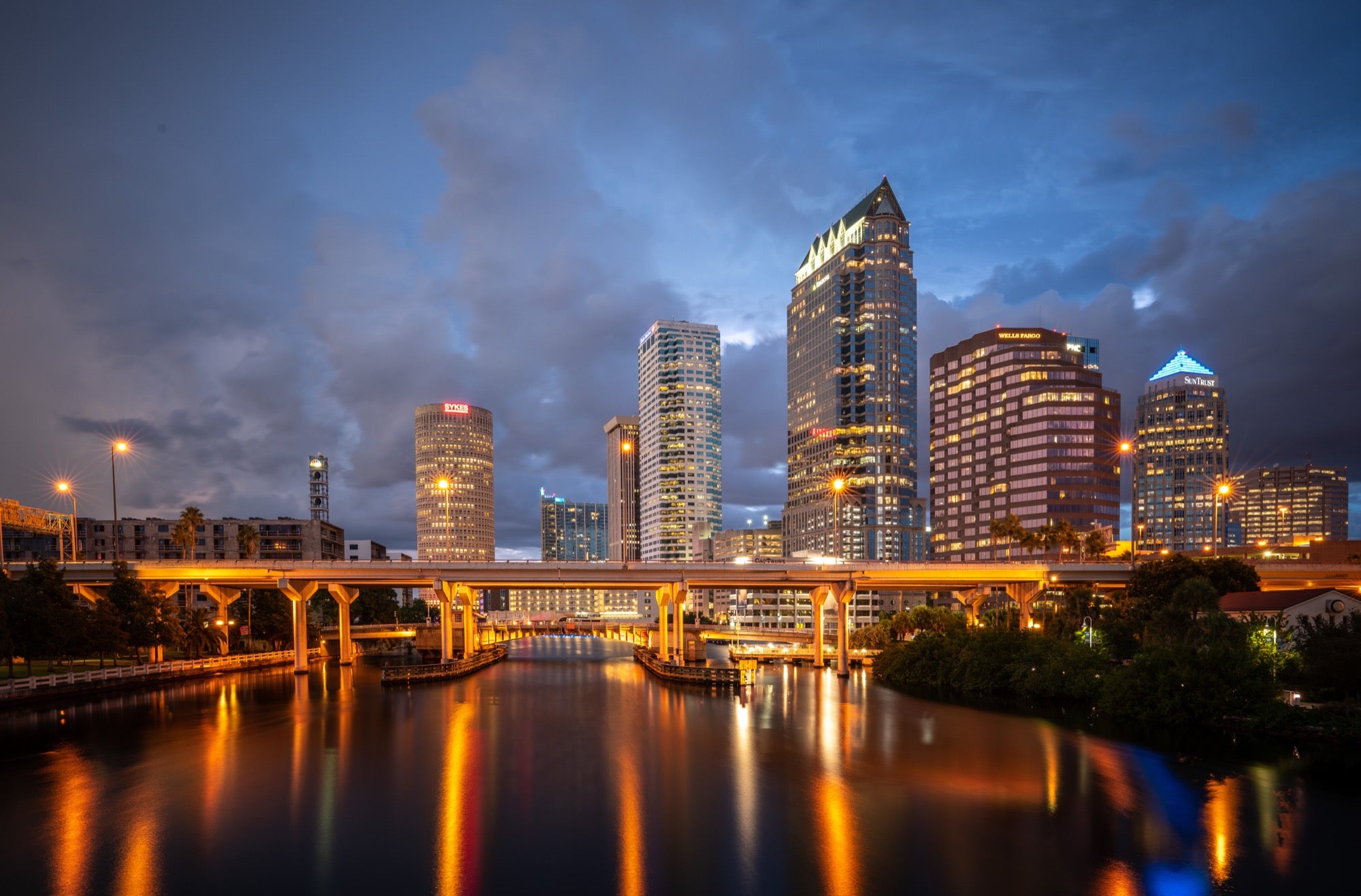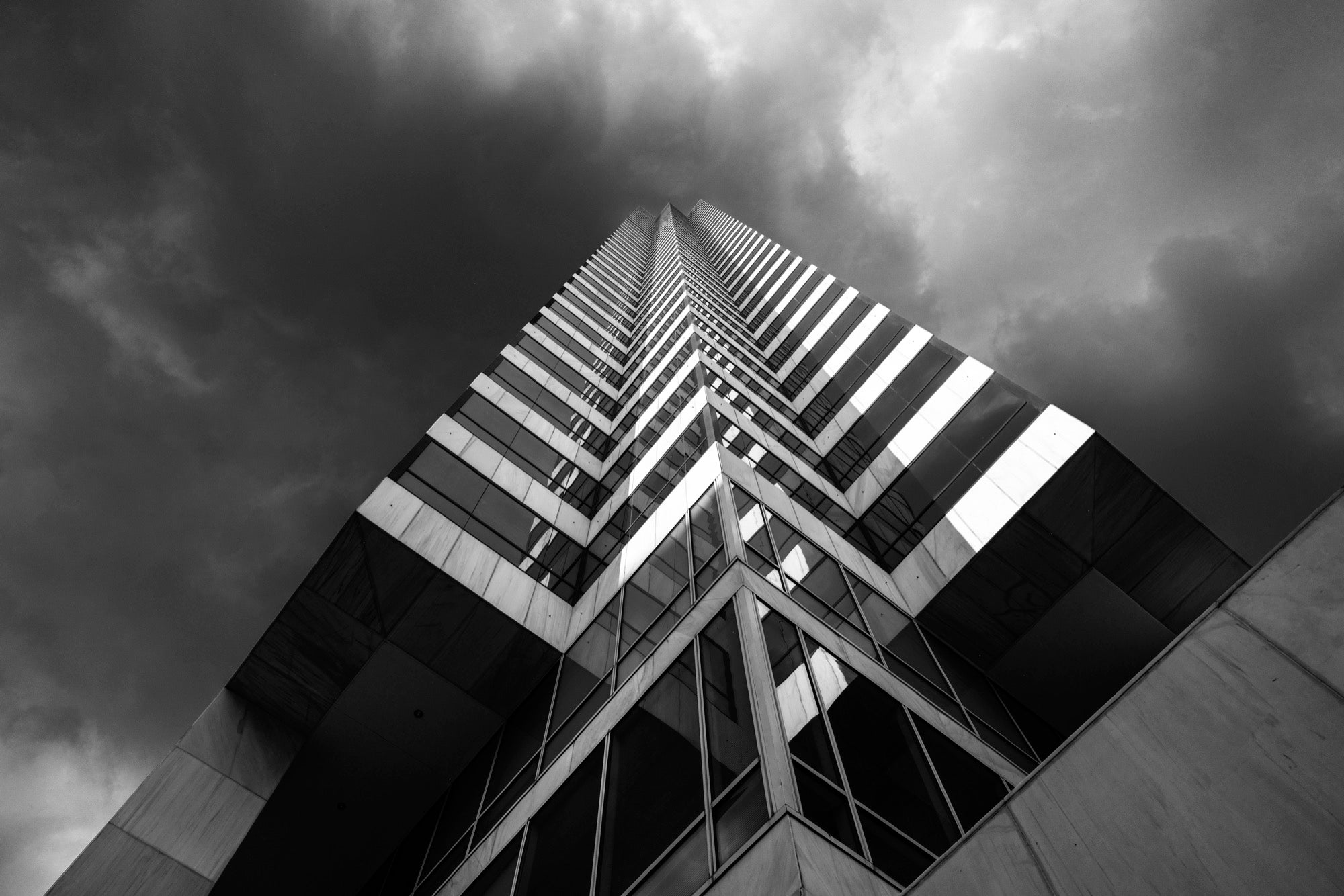 Next, I went to the Florida Polytechnic University. This is a fairly new building in Lakeland, FL and I've seen a ton of photos of it but never went to shoot it. I could have gone at sunset, but I didn't want to use up one of my chances to get a beach sunset, so I deliberately went during midday. Some of my favorite photos of this place show the white structure contrasted with the deep blue sky and even some white puffy clouds in there. I do want to get back at sunset though and get some color in the sky with the lights on in the building.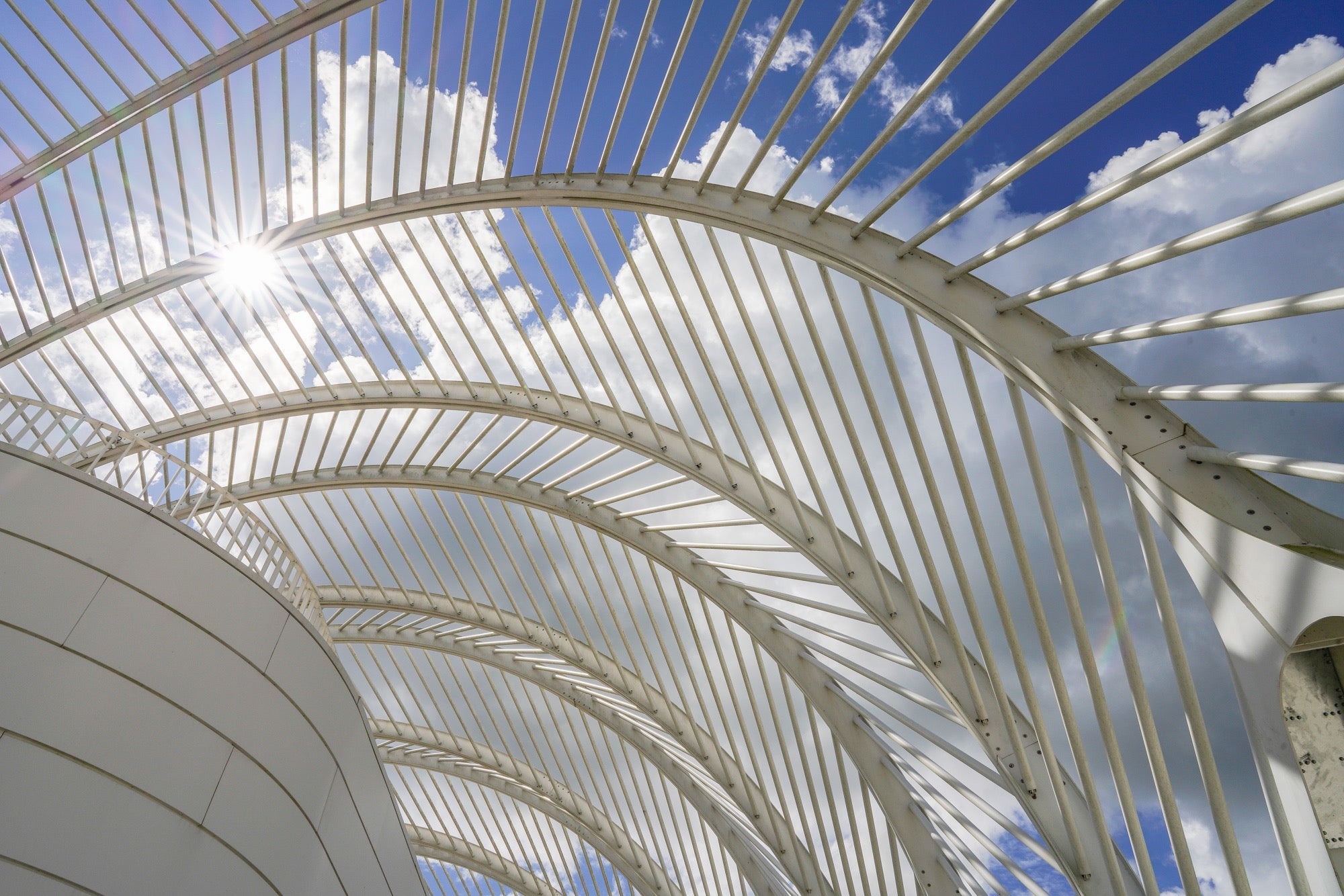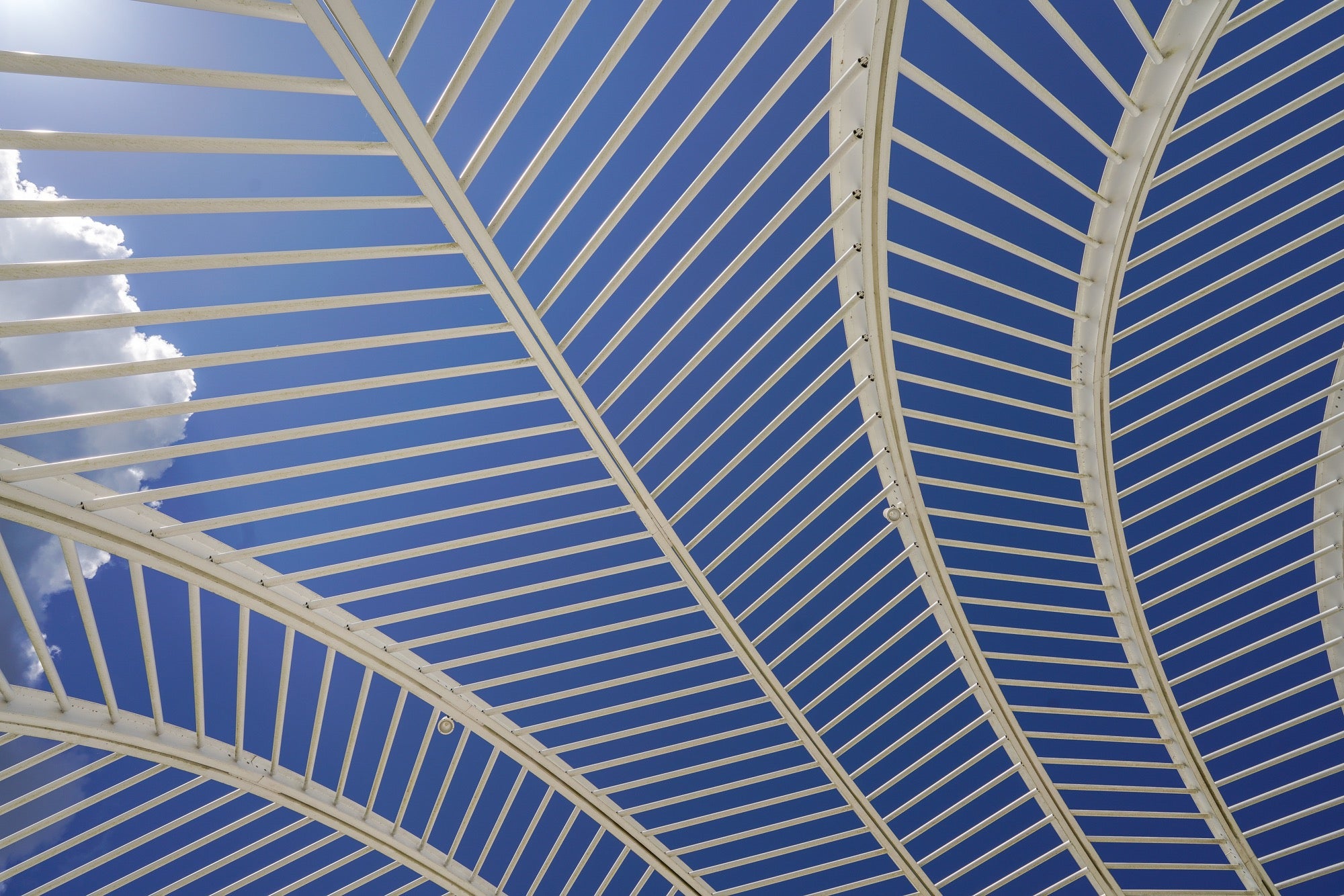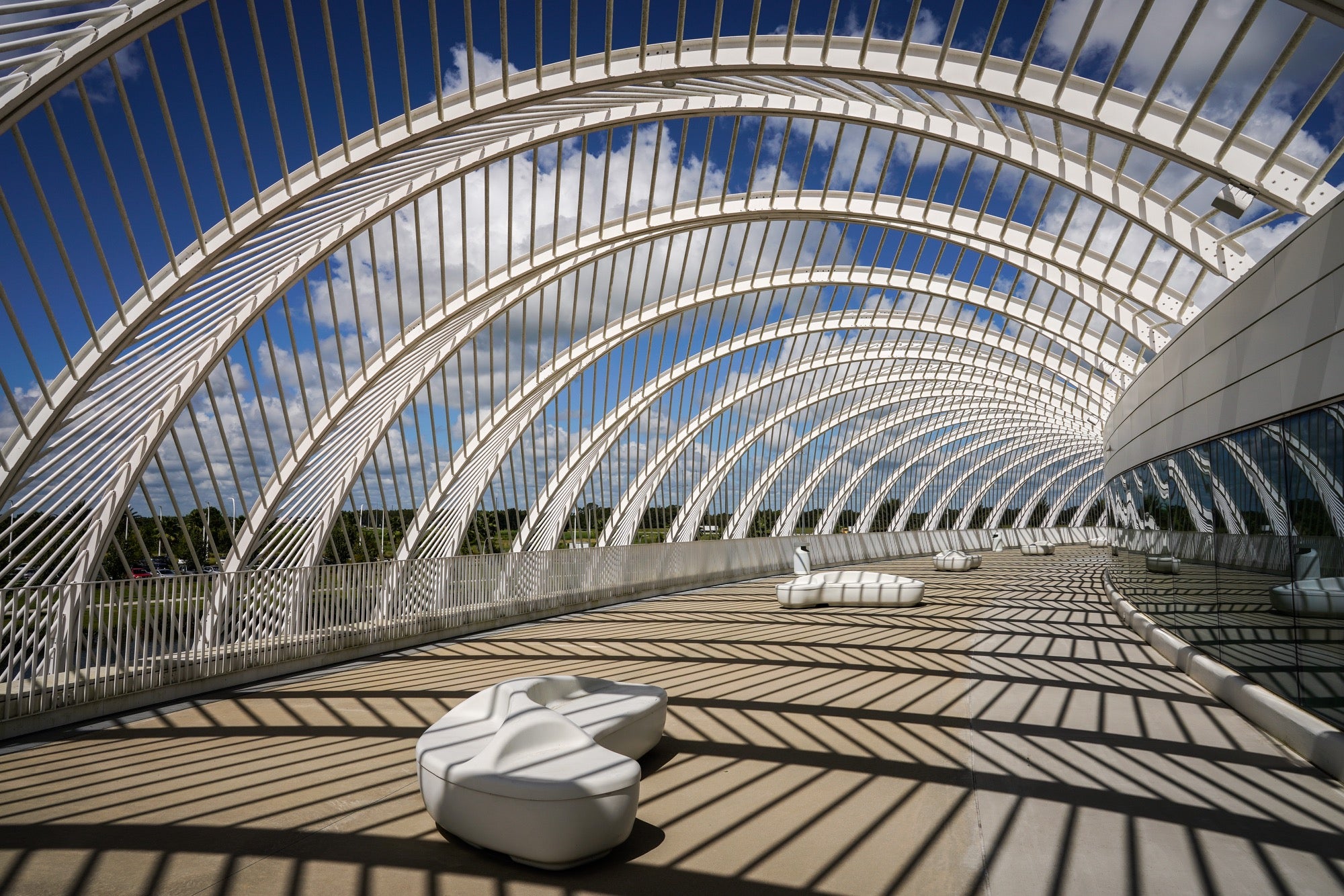 I went to a beach called Honeymoon Island for sunset one evening. I've been there many times and this definitely wasn't the greatest of them all. There were storms all around that could have made a cool photo, but they were behind me where the parking lot would have been the foreground. The light probably looks weird in this photo but that's because it was. These Florida thunderstorms at sunset give a really interesting mood and color to the photos.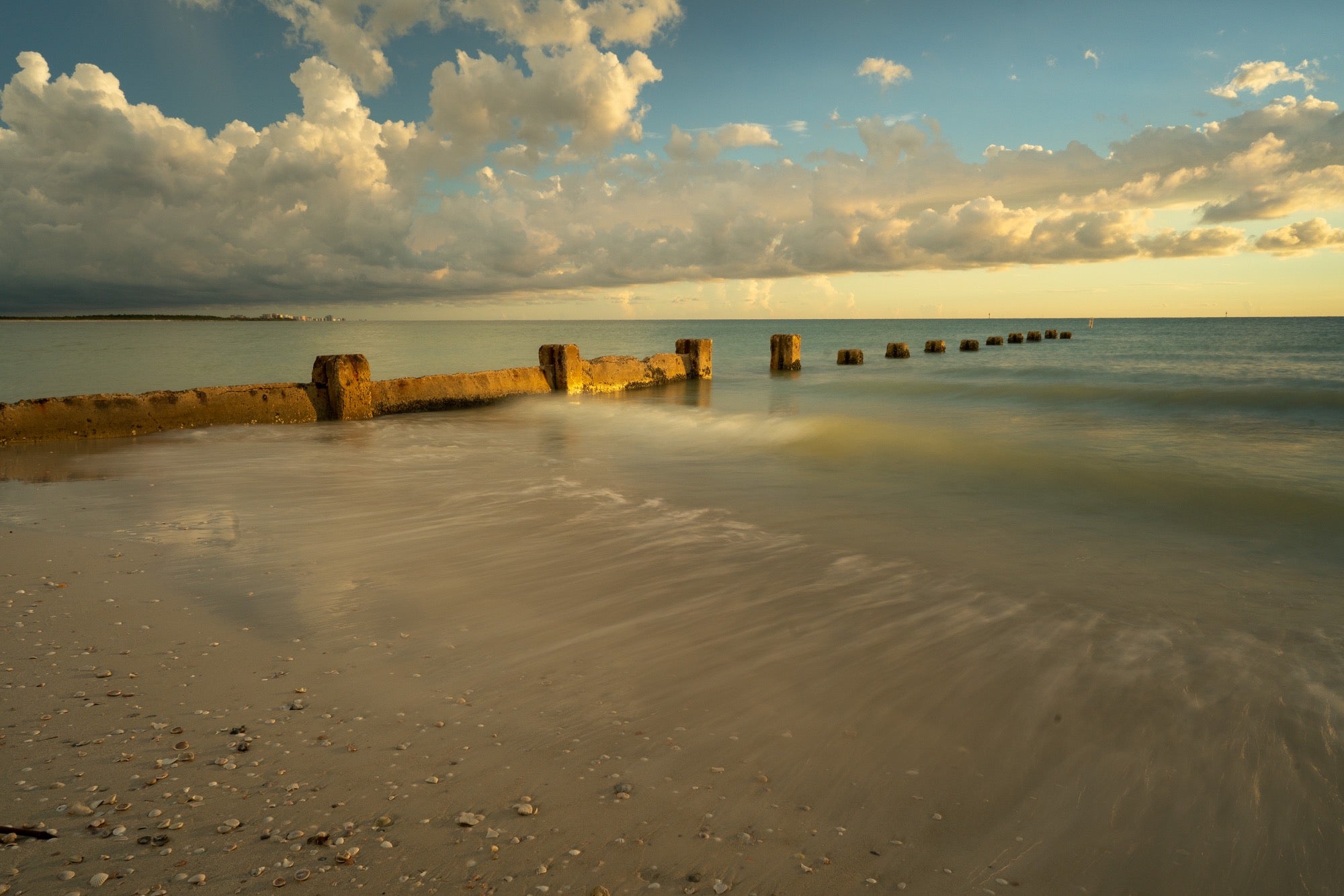 The next morning I went to another favorite of mine in Safety Harbor, FL. The tide was up, so there were no rocks or any foreground to be seen. But I grabbed the typical centered long pier shot that you have to take when you're at a pier. On my way to the car, some one stopped me and said "Are you Matt?". I said "no" and he said "good, because I don't like that guy very much". Anyway, we chatted for a few minutes and it turns out he has a fun Instagram page where he shows off many local photos.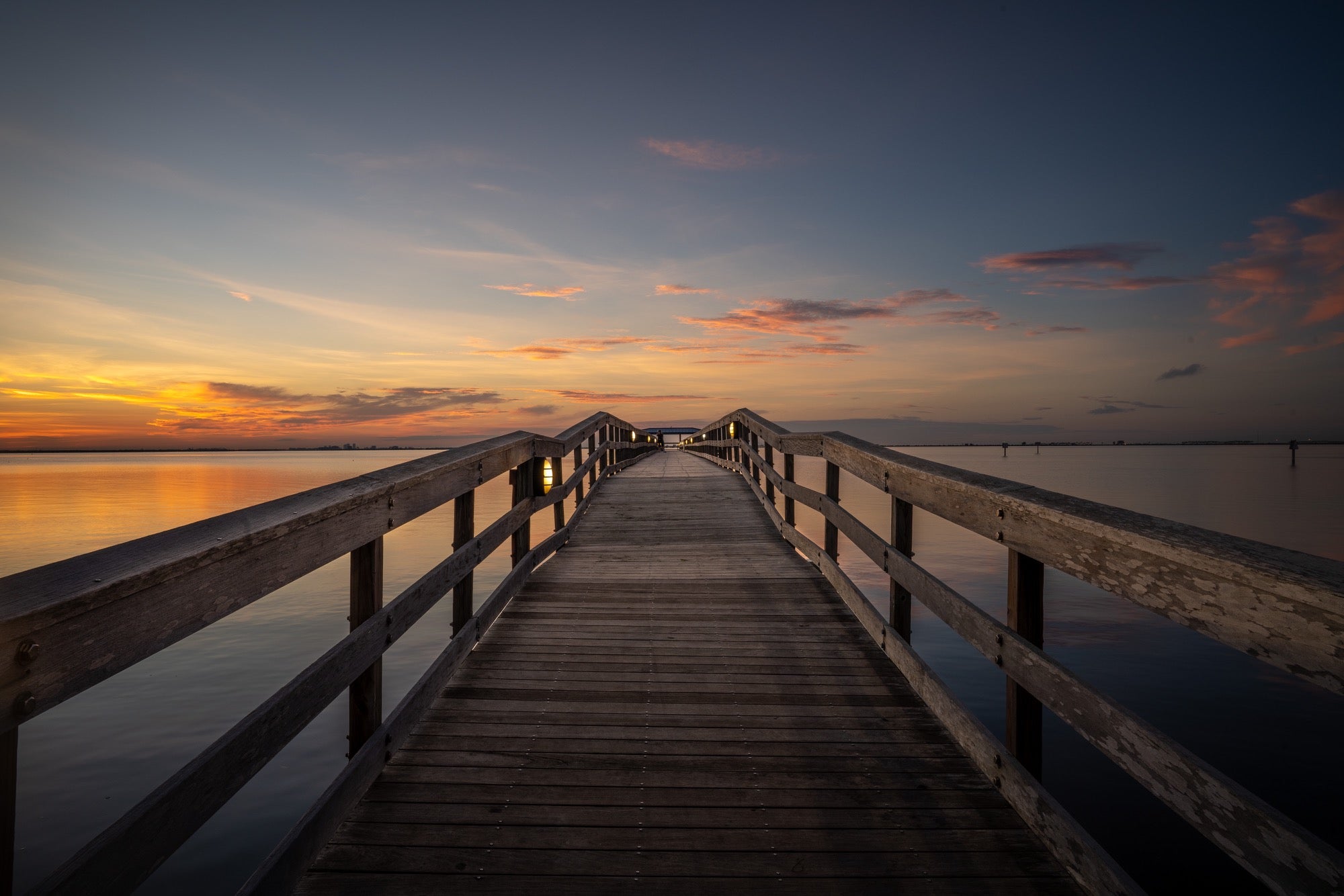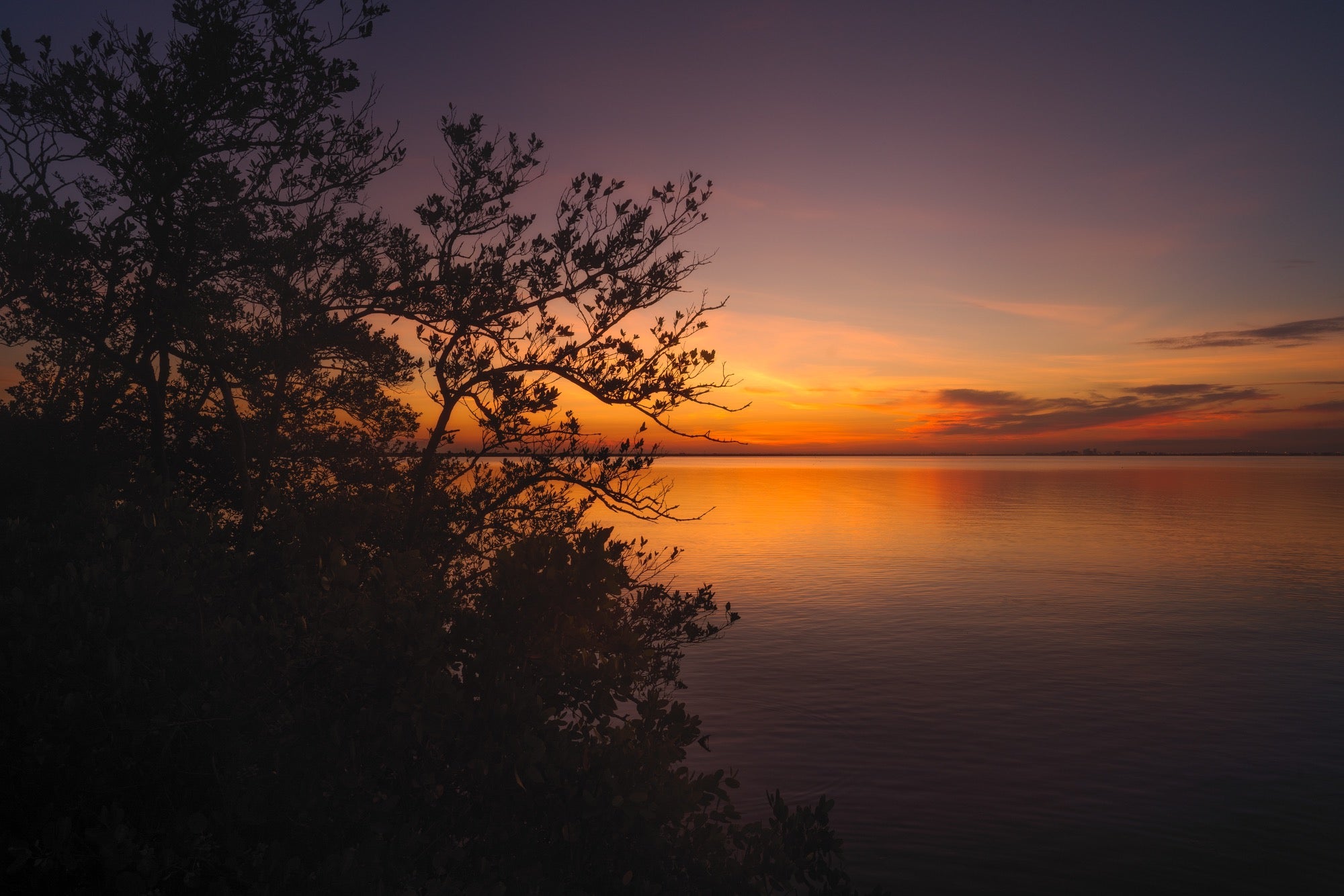 Then I stopped by Philippe Park right after the sun came up. They have these really interesting trees with moss hanging off of them all throughout the park. And if you get those photos with the sun still low in the sky, the backlit moss and colors look amazing.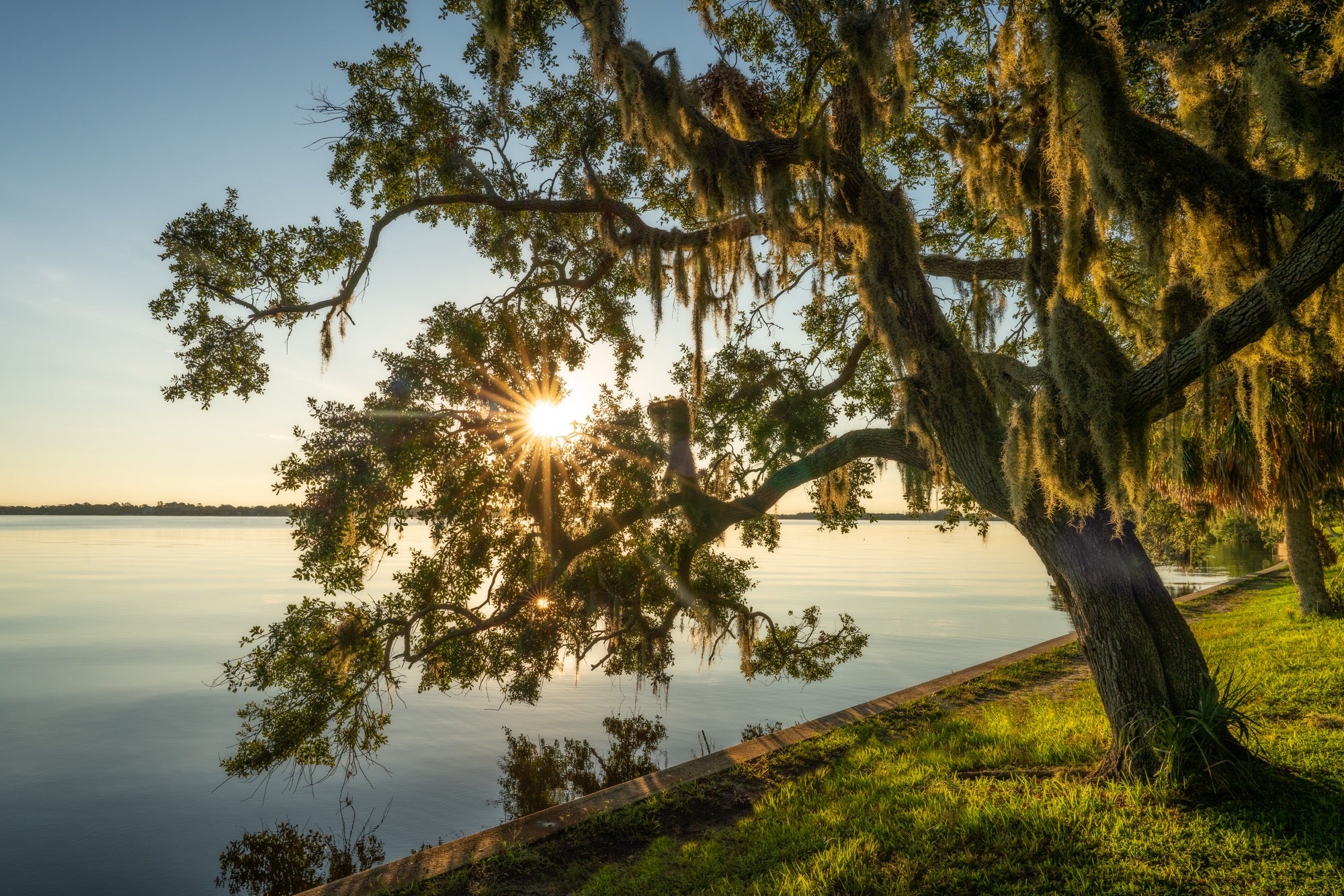 Here's a link for more photos taken with the Sony 24mm f/1.4 G Master lens. I hope you enjoyed taking a look at some recent photos. I have to say it was a refreshing few days to get out and shoot. I need to remind myself that even if I don't have an official "project" to work on, that I should give myself one and get out there and shoot more. Plus, I found some new places to go in the process.
See more from Sony Artisan of Imagery Matt Kloskowski and how to sign up for his classes and workshops at mattk.com.